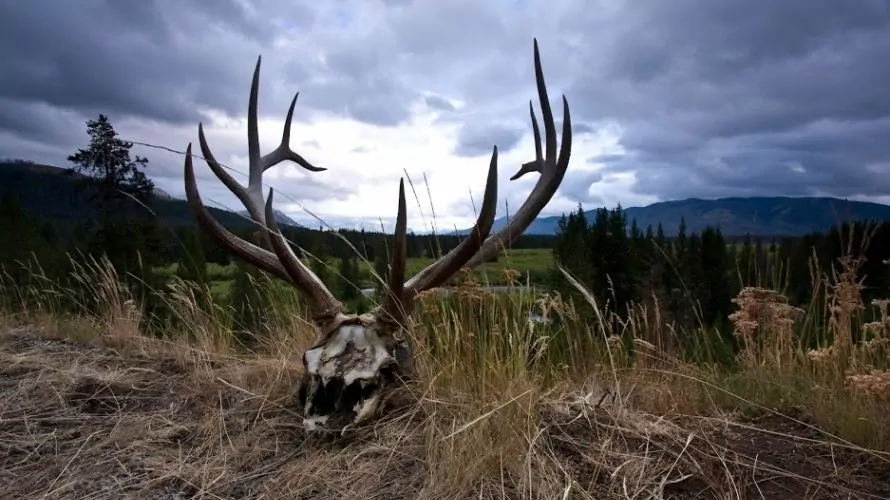 Lamar River Trail
The Lamar River trail is a moderate path with pristine meadows, rolling hills, wildflowers, and eye-popping mountain scenery. The trail meanders through a valley between 2 mountain chains and after 3.5 miles, skirts tightly along river. The best part of hiking here is that it is located in the heart of the Lamar Valley, one of the best wolf-watching sites in the world. In addition, the area is nearly always swarming with bison herds. It is also common to see elk and pronghorn in the valleys or bighorn sheep on the cliff sides. Even crossing Soda Butte Creek at the beginning of the trail often yields sightings of song birds or water fowl dipping their beaks.
Explore Yellowstone with Expert Guides
Fauna of the Lamar River Trail
Wolves
One of the best ways to get a prolonged view of wolves is to keep your eye on any carcasses in the valley. Rather than catching glimpses of them darting around, you can see them stationed in one spot, ripping apart their meal. Bear in mind, wolf-watching can also lead to prime bear sightings. Many wolf kills are first ravaged by bears claiming their rightful place in the food chain. The need to avoid that same deadly dominance is also why humans should never approach carcasses. The hunting prowess of wolves benefits more than just bears. Once the large predators have had their fill, coyotes, foxes, ravens, and all manner of other scavengers can also be spotted taking their turns on carcasses. This inevitable sharing is one of the many reasons why the return of wolves has had such a far-reaching positive impact on the eco-system.
Pronghorn
Scan the hills of the Lamar Valley for a white, tan, and black deer-shaped animal and you will likely find a pronghorn. These ungulates, named for the pronged black horns of their males, are sometimes called pronghorn antelope. This is a misnomer credited to the Lewis and Clark Expedition when their description lumped this new animal under a category that exists only in Africa and Southeast Asia. In truth, the pronghorn's closest living relation is to giraffes. They are the last surviving member of the 20-million-year-old Antilocapridae family. Their ancient roots are responsible for their most impressive adaptation, speed. Pronghorn learned to sprint 45-50 miles per hour to outrun the now-extinct American cheetah. If they sense a predator is near while you are admiring them on the hillside, you may get a glimpse of their dart-like reflexes.
Bison
Bison are so abundant in Yellowstone, it would be a more difficult challenge to visit the park without spotting one. You can often see entire herds in luscious valleys such as Lamar, Hayden, and Pelican Valley. Indeed, many of the roads in Yellowstone run alongside some of their favorite habitats. Their characteristic bravado often places them right in the middle of the roads. When this happens, always attempt to view the animals from a safe distance without blocking traffic. When possible, continue to drive slowly past the bison until you reach a designated pullout for viewing. If the bison are blocking the road, traffic will have to wait, and you can only enjoy the view you have. Either way, do not approach these dangerous animals.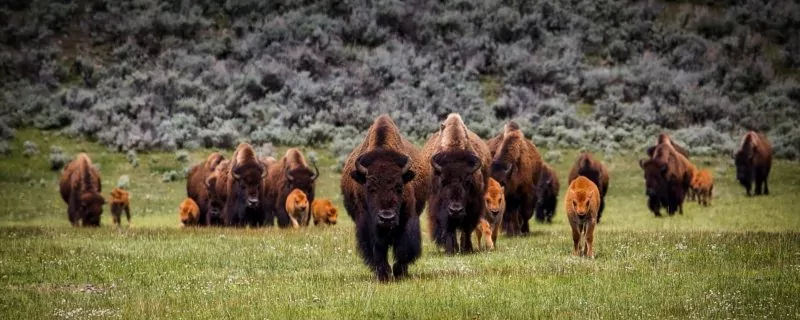 3 Best Day Hikes on the Lamar River Trail
Hiking the Lamar River trail is a beautiful, non-strenuous way to view animals away from the roads and traffic jams.
Below are the primary options for day hiking the Lamar River Trail:
| | | | | | |
| --- | --- | --- | --- | --- | --- |
| | Destination | Miles | Elev | Difficulty | Style |
| | Lamar River  | 5 mi | +/- 100ft | Easy  | Out and Back  |
| | Lamar River to Cache Creek | 7 mi | +/-300 ft | Moderate | Out and Back  |
| | Specimen Ridge | 17 mi | +3500/-3000 ft | Strenuous | Loop |
1. Lamar River
This route is the best way to gain the essence of the Lamar River Trail with nice and easy mileage. Starting from the Soda Butte trailhead you will cross Soda Butte creek via bridge. The trail passes Southwest through a meadow in which you will probably already see bison mingling, grazing, or rolling around. Flowered grasses, rolling hills, and the Absaroka mountains create a beautiful scene no matter which animals adorn lawn. After 1.5 miles, you will reach a junction, and continue straight onto the Specimen Ridge trail. After almost a mile you will reach the glimmering Lamar River. This is where we recommend sitting down with your fishing rod or picnic spread. When you're ready, take the same route back across the meadow.
2. Lamar River to Cache Creek
You'll add some more variety, elevation, and mileage to your day by taking the Lamar River Trail all the way to Cache Creek. Starting from the Soda Butte trailhead, you will enjoy the first 1.4 miles of the hike described above. This time, when you reach the junction, turn left to stay on the Lamar River trail. Now heading Southeast, you will enter a narrow valley between Mt. Norris and Amethyst Mountain. You will climb a few hundred feet and traverse the base of Mt. Norris, crossing a couple spring streams along the way. After 1.7 miles, you will reach a junction with the Cache Creek trail. Continue straight on the Lamar trail to head directly to the creek. Walk another half mile to reach the serene bank of the creek. This is a great place to relax, fish, or soak your feet. Now that you're just around the corner of the base of Mt. Norris the scenery is more woodland and mountainous than where you started. You should have a fair bit of solitude on this hike, but at Cache Creek, there might be great adventurers to talk to. You will be right across the creek from 2 backcountry campsites. When you've had your fill, retrace your steps back into the open valley.
3. Specimen Ridge
If you're pumped to see the Lamar River Valley in the most epic way possible, follow our description across Specimen Ridge. You will climb over 3,500 feet along this 17-mile ridge traverse gaining impeccable views of the Lamar Valley and the Grand Canyon of the Yellowstone. We prefer this hike with a more gradual up climb, so we recommend starting at the Specimen Ridge trailhead and finishing with the Lamar River Trail.
Start off with the first 1.1 miles from the Specimen Ridge trailhead. After a small descent, you will reach a junction with the Yellowstone River Overlook trail. Your hike will continue left along the Specimen Ridge Trail. For a brief detour, follow the trail on the right to the rim of the Grand Canyon of the Yellowstone. Here you will gain great views of the Narrows, Tower Falls, and the mighty Yellowstone river herself.
When you return to the junction, continue East onto the Specimen Ridge trail. Over the next half mile, you will walk straight up about 300 feet in elevation. 1.2 miles from the last junction, you will pass the Agate Creek Trail on your right. Continue straight through the flowered grasslands to follow the ridge up another 600 feet. The trail will drop down a couple hundred feet, cross Agate Creek, and climb back up. Most people will want 3-4 liters of water for this hike. If you need to, fill up at Agate Creek as this is your last opportunity for several miles. You will continue to scale up. The elevation change is generally gradual over this stretch, with a few steep trudges in between. After about 10 miles, you will reach the 9,609-foot peak of Amethyst Mountain, the highest point along Specimen Ridge.
Now it's all downhill. You will traverse an exposed ridge for the next mile. To your left you can look down into the cascading Chalcedony drainage. The trail will start to bend left about 2 miles from the summit. You will head Northeast down a very steep slope. Over the next 5 miles, you will descend about 2,400 feet without switchbacks. In between patches of trees, you will gain beautiful views of the Lamar River and the valley below. The trail follows Unnamed Creek the last couple of miles until you reach the river. You will have to ford the Lamar River here. Take all necessary precautions. Before August, it may be too fierce to pass. Once you've crossed the river, you have about a half mile before reaching the junction with the Lamar River trail. Continue straight for 1.4 miles through the gorgeous valley meadow to the Soda Butte trailhead. This through-hike will require dropping a second vehicle or a hitchhike. This is an extremely challenging route, so get some training in before embarking on this ultimate day adventure.
Award Winning USA Hiking Adventures
Maximize Your Visit to Yellowstone National Park on a Hiking Tour
Guided day hike tours and multi-day packages allow visitors the opportunity to make the most of their time in Yellowstone National Park and to do it hassle-free. Guided tours include gear (backpack, trekking poles, crampons in winter), meals, accommodations on multi-day tours, local transportation, and a professional Yellowstone hiking guide. Through their knowledge, stories, and personal passion, guides can bring a place to life in a way that's much more difficult to do on your own. Read more about Yellowstone Hiking Tours.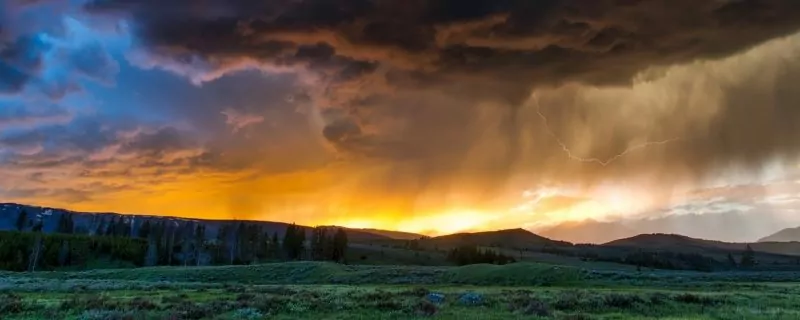 3 Lamar River Trail Backpacking Trips
A backpacking trip into Yellowstone's famous Lamar Valley is a great way to truly experience this wild area.
Route

Miles

Difficulty

Campgrounds
Lamar River to Cache Creek

7 mi

Easy

Search the Lamar River and Pebble Creek
area of the

Backcountry Trip Planner

The Thunderer

18.2 mi

Moderate

Search the Lamar River and Pebble Creek
area of the Backcountry Trip Planner
Lamar River to Pelican Valley

33.6 mi

Strenuous

Search the Lamar River and Pebble Creek
area of the Backcountry Trip Planner
1. Lamar River to Cache Creek (2-3 days)
This easy-going backpacking trip is perfect for families or anyone looking for a simple night of backcountry peace. Follow our description for day hiking to Cache Creek. 3L2 is the closest site right along the creek. If that's taken, 3L3 is only 1.8 miles further and 3L4 is only 2.5 miles further from the creek. Both are beautiful and right along the river. If you give yourself a layover day, we recommend day hiking along the Cache Creek trail. There are sulfurous hot springs just a couple miles from the junction. Cache Creek and the Lamar River are great for a fishing trip. Permits are required to fish in Yellowstone. Click here to learn more about how to fish responsibly in Yellowstone. 
2. The Thunderer (3 days)
If you are looking for a relatively short backcountry adventure with a wicked peak summit, look no further than the Thunderer. In just a 3- or 4-day trip, you will be immersed in the backcountry with a chance to climb one of the most recognizable peaks in the Absarokas. We recommend doing this route counterclockwise, so the majority of the elevation gain can be done with a lighter pack.
Begin your route at the Soda Butte trailhead. When you reach the junction with the Specimen Ridge trail, 1.4 miles in, turn left to remain on the Lamar River trail. After another 1.7 miles you will arrive at the Cache Creek trail junction. Staying on the Lamar River trail for another half mile brings you to a couple of campsites which are ideal for your first night's stay. 
A little backtracking is required from camp to the Cache Creek junction. Head east on this trail that traverses alongside Cache Creek through an area that burned in the famous 1988 fires. After a couple of miles, you will notice a small thermal area, Wahb Springs, across the creek from you. This area is at the base of Death Gulch. Death Gulch received its name after numerous bears, elk and rodents were found dead here in 1899. An accumulation of poisonous gases from Wahb Springs is said to have caused this mysterious mortality. After several more miles you will come to the next campsite, 3C2. This site is ideal for your second-night's stay. If this site is not available when you apply for your permit, there is another site 1.7 miles east of there at 3C3. 
The final day of this trip takes you several more miles up Cache Creek before joining the Thunderer Cutoff trail. Hang a left, northwest, and ascend the cutoff trail for about 1.5 miles to Chaw Pass. Don't forget to look back often as you approach the pass for beautiful views of the surrounding Absaroka Range. Once you crest Chaw Pass, the trail descends another 3.5 miles through dense old growth forest to the trailhead. Hopefully you kept your water shoes out as you will need ford Soda Butte creek just before reaching the Thunderer parking area. Soda Butte creek is often impassible until July. Check Yellowstone's Backcountry Situation Report for current trail information.
Climbing the Thunderer:
If you plan on attempting to climb the Thunderer, you will leave the trail at Chaw Pass. Follow the main northeast ridge line and occasional game trail southwest towards the peak. You will soon come to a broad face with some nice class 3 climbing on the right side. Once you are though this crux, continue along the ridge until you reach the last two obstacles between you and the summit. The first is a class 3 outcrop with a noticeable route up. The second traverses a cliff band to the left which eventually leads to another short class 3 climb. Once you navigate through the cliff band, it is a short walk to the summit. The summit has spectacular views of Abiathar and Amphitheater Peaks to the Northeast. After you soak up the views for a bit, retrace your steps back to Chaw Pass.
3. Lamar River to Pelican Valley (5 days)
This full-length backcountry expedition covers the Lamar River trail in its entirety, places you deep in the backcountry, and passes through 2 of the best-known valleys for animal watching in Yellowstone. Start from the Soda Butte trailhead and follow our description to get to Cache Creek. A couple miles further at 3L3 or 3L4 will be the perfect stop for night 1. The next 2 days, the trail follows the Lamar River closely in a narrow but short canyon between the Mirror Plateau and the mountains to the East. You will catch glimpses into side canyons, rocky cliffs, and distant alpine ridges. Split up your next 2 nights anywhere between campsite 3L6 and 3U3.
16.6 miles into the trip, having completed the entire Lamar River trail, you will reach a junction with the Frost Lake and Mist Creek trails. Turn right to head Southwest along Mist Creek trail. 5.7 miles along you will reach your last night's stay at campsite 3T2 or 3T3 .9 miles further. They are the closest camps for at least 10 miles if you are heading anywhere West.  Therefore, your last day's hike will be 10.1 or 11 miles, but there's need to worry. Your packs will be light and the walk is beautiful.
In the first 2 miles of your last day, you will climb up a couple hundred feet and then descend 700 feet. 3.1 miles from camp, you will reach a couple of tricky little junctions around Pelican Springs. You can either continue straight or take the half mile cutoff through the thermal area. Either route will lead you to a 4-way junction at the Pelican Springs Ranger Cabin. Do not turn right at the Raven Creek Cutoff trail or you will add mileage to your day. The right choice is to continue straight Southwest along the Mist Creek trail (also called Pelican Valley trail at this point on some maps). For the next 3.8 miles, the glory of Pelican Valley will unfold before you and the trail will start to hug Pelican Creek. Continue straight past the Pelican Creek trail junction. After another mile, turn right to follow the Pelican Valley trail to the parking lot. As the start and finish trailheads for this trek are so far apart, we do not recommend hitchhiking.
Join a Guided Yellowstone National Park Backpacking Trip
Joining a Yellowstone backpacking tour is a worry-free, adventurous way to experience Yellowstone. With your gear, meals, local transportation, permits, and fees taken care of for you, you can travel light and focus 100% on enjoying the hiking experience, while the guide company takes care of everything else. Also, by going with local experts you'll enjoy a greater level of safety and gain a much better understanding of the history and ecology of this remarkable region. Read more about a guided Yellowstone backpacking trips.
All-inclusive Yellowstone Backpacking Trips
When to Hike and Seasonal Considerations
You can hike the Lamar River Trail year-round, but the best months are July and August during the bison rut. If you are hiking in the springtime, you may only be able to do a few miles out and back due to high spring runoff in the creeks and rivers. Snowshoes might also be helpful if you chose to hike in the spring time.
The Lamar River trail is also great for cross-country skiing and snowshoeing in the winter time. If you are interested in hiking in the mountains during extreme winter conditions, make sure to educate yourself on how to travel in avalanche terrain. A good resource for this is "Know Before You Go". kbyg.org
For more information on guided Yellowstone winter tours click here.
Animal Safety 
Wildlife is one of the best reasons to visit Yellowstone. With the privilege of hiking through their habitat comes great responsibility to uphold respect and safety. Becoming accustomed to humans is not good for the well-being of any wild animal. Even our docile herbivores can maim or kill people. The key to these guidelines is to just let the animals be.
Never feed wildlife (Not even a squirrel)
Do not approach wildlife
Stay at least 100 yards away from bears and wolves
Stay at least 25 yards away from all other animals
Do not shout, whistle, or otherwise harass wildlife
If you want to view wildlife from the road, always stop in a designated pull out.
Bear Safety
Yellowstone is black and grizzly bear country. Special practices are necessary to improve the safety of yourself, other visitors, and the animals. Most of these tactics aim to avoid making a bear react defensively. A bear will feel threatened if we surprise it, approach its cubs, or encroach on its food source. We must also do everything in our power to prevent a bear from eating human food or smelling an attractant where we sleep.
While Hiking
All of the following practices are necessary whether you are hiking in bear country for 5 minutes or 5 days.
Don't hike alone (At least 3 people is best)
Always be alert
Make noise
Carry bear spray and know how to use it
Never feed a bear
Do not leave packs or any food unattended
Stay on maintained trails
Avoid carcasses
Avoid hiking at dawn, dusk, or night
Stay out of areas closed for bear management
While Camping
All of the following practices are necessary if you are sleeping outside in bear country.
Sleep away from where you cook and eat (100 yds in backcountry)
Do not sleep in clothing that smells like food
Keep all sleeping gear away from food odors
Strain your dishwater, putting particles in trash
Keep camp clean and free of trash

Store all attractants in a bear proof container or hang from food pole. (This includes: food, garbage, toiletries, stoves and fuel bottles, utensils, food containers, and anything scented)
Bear Encounters
As the park service says, safety cannot be guaranteed in these wild places. These are best practices to lower the risks of an aggressive bear encounter.
Do not run
Slowly back away (taking any food with you)
Speak calmly, do not shout
Group together, make yourselves look large
When necessary, use bear spray
Report conflicts to park rangers
Check out Yellowstone National Park's great reference on how and when to use bear spray.  
Necessary Permits
Day Hike Permits
There are no permits required to do any day hiking in Yellowstone National Park. However, some areas can be closed to due high bear activity. Before you head out, you can check to see which Bear Management Areas are closed by clicking here.
Backpacking Permits
All overnight stays inside Yellowstone require an overnight camping permit. Actual permits must be picked up in person no more than 48 hours before a trip. Most sites can be reserved in advance by mail, fax, or in person. Requests received before April will be granted by random lottery. When the lottery is complete, all requests submitted after April 1st are processed in the order they are received. See more information about Yellowstone's permit system.
Getting to the Lamar River Trailhead
The Soda Butte/Lamar River Trailhead is located 15 miles east of Tower Junction on Northeast Entrance Road. Click here for directions to the parking area. There are no restrooms or water at the trailhead. The nearest potable water is located at Tower Junction.
Suggested Packing List
Day Hike Packing List
bear spray
2-3 liters of water
salty, calorie-rich snacks
lunch
backpack
trekking poles
wide-brimmed hat
sunscreen, sunglasses
bug spray
non-cotton hiking shirt
rain jacket
warm non-cotton layer
1st-aid kit
Backpacking Packing List
all items listed for day hikes PLUS
multi-day backpack
3-season tent
sleeping bag
sleeping pad
rope for hanging food (at least 35 feet)
backpacking stove and fuel
eating utensils and straining device
backpacking meals
3 pairs wool socks
extra t-shirts
warm layers
sandals or water shoes
trowel, toilet paper, ziplocks
water filter or purification method
Please Respect Our National Parks – Leave No Trace
We strongly recommend abiding by all Leave No Trace ethics guidelines and practices so that our national parks and public lands are preserved for the enjoyment of future generations and for the people and animals who call these places home. Simple things like packing out your trash, obeying national park rules, and respecting the peace and quiet of our national park trails is a great start. If you're going on a backpacking trip, you can read about more about the 7 Leave No Trace Principles.