Glacier Gorge Trail
Glacier Gorge is one of the most popular trailheads in Rocky Mountain National Park. Rightfully so, as this region hosts a multitude of trails ranging in difficulty. It is the jumping point to view cascading waterfalls, alpine lakes, and stunning granite cliffs. Wintertime offers phenomenal opportunities for snowshoeing.
Explore Rocky Mountain NP with Expert Guides
Geological History of the Glacier Gorge Trail
Glacier Gorge, Bear Lake, and Moraine Valley were shaped from receding glaciers during the aftermath of the last Ice Age. This dramatic force shaped the landscape into jagged cliff edges and majestic alpine lakes. Their tributaries travel downhill, supplying water to the greater Colorado front range.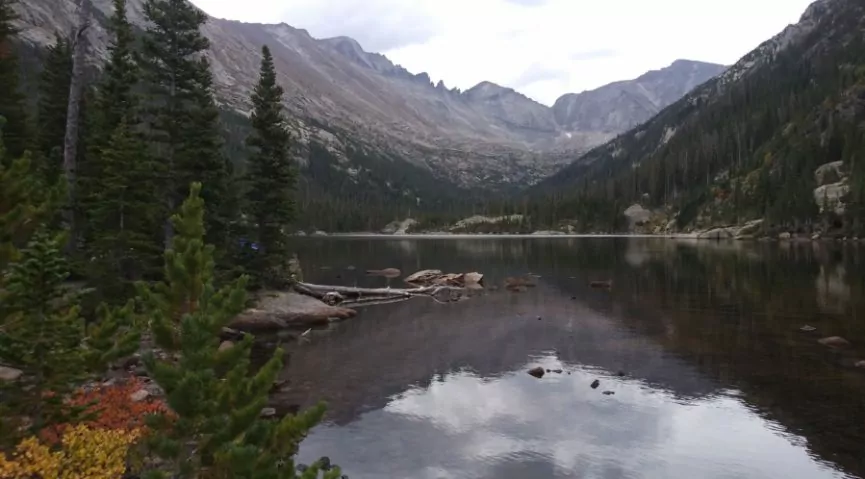 3 Best Day Hikes from Glacier Gorge Trailhead
Glacier Gorge Trailhead hosts numerous out and back hikes. Visitors will experience more solitude the further they travel from the Trailhead. Individuals seeking all-day hikes will find connecting trails to Bear Lake, as well Glacier Gorge is a great ending destination to a multi-day backpacking trip from Longs Peak.
Below are the primary options for day hiking from Glacier Gorge Trailhead:
| | | | | | |
| --- | --- | --- | --- | --- | --- |
| | Destination | Miles | Elev | Difficulty | Style |
| | Alberta Falls & Mills Lake | 5.5 mi | + 1,160 ft | Easy | Out and Back |
| | Loch Vale and Sky Pond Trails | 8.5 mi | + 2,200 ft | Moderate | Out and Back |
| | Andrews Glacier | 9 mi | + 2,500 ft | Moderate | Out and Back |
1. Alberta Falls & Mills Lake
Located just a half mile from the Trailhead, Alberta Falls makes a great first resting point to adjust to Rocky Mountain's high elevation. Depending on the season, the falls can be rushing with water or frozen solid. Continuing on to Mills Lake is well worth it. Named in honor of Enos Mills, "The Father of Rocky Mountain." With dramatic views of Longs Peak (14,259 ft.) and the Keyboard of the Winds, Mills Lake is an excellent place for lunch. Those looking for the greatest solitude, can continue on a for a strenuous hike to Black Lake.
2. The Loch Vale and Sky Pond
An absolutely stunning cirque of granite cliffs towering above a beautiful alpine lake, the Loch is truly a wonderful destination by itself. However, continuing the extra mile to Sky Pond makes for a very rewarding and full day outing. Many visitors will stop at Timberline Falls, located above Glass Lake, as the final push to Sky Pond involves scrambling over slippery boulders next to the cascading water. Above the falls one can often see rock climbers ascending The Sharks Tooth and Petit Grepon.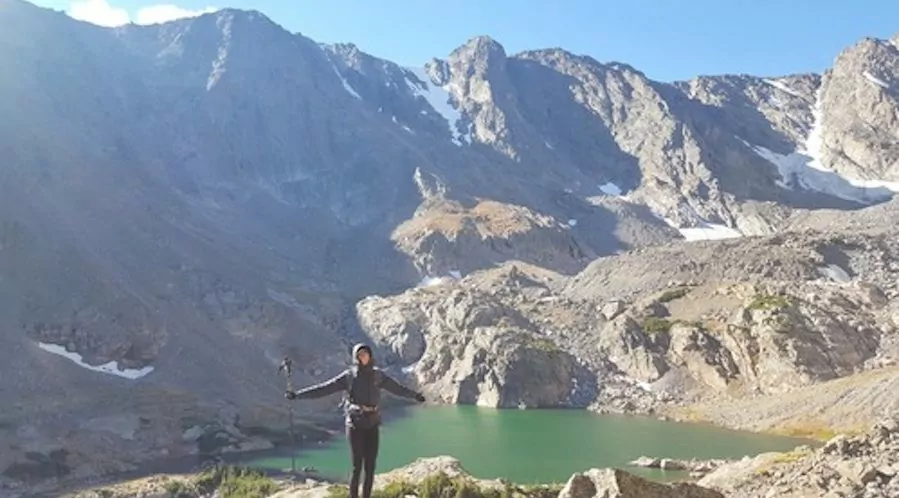 3. Andrews Glacier
Those seeking solitude from other visitors can find it at Andrews Glacier. In route to Sky Pond, a trail junction marks the one mile side trip to the glacier. The trail is barely recognizable, and has a sense of adventure as you cross boulders along a creek. Often used as a descent trail for rock climbers, this will surely appeal to those looking to add one more great destination to their day.
Maximize Your Visit to Rocky Mountain National Park on a Guided Hiking Tour
Guided day summer hikes hike tours, winter snowshoe tours, as well as multi-day packages allow visitors the opportunity to make the most of their time in Rocky Mountain National Park and to do it hassle-free. Guided tours include gear (backpack, trekking poles, crampons in winter), meals, accommodations on multi-day tours, local transportation, and a professional Colorado hiking guide. Through their knowledge, stories, and personal passion, guides can bring a place to life in a way that's much more difficult to do on your own. Read more about Rocky Mountain Hiking Tours.
Award Winning USA Hiking Vacations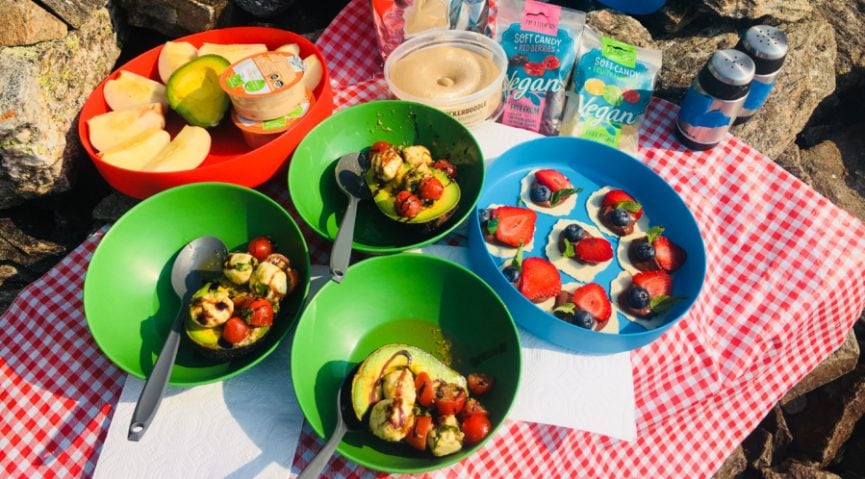 Join a Guided Rocky Mountain National Park Backpacking Trip
Joining a Rocky Mountain National Park backpacking tour or inn-based tour is a worry-free, adventurous way to experience Rocky Mountain National Park. With your gear, meals, local transportation, permits, and fees are taken care of for you, you can travel light and focus 100% on enjoying the hiking experience, while the guide company takes care of everything else. Also, by going with local experts you'll enjoy a greater level of safety and gain a much better understanding of the history and ecology of this remarkable region. Read more about a guided Rocky Mountain National Park backpacking tour or inn based tour.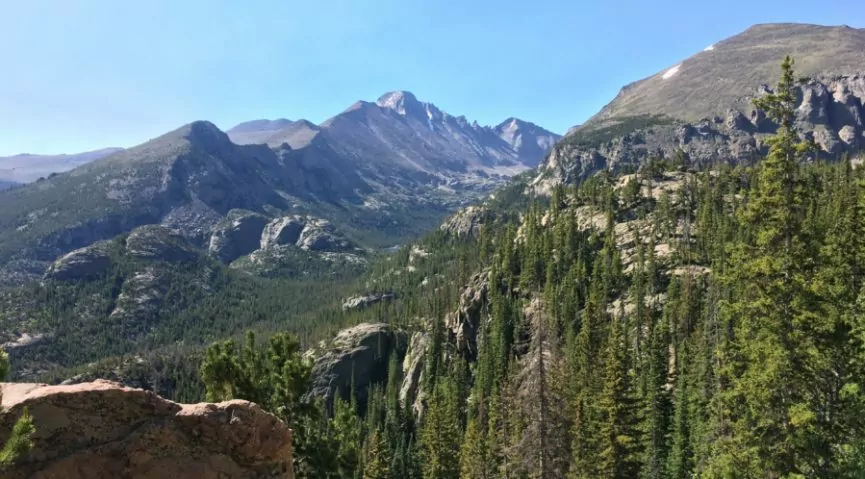 When to Hike and Seasonal Considerations
Always check the weather before planning your trip. Check the weather forecast here for Glacier Gorge Trailhead.
Glacier Gorge is accessible year round. While summer provides warm weather, great fishing, and wildflowers. Wintertime brings an entirely different hiking experience and methods of travel. Consider joining a winter snowshoe tour, and as your guide leads you on seldom traveled trails through deep snow.
Necessary Permits
Day Hike Permits
No permits are necessary for day hikes in Rocky Mountain.
Backpacking Permits
Wilderness camping permits can be obtained online starting March 1st of each year. Reservations are given on first come first serve basis. The Rocky Mountain National Park Website updates the availability daily of each specific campsite throughout the Summer.
For more information on Rocky Mountain National Park's permit system, click here.
Getting to the Glacier Gorge Trailhead
From the Beaver Meadows Visitor Center, drive through the National Park entrance station. Turn left onto Bear Lake Road and drive 8 miles to the Glacier Gorge Trailhead.
Bear Lake and Glacier Gorge Trailhead parking lots fill by mid-morning during the peak summer season. Utilizing the free Rocky Mountain Shuttle System is the most efficient way to travel along Bear Lake Road. Leave your car at the Park and Ride, located 3.5 miles up Bear Lake Road within the Park. The shuttle begins outside the Park at the Estes Park Visitor Center, for those looking to completely avoiding driving into the park.
Suggested Packing List
Day Hike Packing List
2-3 liters of water
Salty, calorie-rich snacks
lunch
backpack
trekking poles
wide-brimmed hat
sunscreen, sunglasses
cotton t-shirt (spring-fall)
medium to thick upper layers
rain jacket
1st-aid kit
Backpacking Packing List
all items listed for day hikes PLUS
multi-day backpack
3-season tent
0-20 degree sleeping bag
sleeping pad
backpacking stove and fuel
backpacking meals
3 pairs of wool socks
extra t-shirts
Please Respect Our National Parks – Leave No Trace
We strongly recommend abiding by all Leave No Trace ethics guidelines and practices so that our national parks and public lands are preserved for the enjoyment of future generations and for the people and animals who call these places home. Simple things like packing out your trash, obeying national park rules, and respecting the peace and quiet of our national park trails is a great start. If you're going on a backpacking trip, you can read about more about the 7 Leave No Trace Principles.