Explore the Grand Canyon with Wildland Trekking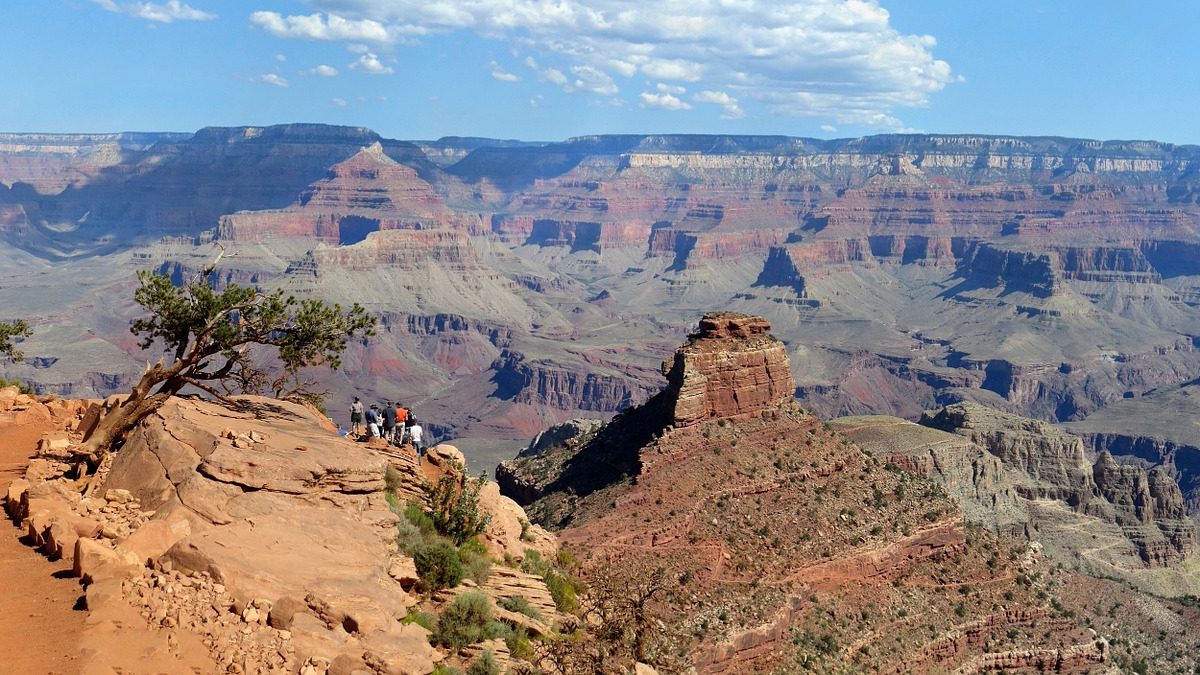 The Grand Canyon lives up to its impressive name. This scenic marvel has established itself as the world's most well known and majestic canyon, as well as one of the seven natural wonders of the world. It stretches 227 miles while averaging 10 miles in width and plummeting a mile straight down. What better location for what is arguably the most beautiful and awe-inspiring desert view on the planet? Whether you are viewing from above or hiking down below the rim, it is truly a place that will give you pause. Trust us; it will be an experience, unlike anywhere else in the world.
The Grand Canyon has plenty to offer beyond the epic views. No matter if you are a history buff, river rat, geologist, or ecologist, there is something for everyone in the canyon. Wildland Trekking's guided tours offer a diverse array of ways to see, experience, and adventure in the Grand Canyon.
Grand Canyon hiking tours include guided backpacking trips, mule-supported hikes, basecamp hiking tours, inn-based hiking tours, and even day hiking options. No matter the length of your stay, there is a tour to accommodate your needs and make your Grand Canyon experience suit your desires and traveling style perfectly.
When to Go
Grand Canyon hiking is beautiful any time of year, but when planning your trip, there are three important questions to ask yourself:
What kind of weather do I prefer when hiking, backpacking, or sightseeing?
How crowded of an environment can I tolerate and still enjoy my experience?
What activities would I like to participate in while I'm there?
Your answers to all three of these questions will help determine the time of year and type of tour best suited to your Grand Canyon trip.
High Season
The summer – mid-May through mid-September – is peak tourist season in Grand Canyon National Park. South rim temperatures average 80+ degrees Fahrenheit while the bottom of the canyon will usually sit around 100-degrees. Expect trails to be busy unless you get an early start, no later than 10 am.
The North Rim of the Grand Canyon usually only sees about 10% of the visitors that the South Rims sees, even during peak summer days. This lower visitor rate allows for a more remote hiking experience regardless of high-season crowds.
Heavy afternoon rainfall is commonplace between July and September, but the storms generally do not last long. This time of year is considered monsoon season, and hikers should be careful when hiking in certain areas of the canyon that are prone to flooding. Hiking with our experienced guides and communicating with rangers before your trip is your best avenue to ensure a safe and informed experience.
Shoulder Seasons
Spring and Fall are the perfect times of the year to visit the canyon if you want fewer crowds and are comfortable hiking in daytime temperatures of 50-70 degrees Fahrenheit. During both seasons, however, temperatures can fluctuate significantly, and nighttime temperatures will be much lower. Remember to pack layers!
If you're planning a visit in the Spring, you will also need to note that unpredictable weather conditions will keep certain sections of the park closed. The North Rim of the park does not open from winter closure until mid-May.
Low Season
The winter months – November to February – are arguably the most peaceful time of year to visit the park, and an excellent opportunity to visit if you are a photographer. However, you must be willing to brave some colder temperatures. Daytime temperatures can change drastically day-to-day and will range anywhere from the mid-40s to low teens. Only the South Rim of the canyon has car access during the winter months as the North Rim roads are closed early in the season. But that doesn't mean you can't visit the North Rim! Our Winter Rim to Rim backpacking tour explores both the South and North Rim from November to February.
Deeper Dive: More About When to Visit

Activity Specific Visting Information

Knowing the weather and the outlook on crowds only answers our first two questions as we pick out the best time to visit. But we haven't yet discussed how your specific activity factors into your decision making.

Sightseeing

If you are going to visit the Grand Canyon for sightseeing purposes only, think about if you want to visit both the North and South Rim or just one. Although the summer is peak season in the canyon, it is still the best time of year for sightseeing as all parts of the park will be open. Furthermore, temperatures will be manageable throughout the entire day.

Hiking and Backpacking

Spring, Fall, and Winter months are the best time to visit if you are going to the Grand Canyon with hiking and backpacking in mind. Although the temperatures along the rim of the canyon are favorable during the summer months, the bottom of the canyon is often 100-degrees Fahrenheit or higher (even in the shade). These temperatures can make hiking extremely dangerous, and we don't recommend this activity unless you are with a guiding company or experienced desert backpacker.

Rafting

Generally speaking, April to September is when you would raft in the canyon. But remember that April and September can both be quite cold at times. The Colorado River's chilly temperature of about-52 degrees Fahrenheit further accentuates these cold days.  July and August, on the other hand, are within the canyon's monsoon season, and flooding is a possibility. June may be the best month to visit if you plan on rafting down the Colorado River as it will be hot and dry.

For more detailed information on when to visit and a month-to-month weather breakdown, visit Wildland Trekking's Best Time to Visit the Grand Canyon page.

Trip Dates

Keep in mind that we arrange trip dates early to ensure that guides and permits are lined up for each excursion. We, therefore, recommend that you book early to ensure you have a spot for your Grand Canyon adventure. Visit the Wildland Trekking Trip Dates page to determine the availability of your preferred trip.

Current Weather Conditions

Stay up to date with the Grand Canyon weather before heading out on your trip. Knowing what to expect and pack is your best method to prevent some inclement weather from ruining your trip!

Although the Grand Canyon is a desert climate, don't expect the weather always to be hot or dry. Depending on the time of year, you may experience heavy rainfall or winter weather conditions in addition to extreme afternoon heat.

No matter the time of year, it is especially important that you stay properly hydrated and have adequate sun coverage (hat, sun shirt, sunscreen, etc.)
Trip Styles
Deeper Dive: Our Top Recommended Trips

Hermit Loop: Our #1 Recommended Backpacking Trip

Hermit Loop is our number one recommended Grand Canyon backpacking trip. This adventure is a point to point trip with a 4-day or 5-day itinerary on the South Rim of the canyon. The natural beauty and cultural history that make the Grand Canyon famous are evident as we hike this wonderfully remote and scenic trail.

Reaching this beauty and solitude takes effort, however. The Hermit Loop trip is rated a 4 on our difficulty scale. We rate on a scale from 1-5, with 1 being the easiest and 5 being the hardest. Your daily hiking distance will be between 4.5 and 9 miles on lightly maintained trails sprinkled with rugged sections. Although you will start on one of the most popular Grand Canyon trails, the trip will become more secluded as we continue towards the Tonto and Hermit hiking trails.

Trip Highlights:

Hike down the famous Bright Angel Trail past Havasupai Gardens.
Visit Plateau Point, one of the most scenic canyon overlooks.
Hike across Tonto Trail as it parallels the Colorado River a thousand feet above it.
Hike through narrow canyons passages to find river rapids.
Look for desert wildlife and ancient fossils.

Learn more and book your Hermit Loop backpacking adventure today.

Grand Circuit Hiking Tour: Our #1 Recommended Inn-Based Trip

Experience both the North and South Rim of the Grand Canyon with our Grand Circuit Hiking Tour. You will embark on a 5-day journey featuring five stunning hikes in different areas of the canyon. But don't worry, we return to our comfortable beds each night after enjoying a wonderful gourmet dinner.

The Grand Circuit Hiking Tour is rated a 2 on our difficulty scale. We rate on a scale from 1-5, with 1 being the easiest and 5 being the hardest. Your daily hiking distance will range between 4 and 7 miles on a wide variety of trails. Some trails will be well maintained while others will be quite steep and rugged in sections.

Trip Highlights:

See Lee's Ferry, the official starting point of the Grand Canyon.
Have dinner at the historic El Tovar.
5+ hikes covering both rims of the Grand Canyon.
Optional moon-lit canyon walks led by your expert guide.
Beautiful and delicious outdoor sunset dinners each night.

Learn more and book your Grand Circuit Inn-Based Hiking Tour today.

Grand Canyon Basecamp Tour: Our #1 Recommended Basecamp Trip

Start your trip with a scenic day-hike around the South Rim of the Grand Canyon before moving on to three days of exploring the North Rim. The day-hikes will vary in difficulty, but all will feature stunning views and experiences. You'll have plenty of time to relax and recover each night as we unwind at our spectacular camp along the North Rim of the canyon.

The Grand Canyon Experience Basecamp Trip is rated a 2 on our difficulty scale. We rate on a scale from 1-5, with 1 being the easiest and 5 being the hardest. Your daily hiking distance will be between 4 and 7 miles on mostly maintained trails. However, be prepared for occasional steep or rugged hiking. You can expect solitude during many of the day-hikes as we explore remote trails that we've picked out just for you. However, our basecamp is within the park campgrounds, and you can expect to be around others in the evenings and morning.

Trip Highlights:

Memorable and scenic hikes on both the South and North Rim.
Visit the Historic Navajo Bridge.
Experience remote and seldom traveled trails off the North Rim.
Stunning conifer and Aspen forests
Cozy camping with access to showers

Learn more and book your Grand Canyon Basecamp Tour today.
Need to Know
Whether you are visiting Grand Canyon National Park on your own or with one of Wildland Trekking's tours, there are several items you need to know regarding your trip booking and travel plans.
Primary Departure Cities For The Grand Canyon
Flagstaff, AZ is the primary starting point for our Grand Canyon trips, along with Tusayan, AZ and the Bright Angel Lodge on the South Rim in certain circumstances. These locations allow for decreased travel time on the first day of your tour and offer more flexibility if unforeseen delays arise.
Visit your trip's specific landing page on our website and look under the logistics tab to determine the exact meeting location for your group. This meeting location will then drive your hotel and transportation arrangements as your Grand Canyon trip begins to take form.
You will likely be flying into either Las Vegas, NV or Phoenix, AZ (we recommend flying into Phoenix as it is closer to our departure locations). You can book a shuttle or rent a car to reach Flagstaff, AZ, from either airport. The South Rim of the canyon is located 80 miles northwest of Flagstaff, and all transportation is included once your tour has begun.
Plan Ahead
Once you settle on the perfect Grand Canyon trip for you, be sure to book your spot with us as soon as possible. Depending on the trip style and the time of year, our tours fill up fast. We'd hate for you to miss out on the trip you want. Plus, if you book a backcountry trip before the permit process, you will receive a 5% discount!
Remember, your first step is to book your trip with us. You can then move forward with the rest of your travel needs once Wildland has confirmed your trip dates. This planning includes your flights, pre- and post-trip lodging, and transportation to the canyon or pick-up-point.
Transportation:
There are shuttles available from both Las Vegas and Phoenix airports to Flagstaff, AZ. However, many of our guests choose to rent a vehicle. This option offers more convenience for scheduling and a buffer against those unexpected traveling occurrences. Having a rental vehicle also grants you the luxury of moving at your own pace and adding a little impromptu sightseeing to your trip, if you wish.
Lodging:
You will need to arrange for a place to stay pre and post-trip. The vast majority of our Grand Canyon tours depart from Flagstaff, AZ and we will pick you up and drop you off at any hotel you choose in the origin city. We recommend staying at Little America as it is the location for many of our tour orientations. This hotel also allows for luggage storage during your trek, and Wildland clients receive a 10-60% discount on their stay.
Booking Advice
A Grand Canyon excursion is a dynamic trip that requires proper preparation when booking. This preparation means giving yourself some wiggle room before and after the trip. Try to book flights with at least one day before and after the scheduled departure and return dates of your trip to ensure that you will be able to make it on time. Our guides will always do their very best to keep your excursion on schedule, but we must still allow for unexpected circumstances to arise.
There you have it hiking friends! We've covered the base information you need to start planning an incredible Grand Canyon hiking adventure. Pick the time of year that works for you, select one of our guided trip options, plan your travel, and voila; your next hiking vacation is a go!
Deeper Dive: More Need to Know Info

Trip Insurance

Any trip you choose to take with Wildland Trekking is an active vacation, especially in the Grand Canyon. Being in good physical and mental health is imperative for trip success and enjoyment. Life is unpredictable, however, and illness and injury are too. Not only that, but those unexpected travel delays, family emergencies, or natural disasters always toss a wrench into your plans at the worst possible time.

Wildland Trekking recommends trip insurance because of life's surprises and unknowns. Choosing travel insurance will not only cover costs of the trip through Wildland Trekking, but it will also cover any travel costs you may have had, including flights, hotels, and other travel costs.

To learn more about Wildland Trekking trip insurance, visit our Trip Insurance page.

Packing List

What you are going to need on your trip will depend on the type of activities you are participating in during the length of the tour. Wildland Trekking has put together generalized packing lists every travel destination so you can make sure your gear is up to par with your trip needs.

Conditioning

All of our Grand Canyon excursions are physically demanding. We highly recommend proper physical conditioning for you to enjoy the experience to its fullest potential. Now, you're not training to hike Everest, but you will need to be able to hike several miles in one day on rough, steep terrain – even on the mule-supported trek. For more information and some tips about your Grand Canyon specific training, visit the Wildland Trekking Training to Hike the Grand Canyon page.
Gallery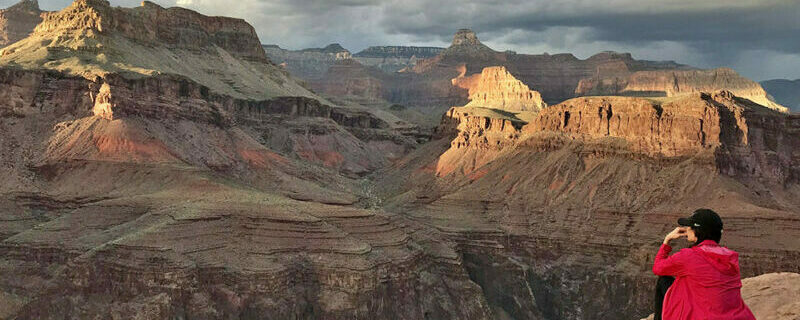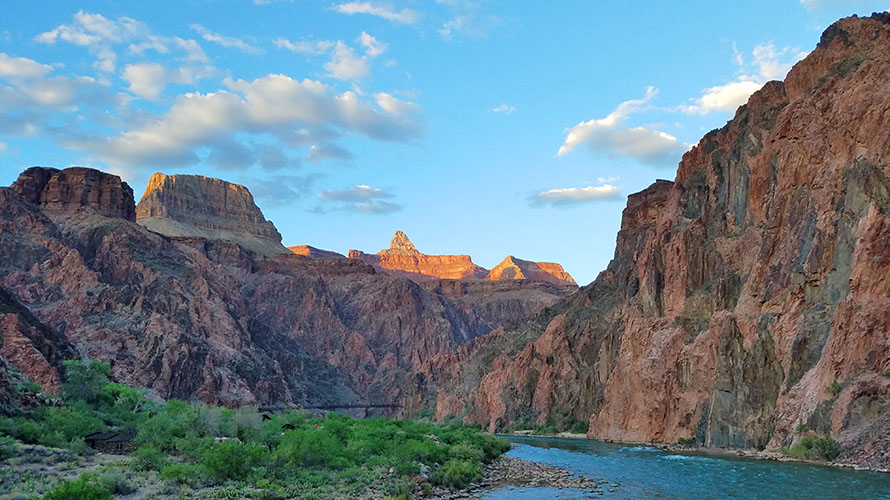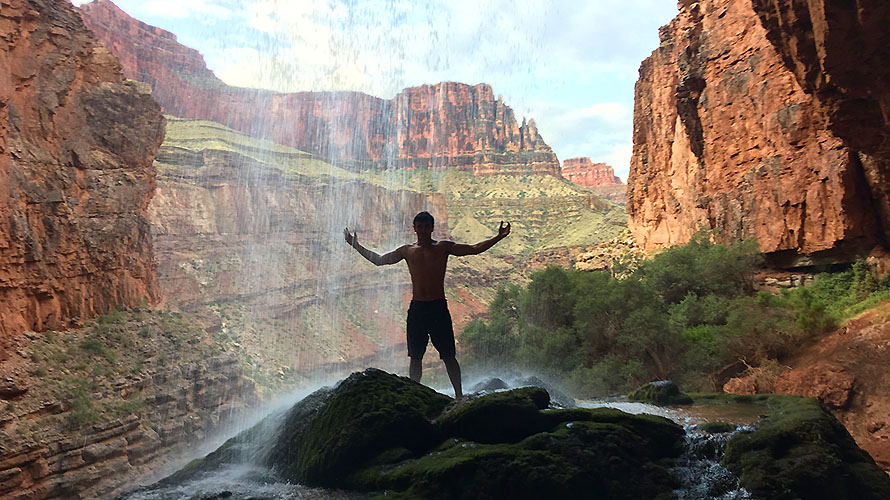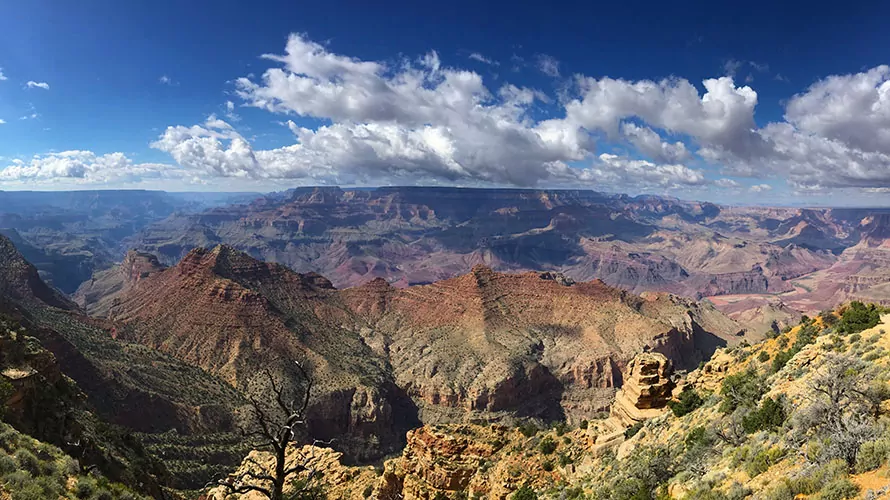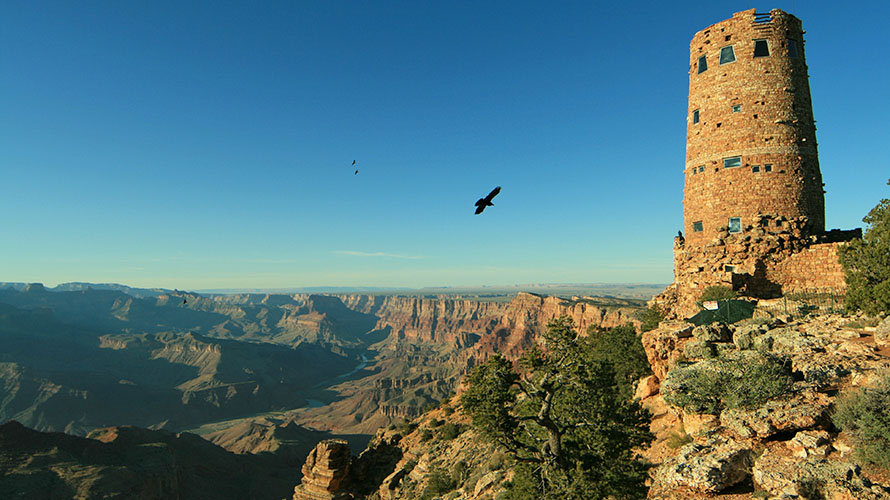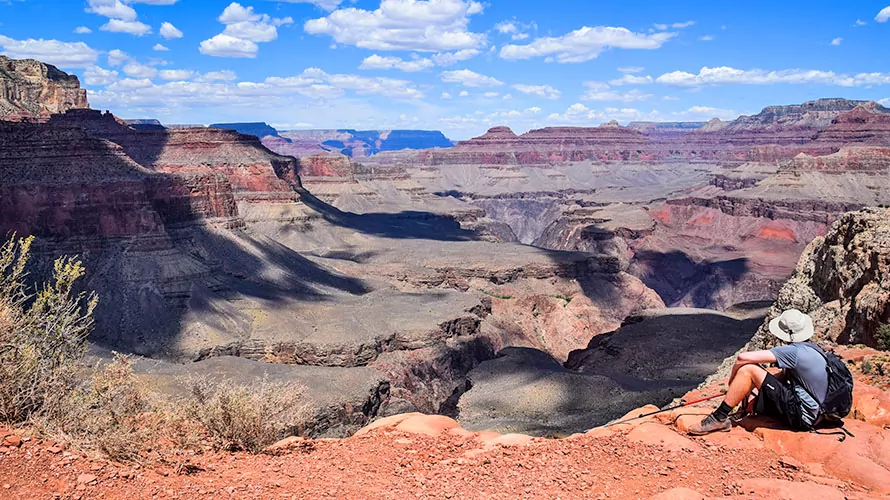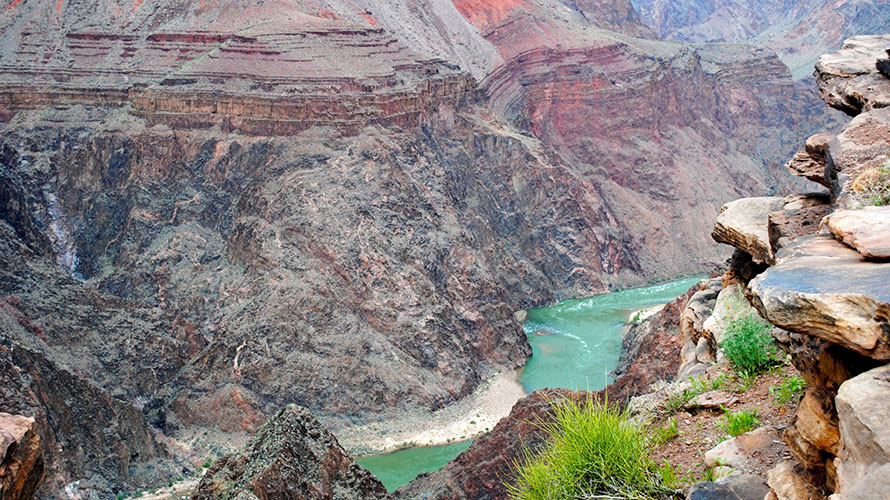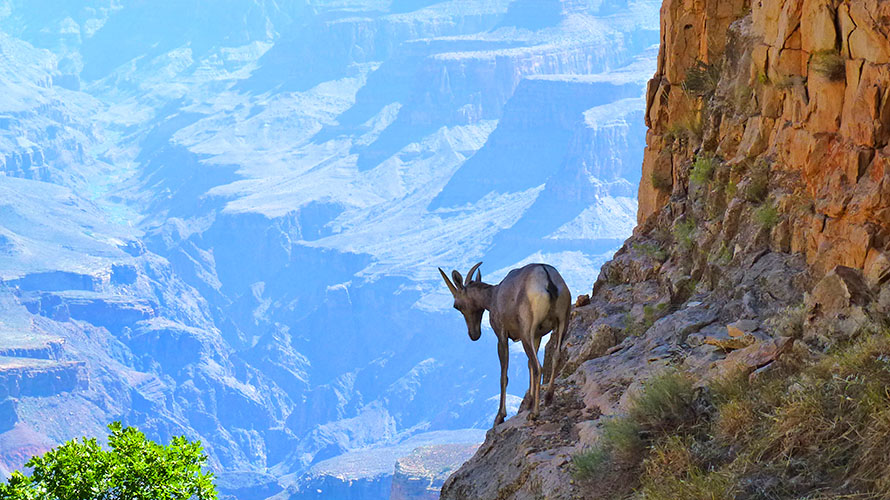 Have Questions?
Have more questions? Send us an email or call us at 800-715-HIKE (4453). We're here 7 days a week from 9:00 to 4:30 Mountain Time to make sure your trip planning goes as smoothly as possible.
Trip Information
For more information about all your options, check out our Grand Canyon page on the website with the button below! Individual trip pages have detailed itineraries, trip specifics, travel information, and more.