Best Beginner Backpacking Trips in New England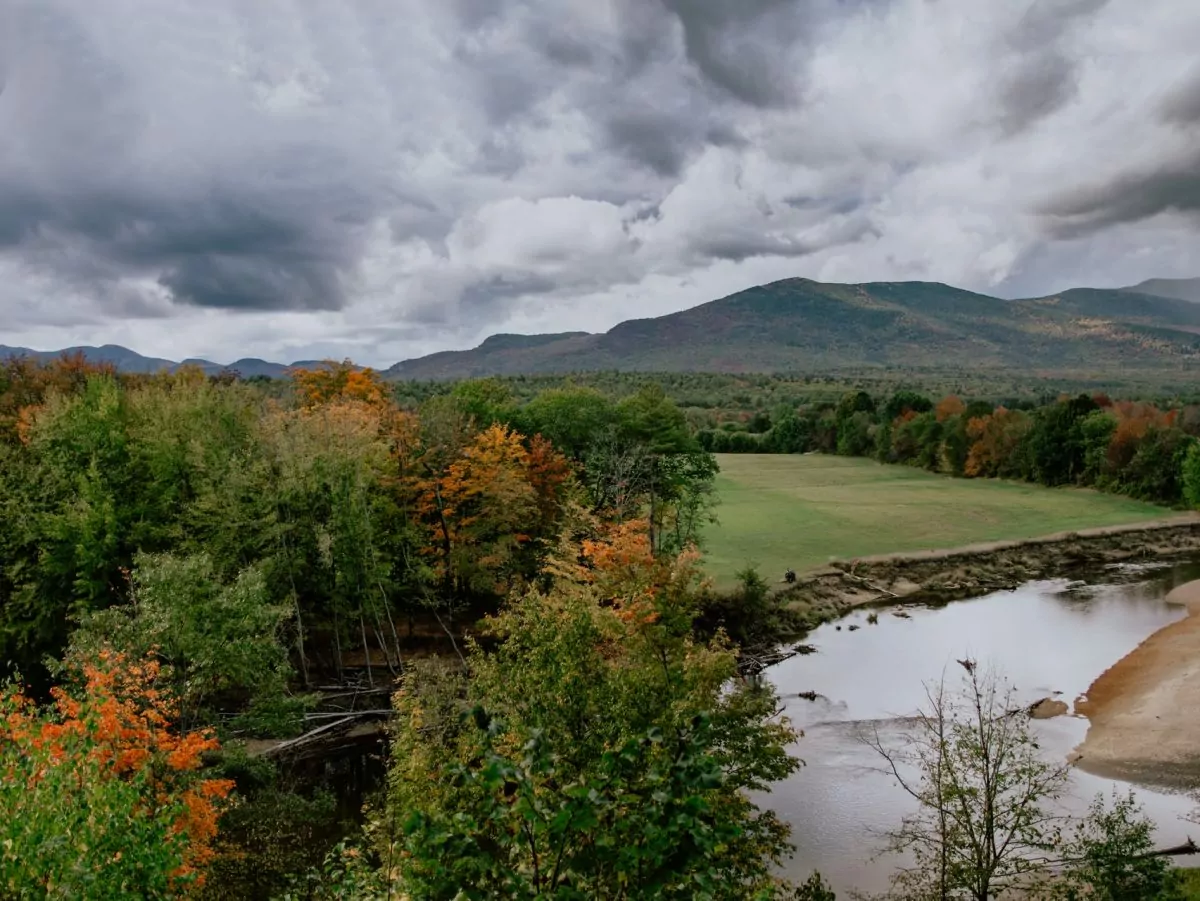 Photo by Kelly Sikkema on Unsplash
New England often gets painted as a land of suburban sprawl, bustling traffic, and secluded old tourist towns. However, this interpretation fails to mention the remote wilderness, sparkling mountain lakes, and rugged peaks. After all, New England is the outdoor recreation hub of the Northeastern United States — and for good reason. 
New England offers spectacular backpacking opportunities, from the Green Mountains of Vermont to the coast of Maine. These backpacking trips are even better due to New England's incredible access. Even the most remote parts of the Northern White Mountains are only a three-hour drive from Boston.Thus, hikes of all difficulty levels are available to millions of people who live in the region.
Not sure where to start? We got you covered. We have compiled a list of five of the best beginner backpacking trips in New England. Each of these treks has plenty to offer new and veteran backpackers alike. You can customize each itinerary to fit your needs; many of the hikes listed below have alternate routes, short-cuts, or skippable sections that allow you to choose your own adventure.
Always remember to hike your own hike and make any changes you need to meet your skill level, gear, timeline, or personal goals. After all, backpacking is meant to be fun! 
Explore Your World with Award Winning Guides
how to choose an appropriate trail
While each new backpacker is entering into the sport with a different set of skills and fitness levels, we've crafted a list of trips with all beginner backpackers in mind. These trips fit a few criteria:
You'll hike relatively low mileage for the length of the trip.

The trails don't have extreme elevation gain for the region (However, Washington mountains are known for being steep and rugged due to the intense amount of rainfall, so you can't escape elevation gain here!) 

You'll travel on well-maintained trails and avoid tricky terrain like boulder fields. 

You'll get a lot of bang for your buck, whether in the form of peaks, alpine lakes, or lush meadows. (Many people neglect this crucial factor.)
However, backpacking is never easy (or else we'd never do it!) — so,  if you want to maximize your fun, be sure to train for your backpacking trip.
1. Little Rock Pond, Green Mountain National Forest, Vermont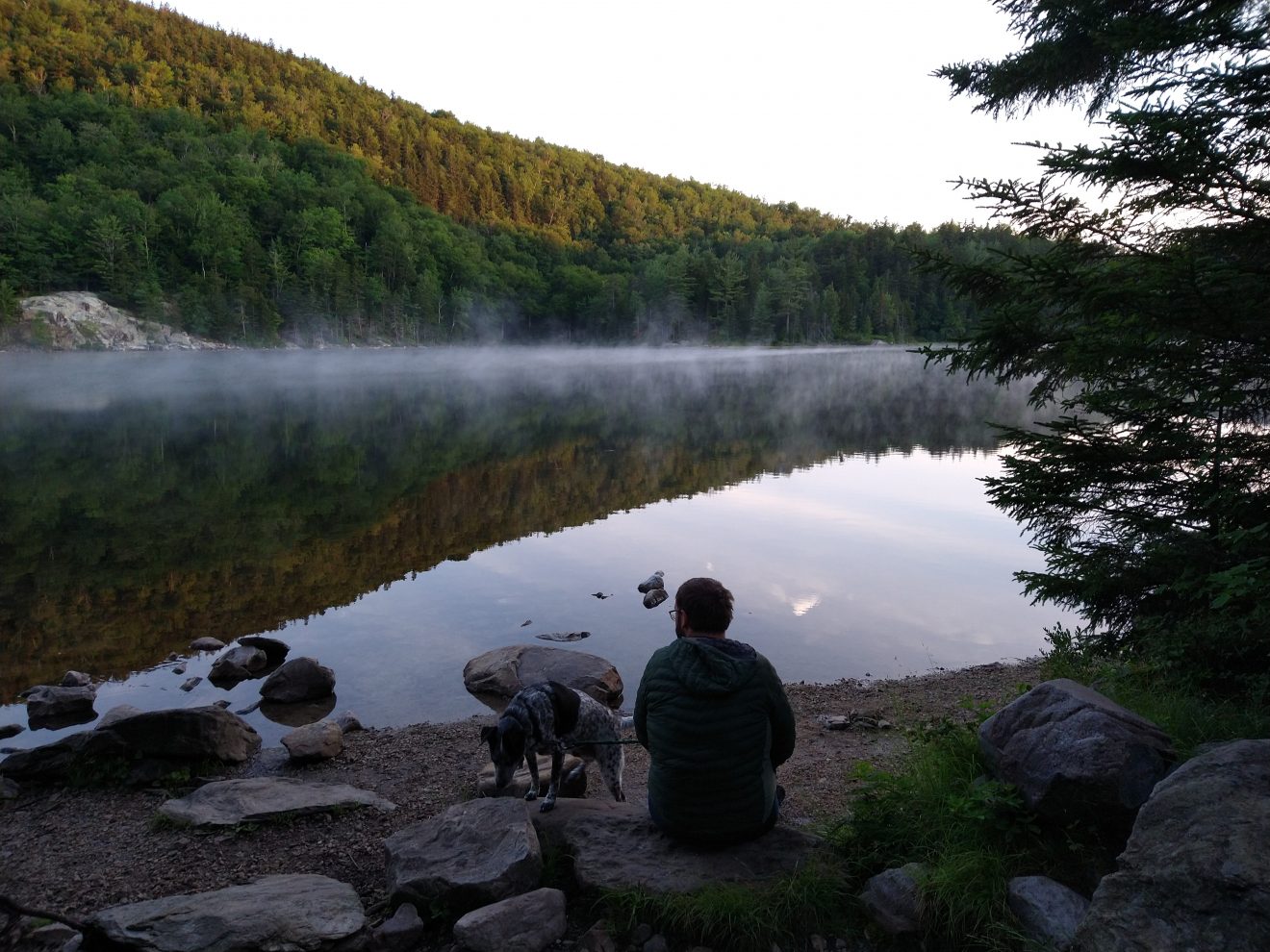 Photo by Jacob Deutsch
Mileage: 4.8 (out-and-back) – 10 (loop)| Length: 2 – 3 days | Elevation Gain/Loss: 500 – 3000 feet
Little Rock Pond is a crystal blue gem tucked in the heart of the Green Mountains where the iconic Long Trail (which coincides with the Appalachian Trail) runs along the eastern edge of the pond. Little Rock is home to a fantastic shelter (that sleeps a whopping 16 people!) with a full-time warden and plenty of tent or hammock sites. On your way to the pond, you will hike up a well-maintained trail until you see the shimmering light of the sun bouncing off the gentle waves of Little Rock Pond.
Why is it great for a beginner?
This trail is extremely accessible and has a moderate grade, making it the perfect place to shake down your gear, skills, and comfort level. If this is your first trip or you're looking for a short overnight you can hike 2.4 miles to the shelter and back. At this popular shelter, you'll be surrounded by other hikers and have an easy bail back to your car if you ever feel uncomfortable.
In addition, Little Rock offers tons of opportunities to customize your hike. If you want to tackle some extra miles after a night at the shelter, you can hike up the Green Mountain Trail and tack on an extra 4.5 miles (and 2000ish feet of elevation) before you loop back to your vehicle. Want to go even further? Follow the LT/AT in either direction and spend an additional night at one of the adjacent shelters. The opportunities here are limitless.
logistics and permits
The Big Branch parking lot, which is right across from the trailhead, is the perfect starting point for this trip because you are allowed to park here overnight. Just make sure not to park at the Big Branch Lookout (which is about a quarter-mile down the road), as that parking lot is day use only.
One benefit of hiking in Green Mountain National Forest is that you don't need permits to camp overnight. If crowded shelters aren't your jam, you can dispersed camp along the trail as long as you follow LNT principles. If you stop by the shelter, the warden might even give you some tips on where to find the prime camping spots. If you are planning to stay in the shelter, bring $5 in cash to give to the warden upon arrival.
2. Brush Mountain Conservation Area to Royalston Falls, New England Trail, Massachusetts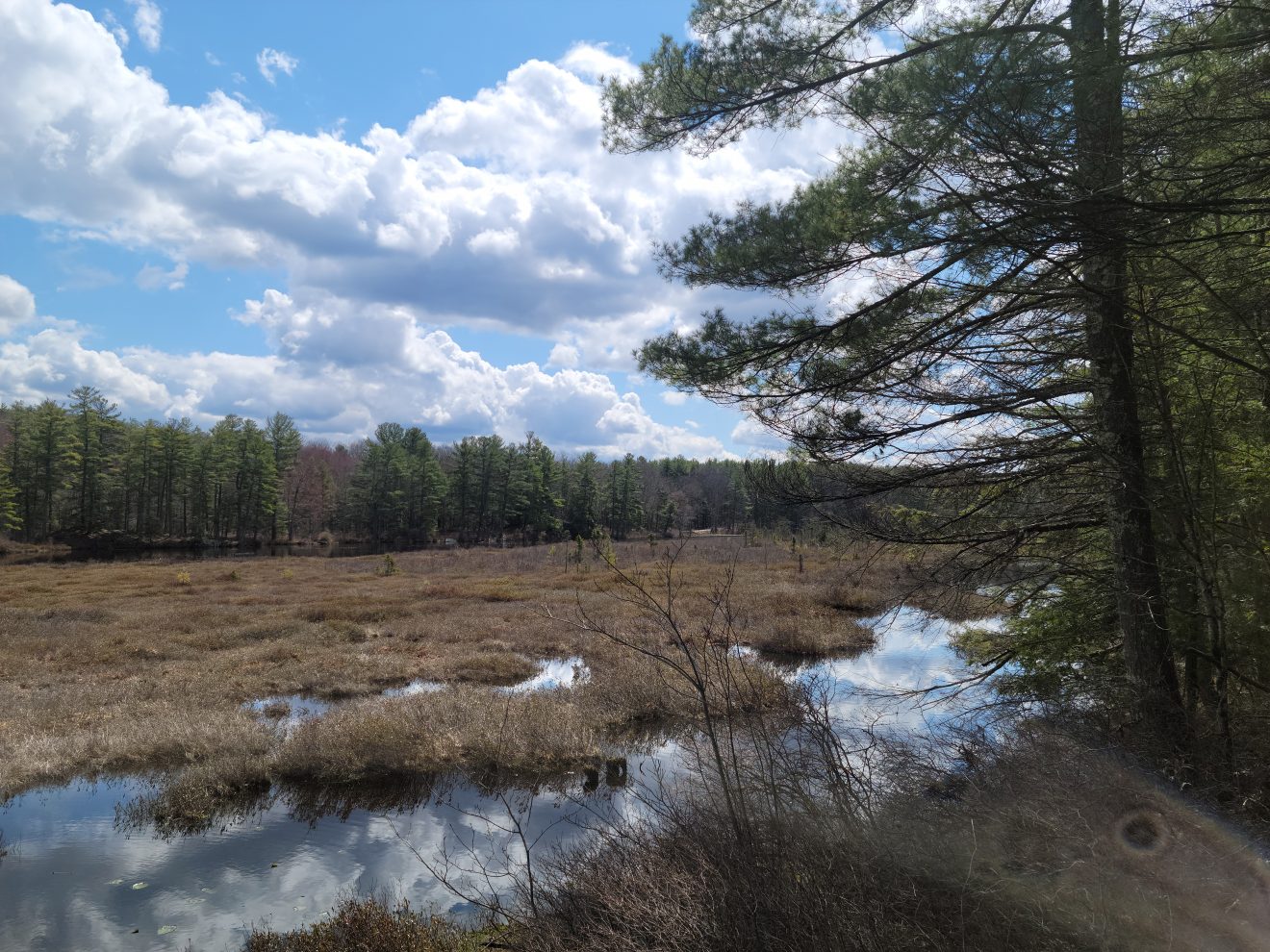 Photo by Jacob Deutsch
Mileage: 20 miles point-to-point | Length: 3 – 4 days | Elevation Gain/Loss: 3,700 feet
Northern Massachusetts is a hidden gem full of wonderful hiking opportunities. From the Appalachian Trail (AT) in the west to the New England Trail (NET) & Mattabesett, Metacomet, and Monadnock (M-M-M) trail systems in the east, the state features some of the best hiking within two hours of a major US metro area. This hike, which encompasses sections 17 and 18 of the NET, winds through beautiful old-growth forest, offering up unparalleled north-facing views into Vermont and New Hampshire. On this extremely accessible wilderness experience, you'll also hike past waterfalls, stay in beautiful shelters, and climb fire towers with seemingly never-ending views. When I thru-hiked the 220-mile NET earlier this year, this section was by far my favorite.
Why is it great for a beginner?
This portion of NET is well-graded, frequently marked, and has some of the most incredible shelters I have seen (with seriously stunning views). All of these factors pair up to make it a perfect beginner hike. This section of the NET is also much less rocky/rooty than many of the earlier sections. 
It is also a perfect weekend/long weekend hike.  You can hike a few miles to the Richard-Zlogar cabin and be rewarded with a view of Mt. Grace (where you will be staying the following night) and Mt. Monadnock. The next day, you'll push a bit harder to get to the Mount Grace lean-to, but your legs will be warmed up and ready for the challenge. On the third day, you'll round out your backpacking trip with a short hike to Royalston Falls on the Massachusetts-New Hampshire border. Here, you can either stay the night or hike two miles back to the trailhead. 
logistics and permits
Dispersed camping is not allowed on the NET, as much of it runs along private property. So, you have to use the shelters, but most of them have tent sites nearby if you prefer sleeping under the stars. 
Each overnight shelter along the NET has its own set of rules. Some require reservations and fees, while others are available for free on a first-come-first-served basis. Always make sure to check the NET website for information about overnight stays, as they regularly update the public on trail/shelter closures.
As this is a point-to-point hike, you will need to arrange transportation from one end to the other. There will be limited (or more likely non-existent) Lyft/Uber service. Therefore, you will need to arrange a shuttle or take two cars and park one at each trailhead.
3. Cutler Coast and Inland Trails, Cutler Coast Public Reserved Land, Maine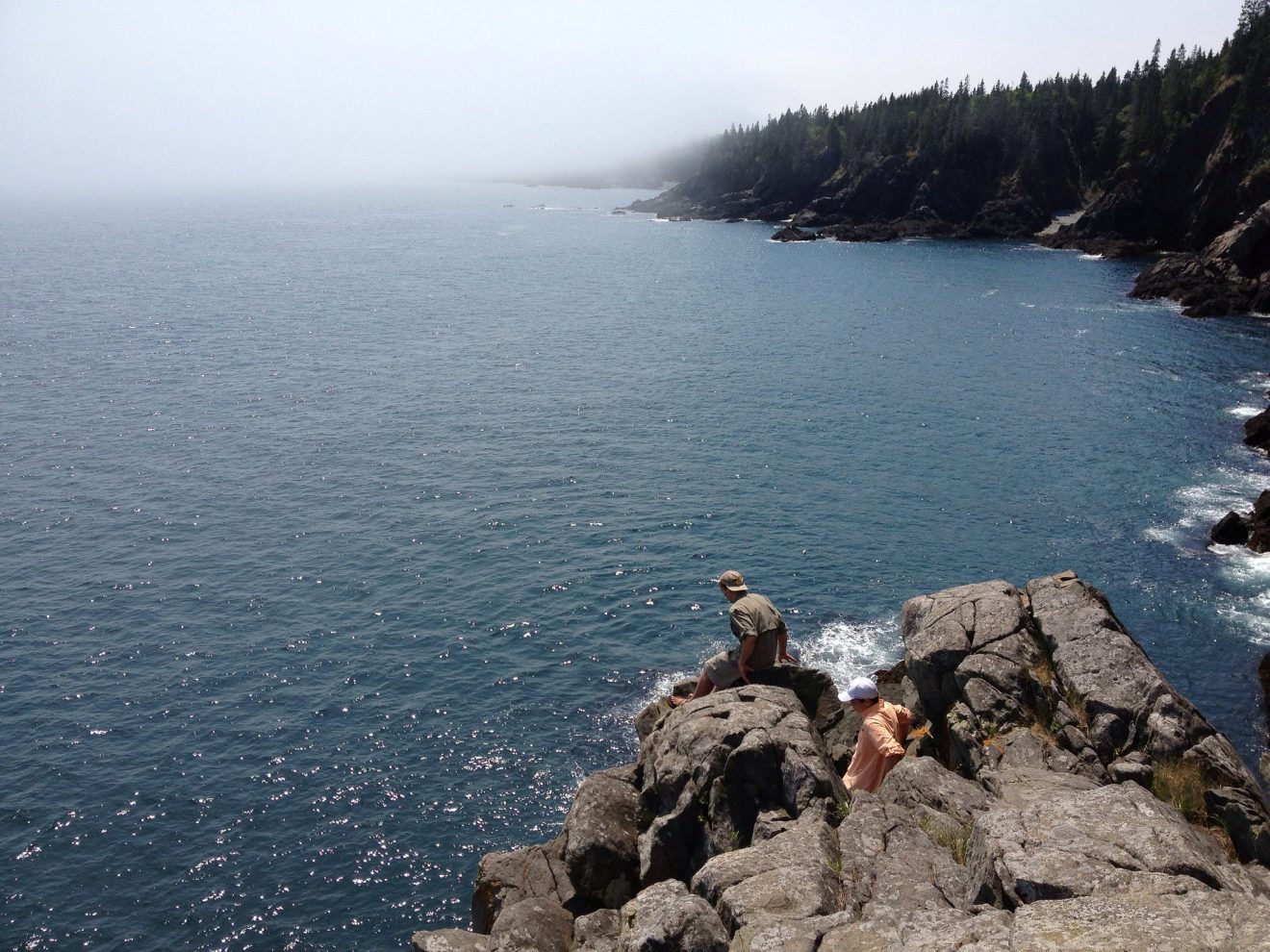 Photo by OakleyOriginals (CC BY 2.0)
Mileage: 11-mile loop | Length: 2 – 3 days | Elevation Gain/Loss: 1000 feet
The Cutler Coast Public Reserved Land in Maine provides hikers with a truly New England hiking experience. Its remote beaches and stunning ocean vistas rival that of Acadia. Backpackers of all levels will enjoy the seaside cliffs, whale watching, and beachfront backcountry camping.
Why is it great for a beginner?
If you can get to northern Maine, this trail is a memorable beginner-friendly option. Northern Maine is one of the most remote places in the lower 48, so this trip will give beginners a true wilderness experience – despite the fact that you'll never be more than five miles from the trailhead parking lot. 
This trail also features minimal elevation gain, so it's the perfect reprieve for newer hikers who want to test out a full-weight pack for the first time.
logistics and permits
This loop provides easy parking/transportation logistics for those willing to make the trip to Northern Maine. You do not need a permit to visit the Cutler Coast Trail, and there are no fees to use the backcountry campsites. However, this area only has five first-come-first-served backcountry campsites, and you'll need to stay in one of them. (No dispersed camping allowed!) So plan ahead and get to camp early enough to claim a spot. Also, potable water is not available at camp. Be sure to pack enough water for your trip and plan your backpacking meals accordingly.
4. High Peaks of the Pemigewasset Hut-to-Hut Trek, White Mountains, New Hampshire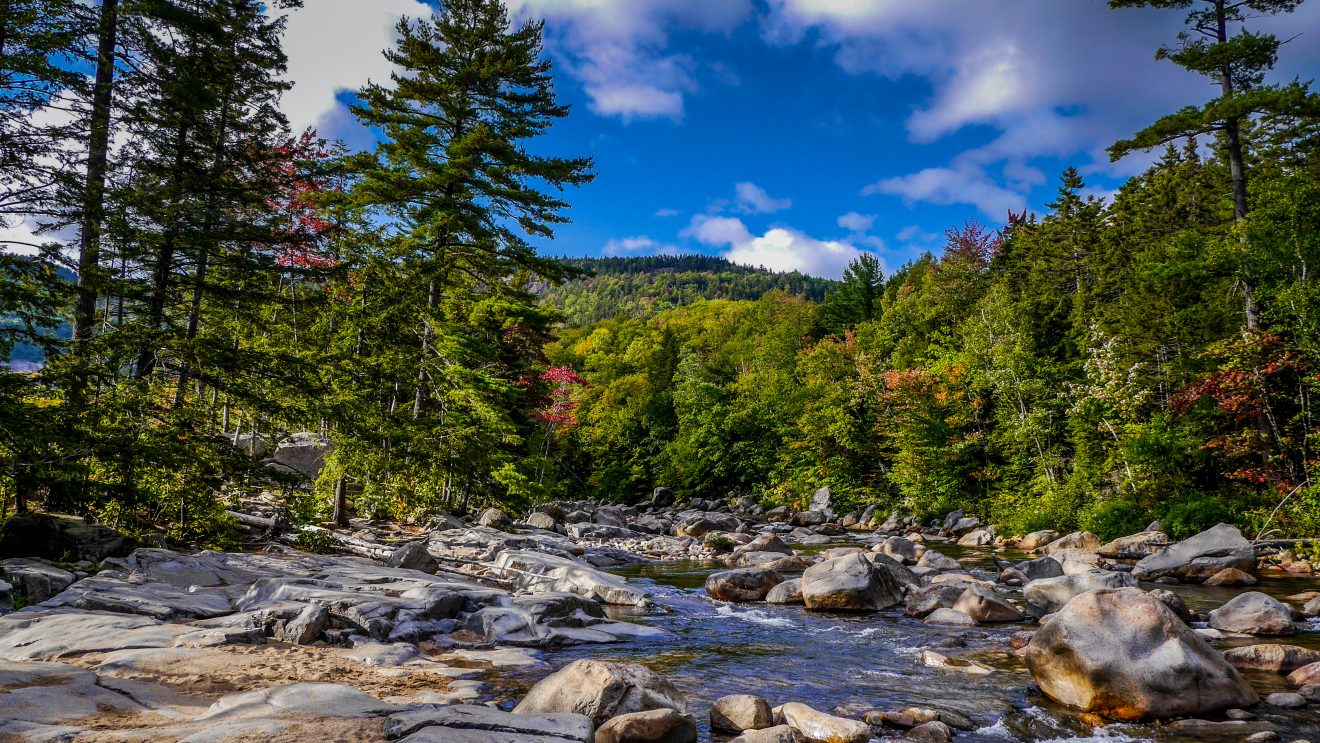 Mileage: 15+ point-to-point  | Length: 2 – 4 days | Elevation Gain/Loss: 3,300 feet
The White Mountains offer some of the most rugged and scenic hiking available east of the Rockies, and the Pemigewasset ("Pemi") is the largest designated wilderness in the White Mountains, so it sure has a lot to offer. Are you looking to hike in a pristine wilderness full of wildlife? You can do it in the Pemi. Do you want to stay at an amazing hut system? The Pemi has dozens of them. Looking for a wide variety of difficulty levels and lengths in potential backpacking trips? The Pemi has hundreds of trails to explore. On the High Peaks of the Pemigewasset Hut-to-Hut trek, you will follow the Appalachian Trail across some of the most iconic peaks in the range – South Twin and Mt. Guyot.
WHY IS IT GREAT FOR A BEGINNER?
This is a great hike for any backpacker building up to a thru-hike. You'll get into the wilderness for multiple nights, gain some experience on the AT, and have the opportunity to test out your gear system on one of the most rugged sections of the AT. In addition, the Pemi hut-to-hut trek is not one formal trail but rather a connection of trails. So, you'll have the opportunity to develop your own itinerary and refine your planning and route-building skills. 
The full-fledged hut system provides you with so much flexibility. You can break down the hike into manageable chunks, and based on hut locations, you'll never need to go more than five to seven miles in one day. Trust us, you won't regret taking your time on this spectacular hike.
LOGISTICS AND PERMITS
At most of the trailheads along the route, you will need to pay for a day-use recreation pass. Don't fear though, the day passes are only $5 (or you can buy the annual WMNF recreation pass for $30). 
If you are planning on utilizing the services available at the huts, you will need to reserve ahead of time with the Appalachian Mountain Club. Fair warning, these huts can be expensive (up to $120 a night) so it is highly recommended to book ahead and use your Appalachian Mountain Club membership to get a discount. For those who prefer to keep costs down, backcountry camping in the Pemigewasset Wilderness is free as long as you follow LNT principles. 
If you're hiking unguided, you will need to arrange a shuttle as this is a point-to-point hike. You can find plenty of information online to help you plan and prepare for your hike, however, guide books are also excellent resources. While any guide focused on the NH section of the AT will work, the AMC's White Mountain Guide is the ultimate repository of information about the Whites. It will provide you with all the information you need about water sources, parking lots (and overflow parking lots), and the hut system.
Guided Trip Options
Wildland Trekking offers this High Peaks Hut to Hut Trek as a guided backpacking adventure. This guided trip will give you access to expert guides, gear, meals, transportation — everything a beginner could want! Since the White Mountains are known for being rugged and hard to approach as a beginner,  this guided trip would be the perfect way to dip your toes into this unique mountain range.
5. Stratton Mountain and Pond Loop, Green Mountain National Forest, Vermont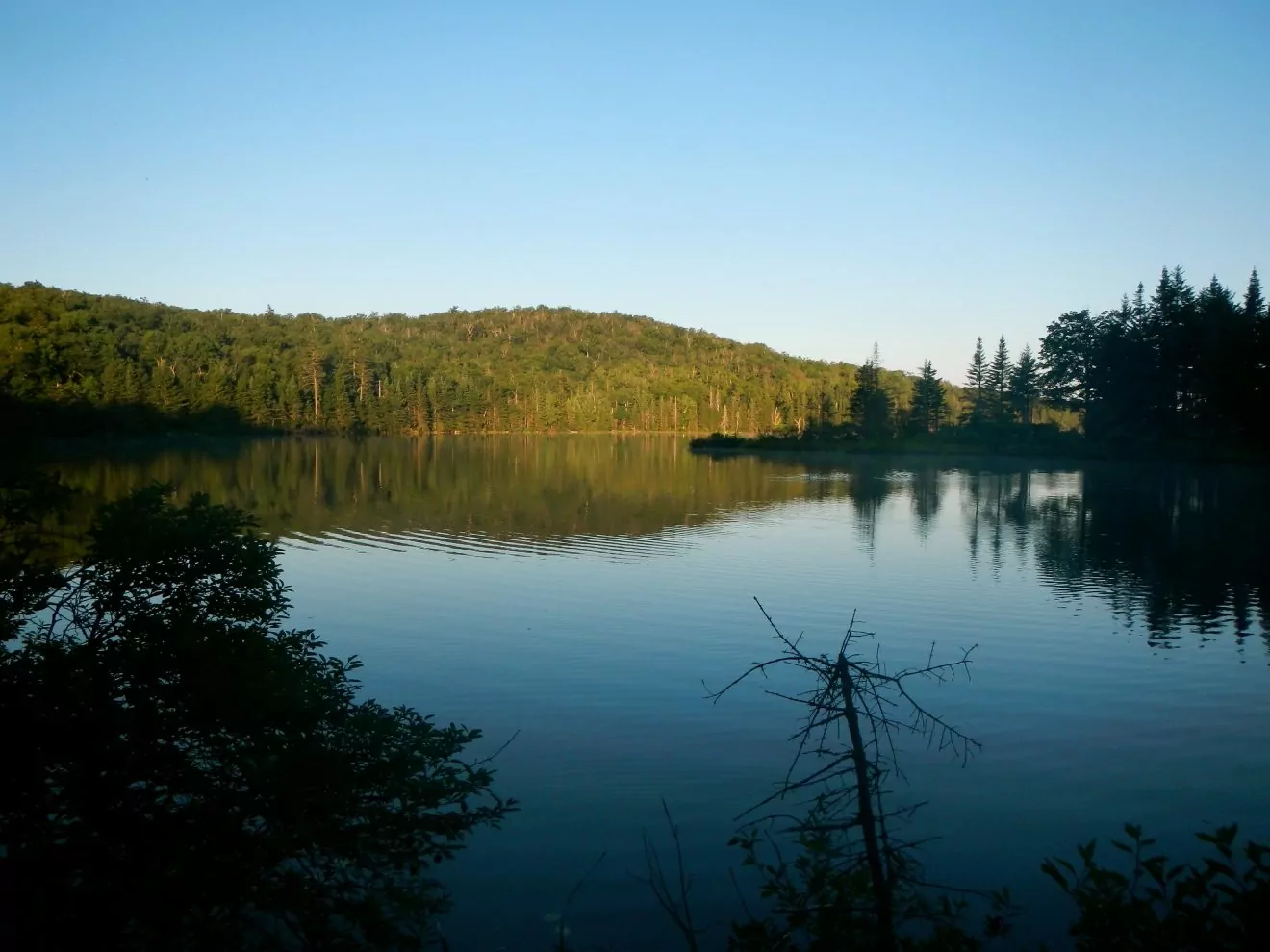 Photo by John Hayes (CC BY 2.0)
Mileage: 11-mile loop | Length: 2 – 3 days | Elevation Gain/Loss: 2,000 feet
Stratton Mountain is one of the most iconic peaks in Vermont. Sitting at 3944', it just barely misses out on the elusive 4000-foot designation. Don't let this deter you: the fire tower at the peak provides the best 360-degree view in Vermont. 
The Stratton Mountain and Pond Loop is the perfect way to experience all the glory that backpacking in southern Vermont has to offer. On day one, the six-mile hike to Stratton Pond is gentle and packed with beautiful hardwood forest walking. Once you arrive at the pond, you can spend the night right on its shores if you stay at the Stratton View Tenting Area which, as the name suggests, features a killer view of the peak.) The next day, you'll continue your hike towards the summit. While the climb up Stratton is fairly steep — 1500 ft over roughly two miles — you will be rewarded with a stunning view across southern Vermont and the option to climb the fire tower for even more expansive scenery.
WHY IS IT GREAT FOR A BEGINNER?
This loop will give you a taste of wilderness in a controlled setting. As this hike is a loop, you will never be too far away from your vehicle should you run into inclement weather or realize you left some gear in the trunk. In addition, you can easily expand this route to create a longer trip. Just two miles to the west of Stratton Pond is Bourne Pond, which has two additional tenting locations. If you don't want to dispersed camp (which is perfectly allowed in Green Mountain National Forest), this pond is the perfect destination to extend your backpacking trip.
While other parts of the Green Mountains are extremely remote, the Stratton region is extremely accessible and fairly well-trafficked. Despite that, you will still get the same wilderness immersion and experience some of the best hiking trails in the east. 
LOGISTICS AND PERMITS
Green Mountain National Forest allows hikers to dispersed camp permit-free as long as you follow LNT principles, so the sleeping options here are virtually limitless. In addition, the parking lot is easily accessible (for southern Vermont) and has no overnight fee. Water is plentiful along the loop, so just bring a filtration device!