SwiftWick Flite XT Trail Two Sock Review
Wildland Trekking gear guide manager and guide, Dan Purdy, shares his experience after spending the 2022 summer season testing the Swiftwick Flite XT Trail Socks in the Pacific Northwest.
Hi adventure friends. I'm Dan Purdy, a backpacking guide with Wildland Trekking and the manager of our gear review program. This 2022 summer, I had the pleasure of testing the two-inch Swiftwick Flite XT Trail Socks during several hikes across the Pacific Northwest. My testing saw massive 3,000+ ft ascents, water-crossings, and shoreline hiking, so it's safe to say that these socks saw a broad spectrum of conditions.
Let's see how these socks performed in this Swiftwick Flite XT Trail Two Sock Review and explore whether they're a good fit for your next adventure. If you're interested in the taller version of these socks, check out our Flite XT Trail Five-Inch Sock review.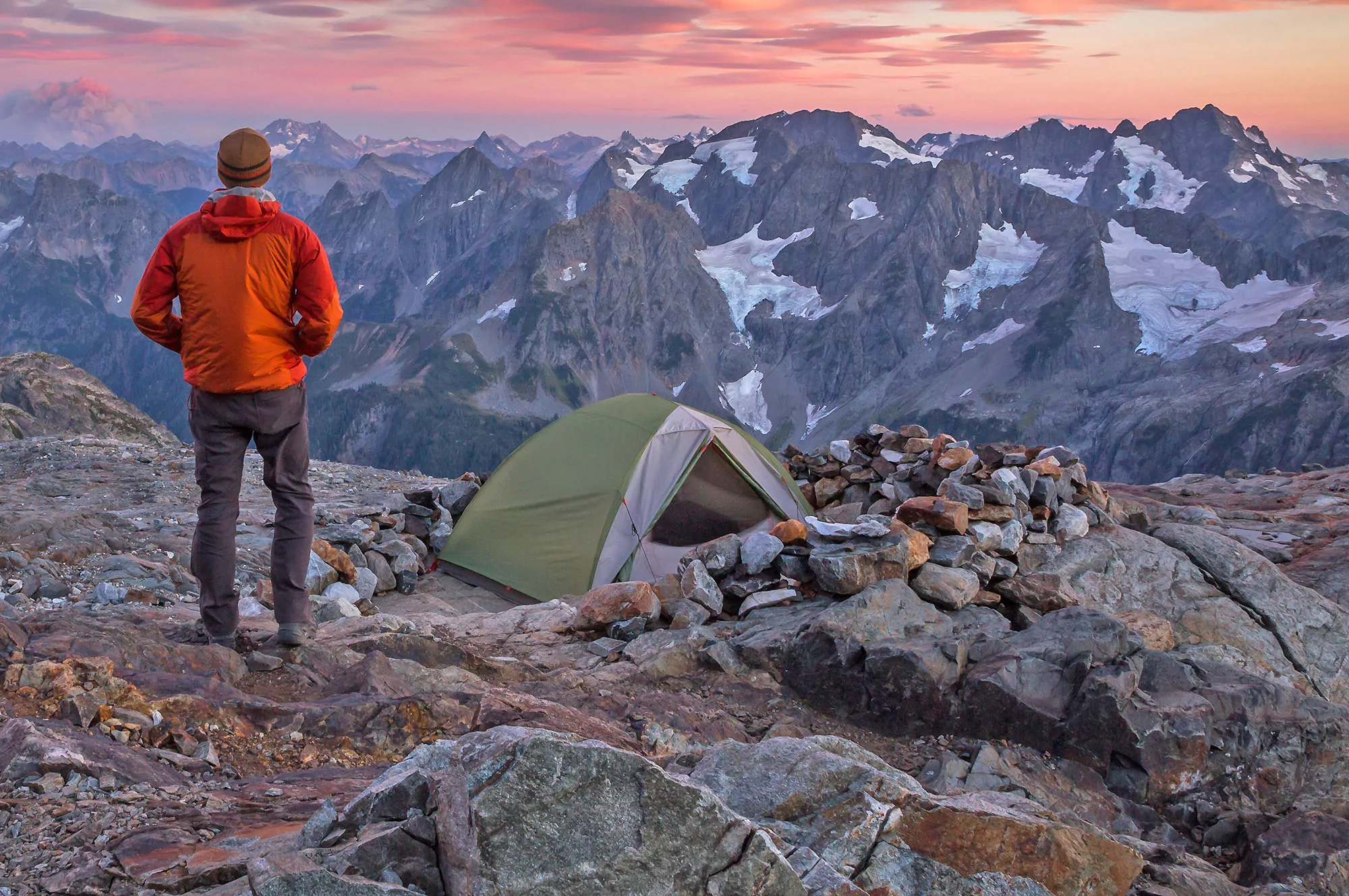 These socks are designed to be your go-to adventure socks for everything from hiking to trail running. Let's take a look at their basic specifications.
MSRP: $23.99
Material: 39% Nylon / 23% Merino wool / 23% Olefin / 12% Polyester / 3% Spandex
Sock Height: 2 inches
Cushion: Medium
Compression: Medium
Manufacturing: Made in the USA
Intended Use
SwiftWick designed these socks for any outdoor activity with a particular focus on hiking and running. Specifically, these socks should keep your feet supported, dry, and comfortable no matter where your adventures take you. We see generous amounts of compressive elastic along with moisture-wicking olefin and merino to tackle these goals and keep your feet happy all day long.
As these features broadcast, these socks are ruggedly designed to take everything the trail can throw and stay with you step after step and mile after mile offering unwavering support and ventilation.
Notable Features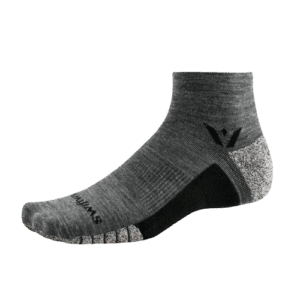 The Swiftwick Flite XT Trail Two Socks sport a feature-rich design that is definitely worth investigating. Let's review a few of these features to better understand what these socks offer.
Seamless Toe Box – Our toes are sensitive, and excess seams or stitching in that area can cause friction, chafing, and blisters. Swiftwick has eliminated seams and stitching in the toebox to reduce these hassles.
AnkleLock Technology – Compressive elastic material in the ankle area provides increased support and stability for this joint.
Arch Band Support – Extra compression material wraps around the arch to provide additional support. The snug design also prevents the sock from shifting or bunching up.
SwiftWick Company Background 
Swiftwick is all about socks. They take great pride in meticulously designing and testing socks for every type of activity from hockey to cycling, and their specialization and skill are evident in their products. The business itself is based in Franklin, Tennessee, and all their socks are also made in the USA using sustainable practices. What's more, Swiftwick cares deeply about growth and inspiration, and both of these qualities are reflected in their support of outdoor-focused organizations and our communities.
THE TEST – QUICK OVERVIEW
I tested these socks throughout the beautiful landscapes of Washington State in the Pacific Northwest. The top destinations included Olympic, Rainier, and North Cascades National Parks, along with side trips to Mount St. Helens and the desert surrounding the Columbia River Basin. Throughout these tests, I encountered heart-pounding ascents, wet river crossings, and high-mileage days through forests and rocky coastal terrain.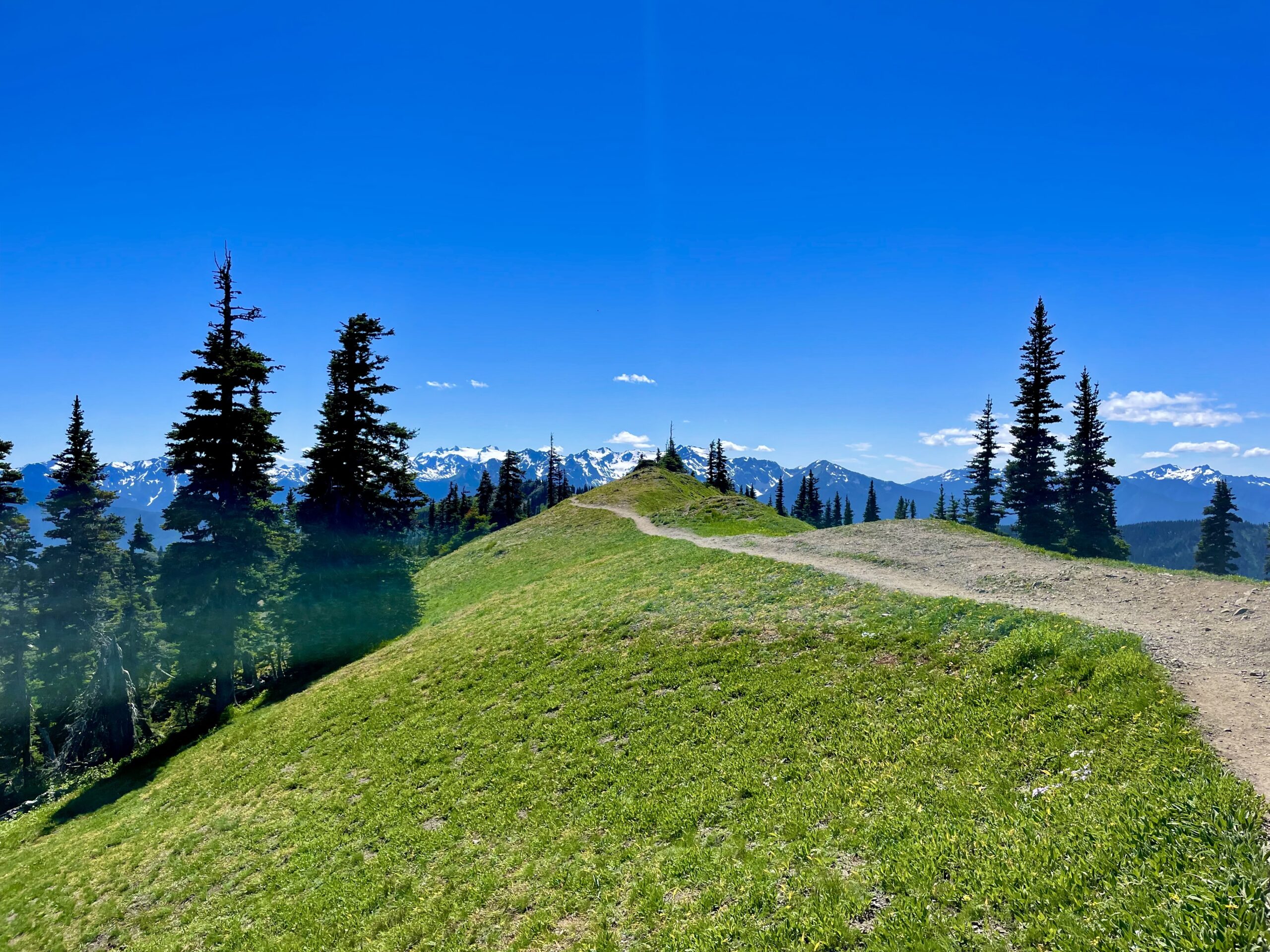 The Review
We've covered the surface-level specifications and test details for the SwiftWick Flite XT Trail Two Socks. But now it's time to dive into the detailed review. Below, we'll cover important performance characteristics, how the socks felt in each category, and I'll provide a ranking for every category. The rankings will range from 1 to 5 – where a score of 5/5 is the best possible score.
Overall Comfort and Sizing – 5/5

I'm very pleasantly surprised by how comfortable my Swiftwick socks are. The wool-olefin-nylon blend is perfectly balanced to create a soft, almost slipper-like feel that still performs phenomenally on the trail. In general, I've typically found purebred active and hiking socks to sacrifice a little of the soft, plush comfy feeling to maintain durability, but not so here.
And not only do these socks feel great as soon as I slip them on, but they still feel great after hours and hours of intense hiking. This comfort is the painstaking product of the sock's support, moisture-wicking, and performance fit all coming together in a synchronized ballet of function. We'll dive into more detail for these categories below. But overall, I couldn't be happier with these socks' overall comfort.
A note on sizing, the Swiftwick Xflite XT Trail socks utilize a snug fit to maximize support and minimize bunching. Properly sized, this snug fit combined with soft materials creates the perfect cozy feeling, but it also means that these socks may feel a little tight. For example, I typically wear a 12-sized street shoe which, according to the Swiftwick Sizing Guide, would put me at the upper end of a Large-sized sock. But, knowing that these socks run tight, I opted for an XL-sized sock, and I couldn't be happier. Therefore, if you're on the fence about sizing, I recommend going up a size to be safe.

Support and Cushion – 4/5
The snug fit, aided by the liberal use of compression and elastic materials, makes this a very supportive sock. I usually experience at least some arch fatigue early on in most of my hikes, especially when I use my minimalist trail runners. But the nice compression material wrapping around the arch of this sock prevented that from occurring.
As for the cushion, this sock fits squarely into the medium category with a slight nod towards minimal. It's certainly not ridiculously padded like heavy-duty winter socks. However, it's also thin enough to feel lightweight and slim while still offering the perfect amount of cushion to protect the bottom of your feet without feeling cumbersome.
I deducted a single point from this category simply because I couldn't quite feel any appreciable support in the ankle area despite the sock's AnkleLock feature. Specifically, the Flite XT Trail socks promote AnkleLock technology that features extra compression material around the ankle for increased support in this area. Still, I can't say I noticed this feature at all. But the sock is very supportive overall!

Moisture Wicking – 5/5
Outstanding. I took these socks on a lung-buster 3000+ ft summit trip, and I practically swam the last half-mile as I worked up an epic sweat. But I never once felt that my shoes or socks were becoming sodden or developing hot spots due to moisture. In fact, I took my shoes off at the summit, and they actually felt about 90% dry – an amazing feat considering that I run hot and often saturate my socks with heavy hiking.
So top marks for moisture-wicking. The Olefin foot bed certainly seems to do a fantastic job keeping my feet dry, and I'm highly impressed with the sock's performance in this category.
Durability – 4/5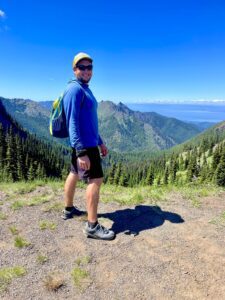 My testing thus far has revealed zero thin spots, pilling, or snags developing, so I'm happy overall! These socks certainly seem built to last season after season, and I haven't seen any evidence to the contrary so far. Of course, the long-term durability of these socks can only be called after I've put in the miles, and I'll update this review after my next few months of hiking so we can see where they stand.
The only slight sign of wear I've noticed is a subtle scuffed/brushed appearance to the outside of the sock from rubbing inside my footwear. This may, of course, be excess and loose fluff getting moved around and nothing more, so I don't consider this a huge warning sign. Nevertheless, It's something that I'll keep a close eye on moving forward.
Odor-Resistance – 4/5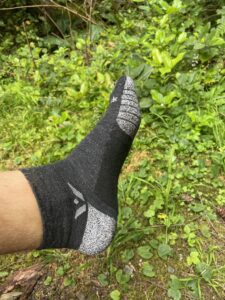 To be fair, it's difficult for me to find any article of clothing that can resist bad smells after a season of hiking, and these socks were tested in my trusty trail runners that already have a hint of perma-funk. So the cards were stacked against the Flite XT Trail Two's from the get-go. But nevertheless, they've done a decent job of holding back bad smells – meaning that they don't immediately stink as soon as I start moving.
However, I've noticed that these socks start to noticeably smell after about 2-3 days of back-to-back hiking. But a good rinse reduces the smell dramatically, and a proper wash eliminates it altogether. Now, socks with a higher merino blend percentage would be able to resist bad odors for longer and smell less when they reach their limit (but higher wool counts tend to also reduce durability). So with this in mind, I gave these socks a 4/5 rating for odor control.
Price – 4.5/5
A little market research shows these socks are priced just a smidgeon higher than many other comparable alternatives – perhaps just $2 to $3 higher. Now, this isn't a huge disparity at all – hence the 0.5 reduction from my ranking – but it's still worth noting.
But price comparisons aside, I can definitely say that the quality and comfort afforded by these socks are outstanding and may certainly be worth paying premium-level prices if that's what you're looking for. Also, made-in-USA products tend to have a slightly higher price tag but offer some peace of mind.
Bringing It Together – Overall Rating 4.5/5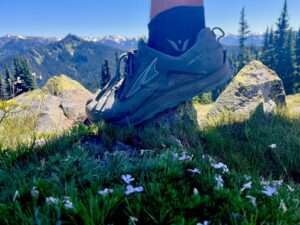 Overall, these Flite XT Trail Two Socks are excellent. They're durable, supportive, and extremely comfortable before, during, and after any activity. We've covered plenty of aspects of these in this review, so let's summarize the key points below.
Pros:
Supportive, compressive fit
Great moisture wicking
Extraordinarily comfortable
Durable and quality design
Sustainably made in the USA
Cons:
A tad pricey
Odor can build up quickly during consecutive days of use
Olefin – What is it and Why Use it to Make a Sock?
The Swiftwick Flite XT Trail Two Socks feature olefin as one of their primary materials. But what is it exactly? Olefin is another name for polypropylene fabric, a synthetic fiber. While synthetic fibers get a bad reputation these days in the face of natural merino wool, don't write off Olefin quite yet! It's not a recycled material but rather an upcycled material – let's take a look at where it comes from
The gas and fuel industry used to burn off massive amounts of propylene during oil production – adding even more pollution to the environment. But all this changed when scientists discovered that propylene could be used to create polypropylene/olefin. They combine the individual propylene molecules into larger molecule structures to form polypropylene pellets. These pellets are then melted and spun into olefin fabric. Therefore, what was previously a waste material is now a crucial fabric that uses no additional water or land to produce.
The olefin fiber itself is notably very durable, long-lasting, and has low moisture absorption. But even though it doesn't absorb moisture, it does a great job of wicking moisture. Put all these points together, and it sounds like an excellent material for a sock – doesn't it? And that's precisely why Swiftwick uses it!
Final Thoughts
Honestly, I love these socks. I've found the Flite XT Trail Two Socks to be incredibly comfortable, supportive, and excellent moisture managers on every trip I've taken them on. I haven't gotten a single blister or hot spot during testing, and I'm so impressed with these socks that I've used them for almost all my recent outdoor adventures – not just hiking but also bicycling, trail running, and just about town on my days off. So all-in-all, I definitely recommend these socks to adventurers looking for premium, high-quality, and high-performing socks who don't mind paying a tad more for that feel. I do wish that the socks could fend off bad odors a little bit more (especially for backpacking trips), but I can't argue with the comfort and performance I've seen in the field.
So in closing, I truly hope that this Swiftwick Flite XT Trail Two Sock review has helped your decision-making process and painted a picture of what these socks can offer.