EXPAND THE DESTINATION BOXES BELOW TO SEE OUR JUNE HIKING AND BACKPACKING TOURS.
To see other calendars, just select the month you're interested in. You can always give us a call 7 days a week at 1-800-715-HIKE (4453) to learn availability immediately.
2023

June

Trip Dates

U.S.A. Destinations
Arizona Hikes

Grand Canyon National Park
Backpacking Trips
Grand Canyon National Park has not yet issued backpacking permits for this month. It's extremely beneficial to register before the permit process (85+% of our guests do). You can pick any dates and you'll receive a 5% early registration discount! We have a great success rate and your deposit is fully transferrable or refundable if we're unsuccessful. Click here to read more about Grand Canyon's permit process, or get started by selecting a trip and hitting "Go!" below.
All Other Trip Types

Sedona Hiking Tours
California Hikes

Death Valley Hiking Tours

Eastern Sierras

Joshua Tree Hiking Tours

Lassen Volcanic National Park

Lost Coast Guided Hikes

Sequoia - Kings Canyon

Yosemite Hiking Tours
Colorado Hikes

Flat Tops Trips

Rocky Mountain National Park
Montana / Wyoming Hikes

Absaroka-Beartooths

Jackson Hole Guided Hikes

Tetons Guided Hikes

Wind River Range

Yellowstone Hiking Tours
New Hampshire Hikes

White Mountains Hut Treks
North Carolina Hikes

Asheville Hiking Tours

Smoky Mountains Guided Hikes
Utah Hiking Tours

Arches & Canyonlands

Bryce Hiking Tours

Capitol Reef Guided Hikes

Grand Staircase Escalante

Paria Slot Canyons

Zion Hiking Tours
Vermont Hikes

Vermont Hikes
Washington Hikes

Mount Rainier Hiking Tours

North Cascades Guided Hikes

Olympic Hiking Tours
International Destinations
Alps Guided Treks

Alps Guided Treks
Canada Hiking Tours

Canada Hiking Tours
Iceland Hiking Trips

Iceland Hiking Trips
Nepal Treks

Nepal Treks
Norway Hiking Tours

Norway Hiking Tours
Patagonia Trekking (Chile)

Patagonia Trekking (Chile)
Peru Treks

Cordillera Huayhuash Trekking

Guided Hikes to Machu Picchu
Tanzania (Kilimanjaro)

Tanzania (Kilimanjaro)
Vietnam

Vietnam
MORE INFORMATION ABOUT HIKING IN JUNE
BENEFITS OF HIKING IN June
As the official first month of summer, June is a very popular and generally wonderful month for hiking. Where you go is an important factor, but there are plenty of benefits with many destinations. In June in the USA, some mountain destinations are hitting their prime, while others are still too snowy for hiking and backpacking. Yosemite, Olympic National Park, the Great Smoky Mountains, and the Blue Ridge Mountains are close to their best in June. Yosemite is especially wonderful in June because the summer crowds have not yet arrived and waterfalls are usually running at high flows.
In desert and canyon areas, June is a great month if you don't mind higher temperatures. The Rim to Rim hike in the Grand Canyon is going strong, Zion and Bryce are fun, and Sedona's Red Rock Country is popular.
A huge benefit of June is the number of options available. Internationally, June is an excellent month for hiking. In mid June Kilimanjaro opens up again; Peru and the Inca Trail are excellent in June; Vietnam is still in its spring and has great trekking; the Alps season gets underway in mid June; and Iceland trekking begins in June.
DRAWBACKS OF HIKING IN June
The main drawbacks are hotter temperatures in desert and canyon areas in the USA if you don't like the heat; lingering snowpacks in the mountains that block the high country from being full accessible; the monsoon season begins in Nepal which makes trekking less than ideal; and some mountain areas can be buggy.
WHERE TO HIKE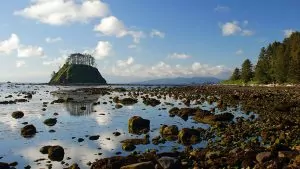 There are three main categories of destinations to hike in June:
– USA desert and canyon destinations – these options include Grand Canyon, Sedona's Red Rock Country, Zion, Bryce and more.
– USA mountain destinations – the major mountain destinations that are open, some still in their early seasons, in June are Yosemite, Great Smoky Mountains National Park, the Blue Ridge Mountains, Olympic National Park and Yellowstone.
– Trekking and backpacking internationally – recommended options for June are Peru, Vietnam, Kilimanjaro, Iceland, and the Alps.