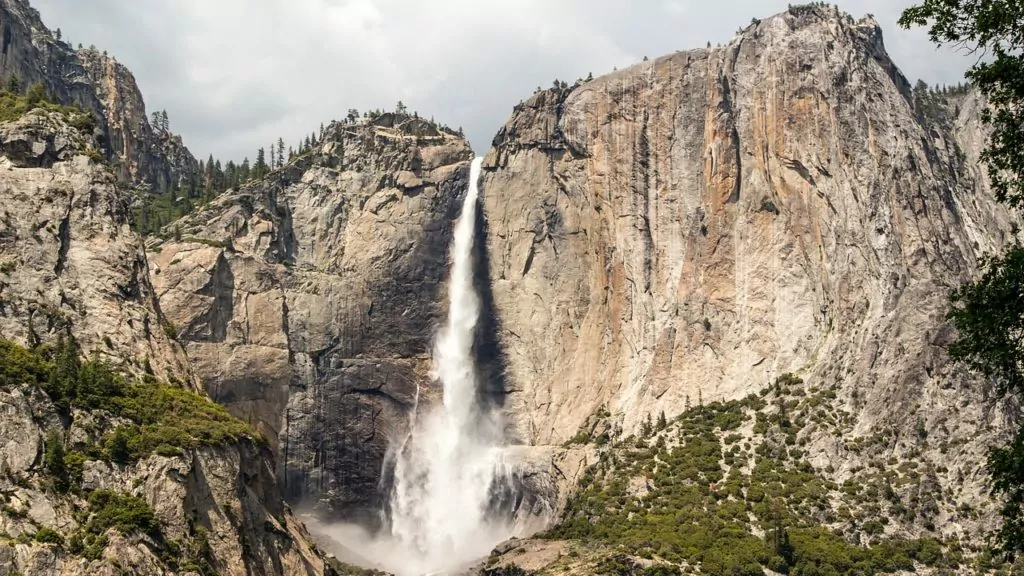 Yosemite Falls Trail
Yosemite Falls is located in Yosemite Valley.  It is the tallest waterfall in Yosemite and ranked 20th in the world, dropping a total of 2,425 ft (739m) from top to bottom.   Yosemite Falls is actually made up of 3 different waterfalls, Upper Yosemite Falls, the Middle Cascades and Lower Yosemite Falls.  The Upper Falls is made up of over half the total drop at 1,430 ft (440m) and is visible from pretty much anywhere in Yosemite Valley.  The Middle Cascades account for a drop of only 675 ft (206m) and are visible only from the top of the Upper falls.  Lower Yosemite falls make up for the final 320 ft (98m) and are visible on an easy walk starting at the back of Yosemite Valley Lodge.
Explore Yosemite with Expert Guides
History of the Yosemite Falls Trail
The Yosemite falls trail was built between 1873-1877 and is one of America's oldest hiking trails.  It climbs steadily, switchback after switchback, to the top of the tallest waterfall in North America.  The trail ascends through what used to be an ancient riverbed for Yosemite Creek until debris left by a glacier forced the water over the cliff we now see as Upper Yosemite falls.  The trail was originally designed by a man named John Conway.  Conway was once dubbed the "master trail builder of the Valley," who configured many of the hiking trails that we now see in Yosemite.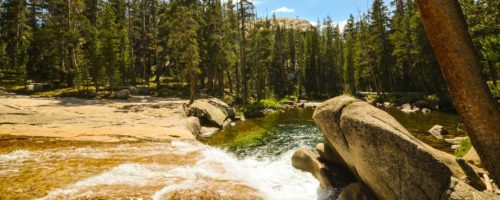 3 Best Day Hikes on the Yosemite Falls Trail
There are some great hiking options on the Yosemite Falls trail.  Whether you are looking for a short loop around the lower falls or a thigh burner hike to the top, Yosemite Falls is a must-see while spending time in Yosemite.
Below are the primary options for day hiking the Yosemite Falls Trail:
| | | | | | |
| --- | --- | --- | --- | --- | --- |
| | Destination | Miles | Elev | Difficulty | Style |
| | Lower Falls | — 1 mile | — 50 ft | Easy | Loop |
| | Upper Falls-Columbia Rock | — 2 miles | — 1,000 ft | Moderate | Out and Back |
| | Top of Upper Falls | — 7.2 miles | — 2,700 ft | Strenuous | Out and Back |
1. Lower Falls Loop
The lower falls loop is an easy hike on a paved trail starting across from he Yosemite View Lodge parking lot.  Park in the lodge parking area or take the shuttle to the Yosemite Falls stop and follow signs toward Lower Yosemite Falls.  As soon as you step foot on the trail you are rewarded with commanding views of the Upper and Lower falls.  Stop here for a picture and then continue on toward the falls, most walk in a clockwise direction for the best view of the falls..  Once you reach the Lower Falls view point you can stop on the footbridge for great photos and views of the waterfall.  In conclusion, follow the loop back toward the shuttle stop and parking lot, the trail follows Yosemite Creek and has great views of Half Dome.  For more info and a map click here.
2. Upper Falls trail to Columbia Rock
The Upper Yosemite Falls trail starts near Camp 4 or Shuttle stop #7.  Walk across the parking lot toward the campground and the trailhead is pretty easy to spot. The trail up to Columbia Rock is filled with demanding switchbacks through an Oak grove but is well worth it once you get to the rock.  Its a short climb, only a mile, to get there but you will gain 1,000 ft, so take plenty of water.  The view from Columbia a rock includes Half Dome, Sentinel Rock, and a panoramic shot of Yosemite Valley.  You will not be able to see the Upper falls from Columbia Rock, to see the falls continue on the trail for roughly another half mile and some more climbing.  There is a great view point and an awesome shot of the falls if you are up for the extra challenge.  For more info and a trail map click here.
3. Top of Upper Yosemite Falls
To reach the top of Yosemite Falls start at the trailhead near Camp 4 and shuttle stop #7.  This is a challenging climb and will take roughly 6-8 hours to complete, make sure you take plenty of water and snacks for the day.  You will begin the climb toward Columbia Rock, a mile and 1,000ft of gain later, this is a great spot for a break and a quick snack. About another 1/2 mile up the trail, you will start to hear the falls in the distance as you eventually come around the corner for a fantastic view of Upper Yosemite Falls.   The trail is steep and rocky from here following an old river bed on the left side of Yosemite Falls.  The arduous climb is well worth it as you make it to the top of the falls for an amazing view.  You can hang out at the top of the falls or follow a small trail along the creek that leads to an over look.  Take caution here as there is only a small railing stopping you from the vertical drop down below.  After taking in the view from the railing head back to the safer, less exposed, area and follow the creek north.
If you are feeling up to it you can add another 1.6 miles to your trip and head toward Yosemite Point, follow signs to get there.  More info and a trail map here. 
Maximize Your Visit to Yosemite National Park on a Hiking Tour
Guided day hike tours and multi-day packages allow visitors the opportunity to make the most of their time in Yosemite National Park and to do it hassle-free. Guided tours include gear (backpack, trekking poles, crampons in winter), meals, accommodations on multi-day tours, local transportation, and a professional Yosemite hiking guide. Through their knowledge, stories, and personal passion, guides can bring a place to life in a way that's much more difficult to do on your own. Read more about Yosemite Hiking Tours.
Award Winning USA Hiking Vacations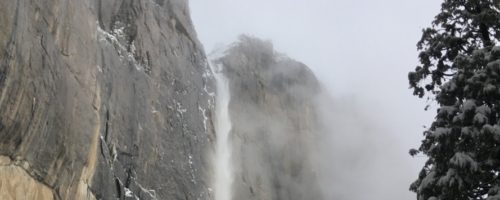 2 Yosemite Falls Backpacking Trips
Backpacking on the Yosemite Falls trail is both challenging and highly rewarding. You could take the trail to the top of iconic El Capitan or across the Northern Rim of Yosemite Valley.  Either way you won't be disappointed on a backpacking trip from Yosemite Falls trailhead.
| | | | | |
| --- | --- | --- | --- | --- |
| | Route | Miles | Difficulty | Campgrounds |
| | North Rim  | — 24 miles | Strenuous | Yosemite Creek, Snow Creek |
| | El Capitan | — 17.4 miles | Strenuous | Ribbon Creek, Yosemite Creek |
1. North Rim Traverse (4-5 days)
Day 1
Backpacking across the northern rim of Yosemite Valley is both a challenging and highly rewarding trek with great views of Yosemite Falls, Half Dome, and a chance to summit North Dome and hike to Yosemite's only natural arch.  The trail starts at Upper Yosemite Falls trailhead, you can park at the lot across from Camp 4 or Park at Curry Village and take the shuttle over, that way you will finish at your car.  The first mile is tough as you climb toward Columbia rock, stop here for a viewpoint and a quick snack.  Continue on the trail for great views of Yosemite Falls and the Valley down below. After the first viewpoint of the falls the trail climbs steadily up an old riverbed with the falls on your right. This will take you to the top of Yosemite Falls where we suggest you camp for the night.  There are great camping locations to the north on the right side of the trail, look for some rock slabs that overlook the creek.
Day 2
The next day you will head across the footbridge and follow signs toward Yosemite Point, another great spot for a break.  Continue on the path toward Lehamite creek, a year-round water source with plenty of camping spots, spend the night here.
Day 3/4
The next day you will hike east out of the creek toward North Dome.  Take time to summit the dome, it only adds another mile to your trek and is well worth it.  From the dome, head North to the top of an exposed dirt area and you should see a small off shoot to your right and Indian Arch rock in the distance, also, a great side hike that only adds a ½ mile or so. The final destination is Snow Creek. You will traverse east again on the northern side of Indian Arch and descend down into Snow Creek, there is a footbridge just to the left of the trail once you reach the creek.  We suggest crossing the footbridge where there is plenty of awesome camping with Views of Half Dome.
If you have an extra day, layover here for another night and head up toward Mt. Watkins the next day, an easy access summit with great views of Tenaya Canyon.  In conclusion, follow the descent toward Yosemite Valley until you reach Mirror Lake.  From here you can take the Valley shuttle back to your car unless you chose to park at Curry Village.  For some more info on the shuttle including a map click here.
2. Yosemite Falls to El Capitan (3-4 days)
Backpacking from Yosemite Falls to the top of El Capitan is a tough climb on the first day however, once you reach the top of the Falls you will be rewarded with 2 major summits looming over Yosemite Valley, Eagle Peak and El Capitan.  The hike starts at the Yosemite Falls trailhead near camp 4, a short walk from the parking lot and you will start the climb.
Day 1
The climb to the top of the falls is a demanding 3.2 miles with 2,700 ft of elevation gain.  We recommended calling it a day once you reach the top.  There are camp sites to the north just up the trail, look for the big rock slabs on your right side.
Day 2
This day you will be hiking to the top of El Capitan.  There are a few ways to do it.  You could keep your packs and gear at Yosemite Creek and day hike the trip and it would be 9.6 miles roundtrip but worth it if you don't want to carry the pack.  You could also pack up and hike only 4.8 miles to the top of El Cap.  If you choose that option, you will have to hike a bit farther west to Ribbon Creek for water and camping.
Day 3/4
This day you will simply pack up camp and retrace your steps back down Yosemite Falls trail to the trailhead. In conclusion, you will have summited El Capitan and possibly Eagle Peak.  If you have an extra day, no matter where you camp, you should take some time to hike up Eagle Peak.  It is well worth it and only .8 miles to the top
Join a Guided Yosemite Backpacking Trip
Joining a Yosemite National Park backpacking trip is a worry-free, adventurous way to experience Yosemite. With your gear, meals, local transportation, permits, and fees taken care of for you, you can travel light and focus 100% on enjoying the hiking experience, while the guide company takes care of everything else. Also, by going with local experts you'll enjoy a greater level of safety and gain a much better understanding of the history and ecology of this remarkable region. Read more about a guided Yosemite Backpacking Trip.
All-inclusive Yosemite Backpacking Adventures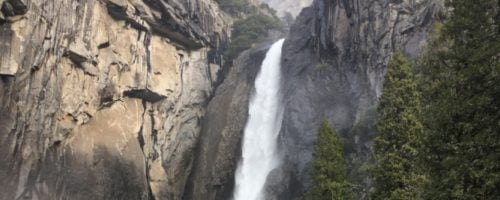 When to Hike and Seasonal Considerations
The best time to visit Yosemite National Park is anytime.  The month's of May-Oct are ideal for weather.  The days can be hot (70-90F) with cool nights (40-50F).  There is little rain in the summer months although the Sierra Nevada is known for unpredictable weather so best to always be prepared.  Winter is cold and temps during the day can range from 10-30 degrees F.   Sierra Nevada translates to the "Snowy Range" in Spanish, so you can expect there to be snow if visiting in wintertime.  Despite the cold and the wet, winter is a lot quieter than the busy summer months with a lot less people.  For information on Yosemite National Park weather, click here
Permits
Day Hike Permits
You do not need a permit to Day Hike in Yosemite.
Backpacking Permits
You will need to secure a permit to backpack in Yosemite National Park.  Permits are reservable 6 months in advance to the date you wish to start hiking.  You can also try and secure a permit the day before your trek in person at any wilderness permit center before 11 am.  For more information on Yosemite's permit system, click here.
Getting to the Yosemite Falls Trailhead
Yosemite Falls is located in Yosemite Valley.  There are 2 access points.  To access the Lower Yosemite Falls trail it is easiest to park at the Yosemite Valley Lodge.  From the parking lot at the back of the Lodge it is an easy .5 mile walk on paved trail to view the Lower falls.  For NPS information on this hiking trail and another map click here.   If you are parked at Curry Village or the Yosemite Valley visitor's center you can take the free Yosemite Valley Visitor's shuttle.  Take the shuttle to stop #6, Yosemite Falls.  For information on the shuttle and a map click here.
To access the Upper Yosemite Falls trail it is easiest to park across the street from Camp 4 campground in Yosemite Valley.  Do not park at Camp 4, this is for campers only and you will get a fine without a parking pass.  For a detailed map of Yosemite Valley and Camp 4 location click here.  The trailhead is a quick walk across the road from the parking lot.  The campground will be on your left and you will see the hiking trail and a sign for Upper Yosemite Falls and Columbia rock.  For NPS information on the hiking trail click here.
Suggested Packing List
Day Hike Packing List
3-6 liters of water (more in summer)
Salty, calorie-rich snacks
lunch
backpack
trekking poles
crampons (in winter)
wide-brimmed hat
sunscreen, sunglasses
cotton t-shirt (spring-fall)
non-cotton t-shirt (winter)
rain jacket
warm non-cotton layer
1st-aid kit
Backpacking Packing List
all items listed for day hikes PLUS
multi-day backpack
3-season tent
sleeping bag
sleeping pad
backpacking stove and fuel
backpacking meals
3 pairs wool socks
extra t-shirts
Please Respect Our National Parks – Leave No Trace
We strongly recommend abiding by all Leave No Trace ethics guidelines and practices so that our national parks and public lands are preserved for the enjoyment of future generations and for the people and animals who call these places home. Simple things like packing out your trash, obeying national park rules, and respecting the peace and quiet of our national park trails is a great start. If you're going on a backpacking trip, you can read about more about the 7 Leave No Trace Principles.