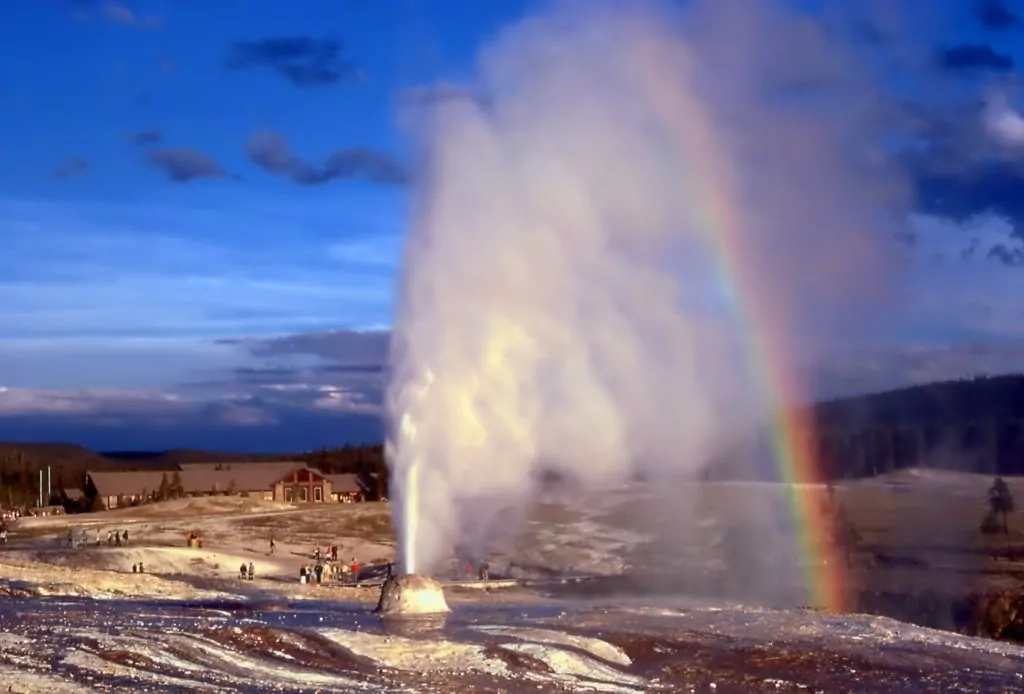 Upper Geyser Basin Trail
The Upper Geyser Basin Trail is composed of a network of paved paths and boardwalks that wind through Yellowstone's Upper Geyser Basin. This is by far the best trail for viewing hydrothermal features in the park, hosting the highest concentration of geysers in the world.  Many of the park's predictable geysers including Old Faithful, Castle, Grand, Daisy, and Riverside are also located here. The Upper Geyser Basin is a must-see for anyone traveling to Yellowstone! You can find information on when the next eruptions will occur by clicking here.
Explore Yellowstone with Expert Guides
History of the Upper Geyser Basin Trail
This thermal area has been the most visited since the inception of European exploration in Yellowstone. Members of the Washburn Expedition of 1870 hold the first recorded visit to the Upper Geyser basin. They roosted around the area long enough to realize how regularly a certain geyser erupted and dubbed it Old Faithful.
Over 10 years later, the development of the trails and surrounding services began, the most historic piece being Old Faithful Inn. Construction began in 1903, after the only hotel in the area burned down. The designer of the Inn, Robert Reamer, used the area's rhyolite for the foundation and Lodgepole pines for the walls. The result was a 6-story building that almost blended in with the temperate forest around it. 
The Upper Geyser Basin endured more and more development as world population and modern advancements grew. Through much of the 20th century, visitors practiced vandalism for fun, unaware of their impact. People would toss coins and all manner of trash into Morning Glory and other pools, diminishing their brilliant colors. Placing chairs on the mouth of Old Faithful and other cone geysers became common, so bystanders could watch such items get blown away upon eruption. The Old Faithful Historic District was added to the National Register of Historic Places in 1982. Today, the treasures it holds are much better protected and visitors are much more educated… for the most part.

3 Best Day Hikes on the Upper Geyser Basin Trail
A day hike around the Upper Geyser Basin is a wonderful way to see many diverse thermal features, including Old Faithful!
Below are the primary options for day hiking the Upper Geyser Basin Trail:
| | | | | | |
| --- | --- | --- | --- | --- | --- |
| | Destination | Miles | Elev | Difficulty | Style |
| | Upper Geyser Basin Loop | 3 mi | +/-50 ft | Easy | Loop |
| | Observation Point | 1.5 mi | +/-250 ft | Easy | Out and Back |
| | Old Faithful to Biscuit Basin | 5 mi | +/- 100 ft | Moderate | Loop |
1. Upper Geyser Basin Loop
You can't visit Yellowstone without seeing Old Faithful at least once! Enjoy this classic geyser and the hundreds of other thermal features around her with the Upper Geyser Basin Loop. If you're starting from the Visitor's Center, we recommend checking the geyser times board above the Ranger's desk. You can see the estimated eruption times for Old Faithful, Daisy, Castle, Riverside and more. Adjust your route accordingly, if any geysers are set to blow during your hike.
Start by turning left, heading Northwest along the 1.3-mile bike path to Morning Glory Pool. Don't miss Castle Geyser half a mile down. The pockets in this enormous mound of geyserite really mimic the windows of an amorphous white castle. Continue straight until you reach Daisy geyser. If this cone is erupting soon, turn left to make the small loop around her. Continuing back along the main path, it's only another quarter mile to Morning Glory, one of the most brilliantly colored hot springs in the world. Once you're done admiring the blue, green, and yellow pool, turn back the way you came passing the frequently spitting Fan, Mortar, and Spiteful Geysers once more. If a Riverside geyser eruption is expected soon, take the short loop on your left.
Continue back the way you came a bit further, before turning left onto the wooden boardwalk next to Grotto Geyser. It is about 1 mile from Grotto to the junction around Geyser Hill. You will pass a variety of otherworldly hot springs and geysers including Grand Geyser, a frequent performer. When you reach a fork along the boardwalk, turn right at the Lion geyser group. The other side of Geyser Hill will be closed temporarily due to unprecedented geyser activity in 2018 that has left the area unsafe for foot traffic. Closure signs are posted. Continuing along, you pass more fun features with thermal runoff producing wild colors and textures. When you reach the next fork in the boardwalk, turn right again to continue on safe terrain. Cross the Firehole River via bridge, head up the hill, and encircle Old Faithful to return to the Visitor's Center. There is almost no elevation change along this route. Although this route is only 3 miles long, it can take about 2 hours to allot for time spent gawking at the unique geology.
2. Observation Point
Observation Point is a quick jaunt that allows you to admire Old Faithful Geyser without being elbow to elbow with hundreds of other people. If you're starting from the Visitor's Center, we recommend checking the estimated time of Old Faithful's next eruption. You will likely enjoy a bird's eye view of the display if you start about 30 minutes prior.
Head right along the boardwalk encircling Old Faithful. Then turn right at the Geyser Hill sign. After crossing the Firehole River via bridge, the sign and trail for Observation Point will be on your right. The paved path leads you through the forest, up about 200 feet in elevation to an open viewpoint along the hillside. Enjoy an aerial perspective of the Historic Old Faithful District, most of the steamy geyser basin, and Old Faithful herself. There will likely be other visitors, but not nearly as many as the boardwalks. If you've timed it well enough, this point is a great platform to watch Old Faithful erupt.
When you're ready, return back the way you came. Observation Point is a 1.5 mile round trip hike from the Visitor's Center. It also makes a great 1-mile addition to the typical Upper Geyser Basin Loop. Note: The path that once lead down to Solitary Geyser from Observation Point is closed temporarily due to changes in thermal activity causing unsafe terrain in 2018.
3. Old Faithful to Biscuit Basin
Connect the classic Old Faithful Geyser Basin Loop with its lesser known neighbor across the street, Biscuit Basin. Most people fight through 2-miles of traffic along Grand Loop Road and the chaos of 2 different parking lots to enjoy these basins separately. Thanks to your willingness to research, you can connect these trails with little extra mileage, saving yourself time and stress. Again, we recommend checking eruption times before leaving the Visitor's Center so you can adjust your route to catch any upcoming displays.
Turning left from the Visitor's Center, take the 1.3 mile bike path to Morning Glory Pool, stopping to admire whichever geysers excite you along the way. Use the compost toilet across from Morning Glory if you need it, as there are no restrooms at Biscuit Basin. Continue straight past Morning Glory, leaving the boardwalk and heading North along a forest trail. You will pass the lovely Artemisia, Gem, and Mirror pools with the Firehole River rushing in the background. After almost a mile, the trail will reach Grand Loop Road and you will see the parking lot of Biscuit Basin on the other side. Remember to look both ways before crossing, as drivers in Yellowstone are more focused on wildlife and scenery than watching out for pedestrians.
From the Biscuit Basin parking lot, cross the bridge over the Firehole River. Keep an eye out for Cutthroat Trout in the clear shallow water. Follow the wooden boardwalk around the impossibly blue Sapphire Pool, the bubbled geyserite of Shell Geyser, the sunny tones of Mustard Spring and many more features. Once you've completed the lollipop shaped path through Biscuit Basin, return to the Upper Geyser Basin the way you came.
Once you're back at Morning Glory, refer to our description of the classic loop to complete your route around the rest of the Upper Geyser Basin. This route is 5 miles with virtually no elevation change. It can be done in 3 to 5 hours depending on how much time you take to stop and gawk.
Maximize Your Visit to Yellowstone National Park on a Hiking Tour
Guided day hike tours and multi-day packages allow visitors the opportunity to make the most of their time in Yellowstone National Park and to do it hassle-free. Guided tours include gear (backpack, trekking poles, crampons in winter), meals, accommodations on multi-day tours, local transportation, and a professional Yellowstone hiking guide. Through their knowledge, stories, and personal passion, guides can bring a place to life in a way that's much more difficult to do on your own. Read more about Yellowstone Hiking Tours.
Award Winning USA Hiking Adventures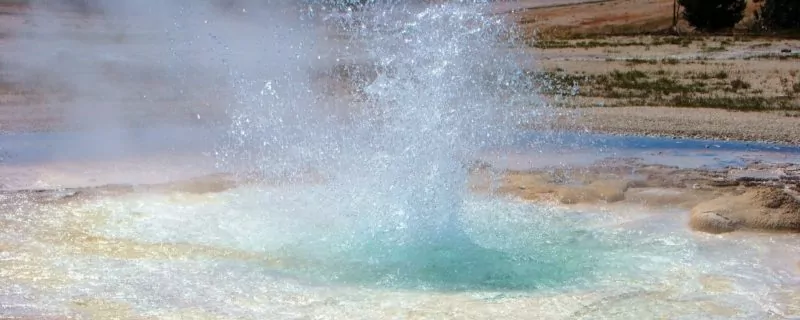 When to Hike and Seasonal Considerations
The Upper Geyser Basin trail can be hiked mid-April through early November, with the best months being August and September.  The months of June and July are mosquito season in Yellowstone. If you plan on hiking during these months remember to pack insect repellent!
The Upper Geyser Basin trail is also great for cross-country skiing and snowshoeing in the winter time. If you are interested in hiking in the mountains during extreme winter conditions, make sure to educate yourself on how to travel in avalanche terrain. A good resource for this is "Know Before You Go". kbyg.org
For more information on guided Yellowstone winter tours click here.
Traveling Around Geyser Basins
Thermal features, though fascinating, can easily scald or kill people who underestimate them. Even what appears to be solid ground in a thermal basin can give way to scalding water below. Backcountry basins require visitors to be even more educated as there are no boardwalks and safety boundaries are not as clearly defined. Thermal environments and the precious microorganisms that inhabit them are also extremely sensitive. Both biology and geology can be irreparably damaged by human contact. Follow these guidelines around thermal basins of any kind.
Always stay on boardwalks and designated trails

Do not touch thermal features

Do not touch or step on thermal runoff

Swimming or soaking in hot springs is prohibited and likely fatal

Pets are not allowed in thermal areas

Do not throw objects in features

Toxic gases can build to great intensity in some areas. If you feel sick, leave immediately. 
Animal Safety 
Wildlife is one of the best reasons to visit Yellowstone. With the privilege of hiking through their habitat comes great responsibility to uphold respect and safety. Becoming accustomed to humans is not good for the well-being of any wild animal. Even our docile herbivores can maim or kill people. The key to these guidelines is to just let the animals be.
Never feed wildlife (Not even a squirrel)
Do not approach wildlife
Stay at least 100 yards away from bears and wolves
Stay at least 25 yards away from all other animals
Do not shout, whistle, or otherwise harass wildlife
If you want to view wildlife from the road, always stop in a designated pull out.
Bear Safety
Yellowstone is black and grizzly bear country. Special practices are necessary to improve the safety of yourself, other visitors, and the animals. Most of these tactics aim to avoid making a bear react defensively. A bear will feel threatened if we surprise it, approach its cubs, or encroach on its food source. We must also do everything in our power to prevent a bear from eating human food or smelling an attractant where we sleep.
While Hiking
All of the following practices are necessary whether you are hiking in bear country for 5 minutes or 5 days.
Don't hike alone (At least 3 people is best)
Always be alert
Make noise
Carry bear spray and know how to use it
Never feed a bear
Do not leave packs or any food unattended
Stay on maintained trails
Avoid carcasses
Avoid hiking at dawn, dusk, or night
Stay out of areas closed for bear management
Bear Encounters
As the park service says, safety cannot be guaranteed in these wild places. These are best practices to lower the risks of an aggressive bear encounter.
Do not run
Slowly back away (taking any food with you)
Speak calmly, do not shout
Group together, make yourselves look large
When necessary, use bear spray
Report conflicts to park rangers
Check out Yellowstone National Park's great reference on how and when to use bear spray.
Necessary Permits
There are no permits required to do any day hiking in Yellowstone National Park. However, some areas can be closed to due high bear activity. Before you head out, you can check to see which Bear Management Areas are closed by clicking here.
Getting to the Upper Geyser Basin Trailhead
The Upper Geyser Basin trail begins behind the Old Faithful Visitor Education Center which is accessible to all traffic mid-April through mid-November. The trail is accessible by "snow coach" during the winter months. There is no access from mid-March through mid-April or mid-November through mid-December. Click here for directions to the visitor center.
Suggested Packing List
Day Hike Packing List
bear spray
2-3 liters of water
salty, calorie-rich snacks
lunch
backpack
trekking poles
wide-brimmed hat
sunscreen, sunglasses
bug spray
non-cotton hiking shirt
rain jacket
warm non-cotton layer
1st-aid kit
Please Respect Our National Parks – Leave No Trace
We strongly recommend abiding by all Leave No Trace ethics guidelines and practices so that our national parks and public lands are preserved for the enjoyment of future generations and for the people and animals who call these places home. Simple things like packing out your trash, obeying national park rules, and respecting the peace and quiet of our national park trails is a great start. If you're going on a backpacking trip, you can read about more about the 7 Leave No Trace Principles.