Trip Leader Tuesday: Michael Wichman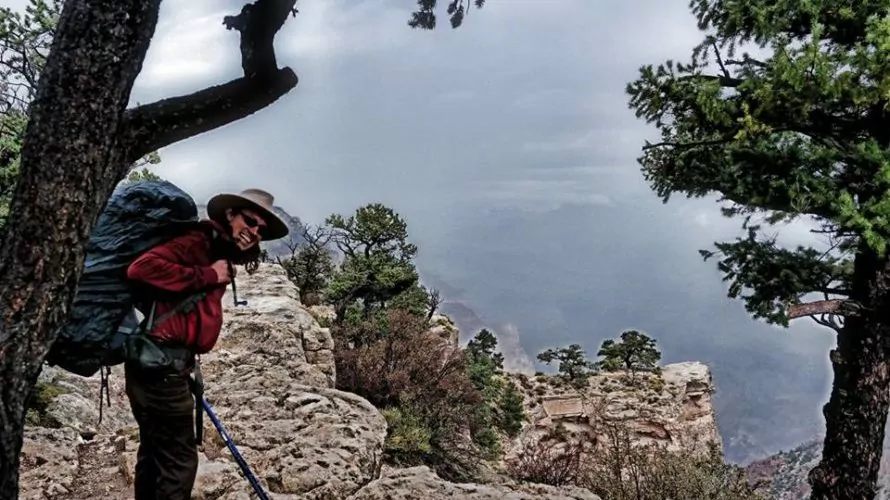 Back again with a Trip Leader Tuesday bio! We absolutely love our guides who dedicate their lives to showing people how to see sacred, wild places through their eyes. Our guides, who are passionate, professional, avid advocates for the land and keepers of the wild, are the main facilitators that help make each trip an unforgettable one.
Michael Wichman is here to share with us his passion and guiding knowledge to offer insight on what it is like to lead treks!
Give us some details about you.
I was born and raised in Tracy, CA, a small farming town about an hour east of San Francisco, and currently live in Flagstaff, my home of 15 years.  Although unaware of it while living in Tracy, the open space and beauty of the farming country of the San Joaquin Valley planted seeds for my love and appreciation of the Southwest.  My first trip below the rim in Grand Canyon was in October 2004, where 2 friends and I hiked the Thunder River Deer Creek loop, which we call the Wonders of the Grand Canyon.  I am passionate about all wild and scenic places and have a particular fondness for Grand Canyon, with a love of hiking, climbing, and paddling below its rims.  With a dedication to lifelong learning, I am an avid reader of all things associated with Grand Canyon.  While earning a B.A. in psychology from UCLA, I did one-on-one behavioral therapy with children with autism.  I also studied at Northern Arizona University, focusing on Environmental Science and Policy in the Southwest.
What is your favorite Wildland Trekking HIKING VACATION? Any specific story or memory you can share?
Wow! This is a tough question and nearly impossible to choose one trip from the many inspiring and transformative trips we offer.  My initial thought goes back to my first trip below the rim on a Wonders of the Grand Canyon trip, the Deer Creek Thunder River loop.  This trip is absolutely amazing, with the Throne Room, springs, waterfalls, and the mighty Colorado providing an unimaginable backdrop to the storyline we create.  The next trip that comes to mind is the Colorado River Traverse from the Tanner Trail to either New Hance or Grandview.  With most nights spent camping on pristine and often secluded beaches on the Colorado river, this trip of a lifetime is reminiscent of a being on a river trip.  Hilltop Ruin, Papago Wall, and the descent to Hance Beach are only a few of the highlights.  I recently returned from a work trip to Wyoming and Montana, which piqued my curiosity for the trips we offer up there.
Where is one place in the world that you haven't been to, but would like to go?
Peru and Machu Picchu have been high on my list for years.  Ecuador and the Galapagos,  Iceland, and New Zealand have entered the picture too.  I am fascinated with Mayan culture and the Mayan Calendar, along with archeoastronomy, and would love to experience the world's ancestral cultures.  Being able to do so right here at home in Flagstaff, Sedona, and Grand Canyon renders such a sense of beauty, blessing, and appreciation as well.
Any advice or insight you'd like to share as an experienced trip leader for future hikers?
Be in the present moment as often as possible.  The places we are fortunate to offer trips in create sacred space to foster this goal.  It is truly a pilgrimage of sorts when one walks to the river and in the footsteps of our ancestors.
Give us an interesting fact.
Visitors to Grand Canyon are often concerned about creepy crawly things like rattlesnakes.  However, the animal considered to be the most dangerous is the squirrel, because bites from these cute furry creatures lead to the most visits to the clinic.  Granted, a bite from a rattlesnake could be more deadly, in spite of approximately 80% of the bites being dry, or without venom.  The snake senses humans are not food and doesn't want to 'waste' its venom on anything other than food.
And who is the likely victor in a rattlesnake squirrel encounter?  A squirrel!  A squirrel's best defense against a rattlesnake is to pump blood into its tail, wave it vigorously, and create a warning beacon of infrared radiation.
Hike with Micheal in the Grand Canyon on any of our fantastic Hiking Vacations!