Top 5 Yellowstone Backpacking Trips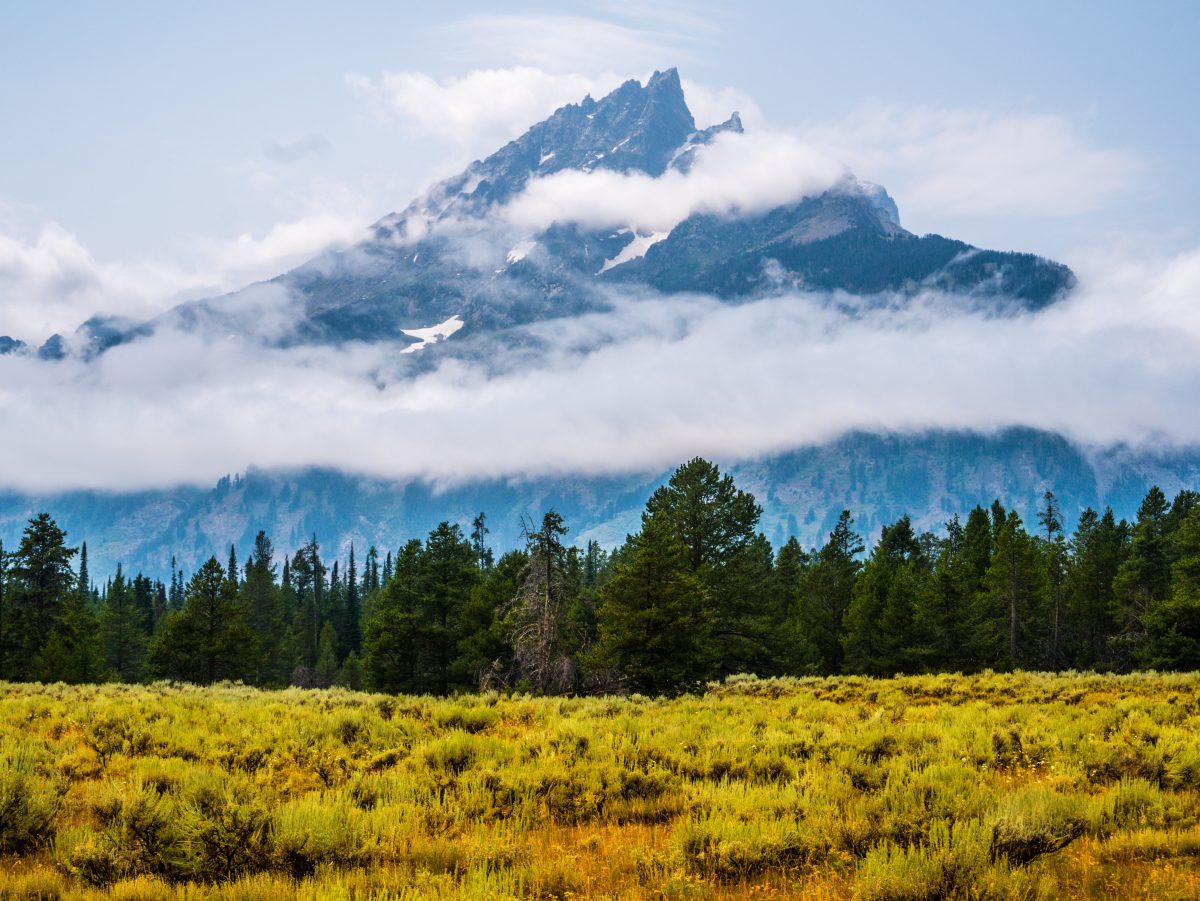 Yellowstone was America's first national park. Officially designated a national park in 1872 by Ulysses S. Grant, Yellowstone set the precedent for other amazing landscapes, such as Yosemite, Glacier, and the Grand Canyon, to get protection under a national park designation. This alone makes Yellowstone a phenomenally special place.
What takes Yellowstone to the next level, though, is its geothermal features, wildlife, sheer beauty, well-preserved wilderness. The best way to explore this wilderness is on a backcountry trip where you get to spend multiple days and nights immersed in the forms and rhythms of the natural world. Backcountry traveling options include horseback riding trips, llama-supported treks, canoe/kayak trips, and backpacking trips. This article is a deep dive into the reasons to backpack in this fabulous park, a list of our recommended Yellowstone backpacking trips, considerations you should make while planning your trip, and options for guided Yellowstone trips!
Award Winning Yellowstone Hiking Adventures
Why a Yellowstone Backpacking Trip?
Wildlife: Yellowstone's wildlife is almost second-to-none, rarely matched in the continental USA, except by Glacier National Park. With black bears, grizzly bears, wolverines, wolves, moose, elk, deer, bison, Pronghorn and many, many other types of bird and mammal life, Yellowstone is a wonderland of diversity.
Geothermal Features: The geothermal activity is, of course, a major reason people visit Yellowstone. But why is it a reason to do a backpacking trip? Simple – on a backpacking trip, you'll be able to enjoy the fumaroles, geysers, and hot springs of the Park without the crowds and in a pristine setting.
Vast Wilderness: At 3,741 square miles and over 2,000,000 acres, Yellowstone is an immaculately preserved wilderness. When you hike through this landscape, you are seeing it almost exactly as the early explorers did in the early 19th century.
Rivers, Lakes and Waterfalls: This national park is lush and flowing with water compared to many areas of the West. With rich trout rivers, massive bodies of freshwater, and plunging waterfalls, you'll have a lot to see in Yellowstone's backcountry.
Wildflowers and Meadows: Yellowstone is famous for its vast networks of pristine meadows. There's really nowhere else like it in this respect, and its one reason the wildlife – particularly the bison – thrive here. In and around these meadows, wildflowers flourish and add a breathtaking element to the backpacking experience.
When to Go?
In general, the best season for backpacking is June through September. This does vary by trip however, as some trips are better or worse at different times. If you visit before June, you may encounter snow, and the rivers will be running very high with snowmelt. Later than September can be very cold with the possibility of heavy snowfall.
What About Grizzly Bears?
Grizzly bears are a massive consideration when planning a Yellowstone backpacking trip. You must be ready to hike, camp, and cook safely in grizzly country for your safety and for the bears' well-being. You must know how to hang your food, keep a very clean camp, and hike with caution. When you're in the backcountry, you should travel in medium to large groups (4-10 people), carry bear spray, sleep in different clothes than you cook in, and keep all scented items out of your tent. For these reasons, it is highly recommended that you join a guided Yellowstone backpacking trip if you are unfamiliar with hiking and camping in grizzly country. Yellowstone also has a special bear safety page that is worth reading.
Yellowstone Backpacking Permits
To hike and camp in Yellowstone's backcountry, you are required to have permits. The permits are issued based on nights in campsites. Individual campsites have different capacities. Researching your route, determining which campsites you'll need, ensuring they have the correct capacity, and applying for those permits is a somewhat cumbersome process. You can begin on Yellowstone's Backcountry Hiking webpage. Yellowstone backpacking tours offer a convenient, high-quality option; they include the permits, as well as gear, meals, local transportation, expert guides, and more.
Yellowstone Supervolcano
To give you a basic overview of the geothermal activity in and around Yellowstone, here's a quick and dirty timeline:
Over the last 70 million years, massive uplifts, volcanic activity, and glaciation have warped, moved, and shaped the Yellowstone area.
Roughly 17 million years ago, a new period of increased volcanic activity began affecting the modern-day states of Idaho, Nevada, and Oregon. This activity grew closer to Yellowstone as the North American plate migrated in a southwesterly direction.
Approximately 2 million years ago, the above-mentioned tectonic motion brought the Yellowstone area a concentration of magma that was (and still is) relatively close to the surface. It is this underground "great lake" of shallow magma (otherwise known as a supervolcano) sitting directly beneath Yellowstone that leads to the Park's geothermal activity. The proximity of the magma to the surface is what has created such famous attractions as Old Faithful, Grand Prismatic Spring, Mammoth Hot Springs, and many more.
In 1808, John Colter (a member of the original Lewis and Clark expedition) first documented geothermal features in the Yellowstone area. Although he may never have actually entered what are now the national park boundaries, he found hot springs in the Cody, Wyoming area. Several Greater Yellowstone features are named after John Colter: Colter Bay, Colter's Hell…etc.
In 1870, Truman C. Everts joined an expedition into the Yellowstone area, which was almost entirely unexplored up until that point. He got separated from his group in the autumn and, alone in the wilderness, endured heavy snowstorms without food and supplies. After using thermal pools to stay warm and survive, Everts was rescued more than a month after getting lost. He published his story in an article called "Thirty-Seven Days of Peril," which was read widely across America. His descriptions of the Yellowstone country and its geothermal features helped create momentum to make Yellowstone America's first national park.
In 1872, Yellowstone became America's first National Park. This protection helped to preserve the amazing geysers, hot springs, mud pots, and other volcanic activity for the world to enjoy.
Many people wonder whether the Yellowstone supervolcano will erupt again. Scientists tell us that yes, it sure will. But we're talking about a geologic timeline, so it could erupt thousands or millions of years from now. So, while there is a risk that Yellowstone will explode and wipe out all life within 500 miles in every direction, it's not a reason to stay away. In fact, it's a reason to go!
Hiking in Geothermal Areas
One of Yellowstone's most unique and impressive characteristics is its incredible geothermal features: geysers, hot springs, mud pots, and fumaroles. Many backpacking trips, such as the Bechler River Traverse, will take you near geyser basins and geothermal areas. Every couple of years, one or more tourists die in these fascinating features. Follow these very simple guidelines to stay safe:
Do not touch thermal features or their runoff unless you're sure it's safe (for example, Snake River Hot Springs.)
Do not toss objects of any kind into the hot springs or other thermal features.
Toxic gases build up to hazardous levels in some geothermal areas. If you start to feel unwell in a geyser or geothermal area, leave at once.
Most importantly, stay on designated trails whenever you're near geothermal features, or if you are unsure of the safety of the area!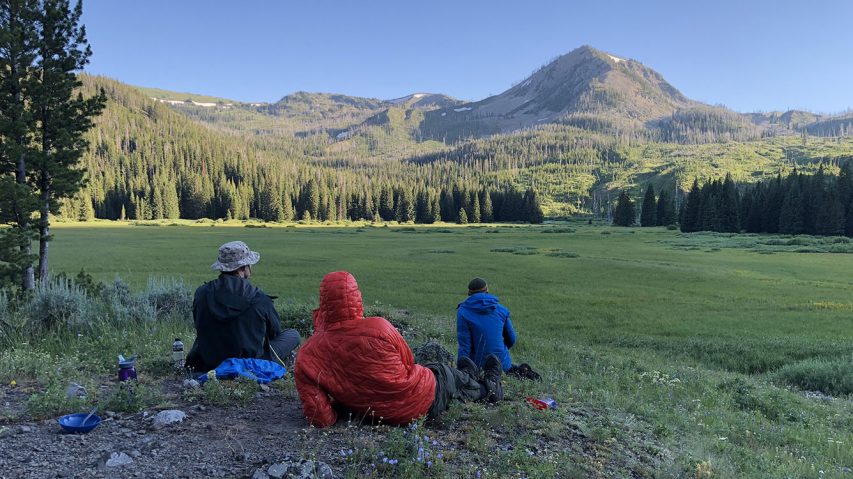 Leave No Trace
Yellowstone is a pristine environment. It is one of the world's remaining, beautifully intact ecosystems. When you venture into the backcountry, you have a responsibility to take care of it. This means following the 7 Leave No Trace Principles that protect the wilderness, its wildlife, and the experience of adventurers who come after you. One of the most important aspects of Leave No Trace in Yellowstone is responsibly traveling in bear country. Dangerous bears often become aggressive due to careless actions by humans, and, in the end, aggressive bears are euthanized. If you join a guided trip, it's important to make sure they also follow Leave No Trace principles.
Getting to Yellowstone
There are 4 major gateway cities for flying in and visiting Yellowstone National Park:
Jackson Hole, Wyoming (2-hour drive to the South Entrance)
Cody, Wyoming (1-hour drive to the East Entrance)
Idaho Falls, Idaho (3 hours from the South Entrance)
Bozeman, Montana (1.5 hours from the North Entrance)
Salt Lake City, Utah (8-hour drive from the South Entrance)
The Park has 4 major entrances:
South Entrance north of Jackson Hole
West Entrance near West Yellowstone
North Entrance near Gardner, Montana
East Entrance west of Cody, Wyoming
Choosing the Right Trip
Now the fun part: picking your trip! Below, we have detailed five of the best Yellowstone backpacking trips. We've also included descriptions of the areas and the trips, as well as recommendations for the best times to hike.
All-inclusive Yellowstone Backpacking Trips
1. Black Canyon of the Yellowstone River

The Black Canyon is in northern Yellowstone near the border of the National Park. Much of this area is actually in Montana. instead of Wyoming, and some trips will start in one state and end in the other. The Black Canyon is lower elevation than many parts of Yellowstone, so it is much warmer and drier.
The Yellowstone River (significantly, the longest undammed river in the continental United States) carved out the Black Canyon over millions of years. The river, which flows deep and fast through the canyon, is home to amazing fishing during certain times of the year.
Trip Overview
Generally, this trip is a thru-hike from one end of the canyon to the other. You can start on the west end and hike east, or vice versa. Hellroaring Creek is on the east end, and on the west end is Blacktail Deer Creek. Between these two entry/exit points is a wonderful hike through meadows, past a lake and a waterfall, and amidst rich wildlife habitat.
Required Permits
Backcountry camping permits are required for this trip and must be secured in advance.
When to do this Trip
This trip is best in the early and late seasons. Late May and June are great, and September into mid-October is also great. The middle of the summer will be hot and buggy and is not the most enjoyable time to be in the Black Canyon.
Hike the Black Canyon with a Guide
We provide guided backpacking trips into the Black Canyon, which are 3-4 days in length. We provide permits, shuttles from Bozeman (which is especially convenient since this is a thru-hike), gear, meals, professional guides, grizzly equipment, safety procedures and more. We call this trip our Spring Trekking Adventure. Read More!
2. Shoshone Lake

Shoshone Lake is a beautiful mountain lake that abuts the Shoshone Geyser Basin. Backpacking into Shoshone Lake is a chance to visit a backcountry lake and a backcountry geyser basin in one trip. The lake is excellent for swimming (if you don't mind very cold water!), and the geyser basin is fascinating.
Trip Overview
This trip can be done as an out-and-back hike or as a loop-style thru-hike. We recommend the thru-hike so you can enjoy new scenery every day. To do the loop, begin at Lonestar Geyser Trailhead and hike past Lonestar Geyser (Yellowstone's largest backcountry geyser) to Shoshone Lake and Geyser Basin. Then, traverse the northern shore of Shoshone Lake on day 2 and exit on the Delacey Creek Trail on day 3. You can add a layover day to explore the geyser basin, swim in the lake, fish, or just enjoy being in a pristine wilderness.
Required Permits
Backcountry camping permits are required for this trip and must be secured in advance.
When to do this Trip
This trip is best in July, August, and September. July and early August can have swarms of mosquitoes, but the temperatures will be warm enough to enjoy swimming in the lake.
Hike This Area with a Guide
We don't offer this exact trip as a guided option, but we do have a trip that starts at Lonestar Geyser and Shoshone Lake called the Bechler River Traverse. It is a phenomenal 5-day or 6-day trip, depending on your preference.
3. Snake River

The Snake River flows through southern Yellowstone like a wide, arching ribbon. Its shimmering blue waters, polished granite stones, and deep-swimming trout are legendary to the area. It is one of the West's most significant rivers. An opportunity to hike along its shores is a magnificent opportunity. Wildlife is rich in this area, and backpacking offers opportunities to potentially see grizzly bears, black bears, wolves, moose, elk, deer, or biso. Additionally, this area has rich geothermal features, with occasional thermal hot spots and a steaming river that arises in a pool and flows into the Snake River. Where these two meet, you can soak in the resulting hot springs (pictured above.)
Not long ago, one of our groups was enjoying soaking in the Snake River Hot Springs. The guide stood up and noticed a pack of wolves, with multiple pups, not more than 25 yards from our group. At first, they didn't see him, and he was able to motion to the rest of the group to stand up and get a glimpse. Most of our guests were able to enjoy a few minutes watching this wild pack of wolves while soaking in a hot spring in the middle of Yellowstone's wilderness. How amazing! This is what's possible in this incredible area.
Trip Overview
This trip is an out-and-back hike that begins and ends at the South Boundary Trailhead. It requires fording the Snake River, so you should have experience with river crossings. Later in the summer — from mid-August through September – the river ford will likely be easier. July through early-August can be higher water, requiring a more difficult, or even dangerous, river crossing.
Follow the South Boundary Trail to the campsites near the hot springs (must be reserved in advance.) The hot springs are easily accessible from the campsites. If you turn this into a 3-day trip, you can spend a day hiking, exploring, soaking in the hot springs, fishing, and relaxing. On the final day, you'll return the way you came to the South Boundary Trailhead.
Required Permits
Backcountry camping permits are required for this trip and must be secured in advance.
When to do this Trip
Because of the river crossings, this trip is best in August and September. If you'd like to mostly avoid mosquitoes, then look more toward mid-August and September.
Hike the Snake River Area with a Guide
The backpacking trip we offer that includes this area is called Heart Lake to Snake River. It is a 4-5 day thru-hike, and one of our most popular trips. It requires more river crossings than on the above-described trip, but with an expert guide, it's very manageable.
4. Sportsman Lake

Sportsman Lake is in the Gallatin Range in the northwestern part of Yellowstone. The Gallatin Mountains were named after Albert Gallatin (1761-1849), the longest-serving secretary of state in the USA. They are the highest and most dramatic range in the Park. Home to several pristine mountain lakes, the Gallatins are worth exploring on a Yellowstone backpacking trip.
Trip Overview
This trip can be done as an out-and-back hike or a thru-hike. To do it as an out-and-back, you can start and end at either the Glen Creek Trail on the east side or the Specimen Creek Trail on the west side. If you come in from the west side, you will have to hike over Electric Pass, which is a significant climb.
To do this trip as a thru-hike, you'll start on the Specimen Creek Trail and hike east across the Gallatins, coming out the Glen Creek Trail, or vice versa. It's a bit easier to go east to west because you lose a total of 1,000 feet across the trip.
Required Permits
Backcountry camping permits are required for this trip and must be secured in advance.
When to do this Trip
This trip is fantastic in July, August, and the first half of September.
Backpack the Gallatins with a Guide
We offer multiple trips in the Gallatin Range, including our Mountain Country Trek, which visits Sportsman Lake, as well as our Gallatin Crest and Gallatin Skyline Trips. To see these trips, please visit our Yellowstone backpacking trips page. We also offer our Sportsman Lake Llama Trek if exploring the backcountry without a heavy backpack sounds appealing!
5. Electric Peak
This trip, like the Sportsman Lake trip described above, is also in the Gallatins. However, with this trip, we are specifically focused on summiting Electric Peak (10,969 feet). The best place to camp in this area is along the Gardner River. This area, which is stunningly beautiful, is fantastic for wildlife.
Trip Overview
For this trip, you want to begin at the Glen Creek Trail and hike west to the campsites along the Gardner River. Spend one or two nights at one of these campsites and summit Electric Peak on your layover day. Or, you could hike the peak in the morning before you finish your trek. The hike to the summit of Electric Peak is steep and rugged. You'll follow a faint social trail, but it is not technically "on trail".
Required Permits
Backcountry camping permits are required for this trip and must be secured in advance.
When to do this Trip
This trip is excellent in July, August, and the first half of September.
Summit Electric Peak with a Guide
Our Mountain Country Trek summits Electric Peak and is an excellent trip.
Guided Yellowstone Backpacking Trips
Wildland Trekking Hiking Adventures
Explore America's first national park on a guided Yellowstone backpacking trip with Wildland Trekking. With top-rated adventures on Trip Advisor, expert Yellowstone guides, and over 15 years of experience, Wildland is the best choice for guided backpacking trips in Yellowstone.
As the world's premier hiking and trekking company, Wildland believes in connecting people to fantastic environments in amazing ways. Wildland Trekking Company offers an array of incredible hiking and trekking experiences in 9 states and 11 countries. Read more about our world-class destinations.
To learn more about our guided backpacking trips and all of our award-winning hiking vacations, please visit our website or connect with one of our Adventure Consultants: 800-715-HIKE.