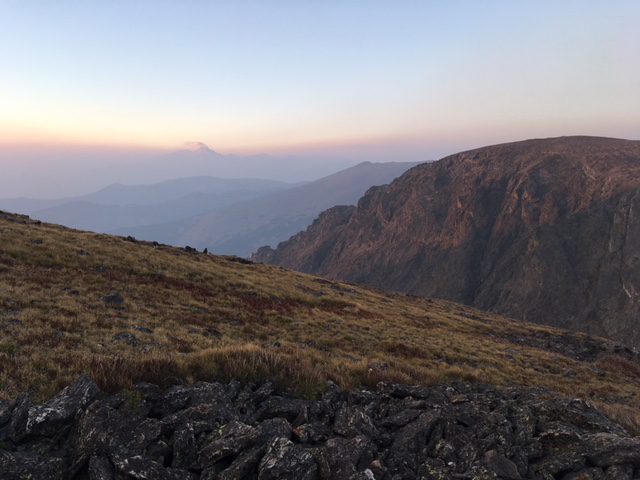 Mount Chiquita Trail
General Description
Mount Chiquita is one of three popular summits with relatively close approaches to high altitude peaks. A 2.5 mile hike with 2,000 ft. elevation gain reaches the summit of Mt. Chiquita. This makes is a successful day already, adding on Mt. Chapin and Mt. Yipsilon create for a challenging link up of mountain trails with great reward. Learn about Mount Chiquita guided day hikes.
Explore Rocky Mountain NP with Expert Guides
Getting to the Chapin Pass Trailhead
From Estes Park, take Fall River Road (Hwy 34) North into the park through the Fall River Entrance Station. In the early morning this next segment of road is great for spotting wild elk and big horn sheep. Drive two miles, turning right onto Endo Valley Road. Paved road continues for another mile and is your last point to turn around. From the start of the gravel road, Chapin Pass Trailhead is 6.75 miles up the one way road. Located at a sharp left turn, parking is limited on the sides of the road. Parking can fill shortly after sunrise.
History of Old Fall River Road
Old Fall River Road was the initial route to Grand Lake. Constructed by the Civilian Conservation Corps in the 1930's at one time this was the main attraction for visitors in Rocky Mountain National Park. Improvements to the road lead to the current paved Trail Ridge road, the highest continuous paved road in the United States. Prior to settlers arriving, the Ute Indians used this are for hunting and a travel route across the range.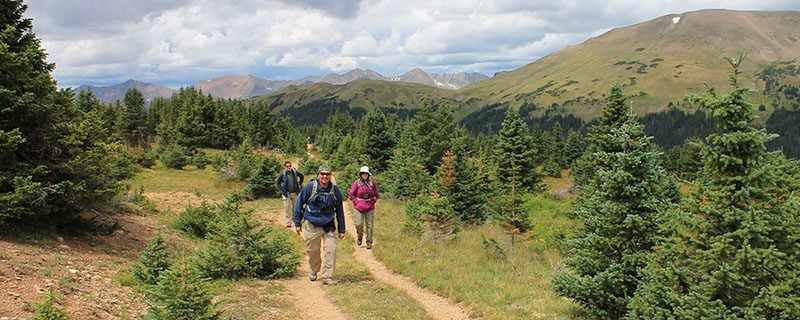 Summit Trails from Chapin Pass Trailhead
Hiking one of these mountains is an accomplishment. Linking up two or all three summits can be physically and environmentally challenging hike. Afternoon thunderstorms occur daily in the summer time. Its always best to begin hiking before sunrise. If attempting to hike Mt. Ypsilon or multiple peaks, start hiking even earlier. No water available. Check the weather forecast here prior to entering the Park.
Round Trip Distances and Elevations from Chapin Pass Trailhead:
| | | | | | |
| --- | --- | --- | --- | --- | --- |
| | Destination | Miles | Elev | Difficulty | Style |
| | Mt. Chapin- 12,454 ft | 4 mi | + 1,557 ft | Moderate | Out and Back |
| | Mt. Chiquita- 13,075 ft | 5 mi | + 2,155 ft | Strenuous | Out and Back |
| | Mt. Ypsilon- 13,514 ft | 7 mi | + 2,611 ft | Difficult | Out and Back |
1. Mount Chapin
Mt. Chapin, 12,454 ft., is the closest summit to Chapin Pass Trailhead. Though shorter than its neighboring summits, the trail offers a steep finish before reaching its peak. From the trailhead hike 200 yards up hill. Take the trail right leading to Chapin Pass Summits. 1.5 miles along the trail, an unsigned trail branches to the right. Follow this steep section a quarter mile and up 500 ft. to Mt. Chapin's summit. Because it is a brief side venture from the main trail, Mt. Chapin is great link up after hiking Mt. Chiquita.
2. Mount Chiquita
At 13,075 ft., Mt. Chiquita is likely the most commonly hiked 13,000-foot peak in Rocky Mountain. Don't let this fool you in thinking it is an easy hike, the trail is exposed to afternoon thunderstorms the same as the other mountains. Plan on starting an hour before sunrise, for your best chance of success. Elk commonly can be heard bugling in the morning hours. From the trailhead hike 200 yards up hill following the trail right towards Chapin Pass Summits. After 1.5 miles you will reach a saddle, beyond the side trail to Chapin. The trail continues straight up a steep section, and eventually fades to nothing near the summit. Rewarding views of the surrounding Mummy Range, Longs Peak, and distant front range are scene from the summit. Learn about a Mount Chiquita guided day hikes.
From the summit, hike back the way you came to the trailhead. Consider hiking Mt. Chapin on the way back. If weather looks stable, and you're looking for more hiking. Continue straight down the North ridge line leading to the next saddle, and on to Mt. Ypsilon!
3. Ypsilon Mountain
Ypsilon Mountain is the highest peak in the Mummy Range at 13,514 ft. From the summit of Mt. Chiquita, it is easy to underestimate how long it takes to reach Mt. Ypsilon's peak. For this reason, be extra cautious if bad weather is pending. There is little to no trail, and consistent rocky terrain the entire way. This peak is done the least of the three, and offers the most solitude and elevation gain.
From Mt. Chiquita's summit hike down the North ridge line to the saddle. From here hike faded trails along the ridge to the Ypsilon's astonishing summit.
If your sole intention is Ypsilon Mountain, follow the trail to Mt. Chiquita. When reaching the saddle at 1.5 miles between Chapin and Chiquita, traverse behind the mountain the path of least resistance North, rather than ascending straight up. Faded trails exist in the Tundra that lead to the saddle between Chiquita and Ypsilon.
4. Linking all 3 Peaks!
This makes an incredible 8-mile hike with +3,400 ft. of elevation gain. Plan on starting your day at least 2 hours before sunrise. Whatever order you attempt to hike the peaks, keep an eye on the weather as you will be exposed to lightening terrain for a long period of time. While a guided hike can not control the weather, a professional guide will use her experience to judgment to assess the safety of a mountain before hiking.
Maximize Your Visit to Rocky Mountain National Park on Hiking Tour
Guided day hike tours and multi-day packages allow visitors the opportunity to make the most of their time in Rocky Mountain National Park and to do it hassle-free. Guided tours include gear (backpack, trekking poles, crampons in winter), meals, accommodations on multi-day tours, local transportation, and a professional Colorado hiking guide. Through their knowledge, stories, and personal passion, guides can bring a place to life in a way that's much more difficult to do on your own. Read more about Rocky Mountain Hiking Tours.
Award Winning USA Hiking Vacations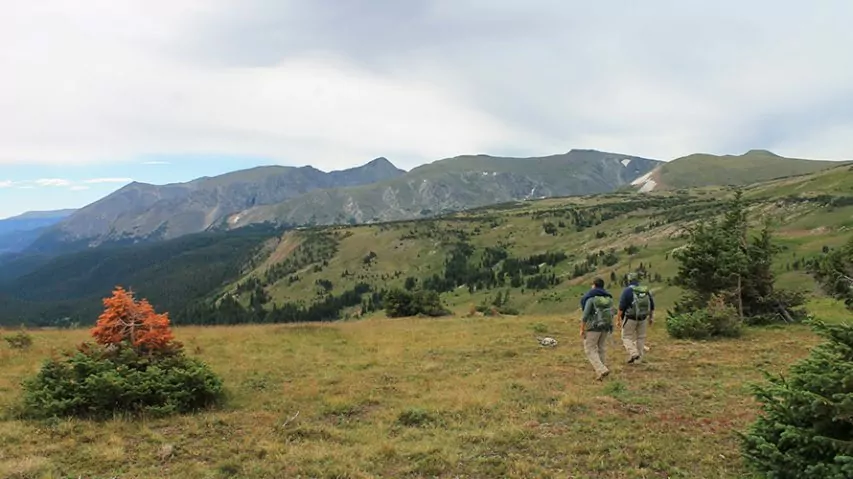 Join a Guided Rocky Mountain National Park Backpacking Trip
Joining a Rocky Mountain National Park backpacking tour is a worry-free, adventurous way to experience the Rockies. With your gear, meals, local transportation, permits, and fees taken care of for you, you can travel light and focus 100% on enjoying the hiking experience, while the guide company takes care of everything else. Also, by going with local experts you'll enjoy a greater level of safety and gain a much better understanding of the history and ecology of this remarkable region. Read more about a guided Rocky Mountain National Park backpacking trips.
When to Hike and Seasonal Considerations
July through October is the best time to hike. Always leave early to be afternoon thunderstorms. Check the forecast here before hitting the trail.
Driving to Chapin Pass Trailhead is limited to when Old Fall River Road is open, usually July – November. Walking access is around April – November. Click here to learn about season road closures and openings.
Necessary Permits
No Day Hike Permits Required
Backpacking Permits
Wilderness camping permits can be obtained online starting March 1st of each year. Reservations are given on first come first serve basis. The Rocky Mountain National Park Website is accurate at posting availability of each specific campsite. Anticipate summer campsites availability to be gone be mid- Spring.
For more information on Rocky Mountain National Park's permit system, click here.
Suggested Packing List
Day Hike Packing List
2-3 liters of water
Salty, calorie-rich snacks
lunch
backpack
trekking poles
wide-brimmed hat
sunscreen, sunglasses
cotton t-shirt (spring-fall)
medium to thick upper layers
rain jacket
1st-aid kit
Backpacking Packing List (edit)
all items listed for day hikes PLUS
multi-day backpack
3-season tent
0-20 degree sleeping bag
sleeping pad
backpacking stove and fuel
backpacking meals
3 pairs wool socks
extra t-shirts
Please Respect Our National Parks – Leave No Trace
We strongly recommend abiding by all Leave No Trace ethics guidelines and practices so that our national parks and public lands are preserved for the enjoyment of future generations and for the people and animals who call these places home. Simple things like packing out your trash, obeying national park rules, and respecting the peace and quiet of our national park trails is a great start. If you're going on a backpacking trip, you can read about more about the 7 Leave No Trace Principles.