4 High Points of US National Parks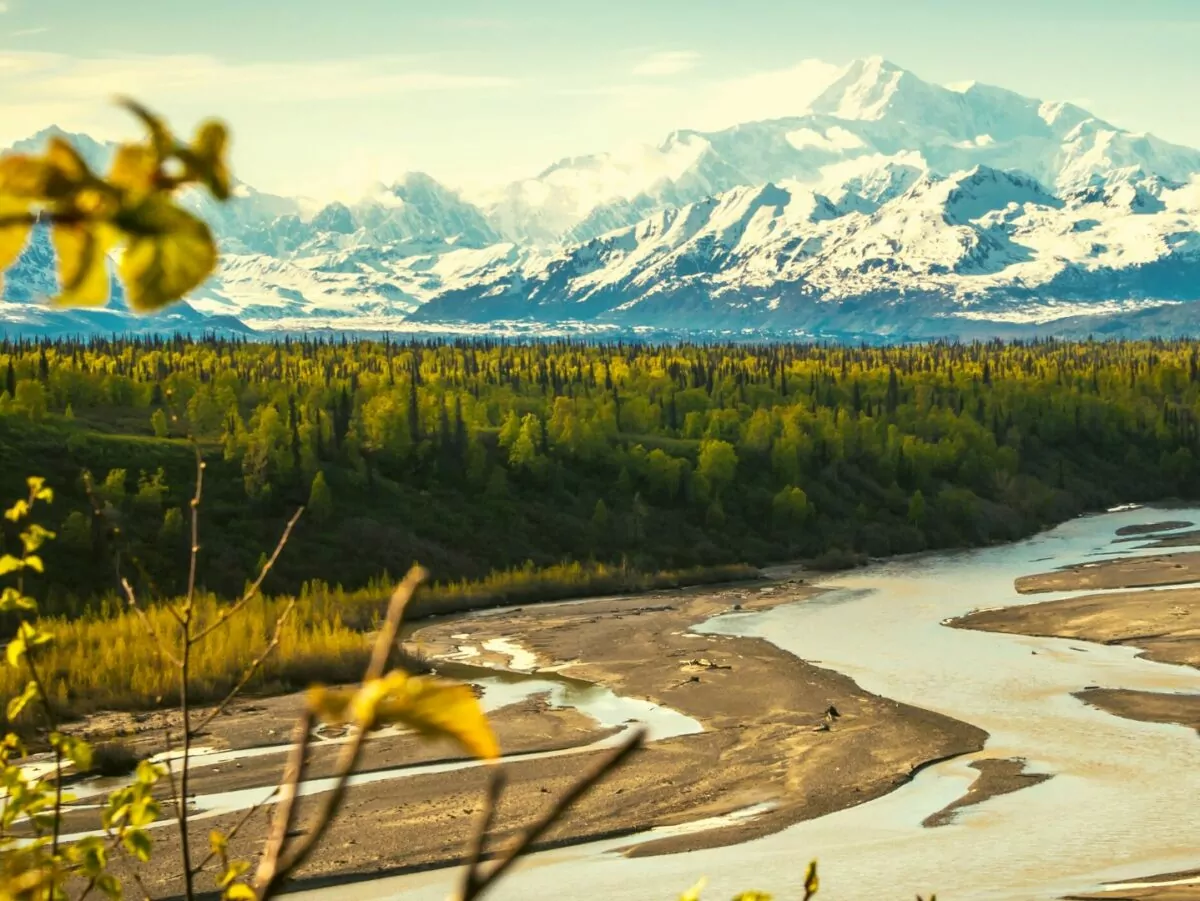 There's no one way to experience the grandeur of a mountain vista. Whether you have your heart set on hiking to the summit, prefer to see the sights from the seat of an air conditioned car, or like to take moderate trails to strategic vantage points – it's all valid. Read on to learn more about America's highest mountains and how they can be explored.
1. Denali, Denali National Park and Preserve, Alaska
Denali soars above the meadows at 20,310 feet, making it the highest mountain in North America. Falling some 9000 feet short of Everest in overall altitude, Denali's total base-to-peak height is actually taller – by a mile. That is because, from its base 2000 feet above sea level, Denali rises a striking three and a half vertical miles to its summit, while Everest, sitting on a 14,000 foot high plane, gains only 15,000 more feet before topping out.
With over 6 million acres of preserved wilderness, there are numerous ways to enjoy Denali National Park's most prominent summit. Most adventurers choose to view Denali by private vehicle or tour bus. There is only one road in the park and only a fraction of it is available to private vehicles during the summer. Opt for a narrated tour bus from mid-May through mid-September to learn all about the area. These buses can be chartered from within the park as well as from Fairbanks, the park's closest city.
Experiencing the peak from a bus or private vehicle allows visitors to take in Denali National Park's grand scale of landscape and vegetation – including over 1,500 plant species. One popular goal for visitors is seeing the "big five:" Dall sheep, wolf, caribou, moose, and grizzly bear. To get a closer look at the flora and fauna of the park, take a hike off the beaten path on a marked or unmarked trail. Denali allows visitors to hike off-trail, creating a unique experience as long precautions are taken around safety, route finding, and Leave No Trace.
Only the most experienced and committed mountaineers will try climbing Denali. It is recommended to have many expeditions under your belt before attempting this peak, as only fifty percent of summit attempts are successful. The trek usually takes around three weeks and is largely dependent on weather conditions. 
Plan to visit from mid-May to mid-September when temperatures are warmer and there is less snow on the ground. Visitors can fly into Fairbanks and rent a car or take the Denali Star Railroad for a more laid back experience, allowing time to take in the spectacular sights en route.
2. Mount Whitney, Sequoia National Park, California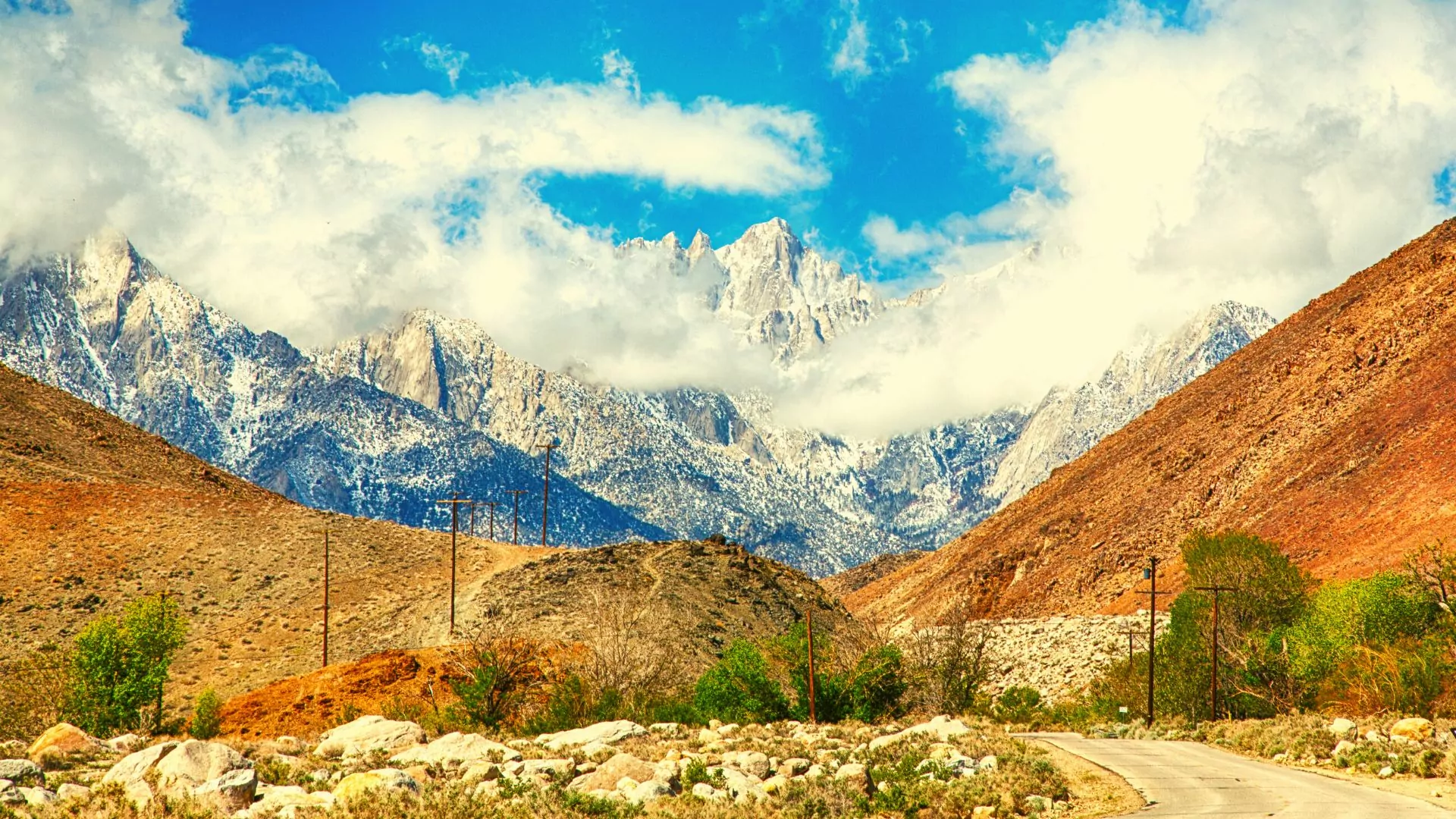 The tallest mountain in the lower 48 is Mount Whitney in Sequoia National Park. The mountain rises to 14,498 feet and lies on the boundary of Sequoia National Park and the Inyo National Forest in southeastern California.
The only way to fully view Mount Whitney is by hiking into the park or by driving into the Interagency Visitor Center off Highway 395 as the Great Western Divide Range blocks views of this spectacular peak from the park roads.
With a strong fitness base, Mount Whitney can be summited in a day. The most common route starts from Whitney Portal or Lone Pine trailheads at 8,600 feet for an 11-mile push to the peak. The trail gradually gains about 550 feet of elevation per mile making it a moderate grade. Most hikers choose to start prior to sunrise for a safer return back to the car. Pro trip: try to summit during a full moon for added light during the dark approach, and either way, pack a headlamp!
It is recommended to have experience with altitude or to stay a few nights at higher elevation to acclimatize first. Lone Pine has a few campgrounds to allow for this time before the climb. Please keep in mind that altitude sickness can be serious, and that the only reliable treatment is descent. Always listen to your body and know your limits. Symptoms of altitude illness can include headache, fatigue, loss of appetite, nausea, and vomiting. Caffeine and electrolyte consumption may be advised. Ensure others know when to expect you back, and plan for the unexpected with plenty of extra layers, water, and food.
The best time of year to go is during the summer or when the snowpack has melted, from mid-June to October. Remember to check the local forecast before your trek in preparation!
3. Mount Rainier, Mount Rainier National Park, Washington State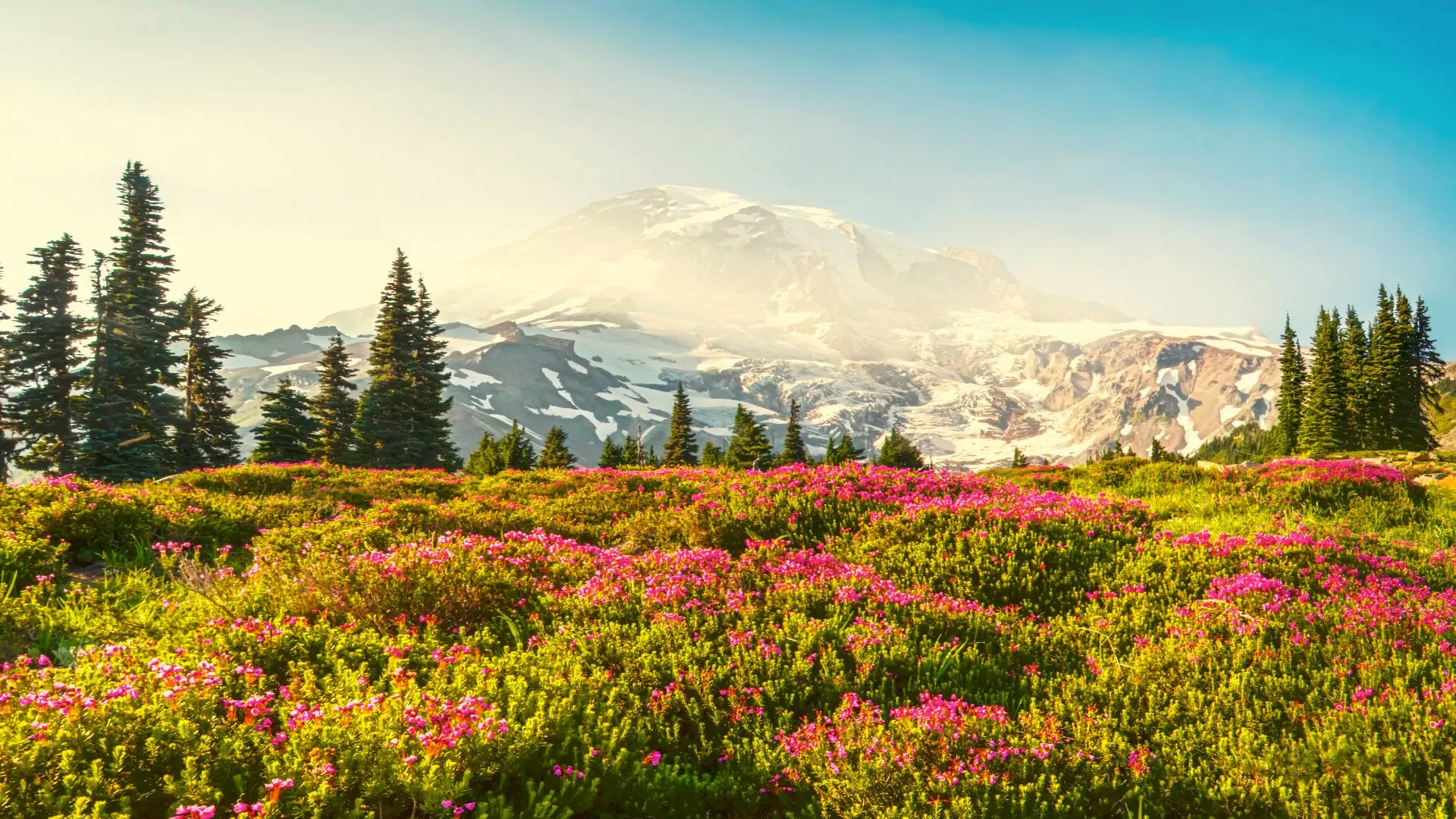 Mount Rainier, one of Washington State's crown jewels, offers visitors an unparalleled experience. Rising to 14,411 feet, Rainier sees the second most ascents per year after Whitney and is the most heavily glaciated peak in the lower 48 states. This spectacular summit is more comparable to an Alaskan or Andean peak than others in the contiguous 48 as it requires climbers to gain 9000 feet of elevation to top it out: the same as from Everest's advanced base camp to the summit.
Rainier requires more technical mountaineering skills than Whitney as the distance to the summit is substantial and the terrain is unforgiving. It must be noted that this mountain takes lives every year and should not be attempted without proper planning and experience. Anyone attempting to climb Rainier should have thorough experience in mountaineering, glacier travel, crevasse rescue, route finding, winter camping, and risk management.
Hike to Rainier Basecamp with wildland
Not you? That's okay! There are a variety of guide services available to help achieve your summit goals. There are also many ways to experience a mountain other than standing on its peak. Wildland Trekking offers guided hiking trips for those who simply want to soak in the natural beauty of the National Park and get some great views of Mount Rainier from lower down.
Opportunities to experience the mountain without a summit are endless. The park offers over 260 miles of maintained trails for visitors to take in rivers, subalpine wildflower meadows, ancient forests, and abundant wildlife. Some of our favorite hikes with views of Mount Rainier include:
Skyline Loop Trail

Distance: 6.2 miles

Elevation gain: 1,788 feet

Difficulty: hard

Why: incredible wildflowers, waterfalls, Nisqually Glacier, and Panorama Point with a 360-degree view of the Cascades including Mount Rainier

Mount Fremont Lookout

Distance: 5.7 miles

Elevation gain: 5.7 miles

Difficulty: Moderate

Why: an old fire lookout tower provides one of the best views of the glaciated Rainier
The best times to visit the park are mid-June through October depending on snow melt. This area receives a lot of snow and it isn't uncommon for visitors to need crampons and hiking poles for snowy hiking. Always check with the Park Service in advance if unsure.
4. Long's Peak, Rocky Mountain National Park, Colorado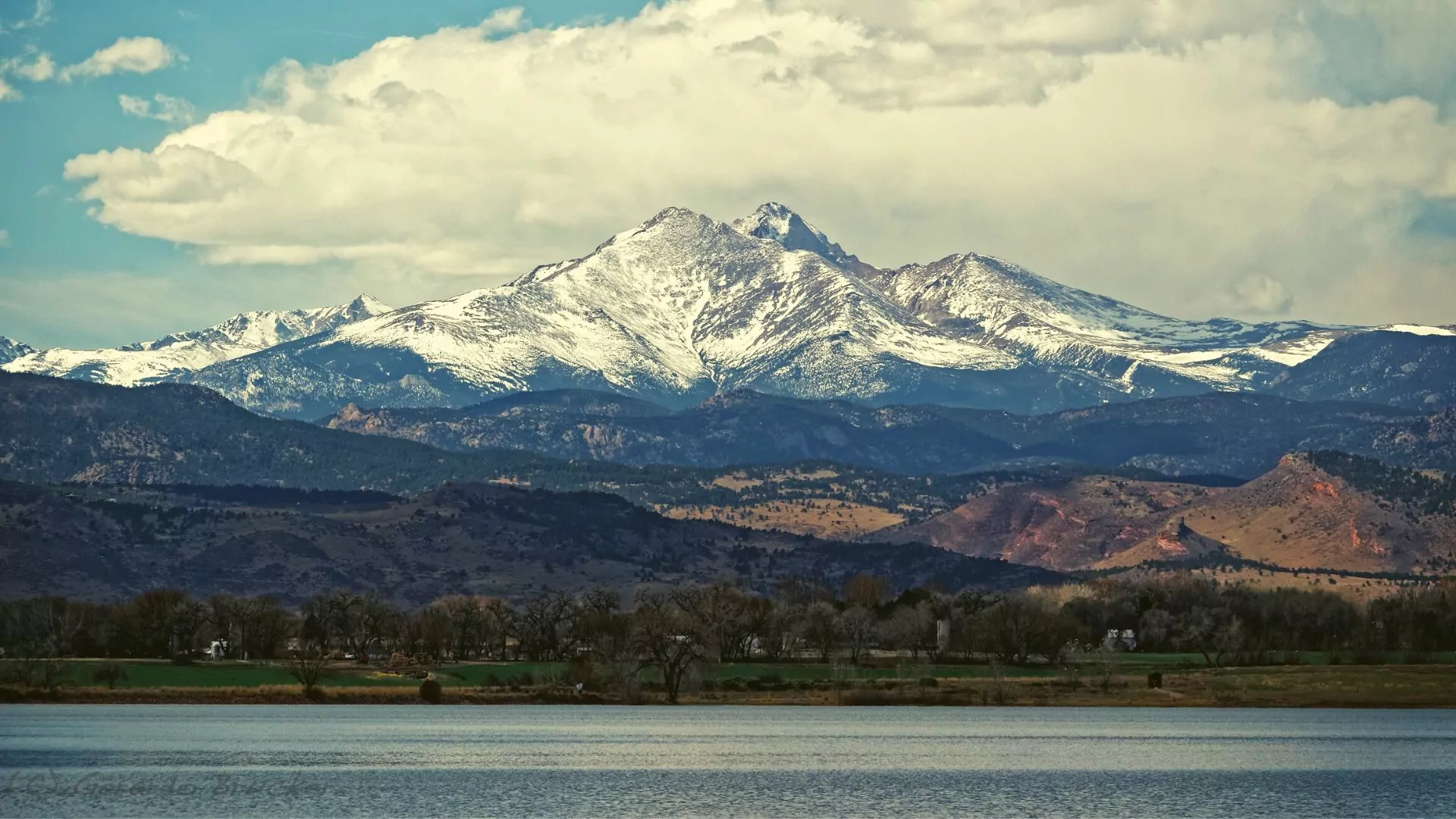 Long's Peak is the most prominent peak of the Rocky Mountain Range. Standing at 14,259 feet, its flat-topped "peak" makes it highly noticeable. As one of Colorado's highest peaks and the state's most popular "fourteener," it is common to see hundreds of people at the summit during the summer months. While this might make Long's Peak seem like a walk in the park, it's important to understand this is not a hike like any other.
The summit attempt of Long's Peak begins at 9,400 feet with almost five thousand feet of elevation gain over 7 miles. There is no designated route nor maintained trail to the summit and visitors attempting this mountain should have strong route-finding skills. That said, the most common route is The Keyhole Route, a classic mountaineering route involving climbing, scrambling, narrow ledges, loose rock, steep cliffs, vertical rock faces, and extreme weather conditions. A slip or fall could have deadly consequences. Check the parks FAQ page for Long's Peak during your prep.
The Keyhole Route is commonly climbed during the summer months when the snow has dissipated. It's important to remember that in the alpine the weather conditions can change at any moment. Visitors should avoid fixation on their summit goal and take proper precautions, including the choice to turn around should unsafe conditions develop.
For these reasons the National Park Service recommends using a guide service if you don't have a solid history of mountaineering and experience dealing with exposure and high altitude. Wildland Trekking offers Long's Peak day trips among other Rocky Mountain based experiences.
Long's Peak summit offers unparalleled panoramic views including the point where the great plains to the east meet the mountains of the west. Chasm Lake and its alpine blue hues sit at 11,823 feet, and the Diamond Wall, a sheer granite face rising 2,400 feet above the lake, can also be seen. Climbers come from all over to test their fortitude at Diamond Wall. Take a moment to catch your breath and take in their try-hard noises. 
Find the Right Mountain for You
Hiking a mountain, when done safely, is certainly worth the mental and physical effort. Conquering a high peak and earning spectacular views provide fodder for future fire stories. 
The high points of our National Parks have something to offer everyone, from extreme mountaineering to the peaceful solitude of alpine lakes and wildflower filled meadows. It's no wonder these places are protected and preserved. Please respect all Park Service regulations and recreate responsibly. This includes leaving natural spaces better than you found them and taking every precaution to be safe and prepared.