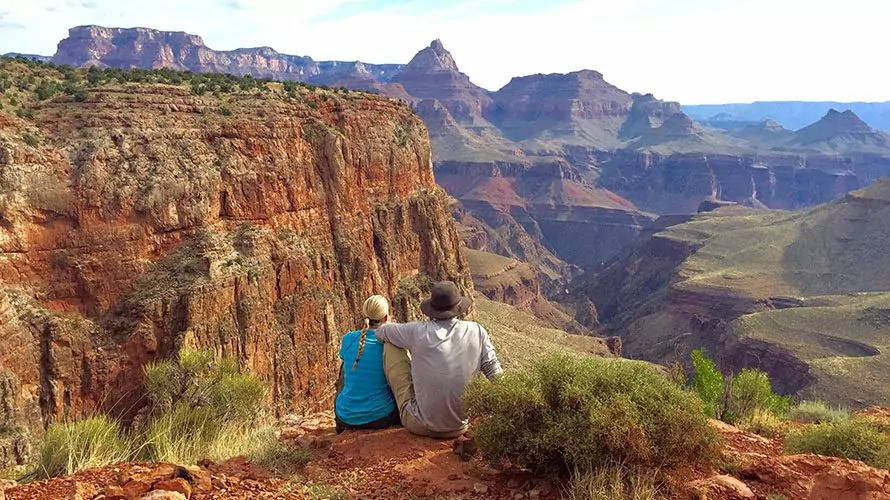 Grandview Trail
General Description
The Grandview Trail follows parts of a historic trail, and while most sections are well-built, some seem to be eroded away with time.  The Kaibab and Toroweap is a steep descent and some of the old trail has eroded.  "Stairs" were built using horizontal logs to create steps and pinned into the cliff face.  Use caution, as this section is hazardous and is not advised for those afraid of heights.  The Coconino uses cobblestone pathways to create a smooth(ish) surface, which helps reduce steepness.  Remnants of mining structures and operations scatter Horseshoe Mesa, but remember to leave these objects where you find them.
Most backpackers use Grandview Trail to get to the Tonto Trail in order to access deeper parts of the Grand Canyon.  Once at the junction of Grandview and Tonto trails, you can go east 2.2 miles to Hance Creek, or west 1.5 miles to Cottonwood Creek. This trail offers world-class scenery, wide-open landscapes, dizzying drop-offs, and access to deeper parts of the canyon.
Getting to the Grandview Trailhead
The trailhead starts at Grandview Point, off Desert View Drive.  From the junction of Desert View Drive and South Entrance Road, the viewpoint is about 12 miles east.  Once at the viewpoint, there is an interpretive sign marking to start of the trail.
History of the Grandview Trail
The Grandview Trail was one of the most prominent trails used for mining in the late 1800's.  Miners spread out and combed through much of the canyon, before finding what they were looking for on Horseshoe Mesa. Rich copper deposits were found, and promised wealth to the miners. Only, however, if they were removed from the depths of the canyon.  Looking to cash in on their finds, a rough trail was blazed, originally known as Berry Trail, now known as Grandview Trail.  The trail follows the historic route used by miners and their mule trains to transport copper ore from Last Chance Mine on Horseshoe Mesa.  Hikers can see the green-tinted ground as they walk across the remnants of this bygone time period.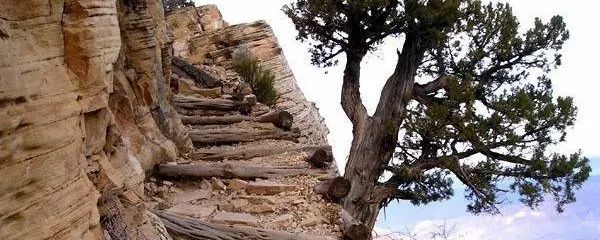 3 Best Day Hikes on the Grandview Trail
Day hiking is magnificent on the Grandview Trail because once you are down the steep Coconino sandstone, the canyon opens up.  With wide-open views, you can see for miles and miles without having to travel too far.
Below are the primary options for day hiking the Grandview Trail without a permit:
1. Coconino Saddle
Distance: 2.2 miles round trip | Elevation Gain/Loss: 1190 ft | Difficulty: Easy-Moderate | Style: Out and Back
This trail is a steep descent with great views looking north into the canyon.  Immediately starting the trail, you will see a large rock with a flat platform sticking off the trail. It looks like a great place to take a photo. It is not, avoid this rock. The trail will meander down the switchbacks of the Kaibab limestone and then traverse the Toroweap shale.  As you enter the Coconino sandstone, the rock formations are amazing; imagine giant dinner plates stacked on top of each other at angles. After 1.1 miles you will reach the saddle, which is a great spot to snack in the shade.  When you return back to the top, you will be amazed (or frightened) at the construction of the trail that you just came down, as it seems to be stuccoed to the wall.
2. Horseshoe Mesa
Distance: 6 miles round trip | Elevation Gain/Loss: 2500 ft | Difficulty: Moderate | Style: Out and Back
Continue past the Coconino saddle, where you'll be traversing the Supai formation, stained red by iron. The trail offers great views looking back up at the sandstone above you. It can be particularly hot and long in this section as it seems to go on forever.  Once you reach the mesa, that's a great place to drop your pack and explore.  You'll find numerous mining sites and old mining equipment, radioactive warning sites, plenty of agaves and yuccas, and the menacing tarantula hawk flying around.  There is no water on the mesa, so be sure to pack plenty.  When ready return the same way you came down.
Maximize Your Visit to the Grand Canyon on a Hiking Tour
Guided day hike tours and multi-day packages allow visitors the opportunity to make the most of their time in Grand Canyon National Park and to do it hassle-free. Guided tours include gear (backpack, trekking poles, crampons in winter), meals, accommodations on multi-day tours, local transportation, and a professional Grand Canyon hiking guide. Through their knowledge, stories, and personal passion, guides can bring a place to life in a way that's much more difficult to do on your own. Read more about Grand Canyon Hiking Tours.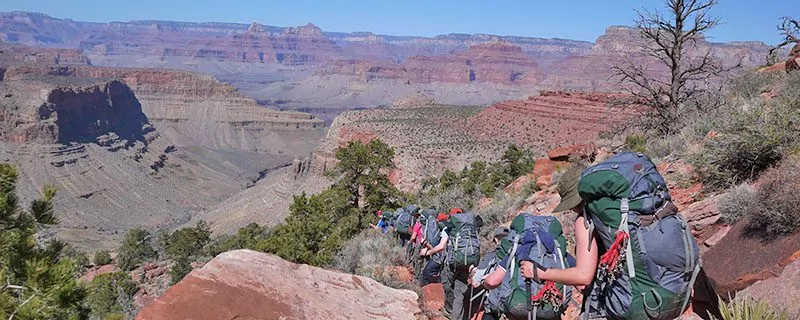 3 Grandview Trail Backpacking Trips
The Grandview Trail offers many great backpacking options.  Since most of them are reasonable low mileage, it allows people with time restraints to still explore sleeping under the stars in the canyon.  Also, if time does allow, since the trips may have less miles, it lets you set up a basecamp in a really peaceful spot and embark on day hikes.
Route
Miles (roundtrip)
Difficulty
Campgrounds
Horseshoe Mesa
6 mi
Moderate-Strenuous
Horseshoe Mesa CG
Hance Creek
 9.8 mi
Strenuous
Horseshoe Mesa CG
Hance Creek CG
Cottonwood Creek
9 mi
Strenuous
Horseshoe Mesa CG
Cottonwood Creek CG
1. Horseshoe Mesa (2-3 days)
Get to Horseshoe Mesa the same way as described above.  There is no water on the mesa, but you can hike one mile below the mesa to Page Springs.  This is not an easy option, as the trail is very difficult here.  While camping on the mesa, you can explore Cave of the Domes, hike to the end of the mesa for amazing views of the Colorado River, explore the mining history, and if you have a layover day, you can day hike off the mesa to Cottonwood Creek or Hance Creek.  Horseshoe Mesa is a great backpacking option because it offers great sunrise and sunset views, and is an excellent short backpacking destination.
2. Hance Creek (2-3 days)
Descend down Grandview Trail to Horseshoe Mesa, and once there, you will follow the trail to the east side of the mesa.  After seeing the mining history, drop down the Redwall, which is a steep, steep descend to Page Springs, where you can fill up water.  You will pass by another historic mining site, and the trail will follow the Tonto for awhile.  Eventually, you will reach Hance Creek, where there is shade from cottonwood trees and offers peaceful campsites.  This trip is great because if you set up a basecamp here, you can go on many day hikes to the Tonto Trail and explore Hance Creek.
3. Cottonwood Creek (2-3 days)
When you reach Horseshoe Mesa, you will follow the trail on the west side.  This is an older trail and can be quite challenging, and because of that it is less trafficked and provides more solitude.  Once at Cottonwood Creek, there are great day hikes you can do, as well as tons to explore within the creek.  This area offers a great chance to spot lizards and other wildlife.  Check with rangers before you begin your trip to see if there is water running at Cottonwood.
Join a Guided Grand Canyon Backpacking Trip
Joining a Grand Canyon backpacking tour is a worry-free, adventurous way to experience Grand Canyon National Park. With your gear, meals, local transportation, permits, and fees taken care of for you, you can travel light and focus 100% on enjoying the hiking experience, while the guide company takes care of everything else. Also, by going with local experts you'll enjoy a greater level of safety and gain a much better understanding of the history, ecology and uniqueness of the region. Read more about a guided Grand Canyon backpacking trips.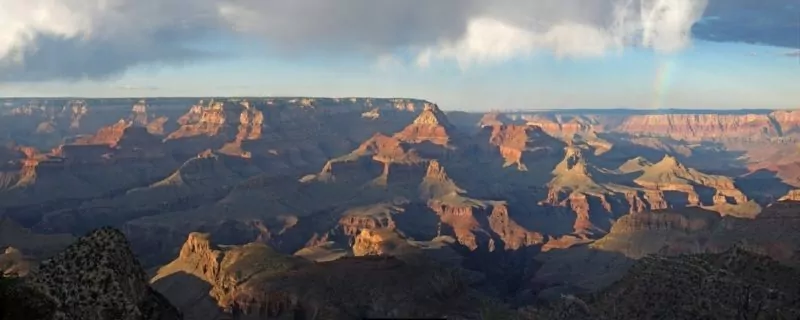 When to Hike and Seasonal Considerations
The Grandview Trail is best in the spring and fall. In the winter the trail can be icy and may require the use of hiking crampons . If in doubt, have them with you because you don't want to turn your hike around early when you hit unexpected ice. Also, the top of this trail has a very exposed section that some people will not want to brave if there's any ice or snow on the trail. In the summer the temperatures can be extremely hot, so it's critical to get a very early start. We recommend being on the trail by 6 AM from June through mid September. Also, in the summer it's important carry extra water and snacks.  Check the weather before starting any hike in Grand Canyon National Park.
Necessary Permits
Day Hike Permits
There are no required permits to do any day hiking in Grand Canyon National Park.
Backpacking Permits
All overnight stays inside the Grand Canyon are required to have overnight camping permits. Grand Canyon's permit system is a lottery that begins 4 months before the month you'd like to hike on the first of the month. For example, on January 1 submissions are made for all May dates; on February 1 submissions are made for all June dates; on March 1 submissions are made for all July dates…etc. See more information on Grand Canyon's permit system.
Suggested Packing List
Day Hike Packing List
3-6 liters of water (more in summer)
broken-in hiking boots
salty, calorie-rich snacks
lunch
backpack
crampons (in winter)
wide-brimmed hat
sunscreen, sunglasses
non-cotton t-shirt
rain jacket
warm non-cotton layer
1st-aid kit
Backpacking Packing List
all items listed for day hikes PLUS
multi-day backpack
3-season tent
sleeping bag
sleeping pad
headlamp
backpacking stove and fuel
backpacking meals
3 pairs wool socks
extra t-shirts
water filter or water treatment tablets
large dromedary to carry extra water
Please Respect Our National Parks – Leave No Trace
We strongly recommend abiding by all Leave No Trace ethics guidelines and practices so that our national parks and public lands are preserved for the enjoyment of future generations and for the people and animals who call these places home. Simple things like packing out your trash, obeying national park rules, and respecting the peace and quiet of our national park trails is a great start. If you're going on a backpacking trip, you can read about more about the 7 Leave No Trace Principles.