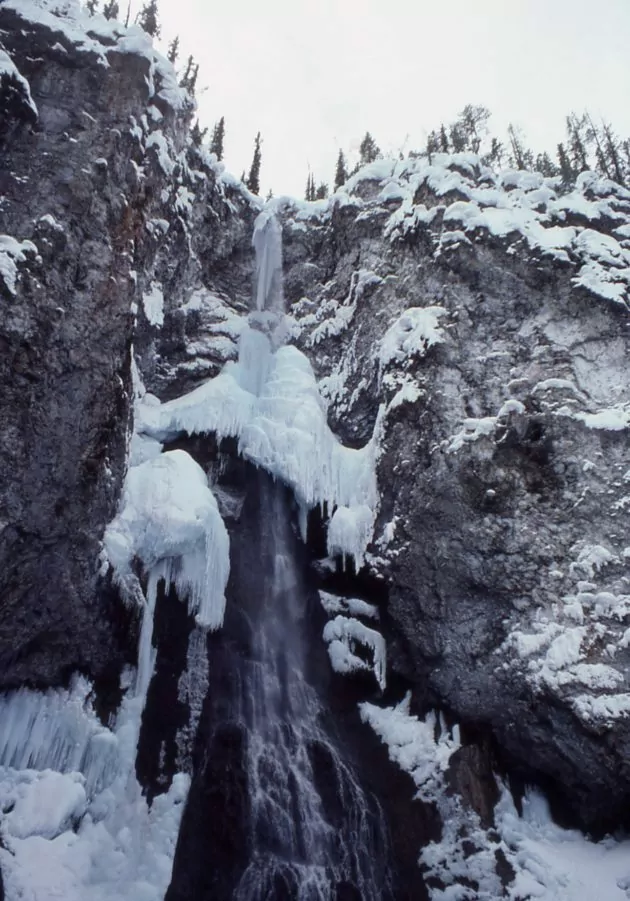 Fairy Falls Trail
General Description
The Fairy Falls trail is a mostly flat, easy walk through classic Lodgepole pine forest to a spectacular 200-foot waterfall. To add another highlight, our route offers a chance to stop at the Grand Prismatic Overlook. With a diameter of 300 feet, this hot spring is so large and steamy, you can't see much of it from the surrounding boardwalks. From the overlook, you can see the full sunburst shape and colors of one of Yellowstone's most recognizable attractions.
Explore Yellowstone with Award Winning Guides
Getting to the Fairy Falls Trailhead
The Fairy Falls trailhead is located about 1 mile South of Midway Geyser Basin. Park at the Fairy Falls parking area. There is no water or restrooms at the trailhead. The nearest potable water is located at the Old Faithful Visitor Center. Click here for directions.
History of the Fairy Falls Trail
The most significant bit of history surrounding this trail sits 3 miles North of Fairy Falls. The Queens Laundry bathhouse is a roofless log building sitting on top of a backcountry geyser basin in Sentinel Meadows. Constructed in 1881, this is the only building still standing from the era of Superintendent Norris, before the U.S. Army took charge of the park in 1886. Furthermore, it is the first building constructed by the government for public use within a National Park. It is recognized as the first step in using federal funds to create visitor accommodations in our parks. It also marks the first conflict between providing comfort for visitors and preserving the integrity of the land.
Thankfully, this bathhouse was never finished and the damage to this thermal basin did not continue. It is also a blessing that the building was never destroyed. The demolition would have certainly caused more environmental impact and prevented us from admiring this relic of National Park management. Hence, the building is still standing, being preserved and slowly buried by the silica deposits from Queens Laundry hot spring. Read our Fairy Falls to Sentinel Meadows description to learn how to see it yourself.

3 Best Day Hikes on the Fairy Falls Trail
Suitable for all ability levels, a day hike on the Fairy Falls trail rewards hikers with views of diverse thermal features and one of Yellowstone's more beautiful backcountry waterfalls.
Below are the primary options for day hiking the Fairy Falls Trail:
| | | | | | |
| --- | --- | --- | --- | --- | --- |
| | Destination | Miles | Elev | Difficulty | Style |
| | Fairy Falls | 5 mi | +/-200 ft | Easy | Out and Back |
| | Fairy Falls + Imperial Geyser | 6.6 mi | +/-200 ft | Easy | Loop |
| | Fairy Falls to Sentinel Meadows | 11.3 mi | +/-200 ft | Moderate | Loop |
1. Fairy Falls
If you're like us, when you enjoy a must-see boardwalk attraction, you don't just want to snap a picture and walk back to your car with the rest of the crowds. You want to hike! This trail leads you past the busy, but worth-it, Grand Prismatic Overlook and continues into the forest to see another spectacular landmark in its natural environment, Fairy Falls.
From the trailhead, cross the bridge over the beautiful Firehole River and continue on the wide bike-friendly dirt path. After half a mile, turn left and climb 100 feet to the Grand Prismatic Overlook. This wooden balcony offers a spectacular aerial view of the largest hot spring in the U.S. When you're ready, return to the junction and turn left to continue straight along the main path. One more half mile and you will reach another junction. Again, turn left. The trail will be narrower and more natural from here as you head West through the forest alongside a towering rock wall. This cliff side is the edge of the Madison Plateau, which is what Fairy Creek falls over to form your destination. You will reach a gentle incline as you approach your turn around point. 1.5 miles from the junction you will arrive at this 200-foot waterfall, one of the most impressive in the park. On a hot day, you might enjoy soaking your feet or swimming at the base of the falls. As the park says though, do so at your own risk. When you're ready, return the way you came. This hike can take about 2-3 hours.
2. Fairy Falls + Imperial Geyser
If you can handle 1.6 more miles, add variety to your Fairy Falls day hike by making it a loop past a backcountry geyser basin and several small lakes. Follow our description to get to Fairy Falls. Instead of turning back the way you came, cross the bridge and continue along the trail. After a quarter of a mile, you will reach a junction and your first views of Imperial Geyser. This is huge brilliantly colored pool. It rivals the color scheme of Morning Glory Pool, but this hot spring is free of boardwalks and crowds. Imperial is also a geyser. Though they are few and far between, her eruptions can reach up to 35 feet. Further in the background, you'll see Spray Geyser gushing as always. Better views of these features are reached by walking left at the junction for a bit. When you're ready to move on however, make sure you take a right at the junction to continue on the Fairy Falls trail.
For the next mile, you will enjoy luscious meadow views and probably spy some bison. Some more thermal features will pop up along the trail in the mile after that. After 2.1 miles from your last junction, you will reach the Imperial Meadows trail. Turn right again. Shortly thereafter, you will reach the wide bike-friendly Fairy Falls trail. Turn right once more. From here, you'll start to see foot traffic again, but you'll still have some fresh scenery to enjoy. You'll have quaint views of Feather and Goose Lakes. After 1.6 miles you will pass the junction toward Fairy Falls. Continue straight to retrace your steps back to the parking lot. This hike can take 3-5 hours.
3. Fairy Falls to Sentinel Meadows
This route is the complete package of all the Fairy Falls trails. If you have time for an 11.3-mile hike, you can enjoy Grand Prismatic Overlook, Fairy Falls, a huge network of backcountry thermal features, and the historic Queens Laundry Bathhouse. Follow our description for Fairy Falls to Imperial Geyser until you reach the Imperial Meadows trail. Instead of turning right, turn left heading Northwest into the meadows. This area is the backcountry section of the Lower Geyser Basin. Steam vents and thermal runoff are all over these creek adjacent grasslands. They are even more enjoyable, because there are no parking lots, boardwalks, or crowds.
1.5 miles along this trail, you will reach Queens Laundry hot spring. This feature is most easily recognized by the small log building sitting in its runoff. Relish this primitive bathhouse for its uniqueness and historical significance. Imagine what it would have been like if people ventured out here to bathe in thermal-fed tubs. But whatever you do, do not approach or enter the bathhouse. You could be scalded, impact the thermal ecosystem, or damage this historical building.
You will continue to enjoy more meadows and thermal features for the next 1.5 miles. Here you will rejoin the wide bike-friendly Fairy Falls trail that you started off on. Turn right. You will enjoy more meadow views, Feather and Goose Lakes, and perhaps some roaming bison. After 2.6 miles you will pass the junction toward Fairy Falls. Continue straight to retrace your steps back to the parking lot. This hike can take 5-8 hours.
Maximize Your Visit to Yellowstone on a Hiking Tour
Guided day hike tours and multi-day packages allow visitors the opportunity to make the most of their time in Yellowstone National Park and to do it hassle-free. Guided tours include gear (backpack, trekking poles, crampons in winter), meals, accommodations on multi-day tours, local transportation, and a professional Yellowstone hiking guide. Through their knowledge, stories, and personal passion, guides can bring a place to life in a way that's much more difficult to do on your own. Read more about Yellowstone Hiking Tours.
All-inclusive Yellowstone Hiking Adventures

Join a Guided Yellowstone National Park Backpacking Trip
Joining a Yellowstone backpacking tour is a worry-free, adventurous way to experience Yellowstone. With your gear, meals, local transportation, permits, and fees taken care of for you, you can travel light and focus 100% on enjoying the hiking experience, while the guide company takes care of everything else. Also, by going with local experts you'll enjoy a greater level of safety and gain a much better understanding of the history and ecology of this remarkable region. Read more about a guided Yellowstone backpacking trips.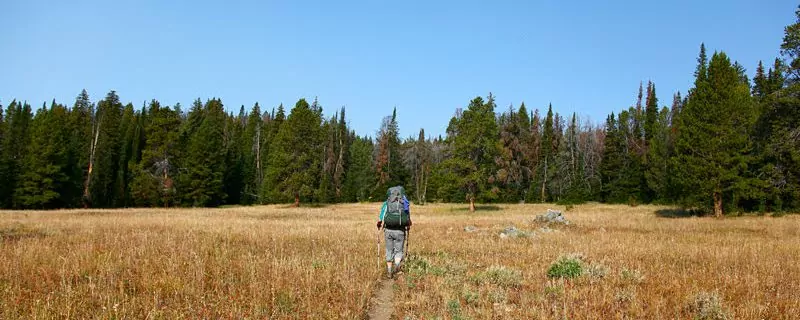 When to Hike and Seasonal Considerations
The Fairy Falls trail can be hiked late May through early November, with the best months being August and September. Depending on the amount of snowfall over the winter, snow can remain on the trail until June. Snowshoes might be helpful when hiking in the spring time. The months of June and July are mosquito season in Yellowstone. If you plan on hiking during these months remember to pack insect repellent!
The Fairy Falls trail is also great for cross-country skiing and snowshoeing in the winter time. If you are interested in hiking in the mountains during extreme winter conditions, make sure to educate yourself on how to travel in avalanche terrain. A good resource for this is "Know Before You Go". kbyg.org
For more information on guided Yellowstone winter tours click here.
Traveling Around Geyser Basins
Thermal features, though fascinating, can easily scald or kill people who underestimate them. Even what appears to be solid ground in a thermal basin can give way to scalding water below. Backcountry basins require visitors to be even more educated as there are no boardwalks and safety boundaries are not as clearly defined. Thermal environments and the precious microorganisms that inhabit them are also extremely sensitive. Both biology and geology can be irreparably damaged by human contact. Follow these guidelines around thermal basins of any kind.
Always stay on boardwalks and designated trails

Do not touch thermal features

Do not touch or step on thermal runoff

Swimming or soaking in hot springs is prohibited and likely fatal

Pets are not allowed in thermal areas

Do not throw objects in features

Toxic gases can build to great intensity in some areas. If you feel sick, leave immediately.
Animal Safety 
Wildlife is one of the best reasons to visit Yellowstone. With the privilege of hiking through their habitat comes great responsibility to uphold respect and safety. Becoming accustomed to humans is not good for the well-being of any wild animal. Even our docile herbivores can maim or kill people. The key to these guidelines is to just let the animals be.
Never feed wildlife (Not even a squirrel)
Do not approach wildlife
Stay at least 100 yards away from bears and wolves
Stay at least 25 yards away from all other animals
Do not shout, whistle, or otherwise harass wildlife
If you want to view wildlife from the road, always stop in a designated pull out.
Bear Safety
Yellowstone is black and grizzly bear country. Special practices are necessary to improve the safety of yourself, other visitors, and the animals. Most of these tactics aim to avoid making a bear react defensively. A bear will feel threatened if we surprise it, approach its cubs, or encroach on its food source. We must also do everything in our power to prevent a bear from eating human food or smelling an attractant where we sleep.
While Hiking
All of the following practices are necessary whether you are hiking in bear country for 5 minutes or 5 days.
Don't hike alone (At least 3 people is best)
Always be alert
Make noise
Carry bear spray and know how to use it
Never feed a bear
Do not leave packs or any food unattended
Stay on maintained trails
Avoid carcasses
Avoid hiking at dawn, dusk, or night
Stay out of areas closed for bear management
While Camping
All of the following practices are necessary if you are sleeping outside in bear country.
Sleep away from where you cook and eat (100 yds in backcountry)
Do not sleep in clothing that smells like food
Keep all sleeping gear away from food odors
Strain your dishwater, putting particles in trash
Keep camp clean and free of trash

Store all attractants in a bear proof container or hang from food pole. (This includes: food, garbage, toiletries, stoves and fuel bottles, utensils, food containers, and anything scented)
Bear Encounters
As the park service says, safety cannot be guaranteed in these wild places. These are best practices to lower the risks of an aggressive bear encounter.
Do not run
Slowly back away (taking any food with you)
Speak calmly, do not shout
Group together, make yourselves look large
When necessary, use bear spray
Report conflicts to park rangers
Check out Yellowstone National Park's great reference on how and when to use bear spray.  
Necessary Permits
Day Hike Permits
There are no permits required to do any day hiking in Yellowstone National Park. However, some areas can be closed to due high bear activity. Before you head out, you can check to see which Bear Management Areas are closed by clicking here.
Backpacking Permits
All overnight stays inside Yellowstone require an overnight camping permit. Actual permits must be picked up in person no more than 48 hours before a trip. Most sites can be reserved in advance by mail, fax, or in person. Requests received before April will be granted by random lottery. When the lottery is complete, all requests submitted after April 1st are processed in the order they are received. For more information on Yellowstone's permit system, click here. 
Suggested Packing List
Day Hike Packing List
bear spray
2-3 liters of water
salty, calorie-rich snacks
lunch
backpack
trekking poles
wide-brimmed hat
sunscreen, sunglasses
bug spray
non-cotton hiking shirt
rain jacket
warm non-cotton layer
1st-aid kit
Backpacking Packing List
all items listed for day hikes PLUS
multi-day backpack
3-season tent
sleeping bag
sleeping pad
rope for hanging food (at least 35 feet)
backpacking stove and fuel
eating utensils and straining device
backpacking meals
3 pairs wool socks
extra t-shirts
warm layers
trowel, toilet paper, ziplocks
water filter or purification method
Please Respect Our National Parks – Leave No Trace
We strongly recommend abiding by all Leave No Trace ethics guidelines and practices so that our national parks and public lands are preserved for the enjoyment of future generations and for the people and animals who call these places home. Simple things like packing out your trash, obeying national park rules, and respecting the peace and quiet of our national park trails is a great start. If you're going on a backpacking trip, you can read about more about the 7 Leave No Trace Principles.