Explore Yellowstone With Wildland Trekking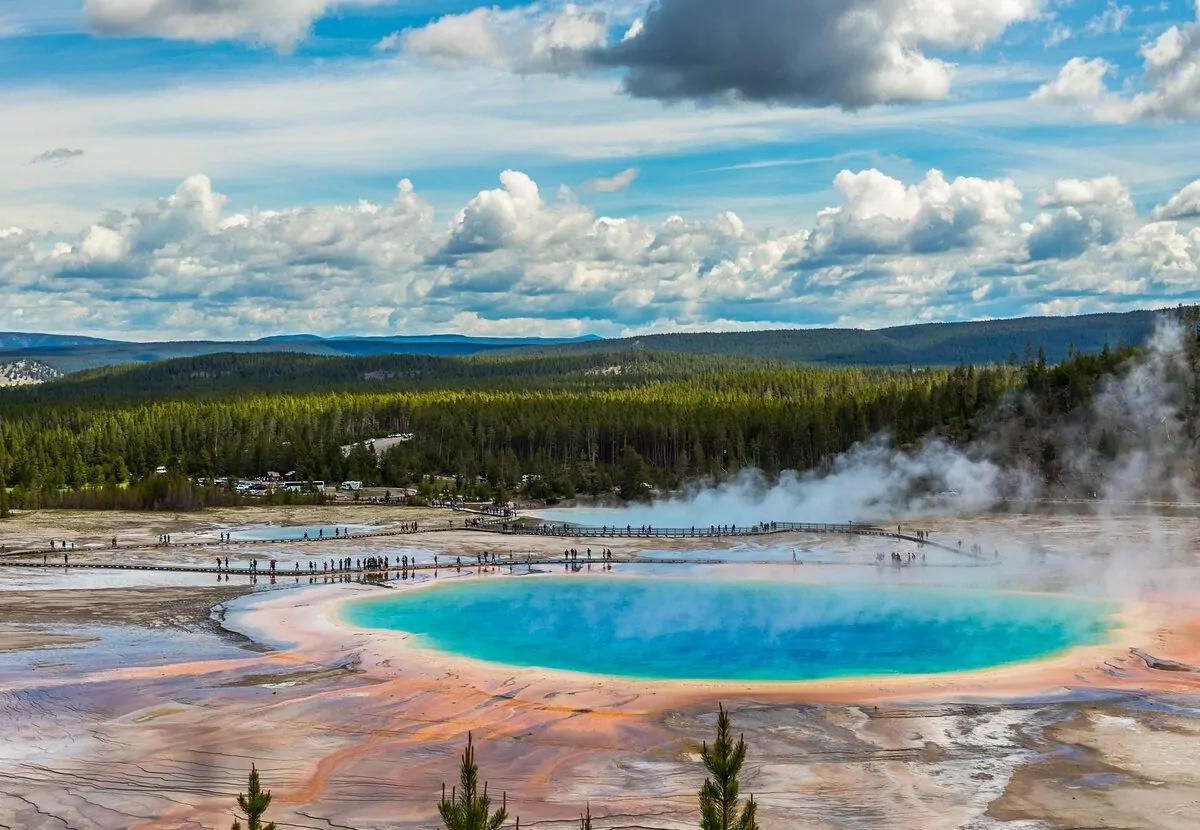 One hundred fifty years ago, the first Europeans to encounter the area now known as Yellowstone were so fascinated by its beauty that they pressured the United States Government to do something that had never been done before. Protect an area of wilderness permanently for all to enjoy. Today, Yellowstone National Park is every bit as enchanting as it was a century and a half ago. A carefully guarded pocket of ancient America, full of natural, animal, and geological wonders. Yellowstone is the perfect place to take your next break from busy life and get back to nature on a guided hiking trip.
When to Go
Part of Yellowstone's charm is that there is something for everyone at all times of the year. Whether you are looking to climb to the high peaks in the summer months, pack the binoculars for some wildlife spotting in the spring or fall, or strap on the skis and snowshoes for a winter traverse, this National Park is your outdoor adventure playground.
High Season
Months: June to September
Expected Weather: 70- to 80-degrees Fahrenheit during the day and 30- to 50-degrees Fahrenheit at night. Sunny with occasional afternoon thunderstorms.
Summer is when Yellowstone rolls out the red carpet for outdoor adventure. With the warm temperatures, the higher reaches of the National Park become fully accessible to hikers while the lower elevations are perfect for a trip with the family. The days are long, giving you plenty of time to enjoy the incredible scenery and take your time on the trails. After dark, the nights are warm enough for outdoor camping, but if that's not for you, there are plenty of inns, hotels, and villas around the National Park for you to spend the night.
During high season, there is plenty of opportunity for wildlife spotting as Yellowstone's fauna rejoices in the warmth and bounty of summer. Late summer is also the perfect time for fishing and boating, with some exceptional trout fishing opportunities in the lakes that dot the National Park.
Shoulder Seasons
Months: April to June and September to October
Expected Weather: Unpredictable. 30- to 60-degrees Fahrenheit during the day and 0- to 20-degrees Fahrenheit at night. Strong chance of snowfall in the spring.
Late spring and early fall present unique opportunities for outdoor adventurers in Yellowstone. Many parts of the park are rendered inaccessible by the colder conditions during these times, and the weather becomes more uncertain.
Overall, the crowds are much thinner during these months, allowing you better access to the main features of the park. For wildlife aficionados, these are the months of the great migrations, with much of Yellowstone's most spectacular fauna on full display. As for the scenery, what could be more breathtaking than the carpets of wildflowers across the National Park during late spring, or the glorious colors of untouched deciduous forest in fall?
Low Season
Months: October to April
Expected Weather: 0- to 20-degrees Fahrenheit during the day and -20- to 0-degrees Fahrenheit at night, but can be colder. A mixture of heavy snowfall and dazzling sunshine.
Back in the day, the troops stationed at old Fort Yellowstone had a saying: "in Yellowstone, there are only two seasons: winter and July."
While that is a slight exaggeration, it does go to show just how long winter lasts at the high altitudes of the Yellowstone Plateau (8,000ft above sea level). This long winter is great news for anyone who loves snow trekking, as you will have months of opportunity to explore. The astonishing beauty and tranquility of the Yellowstone winter landscape should be on everyone's bucket list.
Deeper Dive: More About When to Visit

High Season – A Closer Look

Wildlife:

While all of Yellowstone's wildlife is active during the summer months, some animals are much more visible than others. Many of the larger mammals journey to higher altitudes during the warm weather, which makes them more difficult to spot. Increased visitor numbers also make many animals more shy of the trails, which means that we must go deeper into the backcountry to spot them.

But there are still plenty of opportunities for animal sitings, particularly if you choose a trek that takes you to a watering area such as a lake or river. Not long ago, a Wildland trip relaxing in the thermal pools at Snake River looked up to find a family of wolves drinking on the other bank! Such beautiful sights are always possible during the warm months.

For those of you who like a spot of fishing, there is some world-class fishing to be done in the late summer, from August to September. If this catches your interest, take a look at our llama-supported flyfishing trips!

Advantages of High Season:

The apparent advantage of the high season is the weather. The balmy days and the cool nights make for perfect trekking conditions, and the entire National Park is open to your adventurous feet. You can see spectacular sights from the peaks, then spend a relaxing evening around the campfire while your guide cooks you some camp cuisine.

Disadvantages of High Season:

One downside of traveling during summer is the crowds. Yellowstone receives over two million visitors between June and August, so the most popular areas will be full of people. However, once you are on the trail – away from the principal attractions – the crowds quickly fade, and the majestic solitude of nature begins to surround you once again. The long days also work to your advantage – if you visit the main attractions in the early morning or late afternoon, you will skip the worst of the tour bus crowds.

Shoulder Season – A Closer Look

Wildlife:

Bears, Elk, Owls, Raptors, Beavers, Bison, Bighorn Sheep, and migratory birds will be most visible during the spring and fall. During the spring, most of these animals are emerging from hibernation or returning from their winter migration. The large mammals spend the colder months of early spring at the lower altitudes of Yellowstone, before moving to the higher elevations as the temperatures increase. It is during this transition that you will have the best chance of spotting them. A visit during the spring will also give you the opportunity to see baby mammals, which is always an adorable sight to behold.

Advantages of Shoulder Season:

Thanks to the lower visitor numbers at these times of the year, it is easy to find places of solitude to enjoy the unique beauty and tranquility of Yellowstone. Large tour groups visiting the geyser fields will be few and far between, allowing you a great view of Old Faithful without having to duck around a thousand selfie sticks. The trails themselves will also be less populated, which will draw wildlife closer to the trails for easy visibility.

Disadvantages of Shoulder Season:

Shoulder season is shoulder season for a reason – the weather is unpredictable, and the temperatures are cool. While deep snowfall is unlikely during the late spring or early fall, Yellowstone always has a way of throwing surprises at you, so never say never. In fact, there is a tradition of celebrating Christmas on August 25th at Yellowstone, after a summer blizzard covered the exit roads in 1962 and stranded tourists. Luckily, they saw the lighter side and sang Christmas carols to pass the time.

With the colder weather comes less accessibility. Higher reaches of the park become too dangerous and cold to be worth visiting, so trekking activity is limited to lower ranges. This limit is not to say that it is any less beautiful at lower elevations – far from it! The lush meadows and valleys will offer their spectacle without the need to scale the peaks.

Low Season – A Closer Look 

Wildlife:

Most of Yellowstone's magnificent wildlife is either hibernating or migrating during these chilly months. However, one major wildlife highlight of winter is the Yellowstone wolf. Reintroduced into the National Park in the 1990s and occasionally spotted year-round, they are most often seen during winter in the Lamar Valley.

Advantages of Low Season:

If you are visiting Yellowstone for the geological marvels, then winter is the right time to be there. The winter months produce some of the most spectacular geyser eruptions, especially at Old Faithful, while crowd levels drop significantly. Pair that with the glittering backdrop of snow and ice on a clear winter's day, and you have the photo opportunity of a lifetime. The geysers are also known for forming rime ice – spectacular clusters of ice crystals formed when the geyser steam cools quickly on frozen surfaces.

Disadvantages of Low Season:

The main downside to winter in Yellowstone is accessibility. Snow closes most of the access roads, and the plows don't appear until March. The one exception to this is the road to Mammoth Hot Springs. However, there are snowmobile and snow-coach tours that operate over the snow, allowing you to see a slice of frozen wilderness without the effort of snow hiking.

Many inns and service points also close along with the roads. Winter adventurers must always be mindful that there are far fewer Park Rangers during these months, along with fewer places to get assistance in times of trouble. Wildland will always take care of such concerns if you choose to travel with us in the wintertime.

Trip Dates

Yellowstone issues trip permits very early in the year, and we must plan our trips accordingly. We therefore highly recommend that you sign up for your hiking adventure as soon as possible to ensure you get the trip and dates you want. Visit our Trip Dates page and select your preferred month, scroll down to Montana & Wyoming trips to check current availability, and sign up!

Current Weather Conditions

Always remember to check current weather conditions before heading out on your adventure. This knowledge will ensure that you are mentally prepared and have the right gear for whatever the weather throws your way. Both of which are vital for a fun trip!
Deeper Dive: Our Top Recommended Trips

Heart Lake to Snake River: Our #1 Recommended Backpacking Trip

If you are struggling to choose between Wildland's incredible range of backpacking tours, we highly recommend the Heart Lake to Snake River thru-hike. This trek is a spectacular 4- or 5-day adventure in the summer months that includes wonderful scenery, geysers, thermal pools, and plenty of chances to spot wildlife around the largest lake in the National Park. One of the main highlights is Witch River: a steaming stream fed partly by hot springs with temperatures up to 200-degrees Fahrenheit. You can sit back and watch the lush waters of Snake River bubble past as you wait to see which animals will come down for a drink.

Our daily hiking mileage will be between 5.5 to 11 miles.

Trip Highlights:

 Visit the Snake River Hot Springs
Amazing views from Mt Sheridan
Fantastic wildlife viewing opportunities

Learn more and book your Heart Lake backpacking adventure today.

Best Of Yellowstone Tour: Our #1 Recommended Inn-Based Trip

All of our inn-based tours take in a slice of the beautiful bounty that is Yellowstone, but if we had to choose one, it would be the Best of Yellowstone Tour. On this five-day guided tour, you will see every postcard image of Yellowstone in real life. These views will include visits to Mammoth Hot Springs, Lamar Valley, the geyser fields, Mt Washburn, Fairy Falls, and of course, Old Faithful. Lamar Valley, in particular, is known as one of the best places to encounter wildlife in the National Park, and you are sure to see something captivating during your time there.

We will provide you with all the gear you need for the trail: a quality daypack, trekking poles, bear safety equipment, and transport to and from your accommodation in Bozeman, MT. We will also provide a quality breakfast and lunch on the trail, with dinners at some fabulous local restaurants, which we are sure you will love.

We'll be hiking about 5 to 7 miles every day during this trip.

Trip Highlights:

Very comfortable lodging every night
Beautiful day-hikes to many of Yellowstone's most famous locations
Have the opportunity to witness a geyser eruption

Learn more and book your Best Of Yellowstone Inn-Based Hiking Tour today.

Bechler Llama Traverse: Our #1 Recommended Llama Trek

Out of our range of llama treks, our #1 recommendation is the stunning Bechler Llama Traverse. This adventure is an exceptional trek as it stays away from all of the bustling tourist hotspots of Yellowstone, choosing instead to focus on the hidden backcountry at the southern end of the National Park. These hidden wonders include remote geysers that few people get to see, the magnificent Shoshone Lake, and of course, the Bechler Canyon itself. All of this, accompanied by your fuzzy friends!

In terms of gear, we will provide a full suite of quality camping gear, as well as three square meals per day, most of which will be carried by the llamas. We will provide you with a daypack should you wish to bring some snacks and a camera. Our daily hiking distance will be between 4 and 10 miles.

Trip Highlights:

Plenty of waterfalls and hot springs to explore
Hike with llamas!
Visit the largest backcountry geyser in Yellowstone

Learn more and book your Bechler Llama Traverse today.
Need to Know
Primary Departure Cities For Yellowstone
Most of our Yellowstone tours will meet in Bozeman, MT, before heading to the trailhead. Some of the tours that explore the southern reaches of the National Park (such as the Bechler Llama Trek) will meet in Jackson Hole, WY – please check your tour information before you make travel plans.
Book in Advance
Due to the system of permits in Yellowstone National Park, we ask all guests to book well in advance for all trips to ensure that you get your spot. Additionally, many of our treks sell out months in advance, so make sure you book as soon as possible!
After we confirm your booking, we recommend you move on to arranging your flights and other travel plans as soon as possible.
Getting to Bozeman, MT and Jackson Hole, WY
There are airports in both cities that connect to several regional airports in the Rockies, Midwest, and Pacific Coast during the summer months. The drive to both locations is breathtaking, as you will pass some of North America's most beautiful natural areas no matter which direction you come from.
Flights
We highly recommend that you book flights well in advance if you plan to fly, as the prices will rise enormously as summer approaches. We would also recommend booking your flights for the days on either side of your expected tour dates. This extra room is to accommodate any unexpected delays to our tour and to allow you to relax and recover before you return home.
Driving
If you plan to drive, please be aware that road conditions may not always be in your favor, particularly in the areas around the Yellowstone Plateau. Ensure you are prepared for the conditions before you decide to drive. Most regional airports will have rental car services available for reservation.
Accommodation in Bozeman and Jackson Hole
There is a wide variety of accommodation options in both locations to suit all price brackets and levels of comfort. Once again, we would recommend booking at least one extra day on either side of your tour to allow for any delays or inclement weather.
For trips departing from Bozeman, we recommend you stay at the Holiday Inn Express Bozeman West as you will receive a discounted rate, and our pre-trip meeting will convene here. We recommend the Mountain Modern Hotel in Jackson Hole for guests departing from this location. Remember to book via phone to receive your discount.
There you go, hikers! You now have all the information you need to plan that once-in-a-lifetime Yellowstone adventure. Just pick the season that's right for you, choose an adventure, and give us a call!
Deeper Dive: More Need to Know Info
Gallery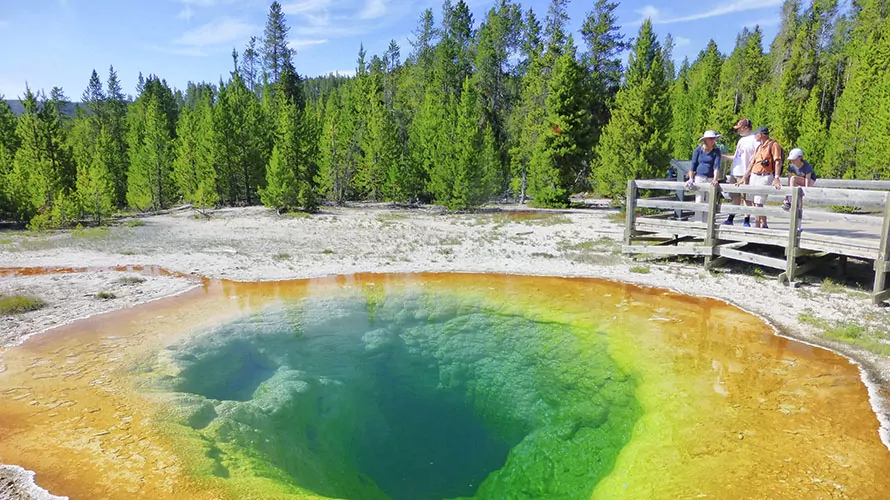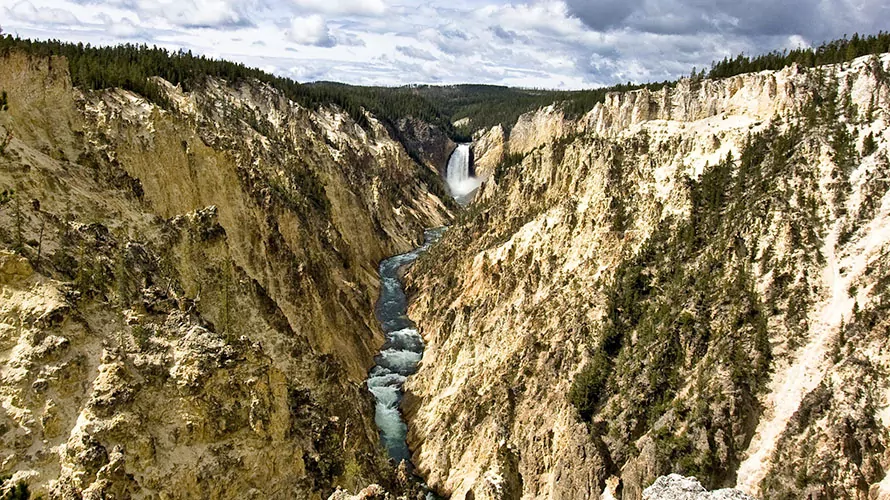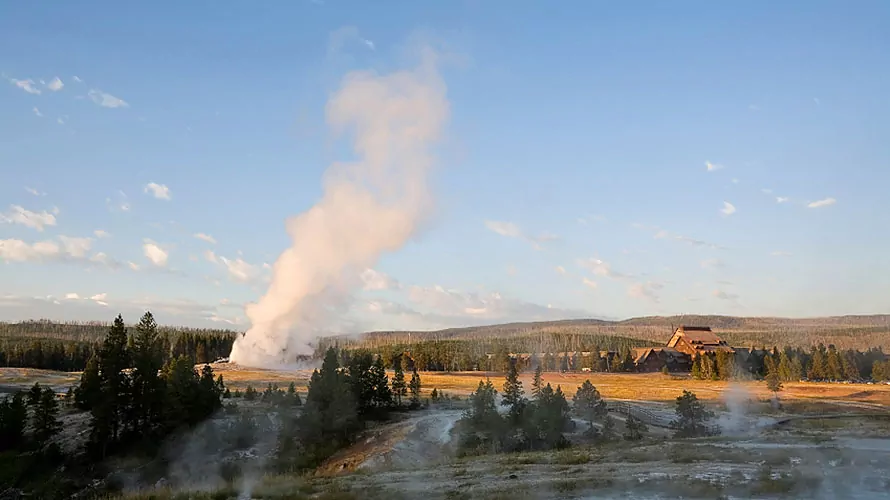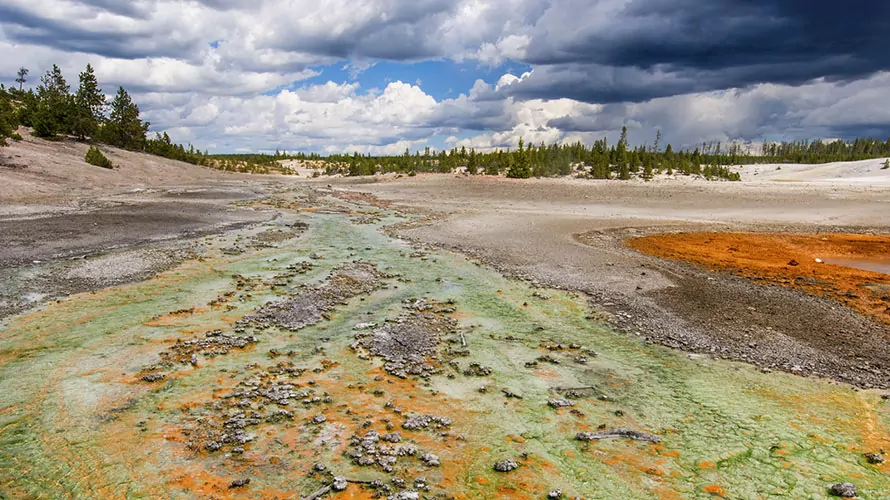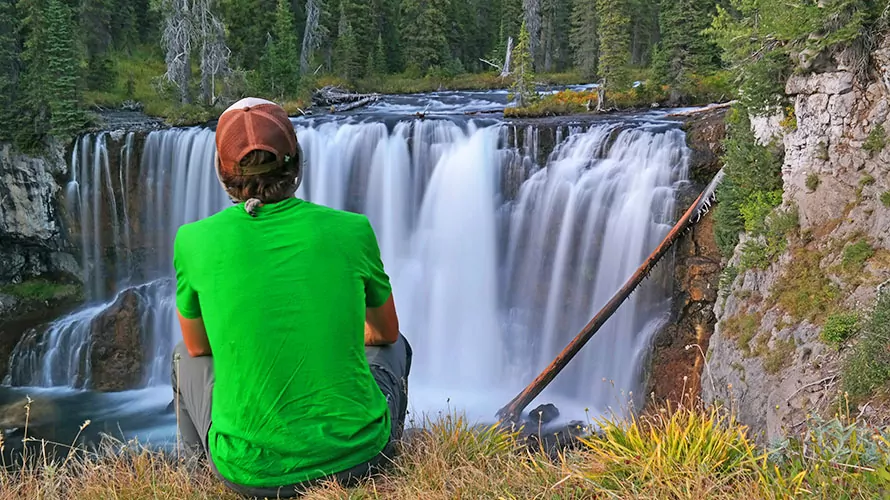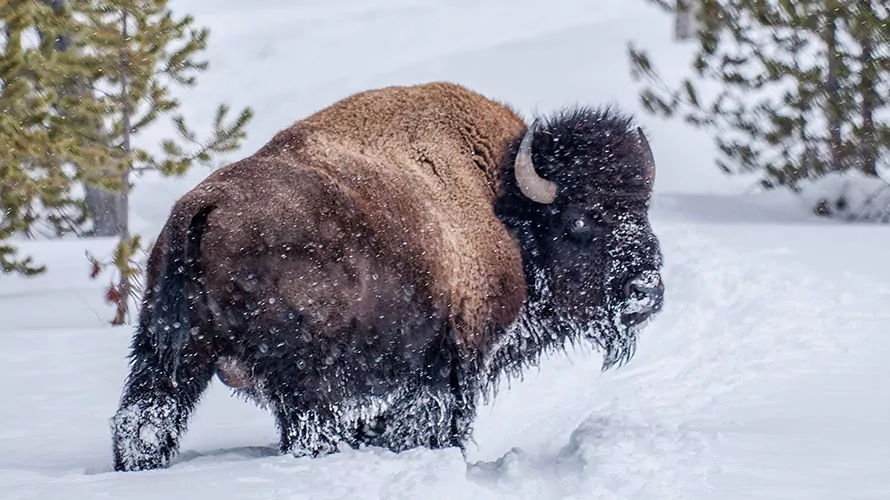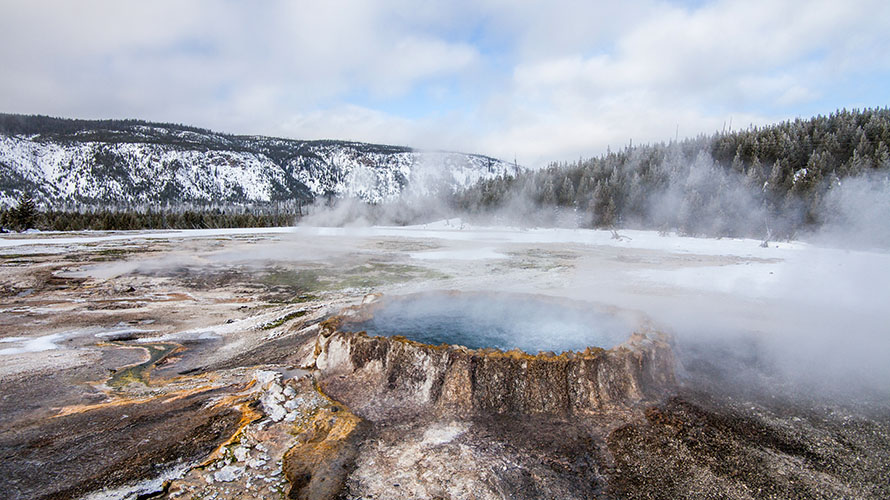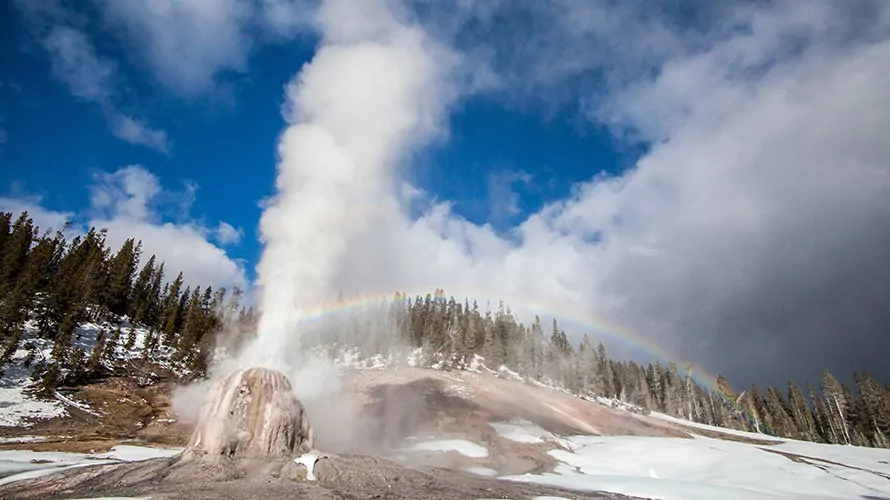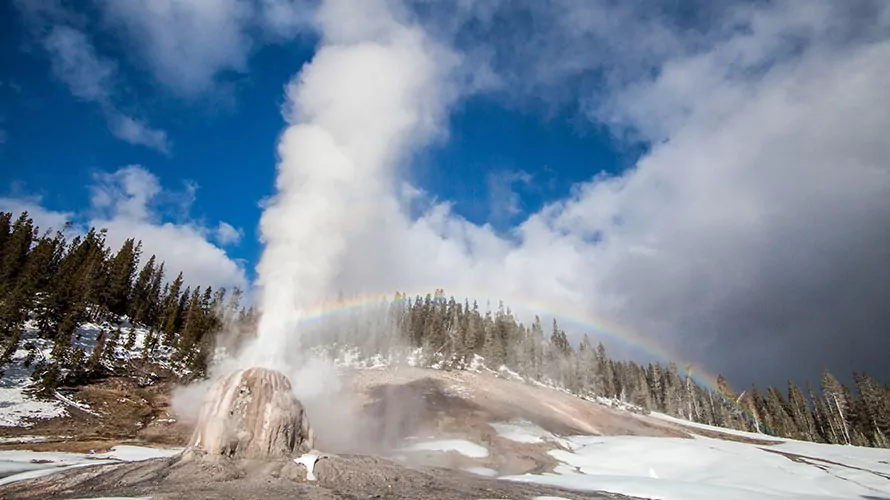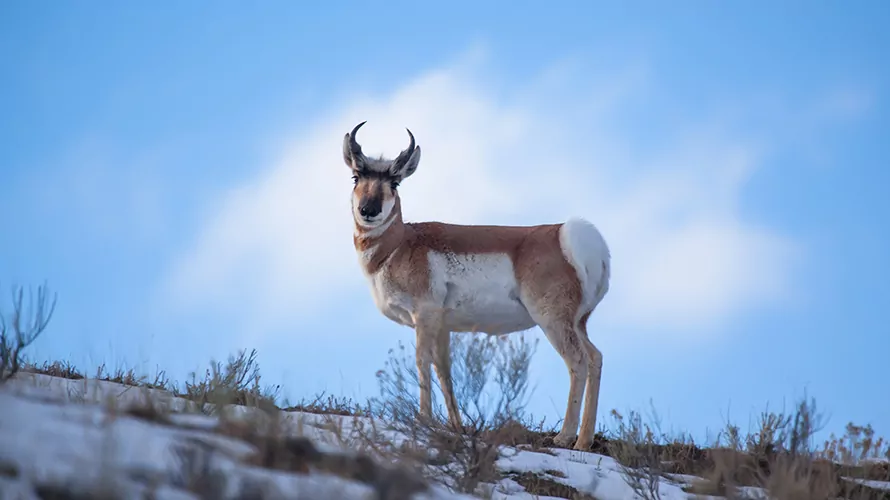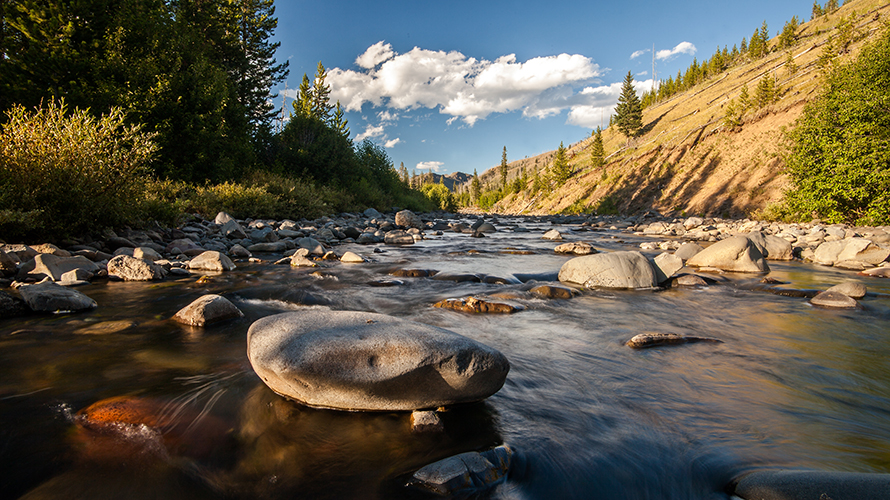 Have Questions?
Have more questions? Send us an email or call us at 800-715-HIKE (4453). We're here 7 days a week from 9:00 to 4:30 Mountain Time to make sure your trip planning goes as smoothly as possible.
Trip Information
For more information about all your options, check out our main Yellowstone National Park page on the website with the button below! Individual trip pages have detailed itineraries, trip specifics, travel information, and more.