Best Beginner Backpacking Trips in Colorado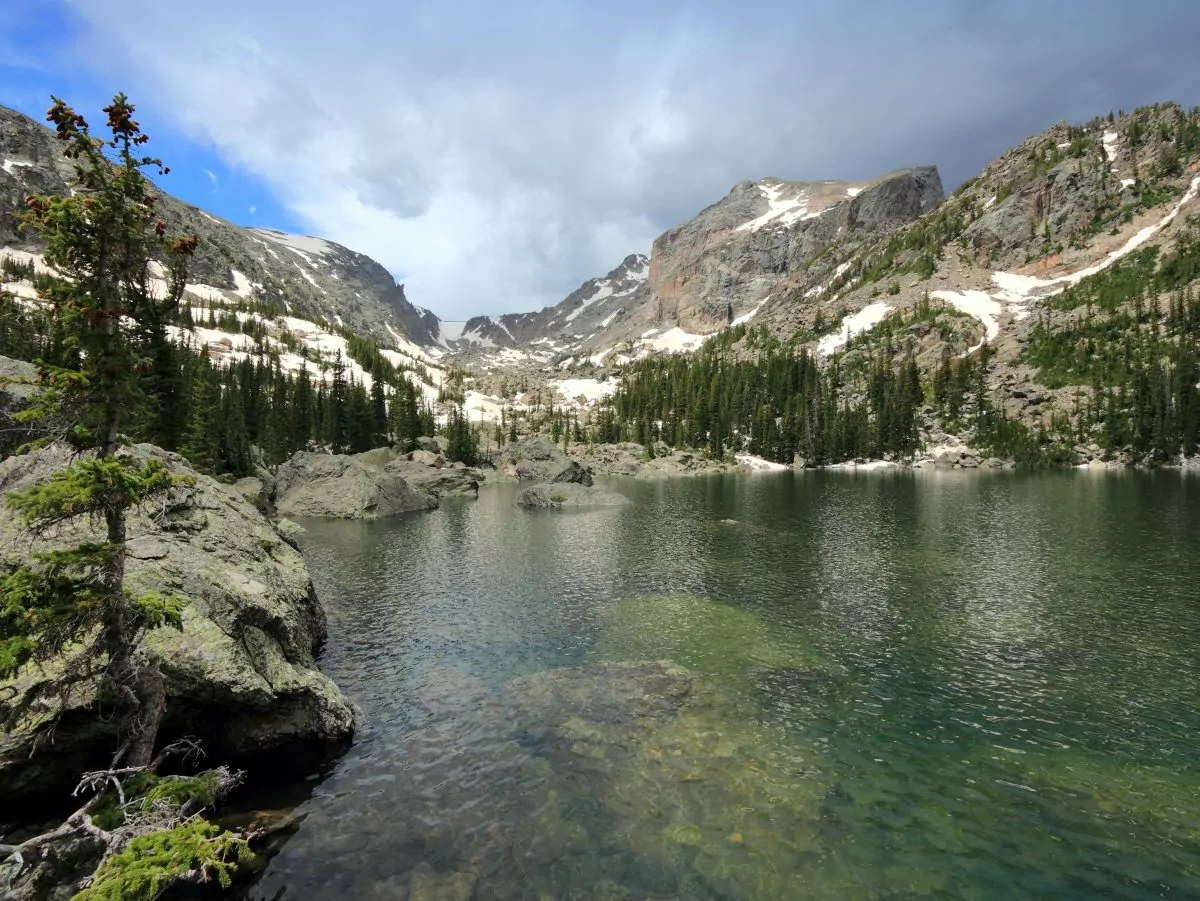 Colorado is home to over 22 million acres of public land to explore. You can find soul-refreshing waterfalls, hidden trails, and magical summit views all within a few hours' drive no matter where you're starting your trip. We have narrowed down the best beginner backpacking trips in Colorado all in different areas across this beautiful state.
 These backpacking trips range from two to five days and explore the vastness Colorado has to offer while being perfect for any beginner!
Know Before You Go
Weather Warning: Colorado is renowned for its constantly changing weather. Even in the middle of August, weather can rapidly change from clear, sunny skies to rain, snow, or hail. Normally, you won't be stuck in this weather for long, but being prepared will help you have the best time in the backcountry.'
Explore Colorado with Award Winning Guides
Preparation: Check out a backpacking checklist of our gear recommendations for your trip. 
how to choose an appropriate trail
While each new backpacker is entering into the sport with a different set of skills and fitness levels, we've crafted a list of trips with all beginner backpackers in mind. These trips fit a few criteria:
You'll hike relatively low mileage for the length of the trip.

The trails don't have extreme elevation gain for the region (However, Washington mountains are known for being steep and rugged due to the intense amount of rainfall, so you can't escape elevation gain here!) 

You'll travel on well-maintained trails and avoid tricky terrain like boulder fields. 

You'll get a lot of bang for your buck, whether in the form of peaks, alpine lakes, or lush meadows. (Many people neglect this crucial factor.)
However, backpacking is never easy (or else we'd never do it!) — so,  if you want to maximize your fun, be sure to train for your backpacking trip.
1. Wild Basin, Rocky Mountain National Park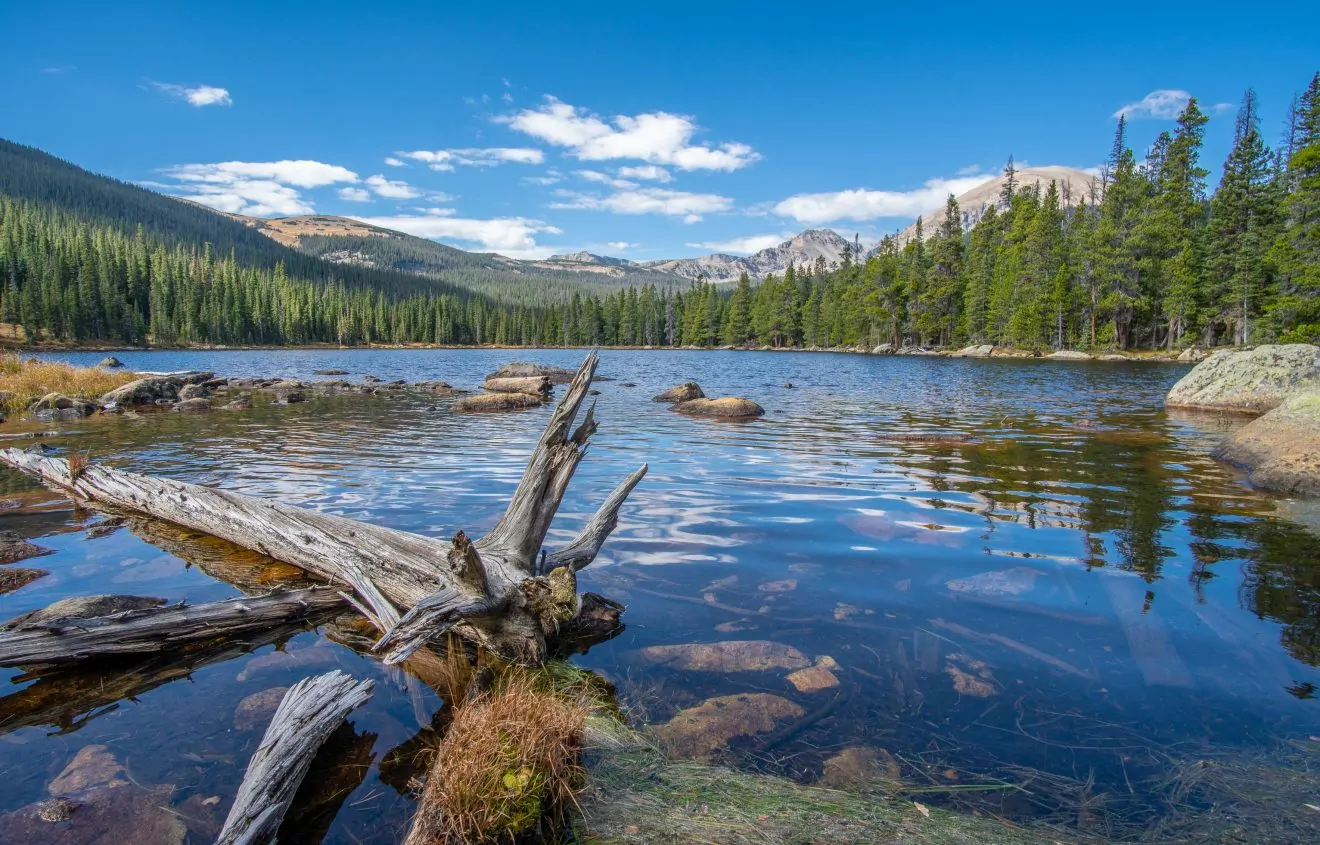 Mileage: 14 miles out-and-back  | Length: 3 – 4 days | Elevation Gain/Loss: 2,500 feet
Hiking in the heart of the Rockies in Rocky Mountain National Park, you'll explore one of America's most rugged national parks. As you camp at Ouzel Lake, you will be staring up at Mt. Copeland, Mahana Peak, and the jaw-dropping Ouzel Peak. Each day, you'll wake up captivated and ready to explore more of the terrain.
Why is it great for a beginner?
This trip is fantastic because you will witness the beauty of the Rockies while having the opportunity to customize the length to fit your fitness level. You can extend the mileage with hikes from camp or keep it simple by relaxing at Ouzel Lake. Along the route, you might catch sight of elk and moose, or get a glimpse of rock climbers high on the walls of Mt. Copeland. Whether you choose to fish in the lake or pack in extra hiking, you won't be disappointed by this trip. 
logistics and permits
Permits are required for any overnight trip in the Park from May 1 – October 31. The National Park Service has set up an easy outline to help you plan your trip. If you set up your trip with us, you'll have the huge benefit of trekking with a guide who will take care of everything, including permits, for you!
Guided Trip Options
Wildland Trekking offers both a three and four-day itinerary to the Wild Basin area of Rocky Mountain National Park. This beginner-friendly backpacking trip is the perfect introduction to Colorado, and a great option for families looking to take their kids into the wilderness on an unforgettable adventure.
2. Crested Butte to Aspen via West Maroon Pass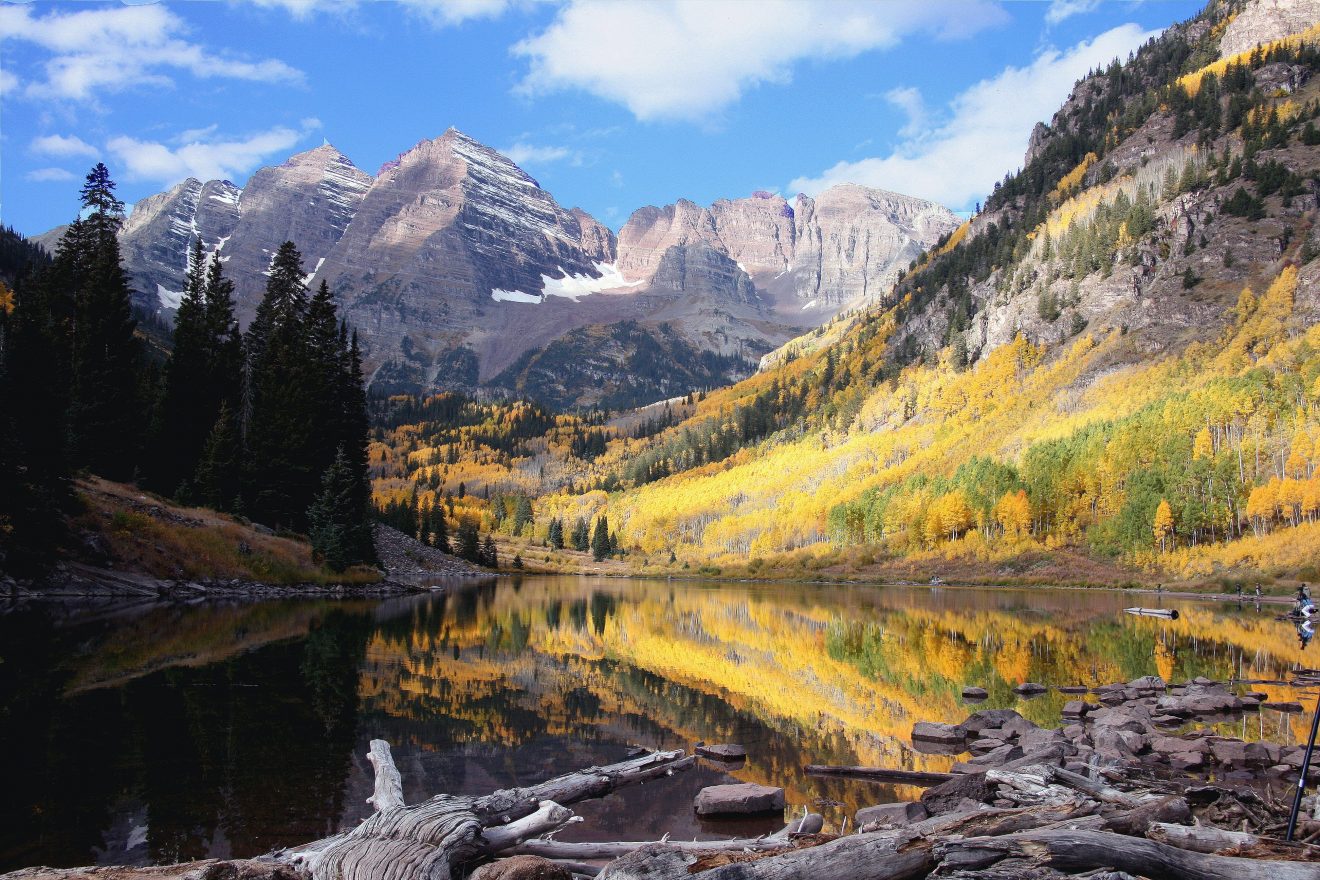 Mileage: 10.2 miles point-to-point | Length: 2 days | Elevation Gain/Loss: 2,400 feet
The West Maroon Pass hike leads you through some of the Mountain West's most popular vistas. If you start from Crested Butte, you can enjoy the classic mountain town before heading out on your adventure. During the hike, you'll hike over West Maroon Pass, getting spectacular views of the Raggeds and Maroon Bells-Snowmass Wilderness areas.
Why is it great for a beginner?
Going from one classic mountain town to another, you'll get to experience amazing views, mountain lakes, a stunning ridgeline highpoint, and beautiful wildflowers. Once you pass over into the Maroon Bells side, you will be face to face to the most photographed mountains in North America! You can also reverse this hike — starting from the Aspen side — for an extra challenge (3,265 feet of elevation gain).
With the short distance of this hike, you will find plenty of help on the trail if it is needed. The access is simple and you only have to gain a few thousand feet before a smooth ending.
logistics and permits
The tricky part of this Colorado backpacking trip? Arranging transport. This one-way trek requires a shuttle if you don't plan on hiking double the mileage. Luckily, the Maroon Bells to Aspen Highlands Shuttle will take you where you need to go, but don't forget to make a reservation! We recommend doing this in advance of your trip to make sure your transportation is locked in. However, you can park at the Crested Butte trailhead if you want to hike this as an out-and-back. (This would be a 20-mile, 3- or 4-day trip.) Parking is limited – we recommend using a shuttle service for the one-way option.
3. Chinese Wall Loop, Flat Tops Wilderness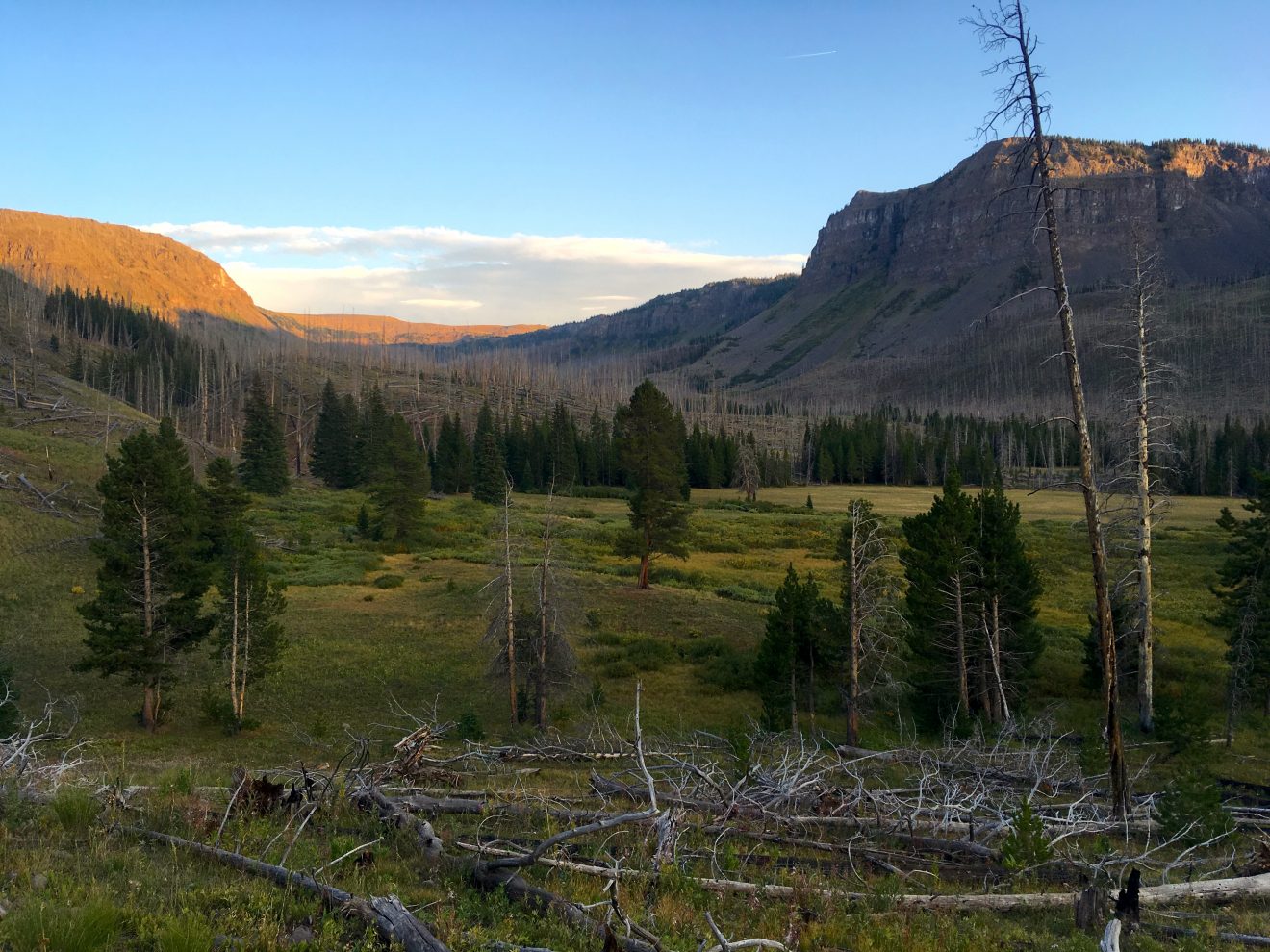 Mileage: 26-mile loop | Length: 4 – 5 days | Elevation Gain/Loss: 3500 feet
When Arthur Carhart first laid his eyes on this land in the early 1900s, it had a profound impact on him. So profound, in fact, that this trip led to the first designation of 'wilderness' area in our public land's history. The Flat Tops Wilderness Area is home to over 100 lakes, some still unnamed, and beautiful views that will leave you craving its almost unmatched solitude in your future hikes.
On the Chinese Wall Loop, you'll spend days on end exploring the Flat Tops at over 11,000 feet in elevation! The nights out under these stars will be burned into your memory as the reason wilderness areas exist in our country.
Why is it great for a beginner?
While the beginning of the Chinese Wall Loop has a strong uphill push, once you're above treeline, the views will quickly make you forget the effort it took to get there. Although it is one of the oldest wilderness areas in our nation's history, it is still relatively untrafficked compared to many other Colorado hikes. We highly recommend going with one of our professional guides for this trip to get the most of your experience. 
With the ease of planning, the ability to add or subtract miles, and the low elevation gain once above tree line, this is a perfect trip for beginners to push for longer miles
logistics and permits
Permits are currently not required for this hike. That being said, this land is in a designated wilderness area meaning there are specific restrictions that you must follow to ensure the preservation of the land. In wilderness areas, any non- foot transport (other than horses) is restricted. Also, leave the drone – or any flying craft – at home.
Guided Trip Options
Wildland Trekking offers two backpacking trip itinerates in the Flat Tops Wilderness Areas. During the 2021 season, we will continue to offer our shuttle from Denver as a part of this trip!
4. Chicago Basin, San Juan Mountains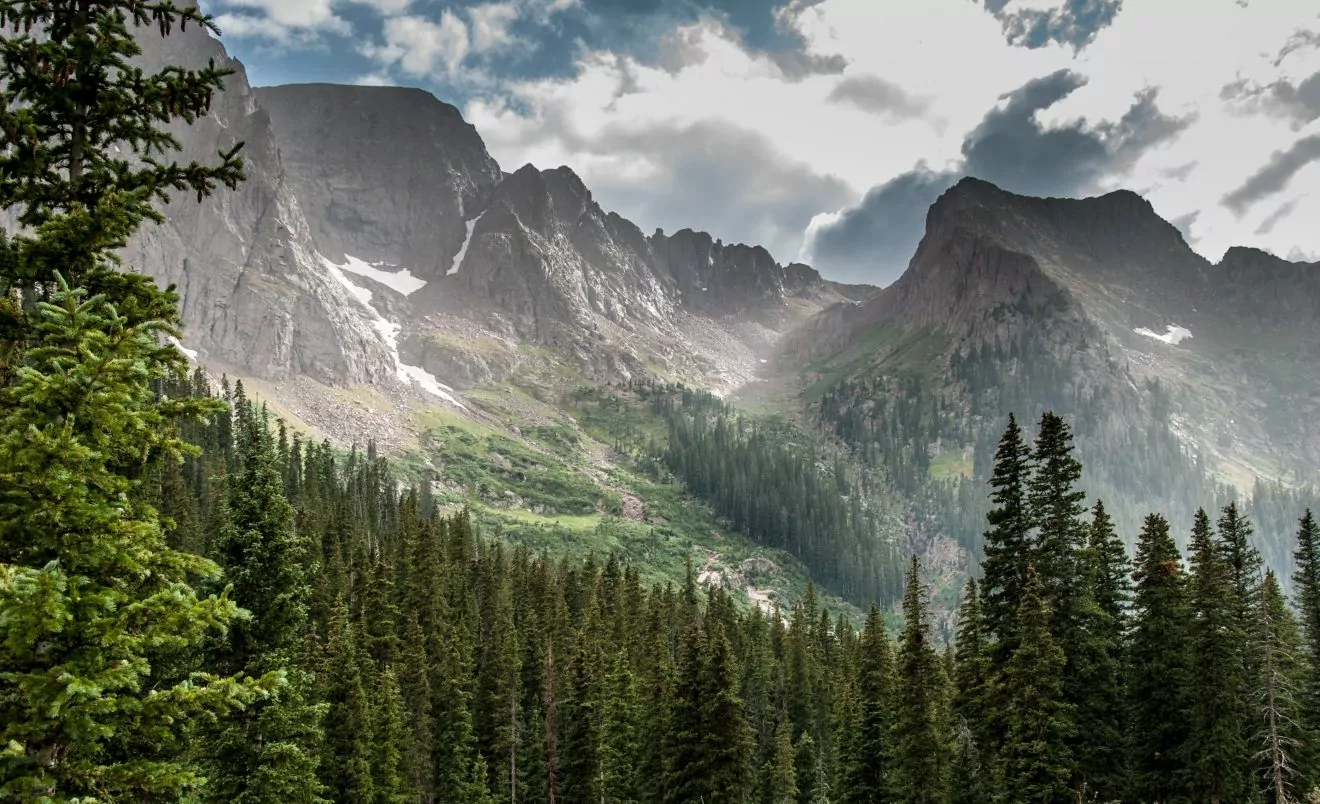 Mileage: 12 miles out-and-back  | Length: 2 – 3 days | Elevation Gain/Loss: 2,800 feet
Chicago Basin is nestled in the heart of the Weminuche Wilderness in the San Juan Mountains of southwestern Colorado. This backpacking trip is a classic adventure as it requires a train ride to get to the trailhead! Most hikers use the Needle Creek campground as a basecamp to attempt one (or all!) of the three surrounding 14,000-foot peaks that loom above the basin. These are technical 14ers and are only recommended with proper training and gear — so best to just ogle at their majesty if this is your first backpacking adventure.
If you want a more moderate bonus challenge, hike to Twin Lakes in the morning to get immaculate views of the looming mountains surrounding the valley. While this is only a two-mile round-trip hike, it is steep, gaining roughly 1,200 feet in the mile up. However, you can leave your heavy pack at camp!
WHY IS IT GREAT FOR A BEGINNER?
The hike into the basin is beautiful and challenging. Gaining just under 3,000 feet to the basecamp, you'll be hiking past mountain streams, quite sprawls of aspen, and thick pine forests. The camping area is well established with tent sites and water that is easily accessible. Park rangers regularly patrol the region to ensure the respect of the land and people using the area.
LOGISTICS AND PERMITS
As mentioned above, the biggest obstacle to planning this trip is setting up your train shuttle. The Durango & Silverton Railroad company communicates all the information you need, but you'll want to give yourself a little buffer time to ensure you catch your ride! 
Chicago Basin is a very popular, well-traveled area. Please take some time familiarizing yourself with the proper Leave No Trace principles to ensure proper land usage.
5. Lost Creek Loop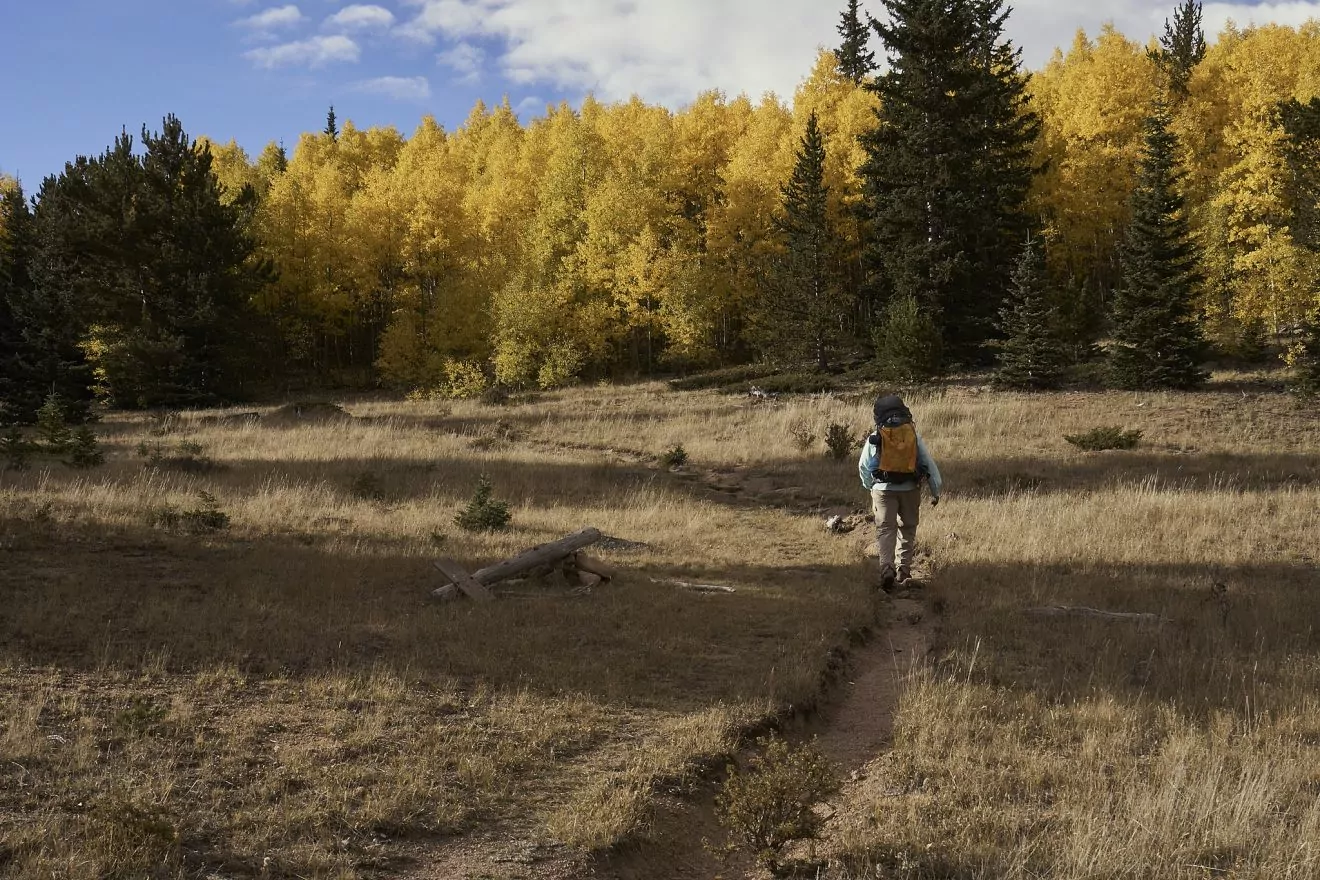 Photo Courtesy of Ryan Fonkert (CC BY-ND 2.0)
Mileage: 28.5 miles out-and-back | Length: 4 – 5 days | Elevation Gain/Loss: 5,300 feet
The Lost Creek Loop is the closest backpacking destination to the Front Range on our list! At just over an hour from the heart of Denver, this trail will give you a short drive time to get away at moment's notice! At just under two hours from Colorado Springs, the trailhead lies tucked away from all major highways – the worry of traffic should never be a fear. It is a well-populated trail with ample water and well-marked trails.
WHY IS IT GREAT FOR A BEGINNER?
The Lost Creek Loop is the longest trail on our list, but it is a great intro for those wanting to push past the classic three-day adventure. This area is well managed, making it a great destination for beginners. The water supply is abundant, and the trails are well-marked throughout the trip. 
Located in the Lost Creek Wilderness Area in the South Platte, this trail features incredible views of the surrounding mountains and endless amounts of granite rocks to explore. While the trail is moderately strenuous, you'll find an excellent ending for when those legs start to get tired. A smooth downhill exit greets you for the finish to this incredible loop. 
LOGISTICS AND PERMITS
There is a required self-issued permit that you'll need to fill out prior to leaving the trailhead. These are simple and easy to obtain but allow the Forest Service to track user days. Plus, they provide information about your trip and can help a ton in the event of an emergency. As with all wilderness areas, please review the rules and regulations prior to departing to ensure the best wilderness experience for both you and the land.