A Guide to the Five Utah National Parks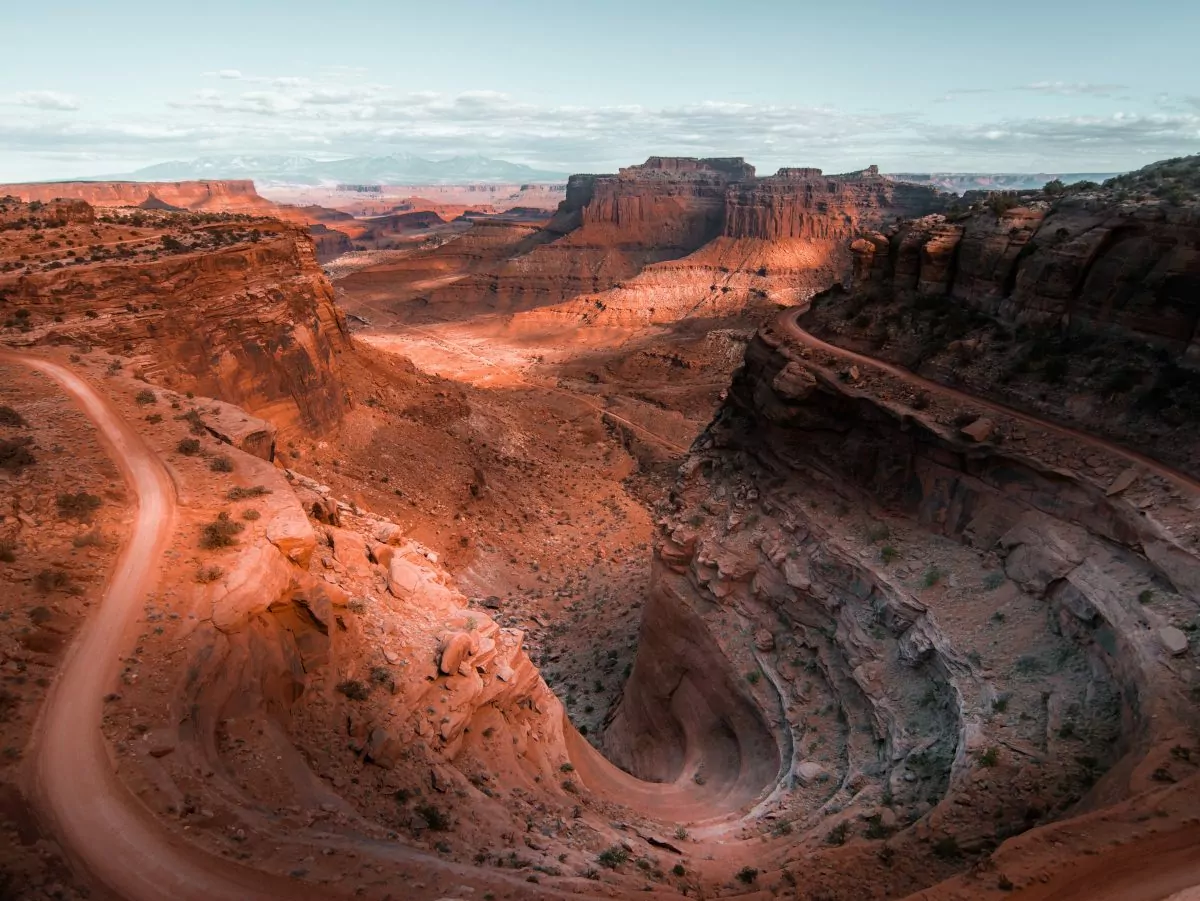 The redrock expanse of the Southern Utah desert is home to five incredible National Parks. Each destination offers different attractions, hiking trails, and types of experiences. While Arches, Zion, and Bryce have iconic sights and world-class trails, they see a surge of crowds during the peak season. Meanwhile, Canyonlands and Capitol Reef feature more rugged terrain (maybe not so kid-friendly), but have far fewer visitors.  
So if you can't fit them all into your itinerary, how do you know which ones you should visit on your jam-packed roadtrip? Below, we've outlined each Utah National Park — what makes it stand out, what type of traveler will like it, and what you should do while you're there. Hopefully, you'll have an easier time narrowing down your options.
Arches National Park

Towering sandstone arches and red rock fins create a landscape that seems as if it should only exist in your dreams. As you walk beneath these natural wonders, you'll marvel at their size and improbable existence. While this park may be small in size, it is massive in its offerings. If you're seeking out classic attractions, like Delicate Arch, Arches National Park will not disappoint.
What Makes it special?
Arches National Park is perfect for the casual adventurer who wants to get some hiking in. With short trails, friendly terrain, and no shortage of views, you can hike during the day and have plenty of time to grab dinner in Moab afterward. The proximity to town is a huge draw: accommodations and activities abound just 15 minutes from the park entrance.
Who will Like it?
Day hikers seeking easy to moderate trails 

Canyoneers

Climbers

Families seeking quick, kid-friendly trails

Road-trippers looking for stunning out-the-windshield views without any work

Travelers who want access to the in-town amenities and charm that Moab provides
Things to do
Stop by for sunset for a blast of pinks, reds, and oranges across the sandstone arches.

Stay into the evening for a ranger-led

stargazing

program. Utah has some of the best dark skies in the world. 

Join a

guided lodge-based hiking vacation

to see iconic park attractions and lesser-visited destinations in the surrounding region. 

Drive to the Double Arch for a short hike. 

Opt for one of the longer hikes in the park, like the Devil's Garden Loop.
time of year to visit
Fall (mid-September through October) and Spring (late-March through May). Skip the summer crowds and heat!
If you do visit in the summer, avoid mid-day hiking. Instead, visit the park in the morning or near sunset. 
Winter weather varies dramatically, but it can be a great time of year to visit. If you get lucky with your timing, the arches look magical under a light dusting of snow. Be prepared for cold temperatures and winter conditions.
Canyonlands National Park

If you're an adventurous traveler looking to get into the heart of the rugged desert, Canyonlands may be the destination for you. With hundreds of miles of trails and dozens of designated backcountry campsites, you could spend a lifetime in this park and never exhaust your options. Waltz across slickrock under the blazing desert sun, snake through labyrinthical canyons, stand on the edge of vertigo-inducing precipices, or inflate your packraft for a refreshing paddle down a river. However you choose to adventure, you can find it here. 
What Makes it special?
While you'll be elbowing your way through crowds in some of the other parks, in Canyonlands, you can find some of the most sublime solitude you'll ever experience. This National Park has its share of roadside attractions — like Mesa Arch — but the backcountry provides the real goods. And you can make your trip as wild as you want: hit the trails in the popular Needles district for an accessible overnight trip or load up your 4×4 with extra gas and water and drive into the Maze to start an epic off-trail adventure.
Who will Like it?
Backpackers

Day hikers (especially those seeking strenuous, remote trails) 

Climbers

Roadtrippers looking to test out their rigs on some dirt roads

Serious offroaders

River rafters and flatwater kayakers

Mountain bikers looking for a multi-day trip
Things to do
time of year to visit
Anytime! Just choose your activity depending on the season. If you visit in the summer, stick with shorter hikes (carry plenty of water) or a river-based trip. 
Fall (mid-September through October) and spring (late-March through May) offer the best hiking and backpacking conditions. Daytime is pleasant, and nighttime temperatures don't fall too low. 
Winter brings cold temperatures, but heavy snowfall is uncommon. Often, daytime temperatures rise to 50 degrees F. However, if you plan to hike during this season, pack for unpredictable conditions and quick weather changes. Roads may become impassable during extreme winter conditions. 
special considerations
Sections of the Park — like the Maze — are incredibly remote. You should not take the 4WD-designated roads lightly. Make sure your car (and you!) are capable of traveling on the terrain if you decide to head to a trailhead off a 4WD road. Deep sand easily traps high-clearance vehicles. Carry extra food and water — if you have to dig yourself out under the hot summer sun, you'll be thankful. Also, tows are expensive!
Bryce Canyon National Park

As you walk through this wonderland, the orange glow of the hoodoos casts a spell on you. But in order to experience the Park's majesty, you should hike down below the rim. While the expansive views of the canyon's edge are a worthwhile sight, you'll cherish the feeling of walking among the towering rocks. Bryce Canyon's high elevation (over 8,000 ft) adds another element; deep, green pine forests that perfectly contrast the expanse of red.
What Makes it special?
This unique National Park has the highest concentration of hoodoos (strange, eroded rock formations) in the world. And, in the summer, while other Utah parks are suffering from extreme heat, the high elevation of Bryce Canyon makes it a hiker's paradise. Plus, Bryce Canyon is home to one of the most interesting tree species — the Bristlecone Pine. You can find these 1,000-year-old trees along some of the Park's hiking trails, including the Bristlecone Loop.
Who will Like it?
Day hikers

Roadtrippers seeking parking lot overlooks and easy-to-access viewpoints

Families with kids who need quick, easy trails to get out some energy

Backpackers seeking an off-the-beaten-track trail system (and easier-to-obtain permits)
Things to do
time of year to visit
Late spring through early fall. Summers are warm, but the high elevation keeps the temperatures relatively mild. Monsoon season starts in July and runs through August, so plan to hike early and be inside once afternoon thunderstorms hit the area. 
Starting in October until April, the weather is more variable. Travelers should be prepared for winter conditions at all times.
In the winter, snowfall makes travel in the region difficult. However, if you are prepared for winter road conditions, snowshoes are a great method for seeing the park without the summer crowds. 
special considerations
The Park's shuttle service makes hiking easy! Plan a point-to-point hike so you can see more of the park, and then return to your car with the shuttle.
Zion National Park

Zion National Park is one of the most visited national parks in the country — but don't let that stop you. The iconic pine-tree spotted sandstone cliffs of Zion Canyon are sure to take your breath away, no matter how many pictures you've seen of them on your computer screen. The lush, riparian canyon floor contrasts the striking red walls, so whatever time of day you experience it, you're in for a treat.
What Makes it special?
Zion has a little of everything and is the perfect level of adventure for most travelers. You can wade through the shallow waters of the Zion Narrows or defy your fear of heights as you summit Angel's Landing. While Zion's most classic destinations are worth the buzz (try not to visit on the weekend, though), this region also hides some special lesser-visited goodies. Plus, at the end of the day, you can grab some food and brews in the charming town of Springdale.
Who will Like it?
Roadtrippers looking for stunning out-the-windshield views

Day hikers looking for anything from a few miles to full-days

Backpackers seeking quick, weekend trips

Families looking for quick kid-friendly trails

Canyoneers

Climbers 
Things to do
Go for a hike! Trekking through the waters of the

Narrows

is an experience completely unique to this Park. However, if you want to escape the crowds (but still get the thrill of a cable-assisted hike like Angel's Landing), try the

Hidden Canyon Trail. 

Visit Kolob Canyon. This quieter corner of the park has views that rival those in Zion Canyon, but without the crowds.

Numerous trails

take you deep into the wilderness, including the Taylor Creek Trail. And, you don't have to deal with the shuttle service. 

Try canyoneering with a guide. Zion is home to some of the best canyoneering routes in the country. You can find outfitters online or in Springdale, UT.

Join a guided hiking excursion. Whether you're looking for a day hike or a multi-day camping tour, our hand-crafted itineraries guarantee that you'll experience the best of the park during your visit. 
Catch sunset along the Watchman Trail. This 3-mile roundtrip trail provides sweeping views of the valley, as well as pleasant riverside walking.
time of year to visit
Fall and Spring bring ideal temperatures and conditions to Zion. Crowds are fewer, although March is busy with spring break visitors. If you want to hike the Narrows, skip spring and opt for summer or fall. Water levels peak during the spring. During high water years, the trail may close entirely until water drops to safer levels.
Temperatures and crowds both rise during the prime summer months (June through August). If you do visit in the summer, start your days early to avoid the crowds. 
If you visit in the winter, the Zion Canyon Scenic Drive is open to cars, so you won't have to navigate the shuttle system. However, you should be prepared for winter conditions like snowy/icy trails and cold weather. 
special considerations
The only way to get around Zion Canyon during the peak season (spring through fall) is the shuttle system. Due to the Park's popularity, you need to book shuttle tickets in advance! Choose early morning times to avoid middle-of-the-day crowds. We're not joking when we say it gets CROWDED. 
One perk of a guided hike is that we handle all the logistics — like shuttle reservations and permits — for you. 
Capitol Reef National Park

Capitol Reef may be Utah's most underrated National Park (okay, it definitely is…). And if we can let you in on a secret, it just might be our favorite. This region boasts some of the most spectacular geologic features in the state, including the Waterpocket Fold — a 100-mile wrinkle along the Earth's surface. So whether you're looking for a long driving tour with non-stop views or a multi-day backpacking trip through slot canyons and washes, you'll find it here. The array of hiking trails and recreation opportunities will satisfy even the pickiest travelers. 
What Makes it special?
Hiking trails to natural bridges, domes, and slot canyons, dirt roads that weave through the remote corners of the desert, and petroglyphs on smooth Wingate sandstone. Oh, and the Burr Trail Road. This Park features a stunning display of diversity and offers experiences for travelers of all types — all with a fraction of the crowds you'll find at Zion or Arches.
Who will Like it?
Backpackers — from beginners to experienced desert off-trail trekkers

Day hikers

Solitude-seeking travelers

Roadtrippers who want roadside views & points of interest

Canyoneers

Climbers

Cyclists and mountain bikers 

History buffs
Things to do
Drive (or bike!) the Cathedral Valley Loop Road 

Hike one of the fifteen trails that start in Fruita or along the Capitol Reef Scenic Drive.

Head down the Burr Trail Road to get views of the Waterpocket Fold (and a little bit of excitement on the switchbacks). Add on a hike into Long Canyon or Lower Muley Twist Canyon.

Buy a handmade pie with fresh fruit straight from the Fruita Orchard. Or pick your own fruit! 

Visit the Fruita Schoolhouse to imagine life in the 1930s.
Join a guided backpacking trip or llama-ported trek into Capitol Reef. You can immerse yourself in the desert with the expertise of a professional guide.
time of year to visit
Any time of year! Each season offers something unique. The best trekking weather is in spring and fall. 
However, you can also hike in the summer, especially at the high elevation parts of the Park (like Boulder Rim). Be prepared by carrying adequate water and avoid hiking during the hottest parts of the day. 
Winter can be cold and snowy, especially at higher elevations. However, if you're prepared for winter conditions, you can still enjoy much of the Park. The Park Service maintains the Cathedral Valley Loop Road during the winter (but call their information line for the most up-to-date conditions).
special considerations
The backcountry of Capitol Reef is rugged, remote, and unforgiving. If you aren't familiar with desert backpacking, we recommend you first go with a guide.