8 Reasons to Hike the Boulder Mail Trail Now (Before Everyone Else Does)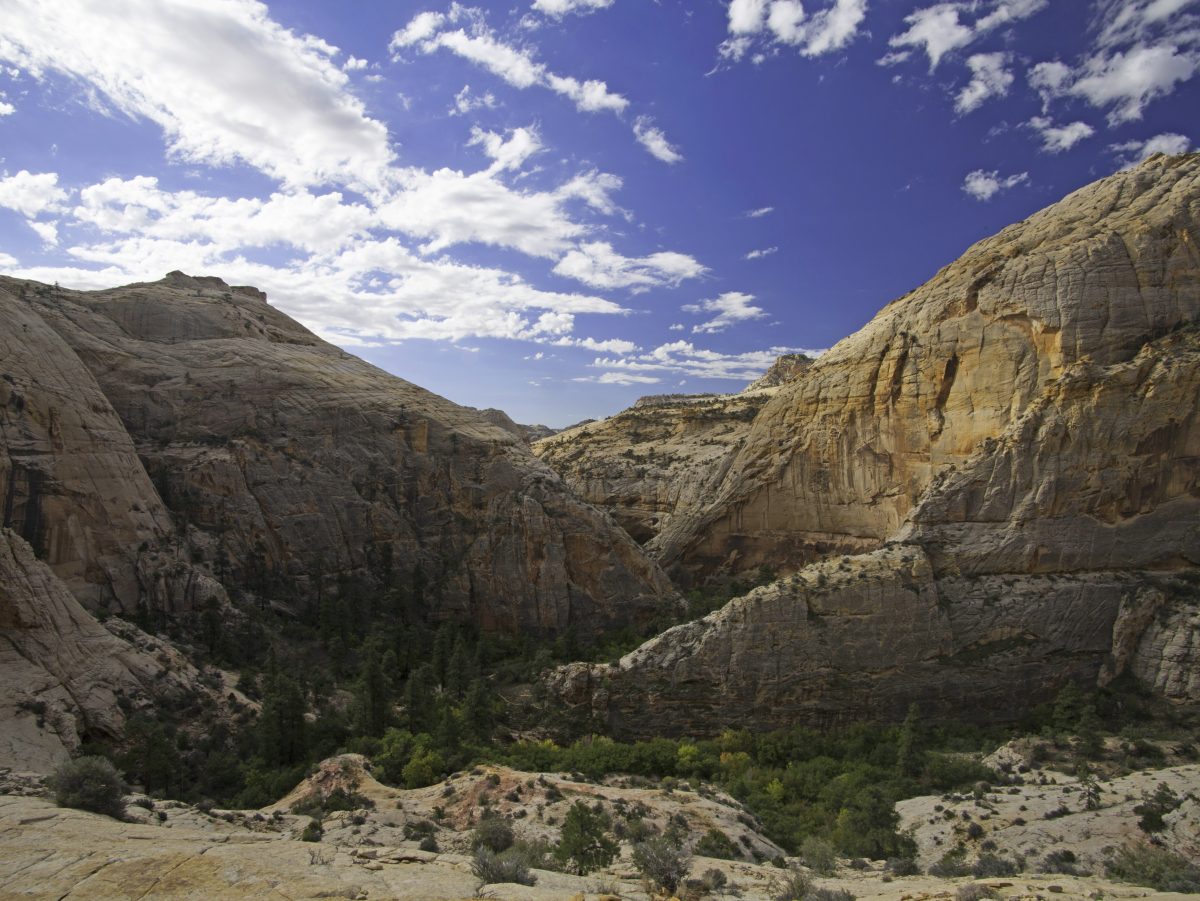 The Boulder Mail Trail is a guide favorite Utah backpacking trip And it's little wonder — this trail is spectacular! With lush canyons, pristine slickrock, open skies, and unspoiled trails, this is a yet-to-be-discovered area at its best.
This path traces the traditional pack mule route from the high desert towns of Escalante and Boulder, UT through Grand Staircase-Escalante National Monument. This historic route was used to deliver mail and supplies between the two towns. Hiking the Boulder Mail Trail is an awesome opportunity to enjoy the West as it once was.
So, we've compiled our list of eight reasons that you should hike the Boulder Mail Trail as soon as you can!
1. A is for Alcove

One of the most impressive alcoves in all of Grand Staircase-Escalante National Monument rests along Esclanate River on the second half of the Boulder Mail backpacking route.
Geologic alcoves are created by water seeping into cracks, freezing and thawing, and causing the rock to splinter and form large, arched recesses in the side of the cliff face. Ancient Fremont People made their homes in these alcoves. As the water percolates through the porous cliff, it rinses calcium carbonate from the stone — effectively washing away the glue that keeps the stone secure and slowly returning sandstone to sand grains. Fremont People used this calcium carbonate silt to create their mortar mix.
2. Never Fear, Death Hollow is Here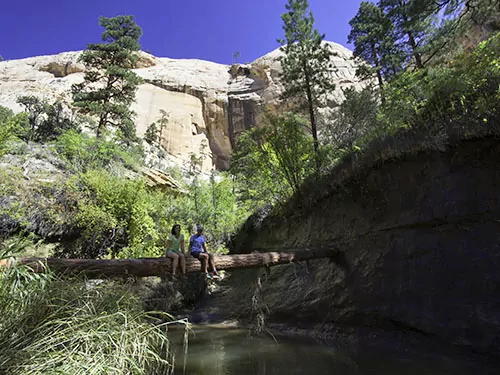 Far friendlier than it sounds, Death Hollow is an oasis of life — a stunning box canyon teeming with amazing views, perennial water flow, abundant vegetation (including an intimidating crop of poison ivy and its impostors … some large enough to sprout their own bark), and ample animal life.
The hike through Death Hollow is inspiring and incredible. The name comes from the preponderance of pack animals who perished along the descent into the canyon between 1910 and the mid-1930s. Today, the only scary things remaining are the aforementioned patches of poison ivy. But the scenery is still plenty dramatic enough to captivate the imagination. During your trek, you'll wonder what it must have been like to traverse this stretch with an entire community's parcels and provisions in tow.
3. Crypto is Cool
Thanks to its isolation, the Boulder Mail Trail features some incredibly impressive scenes of cryptobiotic Soil — microscopic kingdoms of cyanobacteria and fungi.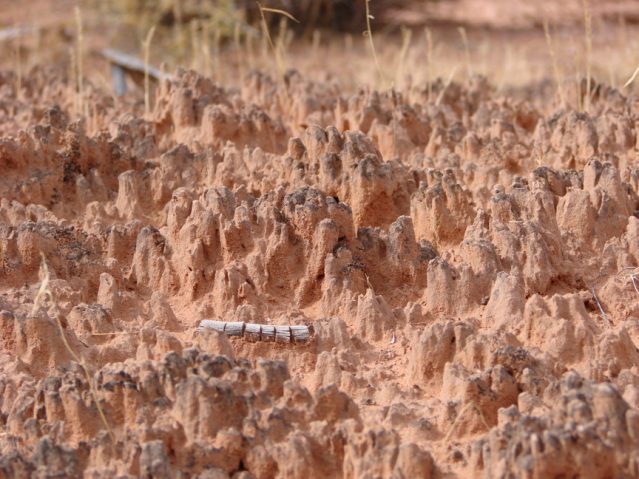 What's so cool about crypto?

Cryptobiotic actually means "living in suspended animation," which is exactly what this stuff does. The fungi and bacteria grow only when wet. In the interim, they simply hang out. This living soil grows about one millimeter per year. As it grows, it creates little mountain ranges of blue/green-blackish crust which serve to shelter plant growth, prevent erosion, and even suck nitrogen out of the air to fertilize the soil! And while the cryptobiotic crust is essential to the health of the desert, it is also incredibly fragile. One crunch of a footstep and the soil can take between 20 and 250 years to regenerate. So tread lightly.
4. Beavers!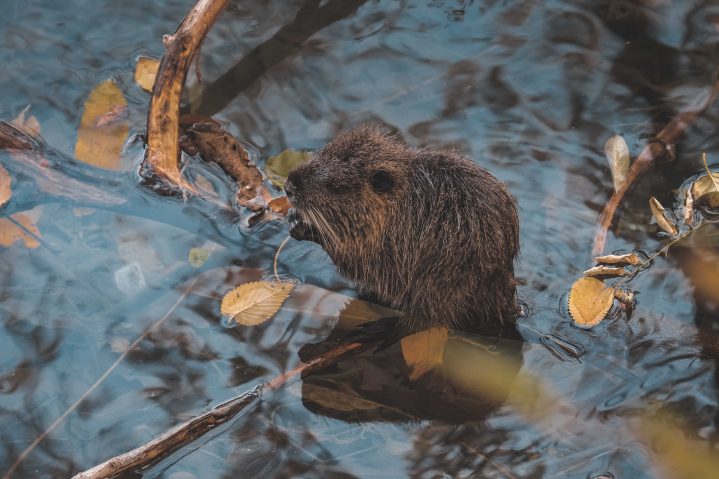 While this might not be the creature you'd expect on a desert hike, the North American Beaver population is alive and well in Death Hollow. And if you catch sight of one of these cunning creatures, you're in for a treat!
Beaver activity along the Death Hollow section of the Boulder Mail Trail is a major contributor to (and indicator of) the health of this marvelous canyon environment.
As you're hiking, look for signs —like gnawed wood or makeshift dams — of these helpful animals.
5. PotHoles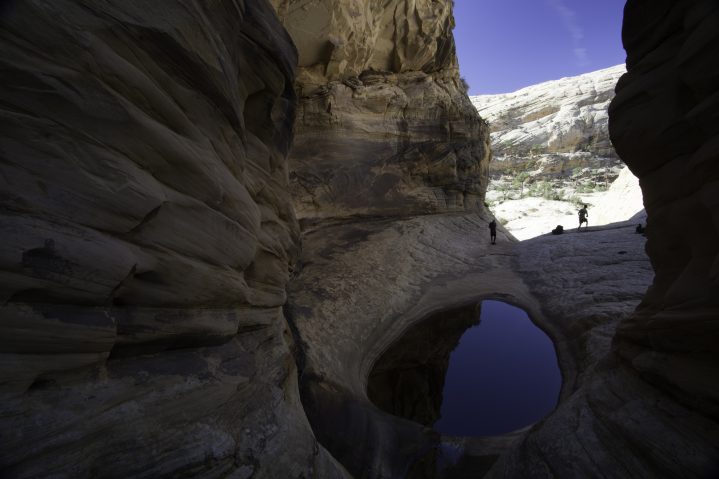 In addition to springs, seeps, and perennial streams, potholes are one of the primary water sources for resourceful hikers (and all desert creatures).
After a rainfall, large potholes can hold water for many weeks. These potholes are often in deep, shaded canyons, so they provide water when other sources have run dry.
On the Boulder Mail Trail, you can see geology in action — a brief rainfall contributing 20 minutes of erosion to a 10,000-year process.
6. Plants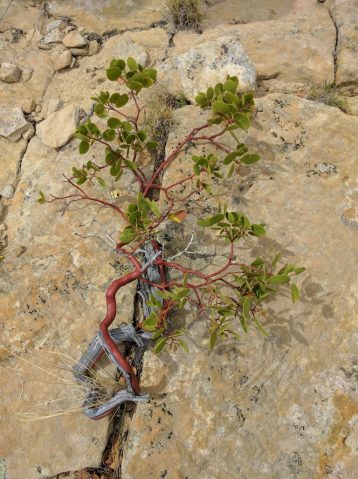 Indigenous peoples had many uses for plants throughout the Grand Staircase. They would grind berries from this Manzanita plant into a textured energy gel. And, they'd use the leaves to brush their teeth and to treat poison ivy. Manzanitas also have a slight disinfectant quality and can help treat a urinary tract infection.
In this stunning desert landscape, dozens of species of plants thrive between cracks in rocks and in sandy washes. If you take a guided backpacking trip along the Boulder Mail Trail, your guide will give you more tidbits of knowledge about this unique ecosystem.
7. History
Like a lot of places in Grand Staircase Escalante National Monument, the Boulder Mail Trail is rich with cultural history. Established in 1902, this route was the original link between the remote town of Boulder and the outside world. A large portion of the hiking route traces the old telephone line that allowed communication from Boulder via a hand-operated switchboard in Escalante — show in the photo to the right!
Pioneer settlement isn't the only chronicle to encounter on our Boulder Mail Trail backpacking route. Along the Escalante River section of our hiking trip, we'll pass by several petroglyph and dwelling sites of the ancient Fremont People — rough contemporaries to the Anasazi.
8. Watershed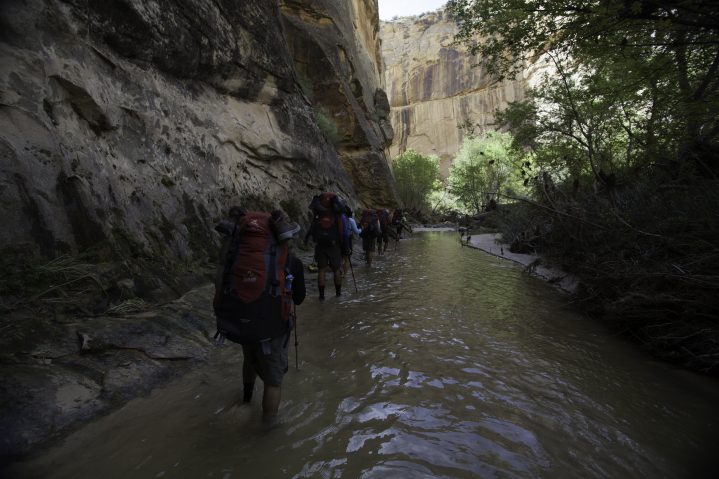 Go West! While the word "watershed" may not stir your inner outdoor passions, it does describe much of what is so wonderful about this hike. From our starting point at the old Boulder landing strip, we hike downhill the entire way — traversing the streams and tributaries that drain the top of the Grand Staircase into the stunning Escalante River Canyon. As we reach the canyon floor, we follow the water as it flows towards the Colorado River. It's incredible to think about how the potholes and stream trickles that we find along the way are an essential beginning to the water supplies of Phoenix, Las Vegas, San Diego, Los Angeles, and millions of other US residents.
Photo Credits
Special thanks to Mark Larese-Casanova for use of his awesome cryptobiotic soil photo. Mark is a contributor to Wild About Utah, an Assistant Professor at the Utah State University Extension and Program Director for USU's Utah Master Naturalist Program Director. You can read and see more from him at wildaboututah.org.
Thanks also to wildlife photographer Russ Nordstrand for his shot of Death Hollow. Russ leads photography tours in Alaska, Hawaii, Africa, Utah, Costa Rica and throughout the American West.
Finally, thanks to Wildland Guide Ana Maria Lynch Ramierez for fun and creative shots along the wonderful Boulder Mail Trail route.