Mountain Hardwear Stretch Skort Review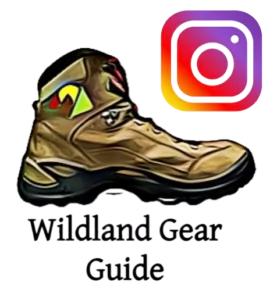 Don't forget to follow us on Instagram for the latest gear news!
Hello Hikers! My name is Myriam Bishop, and I have been guiding hiking and backpacking trips for over 20 years now – and just celebrated my 10-year anniversary at Wildland Trekking. Over that time, I have mostly guided Grand Canyon hiking tours, but I've also covered Utah, Yosemite, Iceland, the Alps, Patagonia, and now Vietnam! After covering so much ground as a professional guide – and plenty more on my personal hiking trips – I've developed a critical eye when it comes to hiking gear, and I carefully sift through my options before choosing what to take in the field with me. Therefore, I was delighted to take the Mountain Stretch Skort from Mountain Hardwear into the field with me for in-depth field testing to see how it measures up and if it could become a permanent addition to my kit. 
In this case, I received the Stretch Skort just before guiding our Vietnam hiking tour. So this review will cover my experiences with the Skort during this hike over the rugged and misty Vietnamese countryside, along with a basic introduction to the garment's specifications and background. So let's get started with this Mountain Hardwear Stretch Skort review!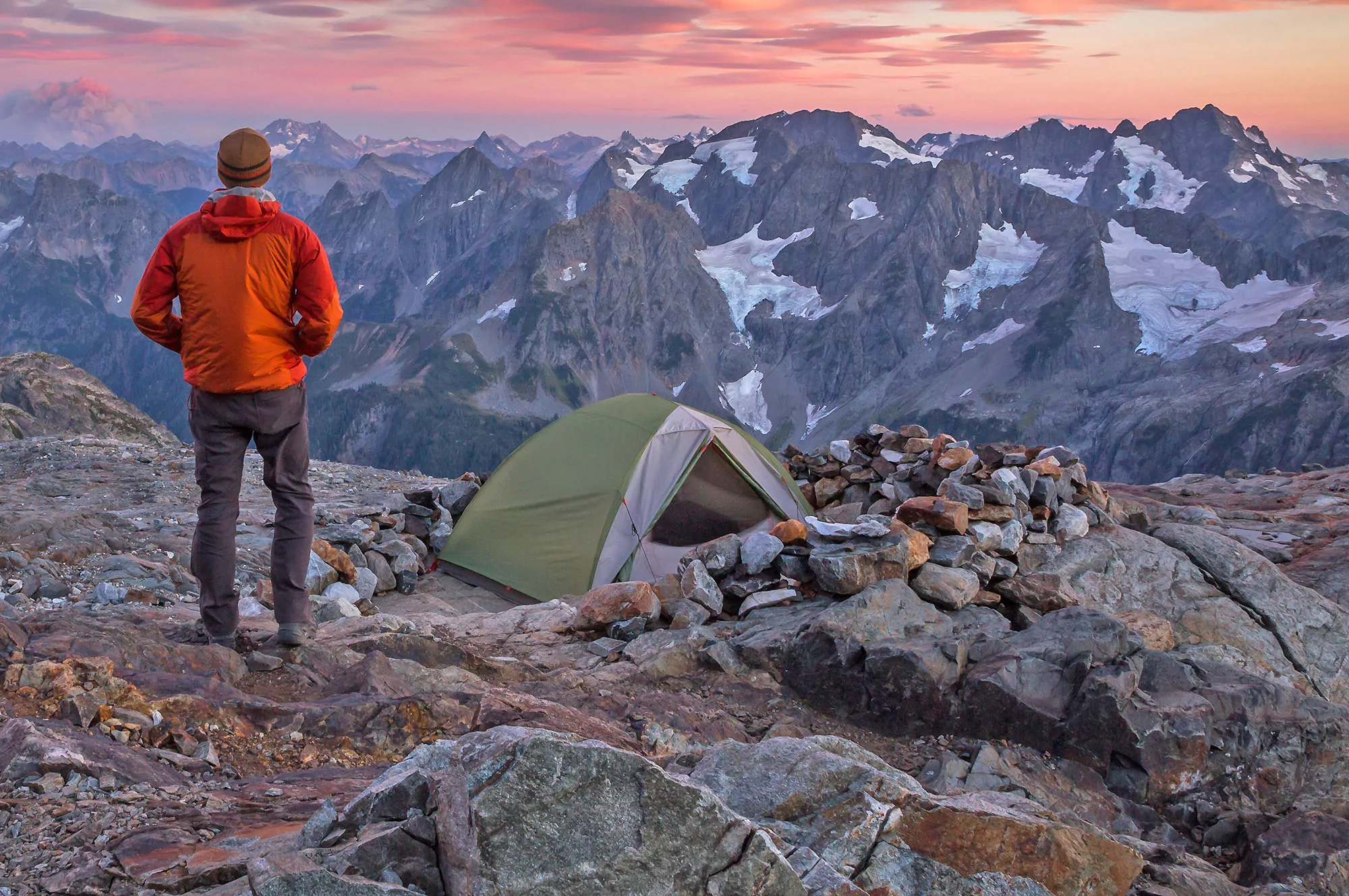 The Women's Mountain Stretch Skort brings the comfort and 'safety' of spandex shorts with the looks of a skirt. Let's look at the garment's basic specifications to orient ourselves to what I took into the field.
 

MSRP: $65
Weight: 2oz
Material Information: 100% Polyester
Sizing: Women's only
Intended Use
The comfortable but athletic design, combined with the inner compression shorts, immediately signals the Stretch Skort's utility for active adventures in warm climates. From my testing, it became clear that the Skort was most at home in warm to hot weather and performed flawlessly for hiking, general traveling, trekking, and simply relaxing at the end of a busy day. But the Skort's uses could extend to almost any outdoor pursuit where you'd like the comfort and look of a skirt with the utility of a pair of shorts. 
Notable Features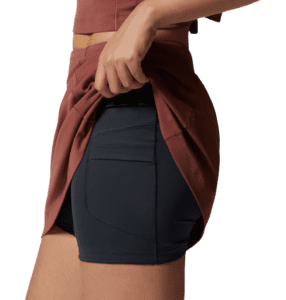 Although appearing to be a fairly simple garment, the Mountain Hardwear Stretch Skort hides a couple of notable and thoughtful features that are definitely worth highlighting before we dive into the review.
Large side pocket –  enables wearers to carry a smartphone, which has proven very handy for traveling and keeping the camera handy. The pocket is located on the side of the shorts part of the skort and is hidden under the skirt material.
UPF 50 Protection – provides sun protection while out of the trail all day. But more importantly, speaks to the skort's overall long-lasting design that will stand up to the sun over time and keep up with you no matter where your adventures take you.
Moisture Wicking Material – keeps you cool and comfortable even when the heat builds up. This is an ideal material choice for hiking to stay dry while covering mile after mile with minimal moisture buildup.
Mountain Hardwear Company Background 
Mountain Hardwear was formed in 1993 as an outdoor gear brand to stay true to the adventurers out there and not sacrifice durability, quality, or performance for the sake of attracting less technical customers. Therefore, Mountain Hardwear has provided a steady stream of high-quality products over the years to serve hikers, climbers, and other outdoor enthusiasts. The brand has also pivoted toward a more environmentally-conscious approach in recent years, eliminating harmful chemicals and treatments from its products while maintaining excellent quality and performance.
Mountain Hardwear's most notable changes to improve its environmental footprint includes:
Eliminating Flame Retardants from their tents that could harm the environment.
Sourcing all down insulation responsibly and ethically
Streamlining their build and dyeing process to conserve water and use fewer chemicals
Using Bluesign Approved materials
THE TEST – QUICK OVERVIEW
I wore this skort for a Wildland Trekking Vietnam trip – and arrived a few days prior and left a few days after the trip. I wore the skort almost constantly, sometimes washing it overnight so I could wear it again the next day.
Our hiking days featured up to 10 miles a day in a very consistently humid environment with temperatures ranging from pleasantly cool to hot. Our hikes centered around Sa Pa in Northern Vietnam. Additionally, I used the Skort for our boat excursions on Halong Bay and Lan Ha Bay along with day trips to Ninh Binh and Ba Vi National Park.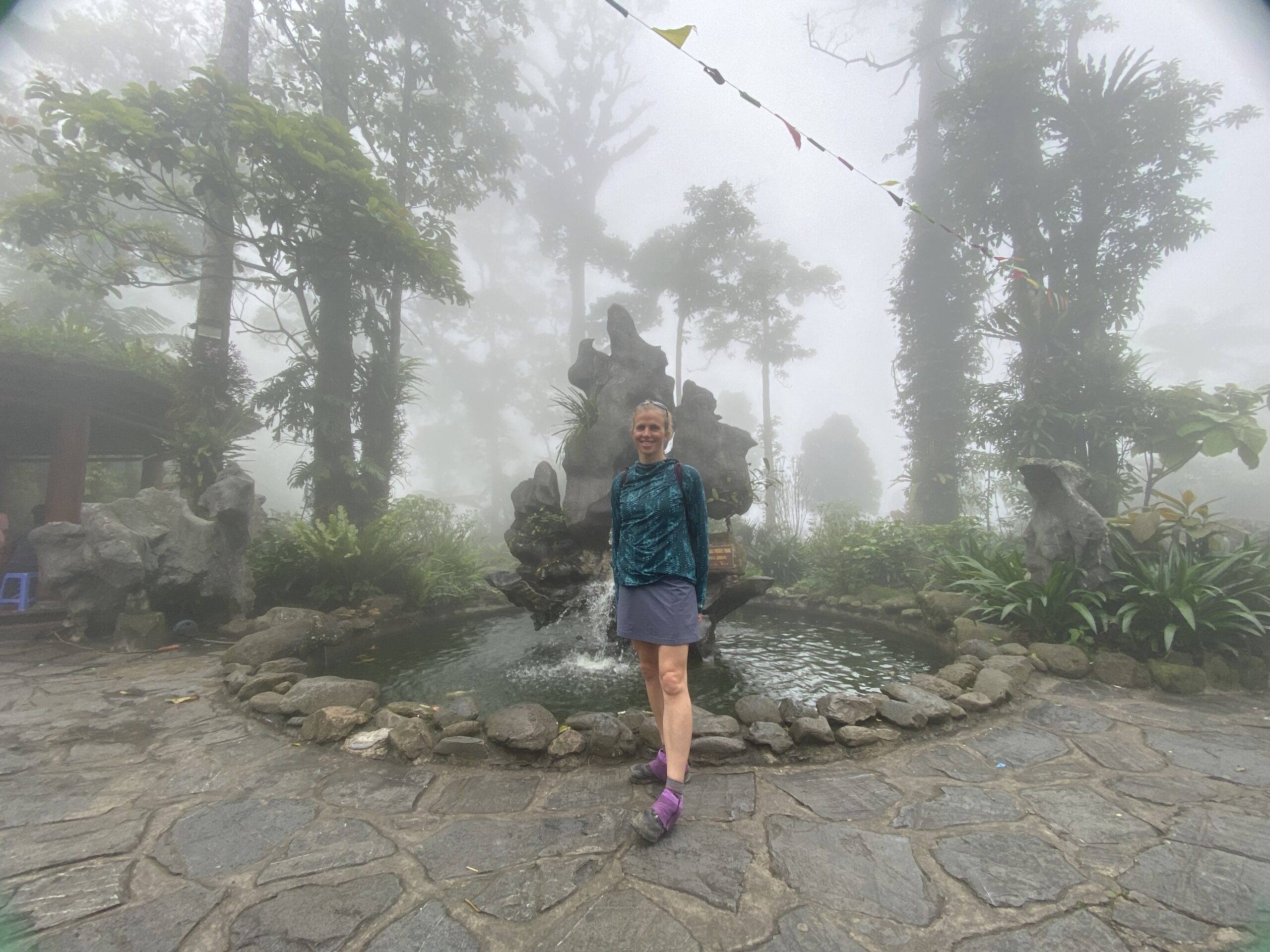 The Review
Now that we've covered the Mountain Hardwear Stretch Skort's specifications and features – along with an overview of my test – it's time to dive into the full review. I'll discuss different performance categories for the skort below and assign a score from 1 to 5 – where a 5/5 rating is the best. Along with the score, I'll discuss specifics from my testing experience that led me to assign that particular score. So let's see how the Stretch Skort did!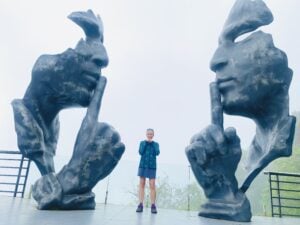 Comfort  – 5/5
I found the Mountain Hardwear Stretch Skort to be incredibly comfortable. From miles and miles of hiking in humid conditions to relaxing around town at the end of the day, this skort always provided reliable comfort no matter where I was.
The polyester material is both soft and stretchy, two critical characteristics for optimal comfort on the trail. The stretchy aspect, in particular, allows the short liners to move seamlessly with me while hiking, and I never once felt them restricting my range of motion.

Quality – 5/5
In short – good design, good comfort, reasonably durable, nice smartphone side pocket on the shorts. Put all this together, and we have a high-quality garment built for the trail. And what's more,  I love skorts for guiding!
Truly, this Stretch Skort feels like the best of both worlds with the safety/security of shorts and the skirt's advantages of not being as revealing and form-fitting. I also like that the shorts part is dark in color, which makes potential period leaks less likely to be visible. This can be considered TMI, but I think it's a worthwhile consideration for women purchasing hiking clothes, and when it comes to the practicality of a garment for trekking, traveling, and guiding, it is a huge plus.
So altogether, I think this is a terrifically thoughtful and well-designed garment where you can easily feel the high-quality materials and design at work.

Durability – 4/5
Overall, the Skort held up very well during my testing. The material itself seems tough and durable and held up to consistent use and frequent hiking exceptionally well. No tears, pilling, or holes developed during my test, and overall, I'm very pleased! However, I did notice some very slight fraying along the exterior stitching lines. Nothing that compromised the function of the Skort, but something worth noting – see the picture to the right for a close-up of this slight fraying. I'm not worried about the Skort's overall durability (even taking this fraying into account), but once again, it's worth mentioning and is the reason behind my 4/5 score.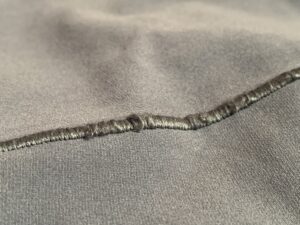 In addition to the constant hiking while guiding, I also took the Skort rock climbing during my own personal trip to try and push it even further and see how it performed. I know I know – silly to wear a skort for rock climbing. But still, I wanted to test it as much as I could and see what it could do! It may very well be that the seam fraying described above occurred during this activity that is notoriously rough on clothing due to rubbing on both rocks and my harness.
Weight and Packability – 4/5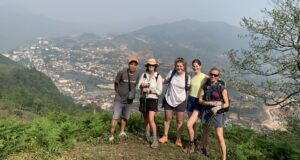 The Mountain Hardwear Stretch Skort practically goes unnoticed in my luggage and hiking pack. It's very lightweight at only a couple of ounces and easily squeezes into the nooks of my pack to be forgotten until I'm ready to wear it.
I deducted a point from this category simply because the Skort features thick-feeling material that I suspect adds a little extra weight. However, in the grand scheme of things, the Skort is still plenty lightweight, and the added thickness increases durability and longevity – a tradeoff that I'm very happy to accept.
Moisture Control and Breathability – 4/5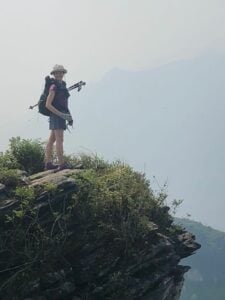 As you probably deduced from my pictures and description, Vietnam is an excellent place to test a garment's moisture control due to the high humidity and almost ever-present mists. To my clear, by "moisture control" we're talking about how well a garment wicks moisture away from the skin as well as how quickly it dries when wet. In this category, the Mountain Hardwear Stretch Skort performed well, but it didn't blow my socks off – let's discuss.
The Skort naturally offers excellent airflow and ventilation thanks to its geometry. I also found the stretch polyester to offer good moisture-wicking capability when I built up a sweat while hiking. However, remember that it's a two-layered garment with shorts on the inside and skirt on the outside. Therefore, it doesn't dry as quickly as a single pair of lightweight shorts or a single skirt. As we also already noted, the materials are on the thicker side, which is great for durability but does increase the drying time.  I noticed this when the Skort got noticeably wet or when I hand-washed it in hotel bathrooms to freshen it up for the next day.
Price – 4/5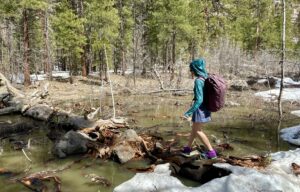 Considering the clear high-quality and technical aspects of the Skort, the somewhat high price tag seems to me to be a reasonable price for what you receive in return. The Mountain Hardwear Stretch Skort isn't an amazing steal or discount deal by any means, but you're paying for obvious quality from an established brand with a strong reputation for top-notch adventure gear. Within the bounds of those criteria, I think the Skort price tag is reasonable for folks that know they'll use it often and to its full adventure potential.
Bringing it Together
For such a seemingly simple garment, we've sure covered a lot of ground with the Stretch Skort – so let's bring it all together. The skort features compression shorts combined with a skirt. It's designed for adventure hiking and travel with excellent fabrics, a durable construction, and very lightweight and packable materials. Take a look at the pros and cons below for the Stretch Skort's highlights.
Pros: 
Lightweight and packable for easy traveling
Exceptionally comfortable
Good moisture wicking
Thick materials add durability and toughness
Well-thought-out features – such as the side pocket
Cons: 
Slightly fraying stitching may indicate longevity issues
Pricey but worth it for skort lovers who will use it often
The double-layer construction doesn't dry as quickly as other options
Final Thoughts
I thoroughly enjoyed testing the Mountain Hardwear Stretch Skort. I found the compression shorts lining to be incredibly comfortable, stretchy, and not restrictive in the least – and I loved the phone pocket sewn into these shorts. The skirt outer layer featured a thick and durable fabric that held up to near-constant use during my testing in Vietnam while providing extra coverage that wasn't as form-fitting as the shorts. During my testing, the Skort performed just as advertised. It was durable, moisture-wicking, and provided an excellent bottom that I could wear on the trail, around town in the evenings, and even on boat excursions – a very versatile and reliable hiking bottom!
I noticed some slight fraying along the exterior seam edges that may be attributed to my additional rock climbing test and rubbing against the stone or my harness, and indicates that I pushed this Skort to the very edge of its durability line. But even though I found the line, I still believe the Skort to be plenty tough for trail hiking and adventuring, and I'll definitely be taking it into the field again and again in the future. Lastly, I found the price to match the purpose-built, specialty nature of the Skort and think it's a reasonable investment in your overall hiking comfort. A truly excellent product from a great brand, and I highly recommend it to anyone looking for a hiking bottom in a warm or humid environment!