Sea to Summit Ether Light XT Extreme Sleeping Pad
Wildland Trekking guide James Barrett shares the results of field testing the Sea to Summit Ether Light XT Extreme Sleeping Pad during winter backpacking trips in the Grand Canyon
I have been guiding with Wildland Trekking since 2016 after several years of working with Northern Arizona University. From Fall to Spring, I work for Wildland in the stunning Southwest Desert, mostly trekking in Grand Canyon National Park and Sedona. During the summer, I escape the heat and travel up north and hike with Llamas in the Yellowstone area. This winter, I was lucky enough to test out some backpacking gear from Sea to Summit, which I have long been a fan of for dry bags and camp necessities.
This review is on the Sea to Summit Ether Light XT Extreme, the most insulated pad in their XT inflatable sleeping pads line up. If you are a cold sleeper or enjoy camping when the temperatures drop, this review will give you some insight into how this sleeping pad performs in the wild.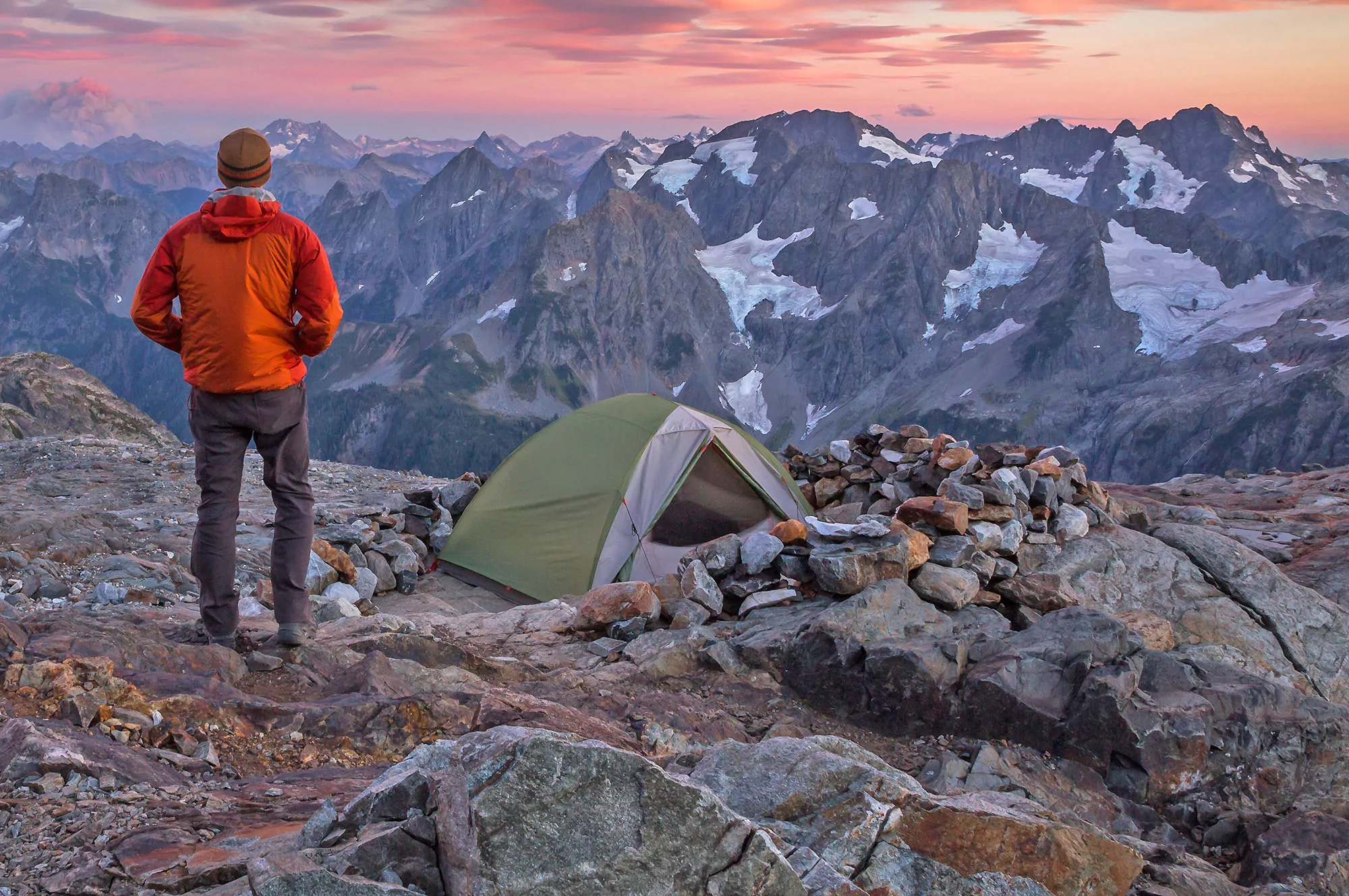 The Sea to Summit Ether Light XT Extreme sleeping pad is a 4-inch thick, heavily insulated sleeping pad for cold weather, winter camping, or cold sleepers.
MSRP: $199.99
Sizes: Regular, Large, Regular Wide, Rectangle Large
Weight: 25.5oz (Regular)
Insulation/R-Value: 6.2
Thickness: 4-inches
Women's Sizing: Women's specific models are available
Intended Use
The Ether Light XT Extreme sleeping pad is designed to keep you sleeping comfortably and warm on the roughest ground in the coldest conditions. It is a true 4-season sleeping pad, but it may be bulky and heavy for warm weather use.
This pad is aimed squarely at hikers and adventurers who expect to encounter chilly to cold conditions. Such as hiking in the shoulder seasons, mid-winter trips, or high-altitude adventures. So from the Minnesotan boundary waters in winter to summit attempts in the Rocky Mountains, the Ether Light XT Extreme is perfect. However, this sleeping pad may be overkill if you tend to backpack during more mild temperatures. In that case, I recommend you take a look at the standard Sea to Summit Ether Light XT Insulated Sleeping Pad, as that may be a better fit. If you're interested in this less extreme option, take a look at our Ether Light XT Insulated Review.
Notable Features
The Sea to Summit Ether Light XT Extreme has several important features that set it apart from other sleeping pads, so let's take a look at what makes it unique before diving into our complete review. 
Airstream Pump Sack

 – a cleverly designed stuff sack that doubles as an inflation sack/pump.

Extra Thick (XT) Air Sprung Cell Construction

 – Creates a supportive and comfortable sleeping surface. 

Thermolite Insulation

 – multiple insulation layers prevent heat loss due to convection and internal air movement.

Pillow Lock

 – small grippers that adhere to the pad and mate the sleeping pad with Sea to Summit's line of pillows
Sea to Summit is based out of Perth, Australia, and was started by Roland Tyson – a young man with a passion for the outdoors who started sewing gear in his childhood bedroom in 1983. The company grew to what we know today in 1993 when Penny Sanderson joined Roland. Their main goals center on balancing weight, durability, and packability. Like most quality gear manufacturers, Sea to Summit offers a solid warranty standing behind their products to cover materials and workmanship.
THE TEST – QUICK OVERVIEW
I tested the Ether Light XT Extreme Sleeping Pad over the 2021-22 winter season. During that time, I used it while guiding two Wildland Trekking trips in the Grand Canyon plus a personal trip to Sedona, AZ. The first test was a Winter Rim to Rim to Rim trip (5 Nights), while the second was a Grand Canyon classic (2 nights). During all these trips, I certainly experienced the whole spectrum of nighttime weather – including low temperatures down to 26º F along with 30+mph winds some nights and an accompanying rainstorm. Sadly, I didn't get the chance to test this sleeping pad while sleeping directly on top of the snow, but I believe my test still revealed how this sleeping pad performs – so let's dive into this Sea to Summit Ether Light XT Extreme review to find out!
The Review
Now that we've covered the basic specifications and features of the Ether Light XT Extreme sleeping pad along with my test parameters, it's time to dive into the review. I'll cover crucial performance criteria below and give each one a rating from 1 to 5 – where 5/5 is the best – along with my observations on how the sleeping bag performed in each criterion. So let's get started.

Weight/Bulk – 3/5
As a backpacking guide, weight and size are critical considerations when it comes to gear. I very much value gear that takes up minimal space in my pack and adds little weight to my overall system since I'm always carrying a significant amount of my personal gear plus group gear.
In this case, the regular-sized Ether Light XT Extreme pad weighs 25.4 oz, which is pretty heavy compared to the lightest weight pads on the market. In addition to the weight, all of that insulation comes at the cost of bulk and space. This means that the packed size of the pad is roughly the same as three 1.5-liter Nalgene bottles. So from a strict weight and bulk perspective, this sleeping pad gets a lower score since it's heavier than many comparable backpacking sleeping pads and doesn't pack down as small. However, this added weight and bulk have some distinct advantages as far as durability and warmth are concerned.

Durability – 5/5
The Ether Light's 30D/40D Nylon construction gives it an extremely durable feel that inspires confidence that the pad will hold up against repeated use on rough ground. For my part, I never encountered any punctures or tears. This is certainly noteworthy as my tests all took place in the unforgiving southwest desert, where prickly plants and sharp rocks lie in wait to snag or tear unsuspecting sleeping pads.
Additionally, if you run into a problem and spring a leak, Sea to Summit includes a complete repair kit that includes patches and a spare silicone valve.

Inflation Process – 4/5
Inflating a 4-inch-thick sleeping pad sounds like a lot of work and almost guaranteed lightheadedness. But with the Air Stream pump sack, which doubles as the sleeping pad's stuff sack, it takes less than 5 solid breaths to inflate.
The Air Stream pump sack uses the venturi effect to work so well. Open up the sack after attaching it to the valve, then hold your face about 6-8 inches away from the opening and blow. That one breath will then fill the bag, and all you have to do is squeeze the air into the pad!
I found that this process works very well and can certainly take the headache out of inflating the sleeping pad if you don't want to puff it up the regular way. The pad's valve is also robust and provides a solid seal against air leakage.

Comfort – 5/5
The most crucial part of any sleeping pad is comfort and support, especially if you are a side sleeper – like I am.
This pad is easily the most comfortable sleeping pad I have ever slept on, period. It measures a true 4 inches in thickness, and the quilt style of the Air Sprung cells felt as though I was floating all night. I could write about the pure bliss of laying on this pad all day, but you'd really just need to try one out!
Price – 5/5
This model of the Ether Light comes in very competitively priced at $199.00 with other extreme expedition sleeping pads in the same caliber with similar R-Values and weight. The fact that the Ether Light XT Extreme comes with the pump sack, the pillow lock, and a repair kit just increases the value received. Therefore, while it's undoubtedly a significant investment in your backpacking gear, I fully believe that the Ether Light XT Extreme is worth the investment if you plan on using it to its full potential.
Bringing it Together
The Ether Light XT Extreme is indeed the most extreme sleeping pad I have ever used. Extremely warm, extremely thick, and most important of all, extremely comfortable! The amount of support and comfort supplied by this pad is unparalleled. So, all in all, this is by far the most comfortable sleeping pad that I have ever used. 
Pros:
Hot, hot, hot

Uber comfortable

Excellent support

Durable construction

No hassle inflation
Cons:
Bulky size and weight

Expensive
What is R-value, and why is it important?
R-value measures thermal resistance, aka how quickly heat gets transferred from a warm body to the cold ground. The higher the number, the more insulated an object is and the slower that transfer will occur. 
Until 2020, there was no standardized testing for R-value, so manufacturers did their own testing or gave the pad an arbitrary temperature rating. But under ASTM F3340-18, sleeping pads are tested using the same equipment, giving the consumer a more accurate comparison from product to product.
In the world of backpacking sleeping pads, we typically see R-Values ranging from around 1.0 to 6.5. Where an R-Value of 1.0 has very little insulation and is perfect for warm or tropical hiking, while a 6.5 R-Value is highly insulated and ideal for shoulder seasons to mid-winter camping.
Final Thoughts
There really isn't a whole more I can say to sum up my experience in this Sea to Summit Ether Light XT Extreme sleeping pad review. I loved the comfort, warmth, and ease of inflation that this pad offers.
I typically always tell my guests on trips that the number one place that I don't skimp on for my personal gear is my sleeping pad. Whether you're spending 2 nights a year or 200 nights a year in the backcountry, good sleep is critical for getting up the next day and doing it all again. Therefore, if I was spending some extended time camping in cold conditions, I would absolutely include this pad in my kit.
And even if I wasn't heading into significantly cold conditions, Sea to Summit also offers the not-so-extreme Ether Light XT pad. This sleeping pad is a little lighter on the insulation, weight, and padding but still supremely comfortable.