Zion Canyon is Utah's Sistine Chapel
A cathedral of incredible beauty, wonder, and lots of people there to see it.
do I need a guide at Zion national park?
Well, Think Sistine Chapel.
Expect to find well-marked trails in an easy-to-navigate Park. So no. But like any other great wonder of the world, the enhancement of having a guide on your hiking vacation can turn a simply stunning experience into a transcendent one. During a guided day-hike, you become immersed in the area while learning about the natural and cultural history.

Your guide is your very own augmented reality.
There isn't an AR app that can compete with the insight and erudition of a Wildland guide.  While we can't escape the swarm, enhancing your "sense of place" is the #1 reason to hire a guide in Zion National Park.
What else should you expect?
1. Solitude? …  Sorry.
The name "Zion" may inspire feelings of tranquility and originality, but you probably won't be surprised to learn that you're not the first, or only, person to visit the canyon. Over 4 million people came just last year.
Your guide can't transcend these crowds. But what you should expect is a sense of awe that eclipses that of any manmade work of art or architecture. And it's your guide's job to turn that awe into "awesome."
2. Fantastic Food … Definitely!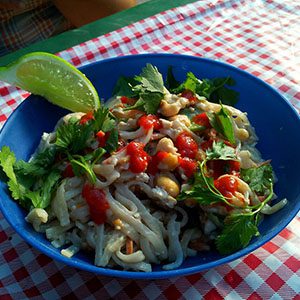 Unlike many great manmade sites where you might be inclined to hire a guide — e.g. Notre Dame, Machu Picchu, Hagia Sophia — you are allowed to eat in Zion Canyon!
Before your trip, your guide will contact you to learn about any dietary restrictions and likes or dislikes that you may have. They'll then design a custom meal to suit. No bag lunches here. Expect fresh food with a beautiful backdrop, and an assortment of tasty snacks to keep you fueled throughout the day.
97% of guests rate their Wildland eating experience as "Excellent!"
3. Great Gear … of course.
While you don't need much to enjoy a great day in Zion National Park, the right equipment will help you be prepared to enjoy the Park to its fullest. Our guides supply you with a top-of-the-line backpack to tote your personal belongings and sturdy trekking poles to ensure sure-footedness on the trail. For icy winter hikes, your guide will also bring a set of crampons and several cups of tea (see Fantastic Food, above).
Your guide, of course, carries your lunch, as well as emergency preparedness gear like epinephrine, an outdoor first-aid kit, and a satellite phone. All Wildland guides are certified Wilderness First Responders (a high level of medical training), CPR practitioners, and Food Safety Handlers.
Our commitment is to hire and train the best guides in the industry. These extraordinary men and women have the ability to turn a great get-away into an unforgettable, inspiring – and sometimes truly life-changing – hiking vacation.
The most obvious thing about Zion Canyon is its tremendous beauty. The more you know, the more you'll appreciate it. Your guide is there to show you the story behind the stone.