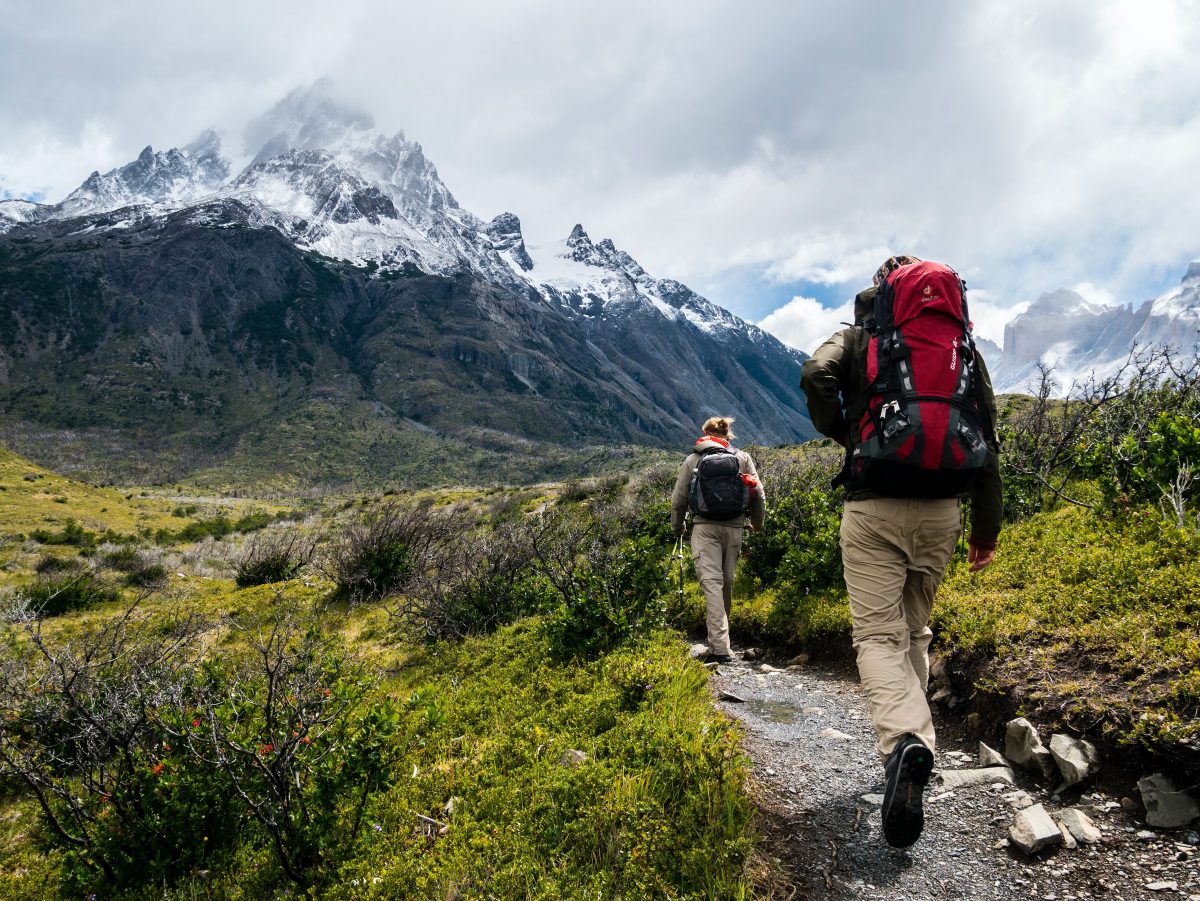 Will International Trekking Resume in 2021?
The demand is high but uncertainty still rules. 
Hikers across the globe are dying to know: will international trekking make a comeback in 2021? With news of vaccine rollouts and enthusiastic travelers cooped up at home waiting for the go-ahead, we have reasons to be optimistic. Adventure travel — specifically hiking and camping based tours— seem to be the perfect COVID-friendly vacation option. But will countries be ready to open their borders for international travel in 2021? 
Trekking: the ultimate social-distanced activity? 
International trekking is looking grim through the beginning of the year (Wildland Trekking just canceled their spring Nepal tours), but many hikers still hold out hope for their 2021 summer plans. 
While the general tourism market may not recover until 2024, the adventure travel sector is likely to ramp up in 2021. And one of the top activities in this niche? Hiking. This generally low-risk activity takes place outside, in small groups, and requires minimal technical assistance. Your guide might readjust your pack or talk you through a steep section of trail, but you won't be attached together with a harness as you throw yourself out of a plane. 
Not only do outdoor activities keep too-close-for-comfort interactions to a minimum, but many people have recognized the benefits of fresh air after so much time indoors. According to a recent Tripadvisor report on the outlook of the travel industry, "More than half (52%) [of survey respondents] say they are more likely to take an outdoor/nature trip than they were before the pandemic."
Recently, Karen Rosenblum, who runs a travel service called Spain Less Traveled, has seen an uptick in interest and requests for the Camino de Santiago. "In my Travel Spain! Facebook community, a lot of members have been asking for tips for walking (and cycling) the Camino. Noticeably, I've received more requests from prospective clients who are interested in trekking in Northern Spain. A lot of the less popular routes, such as the coastal "Norte" route are getting more attention as travelers are looking to plan trips where social distancing and solitude will be possible."
As hiking vacations gain popularity, guiding companies have been adapting their offerings to accommodate new requests. "Most travel companies are re-imagining itineraries to limit interactions," says Marc Christensen, founder of Brilliant Ethiopia. "The focus is on private tours in more rural areas. Itineraries have less emphasis on cities as people try to keep away from populated areas. This puts hiking and trekking at the heart of a COVID-secure trip." 
Each country will dictate its own rules 
While trekking may be a great option for your next travel adventure, the question of 'where to go' remains. Domestic travel may have increased throughout 2020, but international travel is still flatlined. 
However, if the pandemic has taught us anything, it's that no two nations respond the same. And we can't expect that to change when it comes to international trekking. 
Some countries may require proof of vaccination (see: vaccination passports) and a negative-COVID test upon entry, while others may still opt for the 14-day quarantine. (Steve Cundy, co-owner of Wildland Trekking, mentions that a lengthy quarantine would negate any chances of trip operation in that country.) 
"International travel will most likely limp out of this in many different phases depending on a country's need for a tourism economy and general feelings of COVID-related risks," says Chris Hoge, the director of International Operations for Wildland Trekking.
For example, Australia-based Qantas Airlines plans to resume its international flights in July 2021 after months of regional-only traffic. However, low-income countries with limited vaccine access may be slower to welcome visitors until they can vaccinate their own population. Even in the U.S. and the U.K, which were among the first countries to approve the vaccine, most of the general public isn't likely to receive it until summer. (If you're looking for a country-by-country guide to reopenings, check out this article by The Points Guy.) 
Like many tour directors, Hoge has his hands full as he tries to determine the outcome of Wildland's International trips. (Wildland operates in 11 countries, including New Zealand, Tanzania, Nepal, Peru, Norway, and Iceland.) He's been monitoring each destination's border policy, current covid situation, local laws, policies, and the general cultural feelings about the pandemic. 
"It is a large confusing world of constantly changing information," Hoge says, "But I feel certain that some destinations (like Canada and the EU) might open up more quickly than others because they have more vaccines being available to their population."
Hikers are booking tours for late 2021 
This tumultuous past year has unveiled the fragility of international travel. People who once took travel for granted are now planning bucket-list adventures. 
Last week, Torben Lonne, travel expert at DiveIn, found himself browsing the internet for adventure trips. "The moment I realized vaccination would start soon, I began making plans. When I tried to book a tour for summer 2021, I found that several trips are completely sold out." 
Recent bookings of Wildland International trips substantiate Lonne's anecdote. "During our end of 2020 promo, we booked 76 guests on international trips," Hoge says. "So the desire is starting to build more and more with American travelers." All of these bookings were for July and later, with most falling in the Fall and Winter months.
However, for many, hesitancy still runs deep. Nikki Webster, from Brit on the Move, thinks that hikers need to be cautious if they leave their country's borders. "What happens when it goes wrong? You are in a foreign country while there is a pandemic, and you get hurt. How do you know that the hospitals are equipped to deal with you and that you won't be exposed?"
Despite these concerns, many Americans are feeling the pull towards travel. Jyoti and Nirmal, avid hikers from California, spent 2020 hiking in U.S. National Parks. "This year, we plan to hike in Europe, India, and the 'Stans. We've already made several flight reservations and are ready for lift-off."
Additionally, we polled our Wildland Instagram followers on their attitudes towards 2021 travel. Out of 349 respondents, 62% said they were planning on traveling internationally in 2021, while only 38% said they would wait until 2022. 
"It does seem like the appetite and demand is there, but some of the uncertainty around it all is keeping people from following through with travel.  It seems most people booking trips are more hopeful than convinced in the ability to actually go on their trip," says Hoge. 
When you book your trip, do it with a reputable company 
While bookings are on the rise, Christensen thinks that hikers should use their best judgment when booking international tours. "Travelers should make sure they have a backup plan. What is your travel company doing to protect your trip in the event of cancellation due to coronavirus? Most companies are offering credit vouchers, but you need to know the limitations of these vouchers. Some are lifetime vouchers, others just 12 months. Can you apply the voucher to another destination? If so, where?"
He continues, "Travelers should also check the payment schedules and avoid paying for anything in full upfront. You should be able to book with a deposit and delay full payments. This gives you more time to gauge the viability of your holiday as the departure date approaches, without having to commit to a trip months in advance." 
While companies like Wildland Trekking and Brilliant Ethiopia offer generous booking policies, some tour operators are not so lenient. 
We still have a long road ahead of us 
Wildland Trekking has numerous hiking tours scheduled overseas this year. Pre-pandemic, the most popular countries were Peru and Patagonia. Now, travelers are booking more tours in destinations such as the Alps, New Zealand, and the Canadian Rockies. "We are staying positive and think it will be possible to operate international trips in 2021," says Hoge. 
But the reality is, no one knows for sure what 2021 will bring. "I think if you asked 50 travel experts their thoughts, you might get 50 different answers," says Hoge. "The one thing we have learned is that the pandemic makes the rules, and normalizing international travel will be a long winding road to recovery."
So, for now, all we can do is keep our fingers crossed and get out on our local trails.