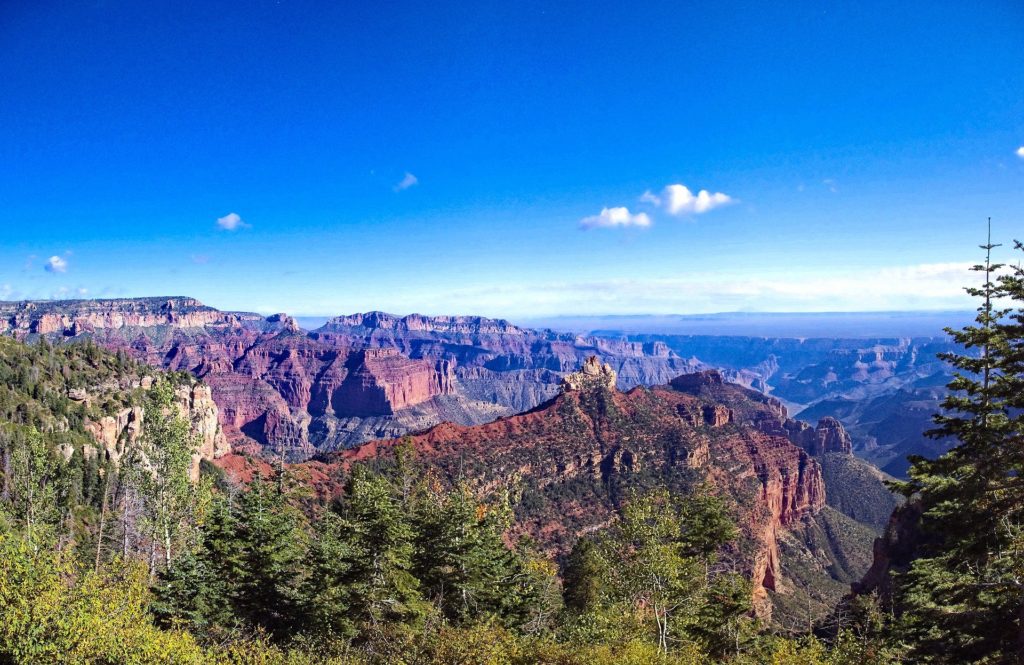 Widforss Trail
General Description
The Widforss Trail is one of the best North Rim trails for views, family adventures, and wildlife.  The trail takes you along the rim and through the forest offering many scenic vistas, plenty of shade, and easy access to a remote picnic area on the North Rim at Widforss Point.  There is a trail brochure available at the trailhead providing information on points of interest, making this an educational experience for all ages and a great hike for kids.
The first 2.5 miles/ 4 kilometers follow the canyon rim affording splendid views of Grand Canyon geology before heading through the ponderosa-pine-forest and though large groves of aspen trees.  Here in the forests of the North Rim there are opportunities to spot wildlife such as birds, deer, coyotes, and the endemic Kaibab Squirrel, found only in the forests of the Kaibab Plateau and on the North Rim. Continue for another 2.5mi/4 km  to Widforss Point, a remote vista with spectacular views of the inner gorge, the South Rim, and the San Francisco Peaks in the distance.  Whether you make it all the way to Widforss Point or not, you'll see why the Widforss trail is one of the best North Rim trails.
Explore Grand Canyon with Expert Guides
Getting to the Widforss Trailhead
After entering the park, follow the North Rim Rd until you pass Cape Royal Rd. Take the dirt road 0.25 mi/0.4 km south of Cape Royal Rd to the Widforss Trail parking area (1 mi/ 1.6 km). There are toilets at the parking area.
History of the Widforss Trail
The Widforss trail is named after artist Gunnar Widforss, who lived at the Grand Canyon in the 1930s.  Widforss' watercolors depict a colorful canyon and are known for their detailed portrayal of Grand Canyon geology.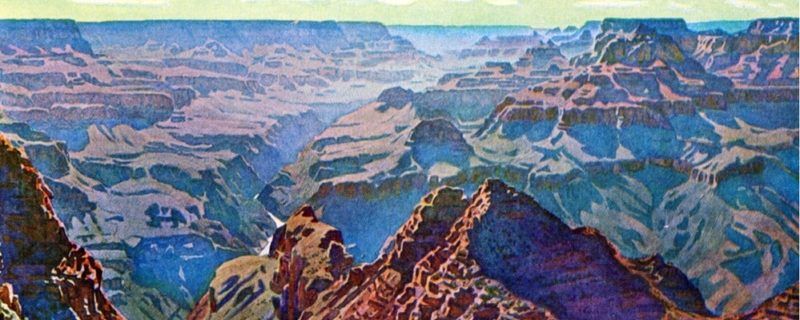 2 Best Day Hikes on the Widforss Trail
The Widforss Trail is a great hike, even if you don't go all the way to Widforss Point. Many visitors turn around halfway along the trail, taking in great scenery and interpretive information using the trail brochure.
Below are the primary options for day hiking the Widforss Trail:
| | | | | | |
| --- | --- | --- | --- | --- | --- |
| | Destination | Miles | Elev | Difficulty | Style |
| | Widforss Trail | 5 mi | 8100 ft | Easy | Out and Back |
| | Widforss Point | 10 mi | 7,811 ft | Moderate | Out and Back |
1. Day Hike Option 1
Grab the trail brochure available at the trailhead and enjoy a fun and informative stroll along the North Rim with excellent views of Grand Canyon, Oza Butte, and the San Francisco Peaks. Look for brachiopod fossils in the Kaibab limestone, see one of the biggest ponderosa pines in the park and learn about fire ecology, all while skirting the rim with photogenic canyon views.  After stop #14 in the brochure you have reached the halfway point on the Widforss Trail, about 2.5 mi/4 km.  Follow the Widforss Trail back to the parking area for a 5 mile/8 kilometer round-trip hike.  This is a great option for families with young children.
2. Day Hike Option 2
Continue past stop #14 as the trail winds through the ponderosa pines characteristic of the North Rim ecosystem.  Eventually the trail drops into a grove of quaking aspen, bright green in summer and golden in the fall. Keep an eye out for the Kaibab Squirrel as you make your way to the solitude and incredible canyon vista at Widforss point, 5 miles/8 kilometers from the trailhead. Enjoy a picnic with a view of Buddha Temple and Manu Temple before returning along the Widforss Trail back to the parking area, a 10 mi/ 16 km round trip.
Maximize Your Visit to Grand Canyon National Park on Hiking Tour
Guided day hike and multi-day packages allow visitors the opportunity to make the most of their time in Grand Canyon National Park and to do it hassle-free. Guided tours include gear (backpack, trekking poles, crampons in winter), meals, accommodations on multi-day tours, local transportation, and a professional Arizona hiking guide. Through their knowledge, stories, and personal passion, guides can bring a place to life in a way that's much more difficult to do on your own. Read more about Grand Canyon Hiking Tours.
Award Winning USA Hiking Adventures

3 Backpacking Trips near Widforss Trail
While the Widforss trail is not usually used for backpacking trips, you can tackle your multi-day North Rim backpacking adventure on the nearby North Kaibab Trail.
Route
Miles
Difficulty
Campgrounds
North Kaibab to Cottonwood Camp
14 mi
Strenuous
Cottonwood CG
Rim to Rim
24 mi
Strenuous
Cottonwood CG
Bright Angel CGHavasupai Garden
Cape Final Overnight
4 mi
Easy
At Large Camping, permit required
1. North Kaibab to Cottonwood Camp (3 days)
Descend down the North Kaibab Trail into Roaring Springs Canyon.  The trail gets exposed as you traverse beside sheer cliffs of Redwall limestone. Past the cascades and pump station at Roaring Springs the trail continues to descend towards Bright Angel Creek. Dozens of brachiopod fossils can be found along the trail as you hike down, eventually arriving at the Manzanita Ranger station where you'll find bathrooms and seasonal water.  Continue across the creek down Bright Angel Canyon, keeping an eye out for beavers as you make your way through the last few miles to Cottonwood Campground.  Spend the night listening to the creek as you marvel at the thousands of vertical feet of stone framing the jaw-dropping star-scape of Grand Canyon. Enjoy a day trip up a wet side-canyon lush with maiden hair ferns and cardinal monkeyflowers to the mysterious and ethereal Ribbon Falls, before ascending through the pines back to the North Rim.
2. Rim to Rim (4 days)
No bucket list is complete without the iconic Rim to Rim hike. Beginning on the North Rim, hike down the North Kaibab Trail to Cottonwood Camp. On day 2, be mesmerized by the other-worldly beauty of Ribbon Falls. As you continue to descend to the Colorado River, the canyon broadens giving and great views of Oza Butte and the Grand Canyon Supergroup rock layers beofore the canyon narrows bringing you to the historic Phantom Ranch at the bottom of Grand Canyon. After enjoying a lemonade with your comrades and sending a postcard by mule, set up camp at Bright Angel Campground and enjoy dinner at Boat Beach beach on the banks of the mighty Colorado River, making sure not to miss the Ranger Program at the Ranch. On day 3 you say goodbye to Phantom Ranch and begin up one of Americas most famous trails, the Bright Angel Trail. Cross the Colorado River via the silver bridge and ascend the glorious Bright Angel through colorful Tapeats sandstone along Garden Creek before taking respite at Havasupai Garden Campground, where deer frolic under the canopy of cottonwood trees in their oasis beneath the cliffs.  Follow the 1.5 mile spur trail from Havasupai Gardens to catch sunset at Plateau Point, a true gem of a vista and one of the best viewpoints in Grand Canyon. On day 4, keep an eye out for California condors as you tackle the infamous switchbacks of the Bright Angel Trail before topping out in historic Grand Canyon village.
3. Cape Final Overnight (2 days)
A night on Cape Final offers excellent vistas and solitude. An easy 2-mile hike will bring you to the edge of the Walhalla Plateau with stunning views of Vishnu Temple and the South Rim. Enjoy a night by yourselves on the edge of the world and take in unparalleled night skies. One of the best North Rim trails.
Join a Guided Grand Canyon National Park Backpacking Trip
Joining a Grand Canyon backpacking tour  is a worry-free, adventurous way to experience Grand Canyon National Park. With your gear, meals, local transportation, permits, and fees taken care of for you, you can travel light and focus 100% on enjoying the hiking experience, while the guide company takes care of everything else. Also, by going with local experts you'll enjoy a greater level of safety and gain a much better understanding of the history and ecology of this remarkable region. Read more about  guided Grand Canyon backpacking trips.
All-inclusive Grand Canyon Backpacking Trips

When to Hike and Seasonal Considerations
The North Rim visitor services and facilities are seasonal and are closed from October 15 to May 15. The North Rim is at 8,000 ft above sea level and typically has much cooler weather than the South Rim, especially at night. Make sure to check North Rim weather before your visit.
Necessary Permits
Day Hike Permits
No permits are required to day-hike Widforss Trail.
Backpacking Permits
Permits are required to camp in Grand Canyon National Park. For more information on Grand Canyon's permit system, click here.
Suggested Packing List
Day Hike Packing List
3-6 liters of water (more in summer)
Salty, calorie-rich snacks
lunch
backpack
trekking poles
crampons (in winter)
wide-brimmed hat
sunscreen, sunglasses
cotton t-shirt (spring-fall)
non-cotton t-shirt (winter)
warm non-cotton layer
1st-aid kit
Backpacking Packing List
all items listed for day hikes PLUS
multi-day backpack
3-season tent
sleeping bag
sleeping pad
headlamp
backpacking stove and fuel
backpacking meals
3 pairs wool socks
warm clothes, gloves, and hat (winter)
extra t-shirts
Please Respect Our National Parks – Leave No Trace
We strongly recommend abiding by all Leave No Trace ethics guidelines and practices so that our national parks and public lands are preserved for the enjoyment of future generations and for the people and animals who call these places home. Simple things like packing out your trash, obeying national park rules, and respecting the peace and quiet of our national park trails is a great start. If you're going on a backpacking trip, you can read about more about the 7 Leave No Trace Principles.