Visiting Patagonia: Torres del Paine or Los Glaciares National Park?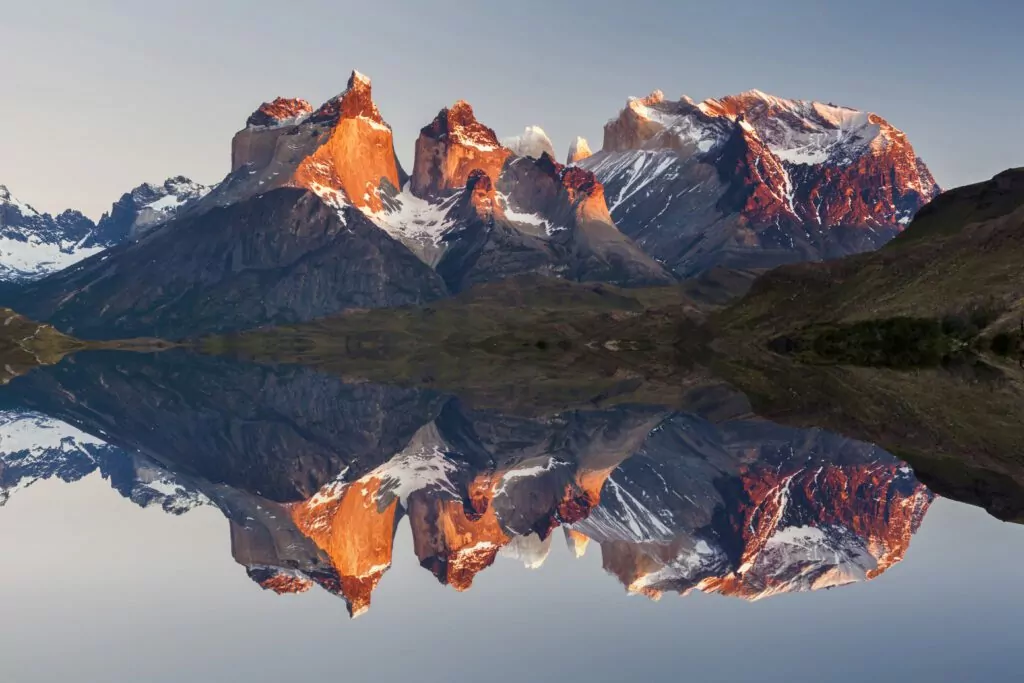 In recent years, Patagonia has swooped in to secure the number one spot on many travelers' bucket lists. A far corner of the world, this remote region in South America covers the southernmost tip of the continent. It spans two countries—Chile and Argentina—and incorporates vast ecosystems of mountains, grasslands, glaciers, and islands. While it is impossible to see all that Patagonia has to offer in one trip (or in one lifetime), you can pack in the sights by visiting some of the region's national parks. Torres del Paine and Los Glaciares are two of the most-visited parks in Patagonia—for good reason. While the Chilean side (Torres del Paine) is known for its towering mountains, alpine lakes, and temperate rainforests, Los Glaciares, on the Argentinian side, is known for the massive ice sheets, glaciers, and expansive steppes. Oh, and Fitz Roy, of course.
If your itinerary allows, both of these parks provide numerous options for trekking, sightseeing, and exploring. But what if you only have time to visit one? We'll dive into the details of both Torres del Paine and Los Glaciares: activities, accommodations, hiking trails, and gateway towns. Then, we'll breakdown the pros and cons of both national parks so you can make the most of your time in Patagonia based on your travel style.
Torres del Paine National Park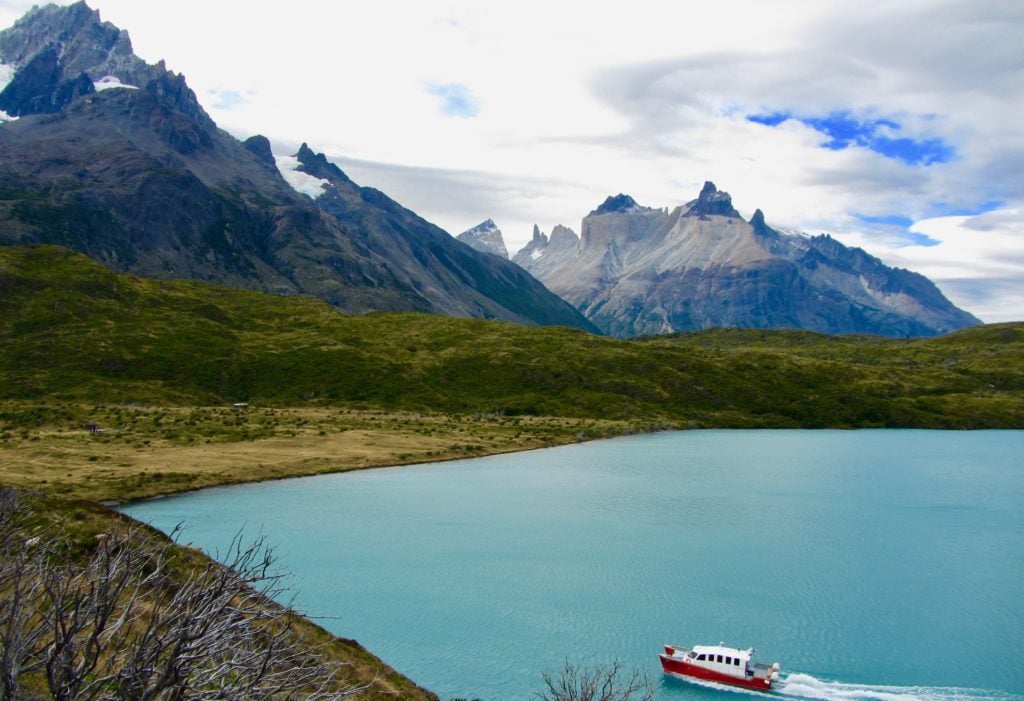 Activities
Multi-Day Trekking
Two of the most famed treks in the park are the W Trek and the (longer) O Circuit. The W Trek weaves its way through the Towers of Blue so that hikers can experience the park's most iconic sites on one delightful hiking route. On this four or five day trek, you can hike along the edge of glacial lakes with only a day pack and stay in lodges or refugios. You'll see the Valle Francés, the Base of the Towers, and Glacier Grey (from afar). Because you're hiking between developed areas of the park, you have the option to add on a kayaking excursion to get up close to the glacial ice and gaze into blue crystalline tunnels and icy crevasses.
For those looking to extend their trek, the O Circuit continues onward to get a view of the backside of the park that viewer visitors get to experience. As you go up and over John Garner Pass, the Grey Glacier lies below you, filling the valley with ice. This longer trek offers hikers additional views of the Paine Massif and a little more solitude. The accommodations along the W Trek and the O Circuit book out in advance, so make your reservations ahead of time.
In addition, a few other multi-day trails exist for those looking to get deep into the wilderness. For example, treks into the Pingo Valley and Badar Valley take you to remote camps at the valley's end. These treks are only accessible with a guide in order to protect the remaining wilderness that Patagonia has to offer.
Day Hiking
If you're not up for a multi-day trek, you can reach some of the park's most impressive sights by day hiking. Mirador Las Torres, is perhaps the most well-known of them all.  On this 11-mile roundtrip hike, you'll reach the shores of the milky blue glacial lake which perfectly frames the peaks that give Torres del Paine its name.
But there's more to this park than just its iconic treks. Laguna Azul gives you panoramic views of the Paine Massif from a lesser-visited trail, the Fauna Trail offers higher wildlife-sighting opportunities, and the French Valley accesses the middle of the W-Trek without the need for an overnight. Whether you're looking for a quick family-friendly hike or an all-day quad-buster, you'll find just the right hike in Torres del Paine.
Sightseeing & Kayaking
Torres del Paine is well set up for roadside sightseeing, with its extensive road network and in-park development. Lodges are nestled amongst the mountains and lakes, providing front-door access to some of Patagonia's most stunning sights. However, you can't get good glacier views without taking to the trails or getting out on the water. Unless you plan to hike the entire O Circuit (a multi-day trek), you can only view the Grey Glacier via boat or kayak tour. However, if you're happy viewing the glacier from a distance, you can hike to a viewpoint along the W Trek.
Kayaking Lago Grey to the face of the Grey Glacier is an unforgettable experience. Begin at Refugio Grey (a backcountry hut along the W and O Circuits) for a half-day excursion to the glacier, or kayak around the lake from Hotel Lago Grey to paddle amongst the broken icebergs.  For more experienced kayakers, rumbling rivers flow through glacially-carved valleys. Multi-day paddles down the Serrano and Grey rivers are a thrilling addition to any trip.
Wildland Trekking offers a 6-day lodge-based Torres del Paine trip that includes boat shuttles and a day of kayaking on Lago Grey. On day three,  you'll paddle along the Pingo River, where you can reach out and touch the broken icebergs. Then, on day five, you'll return to the lake on a catamaran for a two-hour tour to the face of the Grey Glacier. If you've ever dreamed about sipping on a Pisco Sour made with fresh glacier ice, now is your chance.
Gateway Town: Puerto Natales
Puerto Natales is a waterside town that serves as the gateway to Torres del Paine. You can walk the town on foot and have plenty of access to outdoors stores, gas stations, grocery stores, and lodging. (You can get gas & groceries in the park, but expect prices to skyrocket once you leave Puerto Natales!) If you're staying in town, you'll have plenty to explore. Take a walk on the boardwalk by the water, or check out the Museo Historico to learn about the history of this small town, including the  life of local indigenous tribes before colonization. Many local restaurants, like the microbrewery Baguales or the charming Cafe Artimaña, add vibrancy to the food scene in this small town.
Accommodations
When visiting Torres del Paine, you have a few options for accommodations. You could stay in Puerto Natales, an hour and a half from the park border. If you're planning a multi-day trek, this is the perfect place to stay before and after you return. Treat yourself to some luxury by staying at the stunning Hotel Remota and soaking in their hot tub post-hike, or opt for the family-run Hostal Amerindia for personalized service and quick access to town. Puerto Natales has cheaper lodging than in the park, and the accommodations don't book up quite so far in advance.
As a second option, you could stay in the national park to be closer to the action. Hotels in the park place you right in the middle of it all, while refugios and backcountry campgrounds provide a more rustic way to experience the park. However, all accommodations in the park book well in advance, so reserve your bed as early as you can. If you plan to embark on multiple day hikes in Torres del Paine, staying in the park would cut out significant driving time so you could focus more on enjoying the park.
Backcountry Refugios
Refugios are backcountry huts that line the hiking paths in Torres del Paine. Similar in style to hostels (but with better views), these rustic accommodations will fill hiker's needs after long days on the trail. These refugios provide bedding and three meals for weary hikers, so it is possible to carry only a day pack on a multi-day trek. These refugios are comfortable, but they aren't exactly hotels: except dorm-style beds, shared bathrooms, and hot showers. (Some even have Wi-Fi for purchase, but don't expect a strong signal.) Enjoy camaraderie with travelers from all around the world as you settle in and swap stories at the end of the day. And before you hit the trail in the morning, stock up on snacks and goodies for your day's adventure.
Getting To Torres del Paine
Torres del Paine sits on the border of Chile and Argentina in the Chilean Magallanes region, far from any major city. Traveling to the region is just part of the adventure.
The best way to get to Torres Del Paine is to catch a flight from a major city to Punta Arenas or El Calafate, two of the closest cities with airports. If you're coming from Punta Arenas, buses run consistently to Torres del Paine's gateway town, Puerto Natales — a 3-hour journey away. From El Calafate (in Argentina), you can take a bus or rental car to Puerto Natales; either option takes around 5.5 hours due to the border crossing. In November through March (Patagonian summer), Bus Sur operates daily from Punta Arenas, and Tuesdays through Sundays from El Calafate. Book your bus in advance through Pasaje Bus or Recorrido.
Beginning in 2017, Puerto Natales got its very own airport. While flights are still infrequent, you can fly direct from Santiago to Puerto Natales and back. This airport is generally serviced by Sky Airline and LATAM from December through March, so check the airlines' websites for up-to-date flights. Book these flights in advance to ensure you'll be able to reach your destination on your desired dates.
Puerto Natales to Torres Del Paine
From the gateway town of Puerto Natales, you'll still be two hours(80km) from the park gate. Buses run regularly from October through April to numerous destinations in the park. Two entrances (Laguna Amarga and Serrano) offer visitors different experiences of the park. Each trek has a specific starting point, so check the map before you hop on the bus.
If you plan to drive, check the park's website for information about the access road options. Whether you travel by bus or car, you're required to pay an entrance fee of $35 per person (or $25 if you plan on visiting for less than three days). A full list of fees is available on the park's website.
Los Glaciares National Park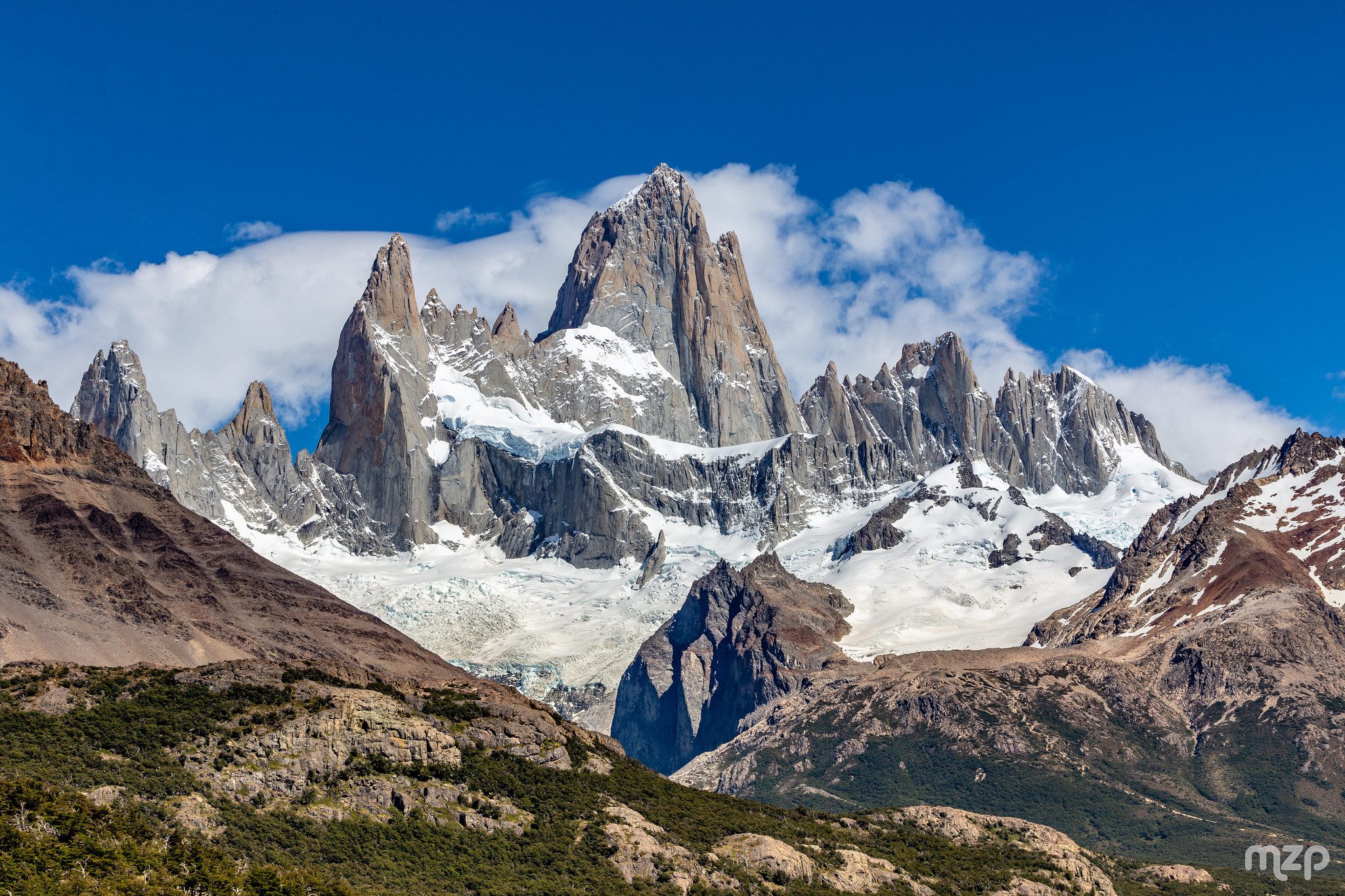 Los Glaciares certainly lives up to its name. Home to 47 large glaciers (and many smaller ones), this national park features some of the best glacier viewing in the world. Among them, Perito Moreno is the biggest and most accessible glacier. It stretches over 20 miles long and terminates at Lago Argentino, where chunks of ice calve into the turquoise blue waters. Adventurous visitors strap on crampons and grab an ice axe for an exciting hike onto the blue ice.
This park caters to hikers and backpackers: you'll need to hike to get the views. Roadside tourists may be disappointed by the lack of road access, but the gateway town of El Chalten is just a stone's throw away from the mountains — quite literally. While this UNESCO World Heritage Site covers 2,800 miles, the Patagonia Ice Sheet makes up over 30% of the park. No roads cross through the park. You'll work harder for your views in this park, but stunning night skies, little light pollution, and fewer visitors reward your efforts.
Activities
Multi-Day Trekking
If you want to stay inside the park, you'll need to do an overnight backpacking trip. Unlike Torres del Paine,  there are no backcountry refugios, so you must carry in all your supplies. These treks are well-suited for experienced backpackers looking to escape the day crowds.
The multitude of backpacker's camps and close distance to town make the harsh environment of Los Glaciares an otherwise accessible backpacking destination. Once again, this park does not feature refugios, like in Torres del Paine, so backpackers have to hike in their gear and set up camp at one of the designated areas. Camping in the Los Glaciares backcountry is free, and one of the most affordable ways to experience this national park. During the high season, these designated sites get crowded. Opportunities abound for both beginner and experienced trekkers. For example, if you're looking to get some primitive camping in while escaping the day hiking crowds, you can turn two of the most popular trails—Laguna de los Tres and Laguna Torre—into a three-day backpacking circuit. Or, hit the Huemel Circuit to dive into the rugged backcountry of Los Glaciares. However, this trek requires route-finding skills and should only be attempted by experienced backpackers (or those with a guide!)
Day Hiking
Day hikers will rejoice at the opportunities in Los Glaciares. Most day hikes begin in El Chalten: you'll have no need for a rental car here. All you have to do is walk out the door and hit the trail. But just because they are day hikes doesn't mean they are easy. Most of the hikes in this region are long and require significant elevation gain. For example, Laguna de los Tres is 15.5 miles roundtrip, while Laguna Torre is 11.8 miles roundtrip. Despite their long mileage, these are two of the most popular treks in the park and see a lot of traffic (However, these trails are less busy than the popular trails in Torres Del Paine.)
Shorter day hiking options exist from both El Calafate and El Chalten. From El Calafate, you can take a guided ice-hike tour onto the Perito Moreno glacier. In El Chalten, Laguna Capri (5 miles roundtrip) and Mirador de Los Condores (2 miles roundtrip) both make great options for those looking to stretch their legs.
Sightseeing & Kayaking
One huge draw of Los Glaciares is the Perito Moreno Glacier and the network of boardwalks that make this glacier so accessible to tourists. From El Calafate, you'll have to drive a couple of hours into the park. Once inside the park entrance, you'll be able to park close to the headwall of the glacier. As you walk the boardwalks, you'll be facing towering blue ice, where icebergs calve regularly and crash into the rippling lake below.
If you want an even closer look without having to hike, boat tours leave daily so you can see Lago Argentino and the Perito Moreno Glacier from the water.
Gateway Towns
Los Glaciares has two gateway towns: El Calafate and El Chalten. While El Chalten is known for its superb hiking access, El Calafate provides front-country experiences and boat access to the Perito Moreno glacier.
El Calafate
If you plan to visit Los Glaciares, your best bet is to fly into El Calafate. It is the closest town to the park with an airport. El Calafate is a great basecamp for those looking to embark on guided excursions. Many companies operate out of El Calafate and offer horseback riding, ice hiking, kayaking, or boat tours. One of the primary destinations in this area is the Perito Moreno glacier. While many of the park's access areas are free, the Perito Moreno entrance is the only region of the park where you must pay an entrance fee.
While El Calafate has a lot to offer, many travelers will want to continue on to El Chalten to check out the northern end of the park (especially if you plan to hike!) After a few days in El Calafate, travel by bus or rental car to El Chalten, three hours north.
El Chalten
El Chalten is a hiking and climbing hub; a small mountain town filled to the brim with restaurants, breweries, grocery stores, and outdoor gear shops. The town is barely a mile long, but offers everything you need for your adventure basecamp. The colorful houses and tin-roofed architecture feel right at home against the craggy backdrop of the mountains. If you walk around town, you might even catch sight of the pinnacle-y peak of Mount Fitz Roy reaching towards the sky.
El Chalten offers accommodations across price ranges, but most of the lodging sacrifice luxuries to cater to backpackers and climbers who frequent the town. Hiking trails run into Los Glaciares National Park from the edge of town, negating the need for a rental car. Guiding companies offer excursions onto the Southern Patagonian Ice Field for those looking for a unique, demanding experience.
Accommodations
Both El Chalten and El Calafate offer a variety of accommodations across all price points and travel styles. From high-end hotels, to hostels, to cabins, to primitive camping, you can find any type of lodging in both of these gateway towns. In addition, you can find developed campgrounds with basic amenities outside of El Calafate. Camping Lago Roca features an on-site restaurant, while campsites at Bahia Escondida give way to great views of the Perito Moreno glacier. For those looking to stay in Los Glaciares National Park, you can backpack into the park and set up camp for free at one of the designated backcountry campgrounds, such as Camp Poincenot or Camp Agostini.
Explore Your World. Award Winning Hiking Guides
So Which One Should You Visit?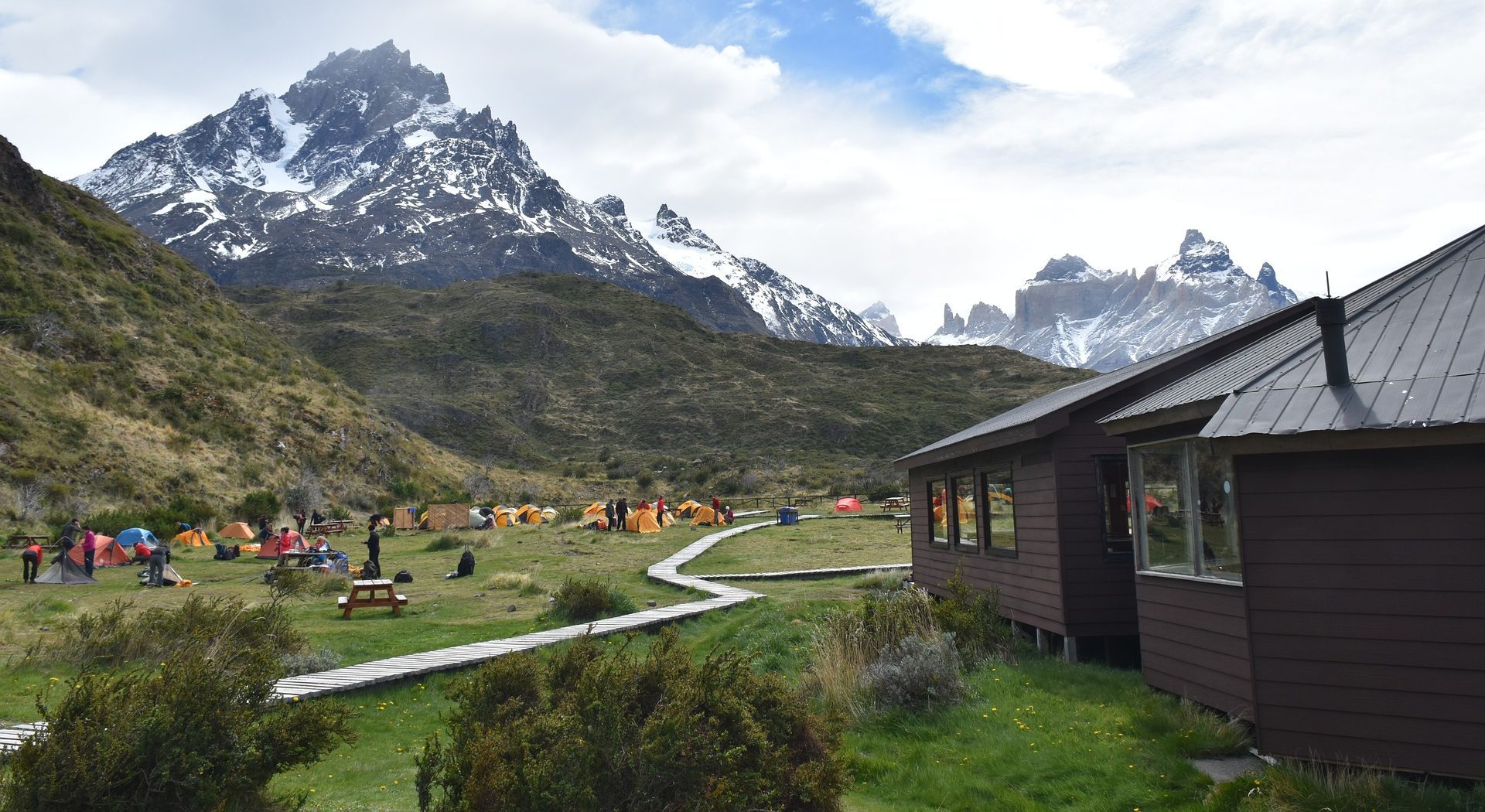 So now you know the ins and outs of each park, which should you visit? Both parks offer stunning mountain scenery, challenging hiking, and opportunities to head out on guided excursions to walk on or paddle around glacier ice.
Torres Del Paine
Torres del Paine's jagged mountain massif and glacial lakes are undeniably beautiful, and worth a visit for most every traveler. As long as you're prepared to handle some crowds along the trail (and brave some high winds), you won't be disappointed by the magnificent Patagonian scenery. This national park is also well-suited for those looking for roadside views and low trail mileage options, like if you're traveling with kids! Budget travelers may be discouraged by the high-price entrance fee and refugios, and last-minute planners may prefer to head to Los Glaciares where you don't have to book backpacking accommodations in advance.
Pros
Multi-day hiking options for all ability levels
You can hike entire backcountry trails with only a day pack by staying in refugios
More roadside vistas & road access to the park's center
Greater wildlife viewing opportunities
Cons
Glacier viewing by boat or kayak only (although you catch sight of the Grey Glacier along the W Trek, from a distance)
You'll pay a steep per person entrance fee
Not very budget-friendly. Accommodations are pricier, and park access is best via rental car.
Accommodations book out far in advance; you need to make reservations for lodging, refugios, and campsites ahead of time.
Los Glaciares
While Torres del Paine gets most of the attention, Los Glaciares is a hiker's paradise for those looking to put in some miles. The casual climber vibe and the trail access from El Chalten make this small mountain town feel like home as you settle in for a drink after a full day of hiking. Visitors can find some of the most accessible glacier viewing at the Perito Moreno Glacier, but guiding companies also provide more adventurous glacier excursions for those who want to venture beyond the boardwalks. Fitz Roy and the surrounding mountains rival the Paine Massif, so you won't sacrifice the mountain views.
Pros
There is little need for a rental car because several day hikes start from El Chalten
Less crowded than Torres del Paine National Park
El Chalten offers accommodations across price ranges
Great night skies with little light pollution
Supreme trail-side glacier viewing
No entrance fee from El Chalten
Cons
If you want to stay in the park, you must do an overnight backpacking trip.
Absence of refugios like in Torres del Paine
Not as many family-friendly hiking trails
Explore Your World. Award Winning Hiking Guides
Wildland Trekking Hiking Adventures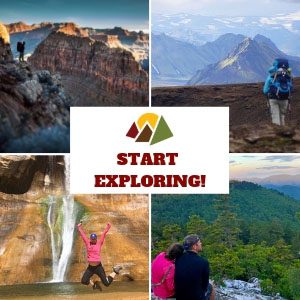 As the world's premier hiking and trekking company, Wildland believes in connecting people to fantastic environments in amazing ways. Wildland Trekking Company offers an array of incredible hiking and trekking experiences across 9 states and 11 countries. Read more about our United States destinations and International treks.
To learn more about our guided backpacking trips and all of our award-winning hiking vacations, please visit our website or connect with one of our Adventure Consultants: 800-715-HIKE