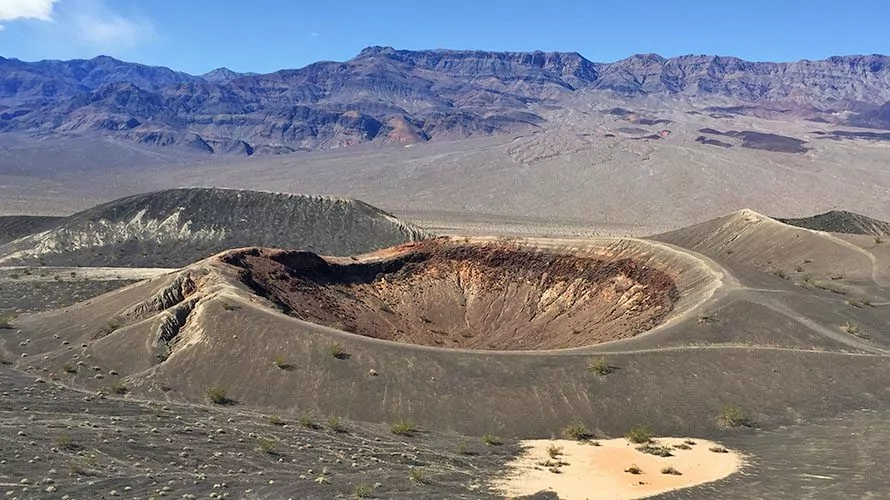 Ubehebe Crater Trail
General Description
Ubehebe Crater is a stunning testament to Death Valley's violent volcanic past.  At 600 feet deep and one half mile across, Ubehebe is the largest of a series of craters that pockmark the area.  Take a walk along the loop trail at the rim of the crater and explore several other smaller, more eroded craters. From the high point along the rim, observe the massive blanket of grey-black cinder; the result of Ubehebe's eruption. Another great way to experience the enormity of Ubehebe is to take the short but steep trail to the bottom of the crater.  Although the 600 feet of elevation gain to come back up doesn't sound like much, it can seem twice as far when hiking up the steep, loose cinder trail.  Hikers of all ages and abilities are sure to have a blast at Ubehebe Crater.
Explore Death Valley with Expert Guides
Getting to Ubehebe Crater
From the Furnace Creek Visitor Center drive 17.4 miles west on CA-190W to Scotty's Castle Road.  Turn right onto Scotty's Castle Road and drive 33.4 miles to Ubehebe Crater Road.  Stay Left at Ubehebe Crater Road and drive 5.3 miles to the Ubehebe Crater Parking Area.  The final approach to the parking area is on a one-way loop. Take the loop counter-clockwise as the signage indicates and do not take the turnoff for The Racetrack (unless that's where you are headed.) There are no restrooms at the trailhead, so be sure to stop at the Grapevine Ranger Station at the turn onto Ubehebe Crater Road.
And BOOM goes the Maar Crater
Standing on the rim of Ubehebe Crater is an awe-inspiring experience. A hike to the highest point along the rim reveals multiple smaller craters clustered around the area and really offers perspective on just how powerful these events were. The grey volcanic cinder can be seen stretching out for several miles.  So what exactly created these craters?  As recently as 300 years ago, pockets of liquid hot magma came into contact with groundwater causing a massive steam pocket to form and violently burst. Each one of these steam pockets formed the craters we see today, known as maar craters. The older the crater, the more eroded and shallow it is.  One of the youngest and best preserved craters is Little Hebe, located on the southern edge of Ubehebe.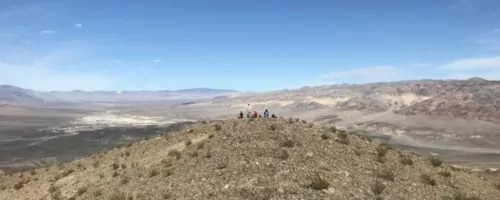 3 Ways to Experience Ubehebe Crater
Ubehebe Crater is an awesome and wildly unique sight in Death Valley National Park.  Here are some options for exploring this natural wonder:
| | | | | | |
| --- | --- | --- | --- | --- | --- |
| | Destination | Miles | Elev | Difficulty | Style |
| | Little Hebe Crater | 1 mi | 200 ft | Easy | Out and Back |
| | Ubehebe Crater Rim Trail | 2 mi | 350 ft | Moderate | Loop |
| | Crater Floor | 0.5 mi | 500 ft | Moderate | Out and Back |
1. Little Hebe Crater
This hike will take you along Ubehebe Crater's western edge to the youngest of more than a dozen craters that pockmark the landscape.  Starting from the Ubehebe Crater viewpoint, take the rim trail to the right (south) following signage to Little Hebe.  At 0.25 miles, there will be a split in the trail.  The right fork is a little more adventurous following along the rim of an older unnamed crater and offers stunning views of the gray volcanic tuff badlands. The left and right forks rejoin after 0.3 miles at the rim of Little Hebe Crater.  The sharp lines of volcanic cinder are evidence of just how young Little Hebe is.  Take a loop hike around Little Hebe and return the way you came or continue around the rim of Ubehebe Crater.
2. Ubehebe Rim Trail
Hiking the entire rim of Ubehebe Crater is a great way to get away from the crowds at the viewpoint and really experience the crater.  This 2 mile hike is best completed counterclockwise.  This gets most of the elevation gain out of the way in the first half mile.  You will also get to the high point along the rim faster to take in views of the expansive debris field left behind by Ubehebe's violent birth.  Watch small children closely and avoid hiking too close to the edge.  The volcanic cinder underfoot is very unstable and footing can be treacherous.  Try to avoid hiking off established and visible trails.  As barren as it looks, this landscape is still home to sensitive plant and animal life.
3. Crater Floor
A view from the floor of Ubehebe Crater is the quintessential way to experience the magnitude of this natural wonder.  The trail to the bottom starts right at the viewpoint and drops 500 feet over 0.25 miles. This steep descent is fun and easy as the loose, deep cinder cushions every step down.  Once at the bottom, explore the dry, cracked mud and vegetation that makes up the crater floor.  Now comes the hard part.  There are two options for exiting the crater, neither of which is forgiving.  Facing the viewpoint, the left trail is steeper and looser, but the shorter of the two.  The right trail is slightly longer and the cinder isn't quite as deep.  Unless you are a glutton for punishment, this is the better option.
Maximize Your Visit to Death Valley National Park on a Hiking Tour
Guided multi-day packages allow visitors the opportunity to make the most of their time in Death Valley National Park and to do it hassle-free. Guided tours include gear (backpack, trekking poles, crampons in winter), meals, accommodations, local transportation, and a professional Death Valley hiking guide. Through their knowledge, stories, and personal passion, guides can bring a place to life in a way that's much more difficult to do on your own. Read more about Death Valley Hiking Tours.
Award Winning USA Hiking Vacations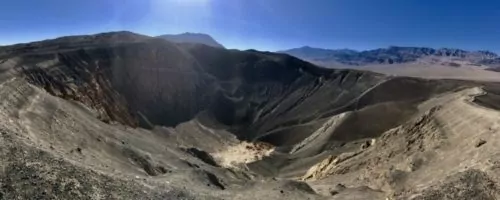 3 Day Hikes near Ubehebe Crater
Ubehebe Crater is an incredible sight and makes for a great half day in Death Valley National Park.  Check out these other nearby hikes to fill up your day in the park.
| | | | | | |
| --- | --- | --- | --- | --- | --- |
| | Destination | Miles | Elev | Difficulty | Style |
| | Fall Canyon Trail | 6 mi | 1500 ft | Moderate | Out and Back |
| | Titus Canyon Road | N/A | N/A | Easy | Out and Back |
| | Thimble Peak Trail | 3 mi | 1600 ft | Moderate-Strenuous | Out and Back |
Easy access, gentle grade, and colorful canyon walls extending 2000 feet above make Fall Canyon an outstanding hike in Death Valley National Park. Dropping into the wide wash of Fall Canyon, you will immediately know that you are in for something big.  Along the hike, the canyon walls display vibrant reds, whites, blacks, and greys of geologic strata uplifted at varying angles.  Wind your way up canyon passing intriguing side canyons to the base of a 20 foot dry fall.  For most, the adventure stops here.  A short stroll back will reveal a short slope scramble to bypass the falls on the south side.  Adventurous souls will be treated to a beautiful section of narrows above the dry fall.  The stunning narrows of lower Titus Canyon are a great way to add on a few miles. Whatever you fancy, Fall Canyon is a sure bet for a great hike.
Titus Canyon is one of the deepest and most awe-inspiring canyons found in Death Valley National Park. If you're up for an incredibly scenic back country road, drive the 27 mile Titus Canyon Road, a narrow, twisting, one-way thrill ride.  A high clearance vehicle will take adventurers up to the vibrantly colored hills of Red Pass.  From here take a hike to nearby Thimble Peak, or descend into the Leadfield ghost town.  Beyond Leadfield lies the lush Klare Spring and ancient Native American Petroglyphs. No high clearance? No problem!  Hikers can stroll up the 1.5 miles of Titus Canyon's astounding narrows, in some places only 20 feet wide and hundreds of feet deep.  Check out nearby Fall Canyon if you are looking to put in a few more miles of hiking. However you choose to explore, Titus Canyon is a must do for any trip to Death Valley National Park.
If you happen to be taking a drive on the amazing Titus Canyon Road, then why not take a break and bag an equally amazing peak.  At just 5 miles round trip and a little over 1300 feet of total elevation gain, Thimble Peak is the best high return hike for minimal effort in Death Valley National Park.  The trail begins on the south side of Red Pass (you'll know when you get there). From here, follow the well-worn path up the ridgeline to the base of Thimble's sheer limestone cliffs.  It may look intimidating initially, but the path is a series of careful switchbacks straight up the northern ridge.  From the summit, the outstanding views rival those from even Telescope Peak.  Although it is a relatively tame hike, exercise extreme caution on the final approach as it involves some steep, loose, and partially exposed scrambles. Enjoy the view!
Join a Guided Death Valley National Park Backpacking Trip
Joining a Death Valley backpacking tour is a worry-free, adventurous way to experience Death Valley National Park. With your gear, meals, local transportation, permits, and fees taken care of for you, you can travel light and focus 100% on enjoying the hiking experience, while the guide company takes care of everything else. Also, by going with local experts you'll enjoy a greater level of safety and gain a much better understanding of the history and ecology of this remarkable region. Read more about a guided Death Valley National Park backpacking trip.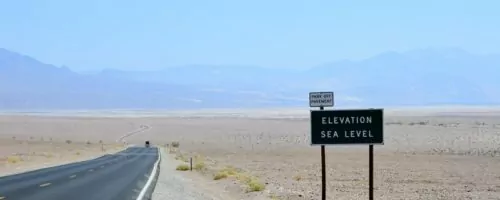 When to Hike and Seasonal Considerations
Ubehebe Crater is accessible year round, but the best time to take a hike here is mid fall to mid spring.  Summertime temperatures can easily soar into the triple digits and there is no shade to be found.  Early morning and late evening can cast amazing shadows and light on the craters and surrounding badlands.  Keep a close eye on small children and stay well away from the edge of the crater.  The loose volcanic cinder can make for hazardous footing near the steep slopes of the craters.
Necessary Permits
Day Hikes
No permits are required for day hiking in Death Valley National Park.
Backpacking Permits
Backcountry camping permits are voluntary and may be obtained at the Visitor Center or any Ranger Station. Due to the extreme environment and remoteness, it is recommended that solo hikers and backpackers provide itinerary information and emergency contacts to park personnel.
Suggested Packing List
Day Hike Packing List
3-4 liters of water per person
Salty, calorie-rich snacks
lunch
backpack
trekking poles
crampons (in winter)
wide-brimmed hat
sunscreen, sunglasses
cotton t-shirt (spring-fall)
non-cotton t-shirt (winter)
rain jacket
warm non-cotton layer
1st-aid kit
Backpacking Packing List
all items listed for day hikes PLUS
additional water AND water filter/purification method
multi-day backpack
3-season tent
sleeping bag
sleeping pad
backpacking stove and fuel
backpacking meals
2-3 pairs wool socks
extra t-shirts
Please Respect Our National Parks – Leave No Trace
We strongly recommend abiding by all Leave No Trace ethics guidelines and practices so that our national parks and public lands are preserved for the enjoyment of future generations and for the people and animals who call these places home. Simple things like packing out your trash, obeying national park rules, and respecting the peace and quiet of our national park trails is a great start. If you're going on a backpacking trip, you can read about more about the 7 Leave No Trace Principles.