Tower Arch Trail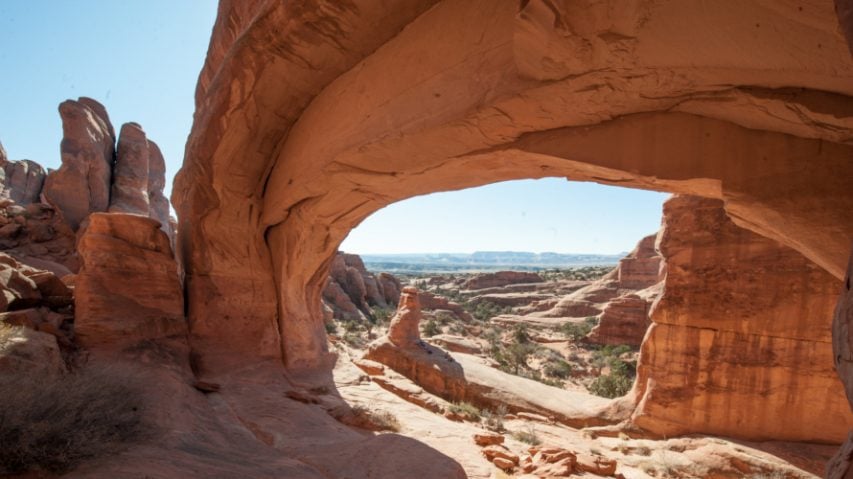 General Description
Tower Arch is a 92-foot spanning arch in a secluded corner of Arches National Park.  The trail weaves through sandstone fins, past Marching Men and leads to Tower Arch on a series of ups and downs.  This trail is great for families, and hikers who want to experience a large arch, up close and personal, without a large crowd.
Explore Arches National Park with Expert Guides
Getting to the Tower Arch Trailhead
The trailhead is off Salt Valley Road, which is 16 miles north of the entrance to the park.  Salt Valley Road is 7.7 miles to the first turnoff, an unpaved, unimproved 4-wheel drive road.  The road you are looking for is 1/10 of a mile after the first unpaved turnoff, and it is an improved road, suitable for all vehicles.  You will continue for about a mile on this road to the trailhead.
History of the Tower Arch Trail
On the south pillar of Tower Arch is the inscription: "Minaret Bridge, H.S. Bell 1927".  It is believed that Bell was the first person to discover what is now called Tower Arch.  In 1933, however, the Arches National Monument Scientific Expedition set out to explore the area, led by Frank Beckwith.  It was Beckwith and his team of scientists that named this feature "Tower Arch".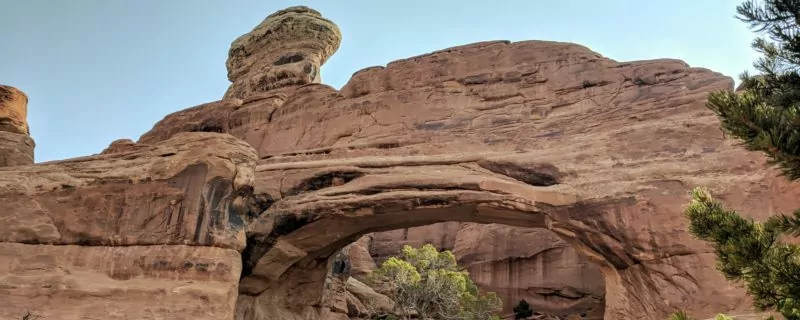 3 Best Day Hikes on the Tower Arch Trail
These three easy to moderate hikes are a great way to experience seclusion and solitude.  There is only a slight overall elevation gain, and there are great views along the way.
Below are the primary options for day hiking the Tower Arch Trail:
| | | | | | |
| --- | --- | --- | --- | --- | --- |
| | Destination | Miles (roundtrip) | Elev | Difficulty | Style |
| | Marching Men | 2 mi | 80 ft | Easy | Out and Back |
| | Tower Arch | 5.2 mi | 100 ft | Easy | Out and Back |
| | Tower Arch Loop | 6 mi | 110 ft | Moderate | Loop |
1. Marching Men
Halfway between the trailhead and Tower Arch is a rock formation called Marching Men.  Carved out of an enormous eroding sandstone fin, this series of tall spires resembles soldiers standing at attention.  This is a great place to take in your surroundings, the Klondike Bluffs in the distance, the vast open desert in front of you, and these lurking spires above you.  Stop here and take a moment in silence to listen to nature's calls around you, it is not often in Arches National Park that you aren't surrounded by tons of other visitors.
2. Tower Arch
Continue past the Marching Men, and the trail takes you on a series of ups and downs.  The trail itself is easy to follow, as it is well-marked and often travelled.  It should be noted, however, that all alongside the trail is very fragile crytobiotic soil.  Hikers should do everything possible to avoid walking off trail and crushing this delicate soil.  Once at Tower Arch, take a break and take in your surroundings.  If you find H.S. Bell's inscription on the pillar of the arch, remember not to add your own inscription to any arch in the park.  To learn more about Arches National Park's efforts to cover vandalized stone, click here.
To get back to the trailhead, simply turn around hike out the same way you came in.
3. Tower Arch Loop
If you wish to extend your trip on Tower Arch trail, you can hike past the Tower Arch for 1/3 of a mile, afterwhich, the trail will meet up with Tower Arch Road.  This is a rarely used 4-wheel drive road.  You will hike along this unpaved road for approximately 3 miles before reaching Salt Valley Road.  Once on Salt Valley Road, you will walk 1/10 of a mile until you reach the road to the trailhead, which you will be on for 1.3 miles to your car.
The Tower Arch loop trail is great for hikers who seek solitude in a busy park.  It is easy to escape the crowds in this secluded corner of the park, and especially if you go the extra mile and do this 6 mile loop.
Maximize Your Visit to Arches National Park on Hiking Tour
Guided multi-day packages allow visitors the opportunity to make the most of their time in Arches National Park and to do it hassle-free. Guided tours include gear (backpack, trekking poles, crampons in winter), meals, accommodations on multi-day tours, local transportation, and a professional Utah hiking guide. Through their knowledge, stories, and personal passion, guides can bring a place to life in a way that's much more difficult to do on your own. Read more about Arches and Canyonlands Hiking Tours.
Award Winning USA Hiking Vacations
When to Hike and Seasonal Considerations
The summer gets very hot in Arches National Park, and since this trail is in the secluded northwest corner of the park, it is recommended to fill your water before getting on Salt Valley Road.  As with any hike in the park, remember to bring plenty of water and salty snacks.  Check the weather for the park here, and look at NPS' alerts and conditions here.
Necessary Permits
Day Hike Permits
Permits are not required to day hike Tower Arch Trail.  The only area that you need a day hike permit in Arches National Park is in Fiery Furnace.  You can read information on the Fiery Furnace permit system here.
Backpacking Permits
There are few, select places backpackers can go in Arches, all of which require obtaining a permit.  For more information on Arches' permit system, click here.
Suggested Packing List
Day Hike Packing List
3-6 liters of water (more in summer)
Salty, calorie-rich snacks
lunch
trekking poles
crampons (in winter)
sunscreen, sunglasses
non-cotton t-shirt
warm non-cotton layer
1st-aid kit
Please Respect Our National Parks – Leave No Trace
We strongly recommend abiding by all Leave No Trace ethics guidelines and practices so that our national parks and public lands are preserved for the enjoyment of future generations and for the people and animals who call these places home. Simple things like packing out your trash, obeying national park rules, and respecting the peace and quiet of our national park trails is a great start. If you're going on a backpacking trip, you can read about more about the 7 Leave No Trace Principles.