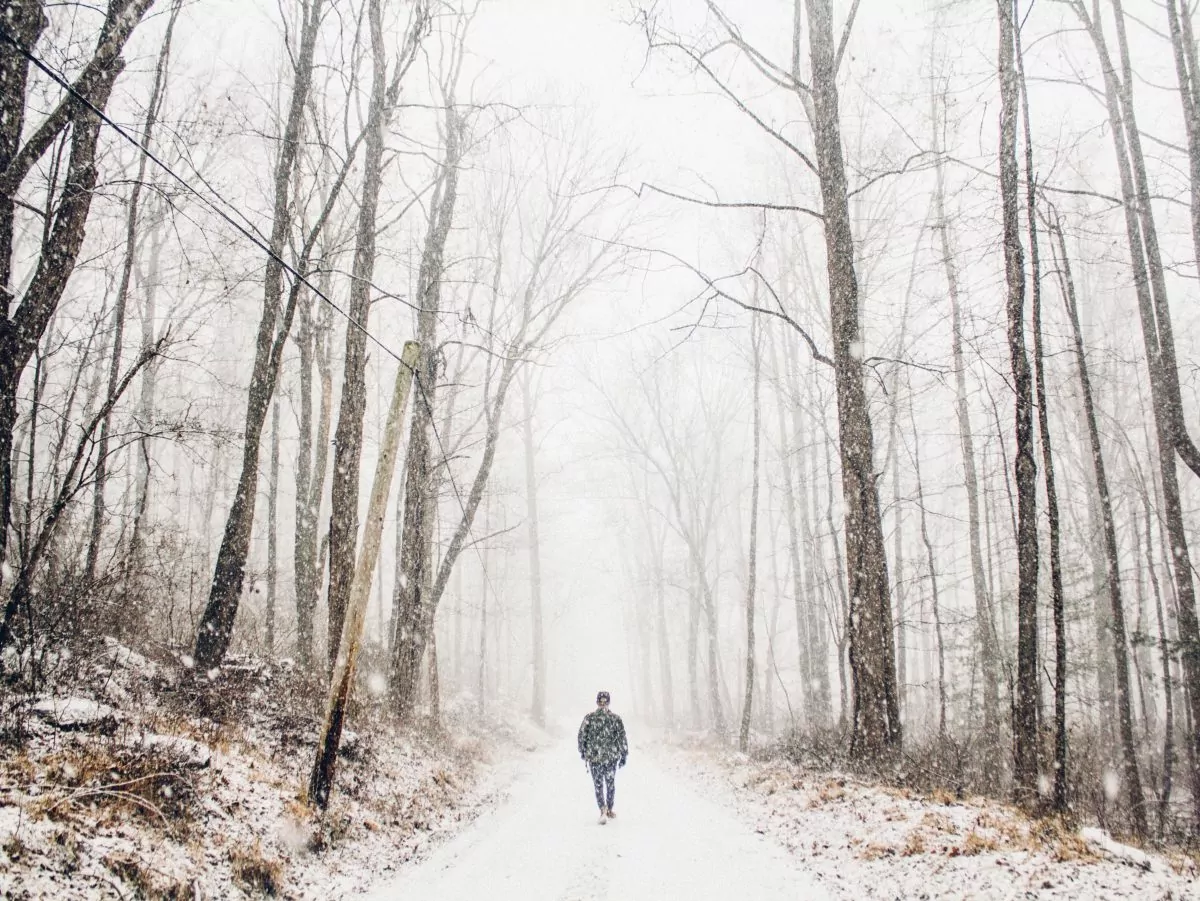 19 Winter Trails You Can Hike Without Snowshoes
When the first snow settles on the forest floor, many people believe the hiking season is over until it melts away in the spring. But if you venture onto trails during the winter, you'll find snow-dusted trees, frosted leaves, and low, moody sunlight. Waterfalls stop in mid-air as frozen rivers form castles and caves that melt away in the warmer months. Animals bound through the snow, leaving mazes of footprints for hikers to track. And as your boots crunch on the hardened earth, you'll relish in the silence that winter brings. And what's best, you can winter hike without snowshoes. 
You don't need to be an expert in winter hiking and backpacking to enjoy a snowy hike. Many trails all around the United States stay accessible for hikers year-round, without the need for snowshoes. You may want to grab a pair of microspikes, though—some of the trails on this list get icy.
Hiking year-round is a great way to train for your dream trip so that when you head out on a backpacking trip in spring or summer, you'll be up to the task. We've reached out to fellow outdoor and travel experts across the U.S. to find you the best trails to hike in the winter, no matter what part of the country you live in.
Pro Tip: Winter Hiking Can Be Dangerous
Winter hiking also has its challenges, so we've written an entire post dedicated to how to winter hike. Mountainous terrain and deep snowpacks introduce avalanche danger, while harsh weather keeps adventurers inside. If you don't have proper avalanche training, many mountain trails are off-limits until summer. When you're first trying winter hiking, it's best to take it slow. Choose a trail with easier terrain and less mileage than you would during the dry seasons. Then when you're ready, you can choose more difficult destinations (just make sure you've been educated in avalanche awareness if you plan on venturing into the mountains) or join a guided snowshoe trip. 
The West
1. Golden Canyon and Gower Gulch Loop, Death Valley, California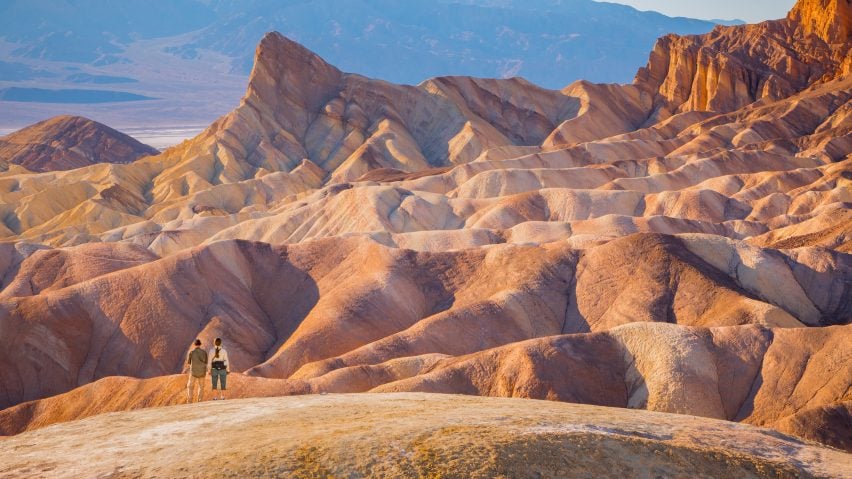 Length: 3 – 8 mile loop | Difficulty: Moderate | Snow Cover: None
If you're looking to escape all snowy conditions, Death Valley is flourishing during the winter months. The Golden Canyon and Gower Gulch Loop is a classic trail in this unique national park. You'll get to know the desert as you hike through the golden sandstone canyon, across the badlands of the Amargosa Mountains, and between tight canyon walls into the gulch. Modify the hike however you choose—whether you want a three-mile or eight-mile adventure.
2. Ousel Falls, Big Sky, Montana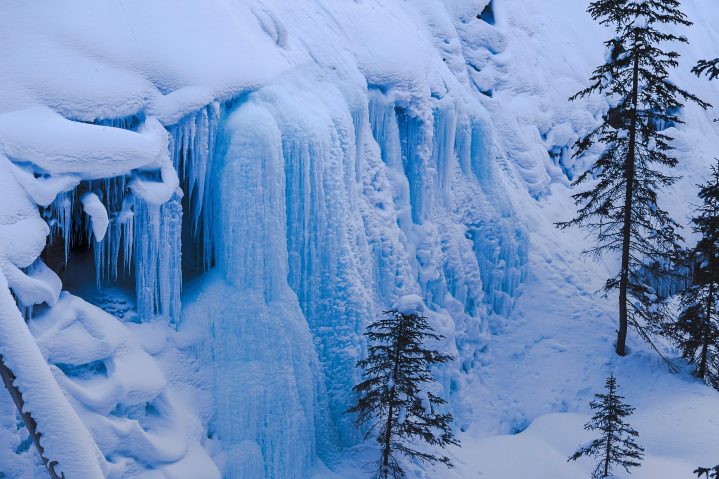 Length: 1.6 miles out-and-back | Difficulty: Easy | Snow Cover: Moderate + Icy
Ousel Falls is a stunning waterfall accessed by a short hike in Big Sky, Montana. Travel down the trail, across two wooden bridges (which look even more picturesque with a fresh dusting of snow), and to the waterfall. If it's frozen (which is likely), you may spot some ice climbers kicking their crampons into the falls. This waterfall is worth your time in the summer, but it makes an even better winter hike. 
While Big Sky usually gets enough snow to warrant snowshoes, the snow on this 1.6-mile trail is packed down by heavy traffic from locals and visiting skiers. Depending on the conditions, you'll want to grab the microspikes for this one!
3. Garden of the Gods, Colorado Springs, Colorado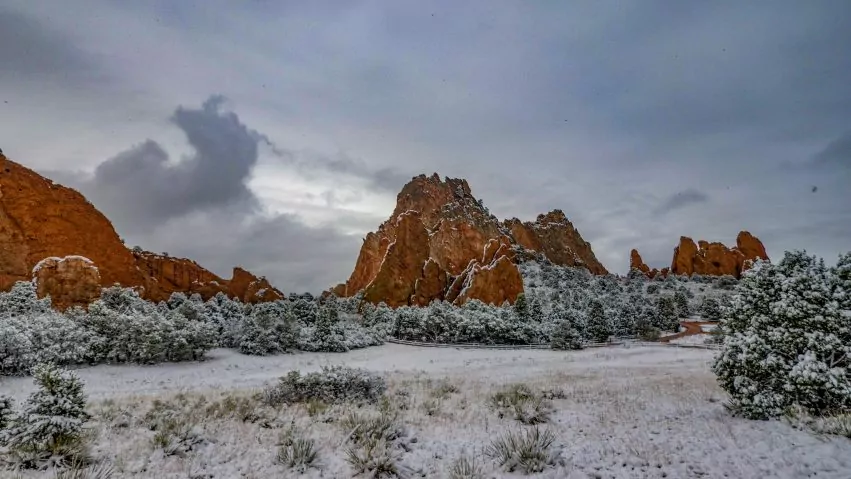 Length: 1 – 10 miles | Difficulty: Easy to Moderate | Snow Cover: Light
Daria Bachmann, founder and CEO of the popular travel blog Discovery Nut, recommends the Garden of the Gods in Colorado Springs for winter hiking. This stunning destination is located about an hour and twenty minutes south of Denver, Colorado. The three-mile Chambers/Bretag/Palmer Trail encircles most of the park and gets you out of the crowds and among the rocky hills, while the Perkins Central Garden Trail is a mile-and-a-half family-friendly path that leads you to the base of the tallest towers.
"Garden of the Gods is a perfect place for winter hiking. Many of its trails are paved and relatively flat, which means you can hike them in winter shoes. And the scenery of this place is second to none," Daria tells us. The entrance of the park is free. However, she recommends arriving early, as it is a popular destination.
4. Baker Lake Trail, North Cascades, Washington

Length: 1 – 38 miles out-and-back | Difficulty: Easy to Moderate | Snow Cover: None to Light
The Baker Lake Trail runs through old-growth forest along the shoreline of Baker Lake in the North Cascades. This low-elevation hike stays snow-free much of the year, and the rainy Washington winter keeps the forest green with life. You can access it from either the South or North trailhead—both of which offer great day hiking options. If you're heading from the south, try the eight-mile roundtrip trek to Maple Grove. This destination provides great views of the lake and surrounding mountains, where you can sit on the dock and watch the misty clouds roll over the peaks. The northern section of the lake provides access to the Baker River Trail, where a suspension bridge spans the confluence of the river and lake.
This is a classic winter hike without snowshoes. In fact, you probably won't even need microspikes. And if you're willing to put up with some rain, you can even backpack this trail year-round because of its moderate coastal climate.
5. Big Tree Trail, Sequoia National Park, California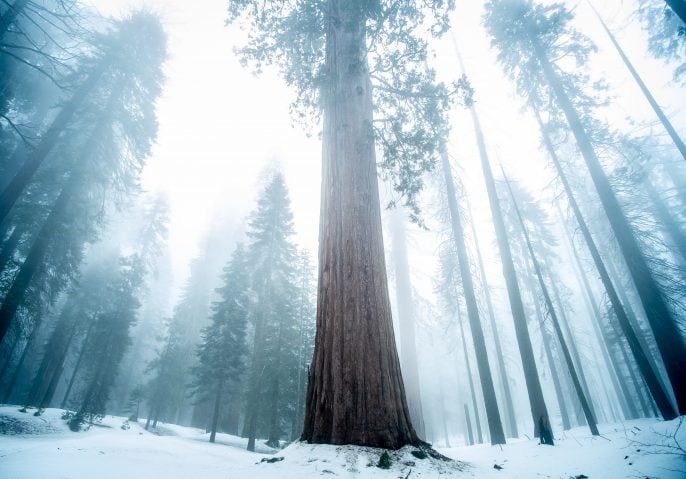 Length: 1.3-mile loop | Difficulty: Easy | Snow Cover: Moderate
The Big Tree Trail, a 1.3-mile loop in Sequoia National Park, is a winter favorite of Allison Green from California Crossroads. It's mesmerizing at all times of the year but snow covers the branches of giant sequoia trees and blankets the ground during the winter. "It's easy to do in winter conditions as it's a raised boardwalk trail that the National Park maintains during the winter. No need for snowshoes—though a pair of microspikes or Yaktrax would be a good idea as the altitude in Sequoia NP means it can get quite icy!", Allison says. (Check out her article if you want to learn more about visiting Sequoia in the winter.)
Allison thinks this loop is perfect for families, beginner winter hikers, and people who are looking for an easy winter hike in a beautiful setting. Plus, it's a great way to find some solitude in the national park. "It's located in a different part of the park from the General Sherman Tree, the largest tree in the world and the most famous in the park. The Big Trees Trail is often really quiet with very few crowds (and this is even more true in winter), as all the crowds are at General Sherman!"
The Northeast
6. Billy Goat Trail, Chesapeake and Ohio Canal National Historic Park, Maryland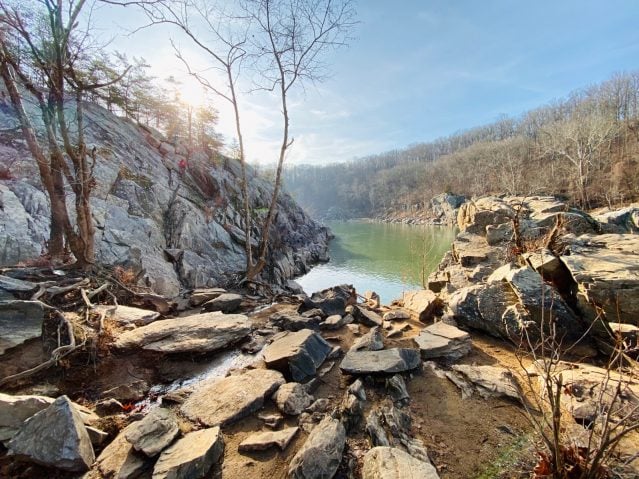 Length: 4.8-mile loop | Difficulty: Moderate | Snow Cover: None to Light
If you like rock scrambling, the Billy Goat Trail will be up your alley. While this trail doesn't require technical climbing skills, you'll want good body awareness and the ability to dismiss your fear of heights. Keep your footing steady as you clamber over rocks to gain a ridge that parallels the Potomac River. As the water runs below you, you'll tiptoe along narrow ledges and use your hands to balance. Snow doesn't fall often here, so this barely counts as winter hiking. But, it's a spectacular destination during these months when leaves have fallen from trees and views of the river are unobstructed.
This three-section trail begins in Great Falls, Maryland and offers day hikers plenty of options. Section A requires multiple rock scrambles, but with a little bit of confidence, this section of trail can be the highlight for most hikers. Sections B and C are more accessible hiking, but still offer their fair share of beauty. Each section connects with a central walking path, so you can always opt-out of areas of the trail that are above your skill level. Heed this warning: hit the trail early. This popular hike is a fantastic day trip from both Washington D.C. and Baltimore, so it gets busy.
7. Cascade Mountain, Adirondacks, New York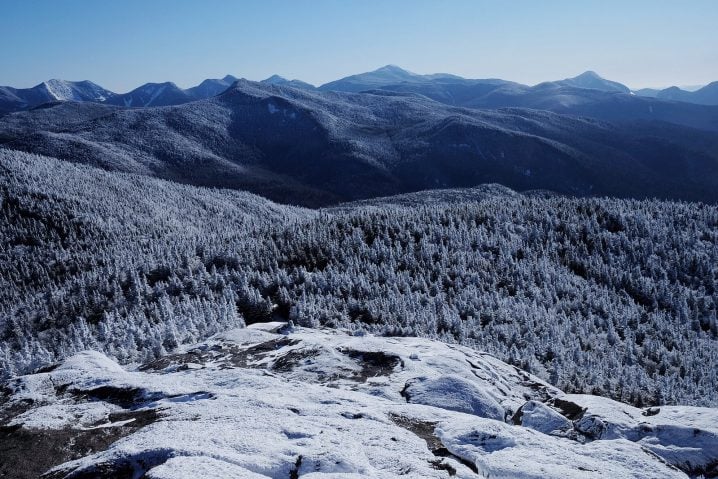 Length: 4.8-mile out-and-back | Difficulty: Moderate | Snow Cover: Moderate
Cascade Mountain is one of the most popular destinations in the High Peaks region of the Adirondacks, even in the winter. This low-mileage trail leads to an open summit with panoramic views of the surrounding mountains. Up there, winter is in full force: wind slaps across your face and freezing temperatures send shivers down your spine. Zip up your jacket and pull your buff over your face as you gaze out at the Lake Placid area.
This hike receives a lot of snow, but it also sees a lot of traffic. The trail gets packed down quickly from all the foot traffic, so you should only need microspikes. The moderate grade makes this a fantastic winter summit for the adventurous hiker. However, this is also one of the most strenuous trails on the list with serious winter conditions. In order to be safe on the trail, know your abilities, and prepare before you go. Check the conditions, and if there is any potential avalanche danger, choose a different trail.
8. Franconia Ridge, New Hampshire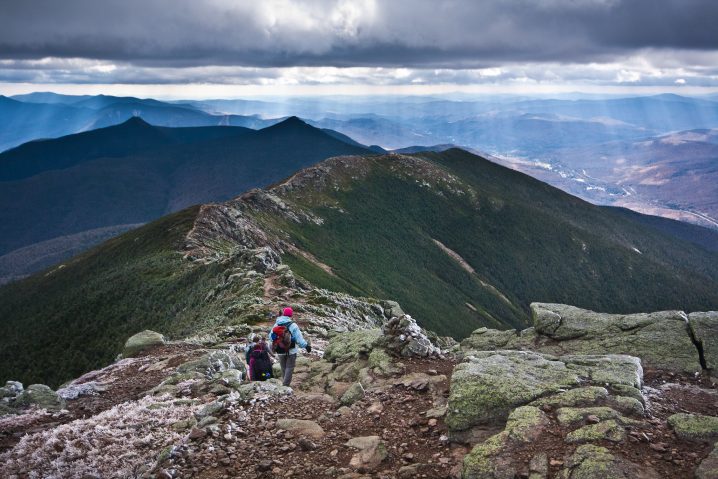 Length: 8.3-mile loop | Difficulty: Strenuous | Snow Cover: Moderate
Max DesMarais is an avid outdoorsman and hiking blogger who has spent much of his time in the Northeast. In fact, he's hiked all 48 of New Hampshire's 4000-foot peaks. When asked his favorite winter hike that doesn't require snowshoes, he mentioned Franconia Ridge. "Much of the year, it can be done in microspikes due to the snow-packed trails and wind," Max says.
And while the mountains in the West have high avalanche danger and deep snowpacks, the White Mountains offer up alpine views without too much added risk. (Although if it's a heavy snow year, check the avalanche forecast before you go!) These sweeping views are one of the reasons Max loves this hike. "In only a few short miles, hikers ascend above treeline and are ready for a mile and a half trek long a stunningly beautiful ridge with other New Hampshire 4,000-foot peaks all around. This trail is unique in that it has some of the easiest access off the main highway, and hikers are exposed above the treeline for a significant amount of time."
This is one of the most strenuous hikes on our list, and the alpine environment adds challenges. Winds gust up to 60 miles per hour, temperatures stay below freezing, and the narrow ridgeline can be treacherous in icy conditions. Bring microspikes or crampons, and pack the ten essentials!
The Midwest
9. Apostle Islands Lake Shore, Wisconsin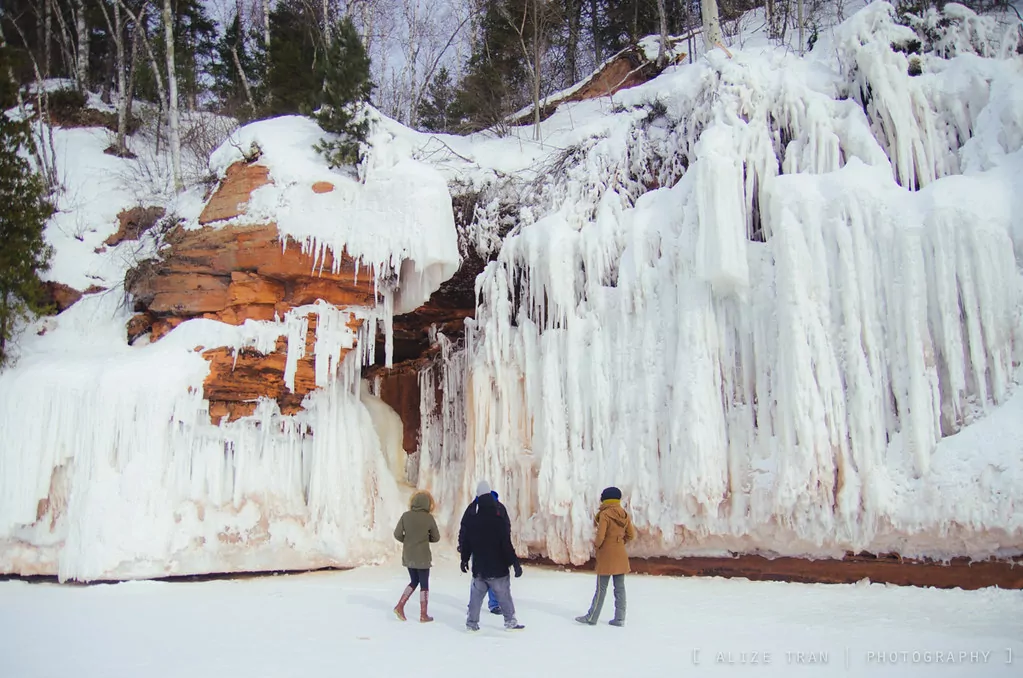 Length: 2 – 6 miles | Difficulty: Moderate | Snow Cover: Ice
When the conditions are just right—wintery weather and not too much wind—the Mainland Ice Caves at Apostle Islands National Lakeshore form delicate structures along Lake Superior. Each year is different, depending on the weather and how the water interacted with the cliffs when it froze. After several weeks of sustained below-freezing temperatures, National Park staff evaluates the ice and deems it safe for travel. Then, adventurous hikers can bundle up and walk on the frozen water to access these magnificent caves.
But that's a big "if." So before you head for the lakeshore with hopes of seeing these wonders, check the conditions and the weather forecast. This winter hike is unique, so you'll want to be prepared. Check the national park page for everything you need to know before your hike. And if the conditions aren't stable enough to walk out onto the ice, head to the Lakeshore Trail instead. This 4.5-mile hike features tough terrain but rewards you with great views of the lake.
10. Rock Bluff Run Trail, Nebraska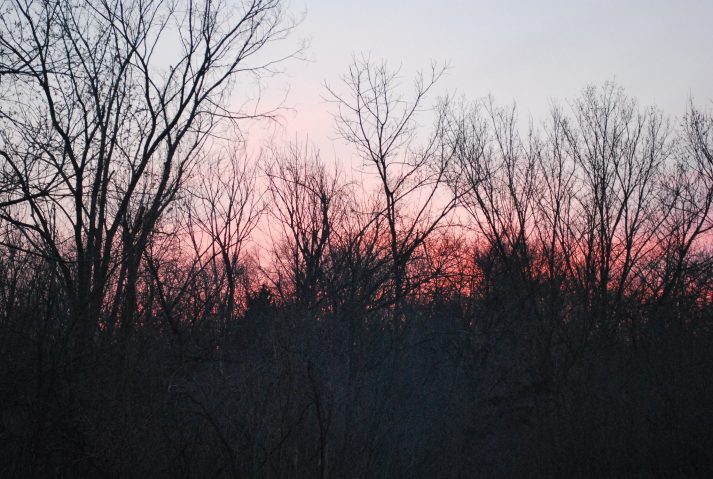 Length: 6.1 miles | Difficulty: Moderate to Strenuous | Snow Cover: Light
"Nebraska's vast network of trails and hikes doesn't close for winter; in fact, some trails are even better in winter than they are in summer," says the Nebraska Tourism Commission. "The Rock Bluff Run Trail at Indian Cave State Park—with the trees stripped of their leaves—provides extra scenic views of the Missouri River." Bluffs created from wind-deposited soil (loess) stand tall along the Missouri River, and hardwood forests provide shelter for wildlife like deer, turkey, and woodchucks.
This six-mile trail is one of the most strenuous hikes in the state and is accessible year-round. And if you want to try out winter camping, you can rent rustic Adirondack shelters along the route for a backcountry experience.
11. French Canyon to Tonti Canyon Loop, Starved Rock State Park, Illinois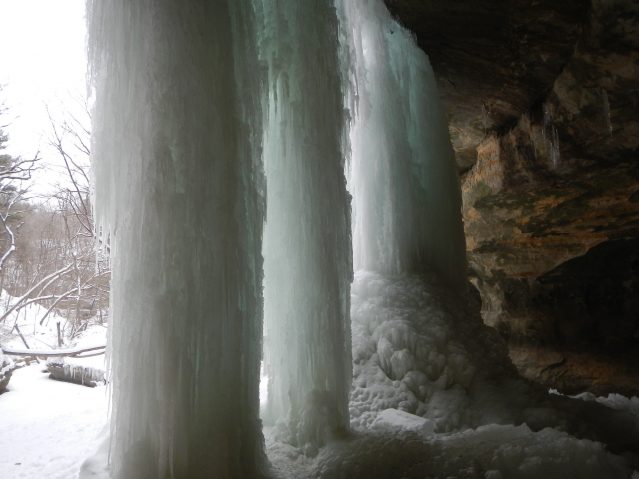 Length: 4.5 miles | Difficulty: Easy to Moderate | Snow Cover: Light
Starved Rock State Park in Illinois really shines once the temperatures drop below freezing. Waterfalls flow generously in this park, and in the winter, these falls turn into icy towers that draw ice climbers and hikers alike. French Canyon, a terraced bowl where water slides down the sandstone steps, is the most accessible waterfall from the trailhead. But there's a lot more where that came from. This loop trail continues to Wildcat Canyon, Tonti Canyon, and LaSalle Canyon—each with unique sights. LaSalle Canyon is one of the most remarkable destinations in the park; frozen water creates a wall of ice as it dives from the steep sandstone cliffs. The cavernous canyon walls here are so overhanging that you can often walk behind the frozen falls. Don't forget the microspikes for this one.
During the winter, Starved Rock also transforms into an eagle nesting destination. While the dammed river freezes, turbulent waters still flow beneath the surface. Northern regions are too cold for eagles to hunt fish, but the Illinois River at Starved Rock becomes the perfect place. If you head to the top of the cliffs, you might spot these majestic birds hunting for fish below the icy waters. If you're hiking this loop trail, you'll finish up your walk high above the river's edge. Take the short spur trail to the Eagle Cliff Overlook for the best sighting opportunities.
12. Eben Ice Caves, Michigan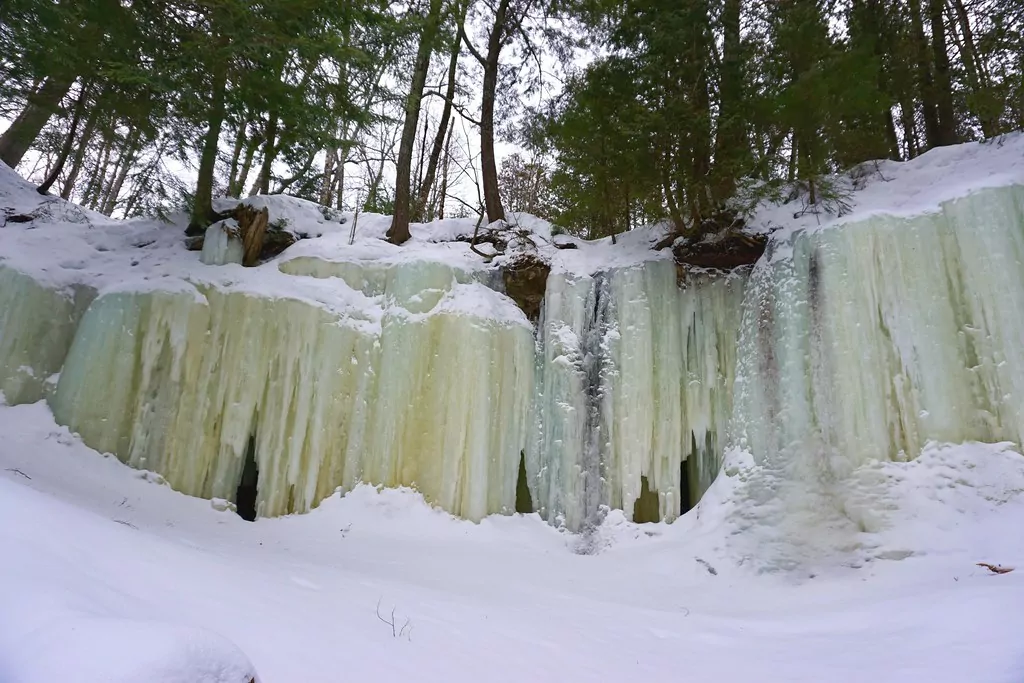 Length: 2 miles | Difficulty: Easy | Snow Cover: Ice or Moderate
The Eben Ice Caves in the Upper Peninsula of Michigan are the perfect winter hiking destination. Eric, a Michigan-based photographer and travel blogger, loves this trail because "it is an easy, majestic and a magical experience, especially for any first-timer. It's a unique winter destination because it's positioned in one of the most remote stretches of the states. Also, it provides visitors with a real winter experience and not just a scenic view."
On this quick hike, you'll mostly be traveling over packed-down snow, so make sure to bring your microspikes. As you approach the ice formations, expect to encounter seriously slick conditions.
The Southwest
13. Rim to Rim to Rim, Grand Canyon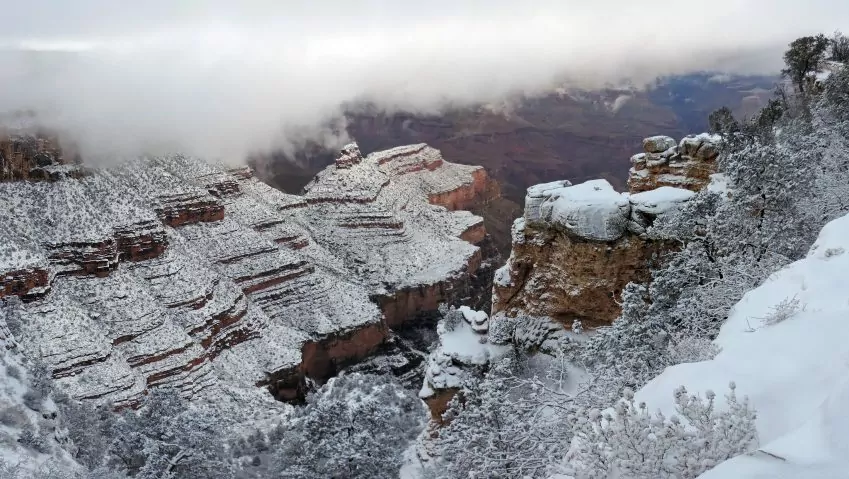 Length: 44 miles | Difficulty: Strenuous | Snow Cover: Light
At Wildland Trekking, one of our favorite winter hiking trips is the Rim to Rim to Rim backpacking trip in the Grand Canyon. The North Rim is closed to all vehicle traffic, so the only way to access it is on foot. You'll start at the South Rim and head down the South Kaibab Trail, one of the most famous in the park. In the winter, this upper reaches of this trail require microspikes, but it's a small price for the lack of crowds. As you approach the bottom of the canyon, the temperatures get more moderate. The Bright Angel Campground, your campsite for part of the trip, sits along the Colorado River shaded by large cottonwood trees. The next day you'll make your way through the bottom of the canyon, passing waterfalls and native ruins. Then, on the third day, as you ascend to the north rim, you'll pop back out into winter again.
While both rims of the Grand Canyon are likely to be covered in snow and ice, the rest of this trek sees ideal hiking conditions during the winter. Experience the wonder of the Grand Canyon in a way that not a lot of visitors get to see: snow-capped red rocks add magic to an already otherworldly destination.
14. South Rim Big Bend, Texas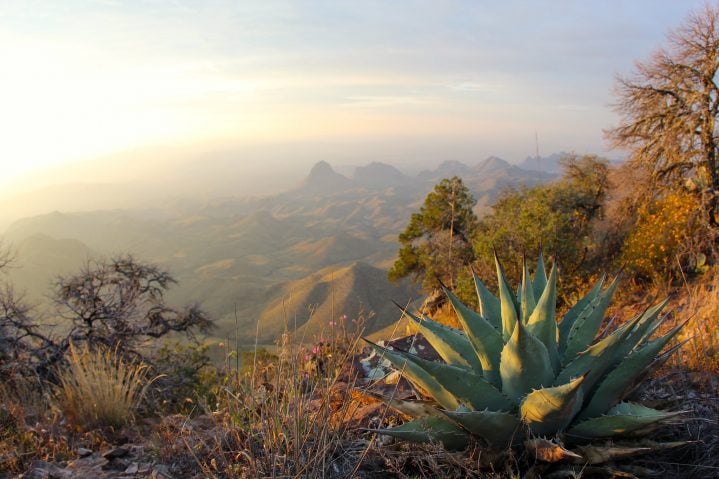 Length: 12-14 mile loop | Difficulty: Difficult | Snow Cover: None
"Looking for a fantastic winter hiking destination? Then look no further than the Big Bend National Park in southwest Texas. This top-rated park can offer you three very different trails to choose from. It's also a good place to visit if you are a keen bird watcher like myself," Will Hatton, Founder and CEO of The Broke Backpacker, says. One of the best hikes in the park is the South Rim Trail: a compilation of several trails that winds along the south rim of the Chisos Mountains and offers views into Mexico.
Don't expect to encounter much snow on this hike. This desert landscape stays dry for most of the year, but don't let that deter you. Will mentions that winter is an ideal time to visit because the heat is "less intense."
15. Timber Creek Overlook Trail, Kolob Canyon, Zion National Park, Utah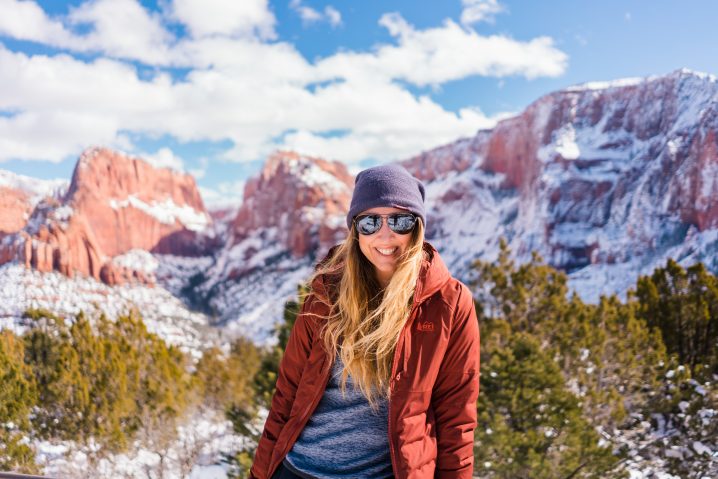 Length: 1+ mile | Difficulty: Easy | Snow Cover: Light
"Affectionately known as the 'quiet side of Zion', Kolob Canyons is a spectacle of fire and ice with a dusting of snow on the crimson cliffs. Five towering formations of iconic Southern Utah red rock rise to greet you as you round the corner of the 5-mile scenic drive. No matter how many times you visit, it still manages to amaze. From the Timber Creek Trail, visitors enjoy sweeping views of these cliffs, overlooking the Zion Wilderness. The trail is only one mile and doesn't require snowshoes.", Kaylee Pickering, Visit Cedar City, tells us.
However, for those interested, the winter hiking opportunities in Kolob are plentiful. Taylor Creek is a five-mile roundtrip hike that wanders through a narrow box canyon to a double arch, while La Verkin Creek Trail, a 14-mile hike, introduces you to the solitude you can find in the Zion Wilderness if you search. Ice forms along these trails in the winter (and Taylor Creek freezes), so be sure to bring your traction device.
16. Kasha-Katuwe Tent Rocks, Jemez Springs, New Mexico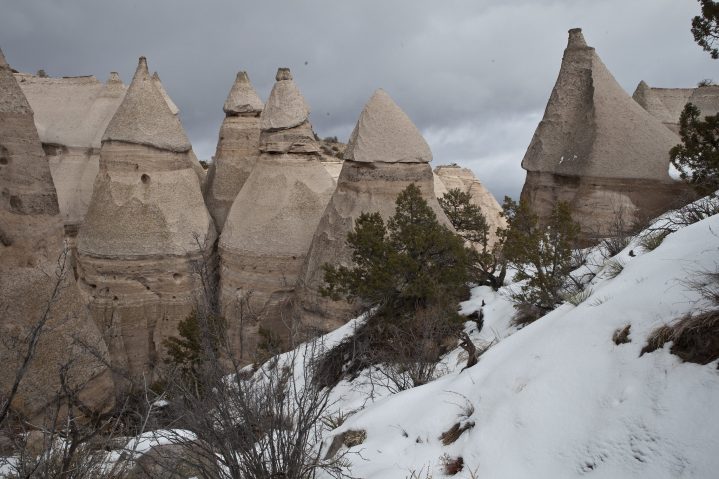 Length: 1.2 – 3 mile | Difficulty: Easy | Snow Cover: Light to Icy
The Kasha-Katuwe Tent Rocks almost look like an alien landscape. As you wander these hoodoos, your eyes widen and your imagination runs wild in this fairy-tale landscape. These cone-shaped formations resulted from volcanic eruptions long ago, when pumice and ash piled a thousand feet thick. Now, hard rock on the top protects the rest of the tower from eroding. In the winter, light snowfall blankets the trail and sneaks its way into the nooks between the rocks. Slot canyons turn into refrigerators if the weather is cold, so bundle up and bring the microspikes.
This National Monument is on Cochití Pueblo land, so please be sure to travel mindfully and respect this monument as a place of cultural significance. *Please note that at the time of publishing, Kasha-Katuwe Tent Rocks is closed due to COVID. Check the website before you plan to visit, and sign up with the day-use reservation system when it becomes available.
The Southeast
17. Mount Cammerer, Great Smoky Mountains National Park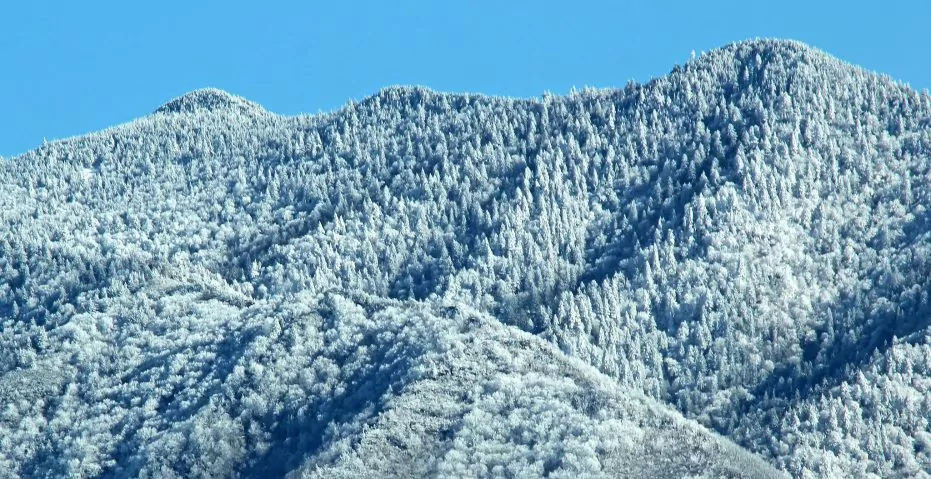 Length: 12 miles | Difficulty: Strenuous | Snow Cover: Light to Icy
The Great Smoky Mountains are such a great winter hiking destination, we wrote a whole blog post about it. Hikers can still access many of the trails in the park, but one stand-out winter hike is Mount Cammerer. This low-elevation summit is usually tree-covered but gives you expansive views when the leaves fall in the winter months. Plus, this popular mountain is much quieter under snow cover. You'll work hard to reach the lookout tower on the peak, but once you're there, settle into the stone-crafted shelter for a picnic lunch. Trekking poles and microspikes are helpful when the trail is covered in snow or ice, so check the conditions before you go!
Feeling bold? Join us on a winter backpacking trip to experience the best the Smokies have to offer in a new season.
18. Rose River Falls, Shenandoah National Park, Virginia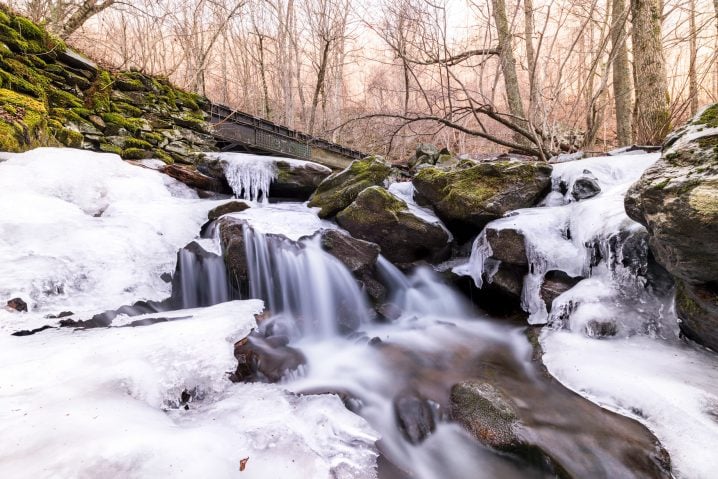 Length: 4 miles | Difficulty: Moderate | Snow Cover: None to Icy/Light
To watch waterfalls cascade down a rumbling stream in a designated wilderness area in Shenandoah National Park, hike the Rose River Falls Trail. This 4-mile hike is fantastic at any time of year, but when the temperatures drop, ice forms along the sides of the river. The trail culminates at a 67-foot waterfall which continues to run in the winter. "Shenandoah National Park is open year-round and winter offers hundreds of miles of back-country hiking opportunities, from frozen waterfalls to rock scramble summits, plus a 100+ mile segment of the Appalachian Trail, which follows the ridgetops of the Blue Ridge Mountains," says Kathy Moore of the Shenandoah Valley Travel Association. If you do hit the trails after snow has fallen, look for animal tracks for the chance to see wildlife. Bobcats, white-tailed deer, and owls are still active in the winter months, and their presence is obvious when you see their footprints across the path.
Keep in mind: "During periods of heavy snow, Skyline Drive (the only road through the park) can be closed for safety reasons", Kathy says, "Although the rest of the park will remain open."
19. Florida National Scenic Trail, Florida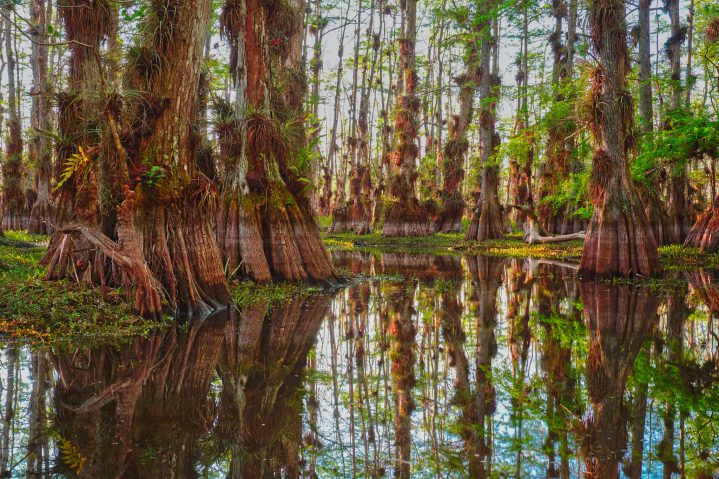 Length: 1,500 miles | Difficulty: Easy to Strenuous | Snow Cover: None
Looking to escape the snow altogether? Hike the Florida National Scenic Trail—a 1,500-mile long-distance trek that weaves its way through cypress forests, swamps, and shorelines from Big Cypress National Preserve to Gulf Islands National Seashore. When the rest of the country is experiencing freezing temperatures, you'll be navigating through one of the most biologically diverse areas in the country. Alligators frequently cross your path and panthers even lurk in the brush. The entire thru-hike should only be attempted by those that are fully prepared, but casual day-hikers can hike sections of this trail without much equipment.
you can winter hike without snowshoes
In addition to the 19 trails listed above, there are plenty of trails across the country that you can winter hike without snowshoes! Just layer up, pack some snacks, and grab your microspikes. If you are hiking in the winter, you may want to lower the difficulty level of your excursions. If you would normally hike six miles in the spring, summer, or fall, choose a four-mile relatively flat trail for your first winter outing. Or, join us at Wildland for a fantastic winter hike or backpacking trip.