Great Smoky Mountains Winter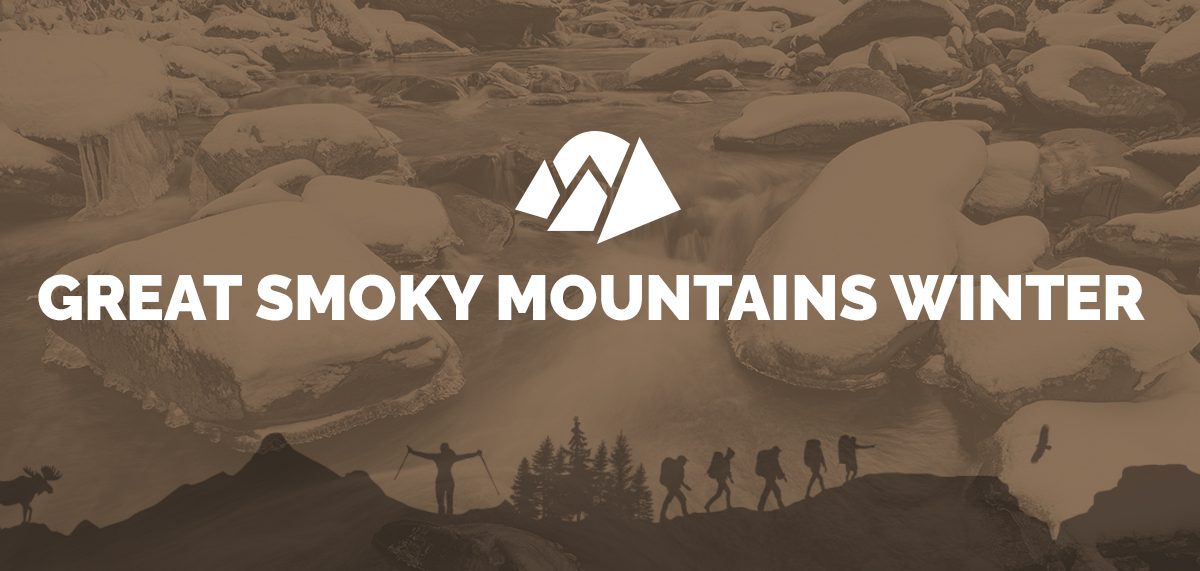 Every year, over 10 million visitors flock to Great Smoky Mountains National Park to enjoy its majestic peaks, breathtaking valleys, gorgeous cascades and lush forests. It's the country's most visited national park, and its popularity is only growing. Most visitors, however, come during the spring, summer and fall months, and miss out on the park's many fantastic winter attractions.
In this article, we'll discuss the many activities you can still enjoy during winter in the Smokies — as well as some special attractions you can only experience during the winter.
Year Round Smoky Mountain Adventures
Reasons to Visit the Smokies in Winter
There are several compelling reasons winter is the best time to visit the Smoky Mountains, including the following.
1. Beautiful Scenery
The Smokies are well-known for their memorable scenery, and the winter only enhances these views. The snow transforms the landscape and offers views unlike those of any other season.
From October to May, snowstorms occur in the higher elevations, with accumulations ranging from light dustings to totals of over one foot. One of the most spectacular spots to view snow is along the Newfound Gap Road, which remains open year-round and only closes during winter storms.
2. Fantastic Hiking
Hiking is one of the primary reasons tourists come to the Smokies. This massive park boasts over 800 miles of scenic trails, so whether it's your first or fifth time visiting, there will still be places left to explore. Unlike many parks out West, the majority of this park stays open during the winter months, meaning you'll still have access to many of the park's hikes when you visit. Some of the trails that best showcase the park's winter beauty include Alum Cave Trail, Andrews Bald and Porters Creek, all of which we will discuss later on.
3. Waterfalls
Although winter scenery in the Smokies is beautiful no matter where you look, some of the park's most stunning spectacles are its gravity-defying frozen waterfalls, which you can either hike to or drive to, depending on how energetic and adventurous you're feeling.
4. Cross-Country Skiing
Cross-country skiing is another great way to enjoy the park's wintertime charms and get an exhilarating workout at the same time. For those of you unfamiliar with the sport, cross-country skiing involves traveling on skis over snow-covered ground, relying on your movement to propel you forward. An excellent place to cross-country ski in the park is along Clingmans Dome Road, which stays closed off to cars between Dec. 1 and March 31.
5. Downhill Skiing
That's right — you can also enjoy downhill skiing while on a trip to the Smokies. Ober Gatlinburg, located just outside the park on the Tennessee side, is an excellent place to ski and snowboard. The slopes are mostly intermediate, although there is also a freestyle terrain park that allows the more adventurous to try out their jumps and flips. The resort also has a tubing hill and aerial tramway, which offers awesome views at the top of the mountain.
6. Christmas Attractions
The Smoky Mountains in December are extraordinary. If you're visiting during the holiday season, you can't miss the abundance of Christmas-themed attractions in the nearby towns of Pigeon Forge, Gatlinburg and Sevierville. These attractions include gorgeous holiday displays, festive parades and entertaining dinner shows and theaters offering Christmas-themed performances. Some notable venues to see performances include:
Country Tonite Theater
Sweet Fanny Adams Theater
Dixie Stampede
Biblical Times Theater
The Hatfield and McCoy Dinner Show
These top-notch yuletide performances offer memorable, comedic interpretations of classic Christmas stories. Chances are you'll find a show here that will warm your soul during this wonderful season.
Another great reason to come here during Christmas is that it often snows here! For those of you from the Southern United States who dream about having a white Christmas, keep in mind there's a far greater chance of seeing one here than in most other places in the region.
7. Fewer Crowds
Since the park's wintertime attractions are still a well-kept secret, it sees considerably less traffic during the winter season. That means you'll have more time to enjoy the park and less time waiting in traffic. Having fewer tourists around also means it's a great time to check out the most popular attractions, restaurants and shows in the area. There's no shortage of things to do in the Smoky Mountains in winter.
8. No Bugs
No need to bring the bring along the bug spray during a winter vacation to the Smokies, as these pests are nonexistent in cold weather.
Winter Backpacking in the Smokies
Winter Weather in the Smoky Mountains
Winter temperatures in the Smoky Mountains are largely dependent on elevation. In the lower elevations, the average highs are in the 50s and the average lows dip below freezing. At higher elevations, such as at Clingmans Dome, winter highs are typically in the 30s and the lows are in the teens, with temperatures sometimes dipping as low as -20 degrees Fahrenheit.
Winter weather in the higher elevations of the Smokies is unlike most other areas of the Southeast. Here, elevations above 4,000 feet here have a climate similar to that of Canada.
As for snow, the lower elevations see snowfalls of at least one inch one to five times per year, whereas the higher elevations see more frequent snowfalls. At Clingmans Dome, the average snowfall total in the Smoky Mountains is 18 inches in January and 20 inches in February. If you'd like to come to the park to see snow, you're most likely to experience it during these two months.
While the highest areas of the Smokies experience an average of five feet of snowfall annually, extreme winter weather has occurred here as well: On March 12, 1993, a blizzard buried Mount LeConte and Newfound Gap under five feet of snow over just two days!
Best Winter Hikes in the Smokies
Here is our list of Smoky Mountain hiking trails that are worth checking out during a winter visit to the park.
1. Alum Cave Trail
Among the most popular winter hikes in the park, the Alum Cave Trail features stunning views of frozen icicles that form on the side of a cliff.
The trail starts by crossing Alum Cave Creek and then meanders through a beautiful old-growth forest. Only a little over two miles into the hike, hikers can see the Alum Cave Bluffs in the distance. After five miles, the trail ends at the McConte Lodge, which is below the summit of Mount LeConte. This trail is fairly challenging because of its length and steep ascent.
2. Andrews Bald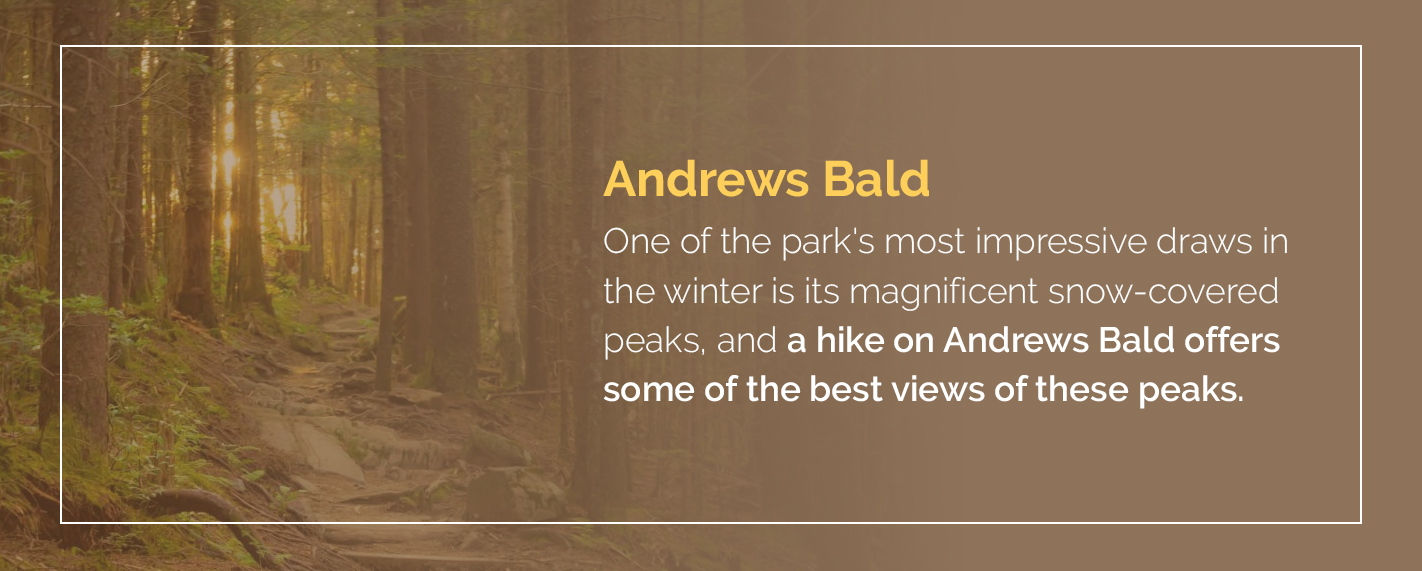 One of the park's most impressive draws in the winter is its magnificent snow-covered peaks, and a hike on Andrews Bald offers some of the best views of these peaks.
You can reach Andrews Bald by taking the Forney Ridge Trail, which begins at the Clingmans Dome parking lot. The trail starts with a long descent and then levels off for a while until beginning its final ascent to the grassy peak of Andrews Bald. The distance from the trailhead to the peak is just under two miles, although you can continue on the trail for another 3.8 miles, where it ends on the Springhouse Branch Trail. This trail is somewhat challenging, as there is an elevation change of 1,200 feet.
3. Porters Creek
We recommend the Porters Creek trail for several major reasons. Unlike the first two trails on this list, Porters Creek is at a lower elevation, where snow and ice are less likely to close the roads. Second, it allows visitors to enjoy the history of the park and marvel at the frozen Fern Branch Falls. And despite the stunning scenery it offers, this trail is not as well-known as others in the park, so you are unlikely to encounter much traffic on this relaxing path.
From the trailhead to Fern Branch Falls, this trail is two miles long but has no major elevation changes, so it is not particularly strenuous.
4. Charlies Bunion
This hiking trail runs along the famous Appalachian Trail and leads to the breathtaking stone outcrop called Charlies Bunion, where you can see countless snow-covered mountains. This four-mile trail runs along an exposed cliff in some sections and is somewhat challenging.
To access this trail, take Newfound Gap Road and park at the Newfound Gap parking lot. You'll find this located 13.2 past the Suglands Visitors Center if coming from the west and 16 miles from the Oconaluftee Visitor Center if coming from the east.
Tips for Hiking the Smokies in Winter
As you might imagine, if you're venturing into remote areas during freezing temperatures, you'll need to take several precautions.
1. When Picking a Trail, First Check Weather and Road Conditions
When choosing a hiking trail during the winter, you must analyze the weather forecast, elevation, road closures and characteristics of the trail. When figuring out what the weather will be like on the trail, find the weather for a nearby city — not just any city near the park. This step is critical because the weather in Bryson City, N.C., for example, is often nothing like that in Knoxville, Tenn.
When checking the weather, you must take temperatures, precipitation and wind into consideration. Of these three factors, wind is the one many people often overlook, but remember high winds can make an otherwise comfortable day feel miserable. High winds can also be dangerous, as they can cause limbs or entire trees to fall over.
As mentioned above, the weather in the Smokies varies drastically with the elevation. To figure out the weather at higher elevations, which often have no cities nearby, Mountain Forecast is a great resource. Have a good idea of what kind of conditions you'll be facing so you can be prepared for them and potentially avoid ruining your experience.
None of the above matters, of course, if you can't even get to the trail, so it's always a good idea to check the road conditions. To do so, call 856-436-1200 and enter 631, which will lead you to a recording of the park's road information.
2. Bring the Right Clothing and Supplies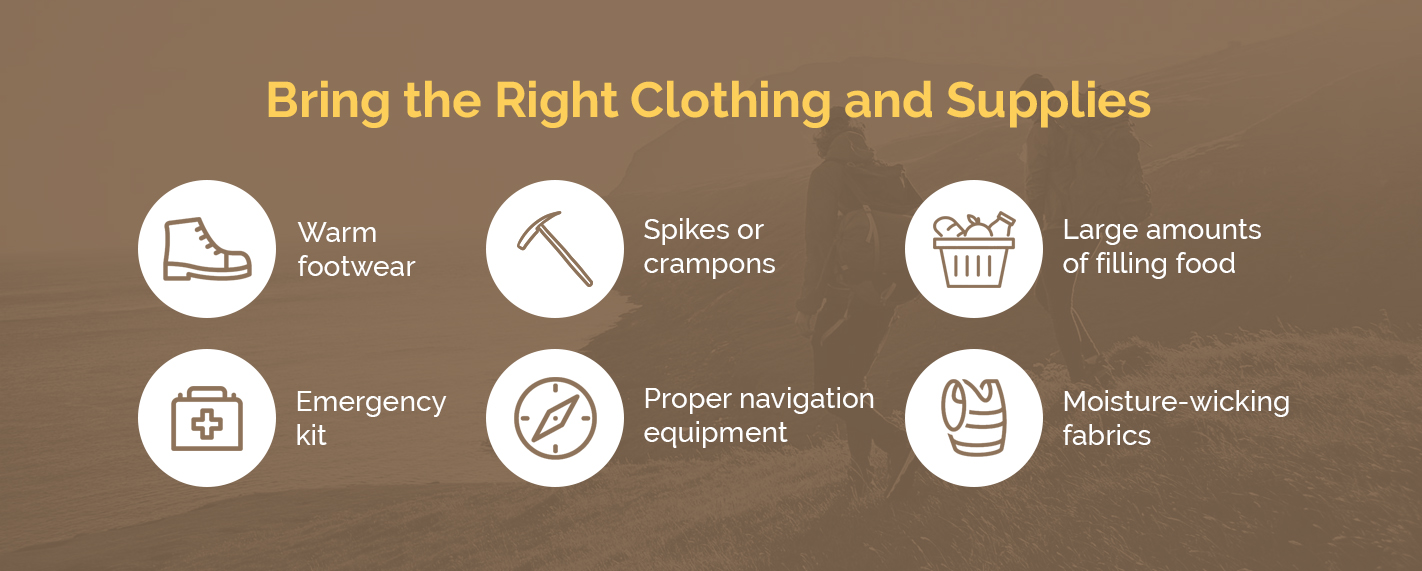 It doesn't matter how stunning the views are or how fun the company is. If you wear the wrong clothing for your Great Smoky Mountains winter hiking, you're going to be miserable. By bringing along the following items, however, you can easily avoid this situation.
Warm footwear: Your footwear should be waterproof, and your socks should be wool or wool blend. Bring along some extra socks in your backpack. Warm, dry feet are essential to feeling good during a winter hike.
Spikes or crampons: These traction devices are ideal for icy or snowy conditions.
Large amounts of filling food: Hikers are often under the impression that cold weather means there's no need to stock up on water, but there is. Since winter weather can be fickle and become dangerous without warning, it is best to overestimate your water and food portions. Choose foods that will keep you full for long periods, which include nuts, cheeses and meats if you can find a cooler that will keep perishables fresh.
Emergency kit: Some recommended items for your emergency kit include means to start a fire, a survival blanket, hand and foot warmers, a headlamp with additional batteries, a knife and water treatment drops. A first-aid kit is also wise to include if you're preparing for winter backpacking in the Smokies.
Proper navigation equipment: In this age of smartphones and digital media, paper maps and compasses may seem a bit antiquated. But when hiking in a remote, cold place, you're unlikely to get any phone reception and, even if you do, the cold could cause your phone battery to die quickly. Plan on buying a compass and paper map — and make sure you know how to read them.
Moisture-wicking fabrics: You've probably heard it before, but we'll say it anyway: Cotton kills. Instead, find clothes — including your underwear — that dry quickly and wick moisture. Also remember to layer, as the temperature and the work rate of your body will likely change during your hike. Gloves and a hat are essential for keeping warm, and you can easily take them off and stow them if it turns out you don't need them.
With Wildland Trekking, You'll Maximize Your Fun and Minimize Your Hassle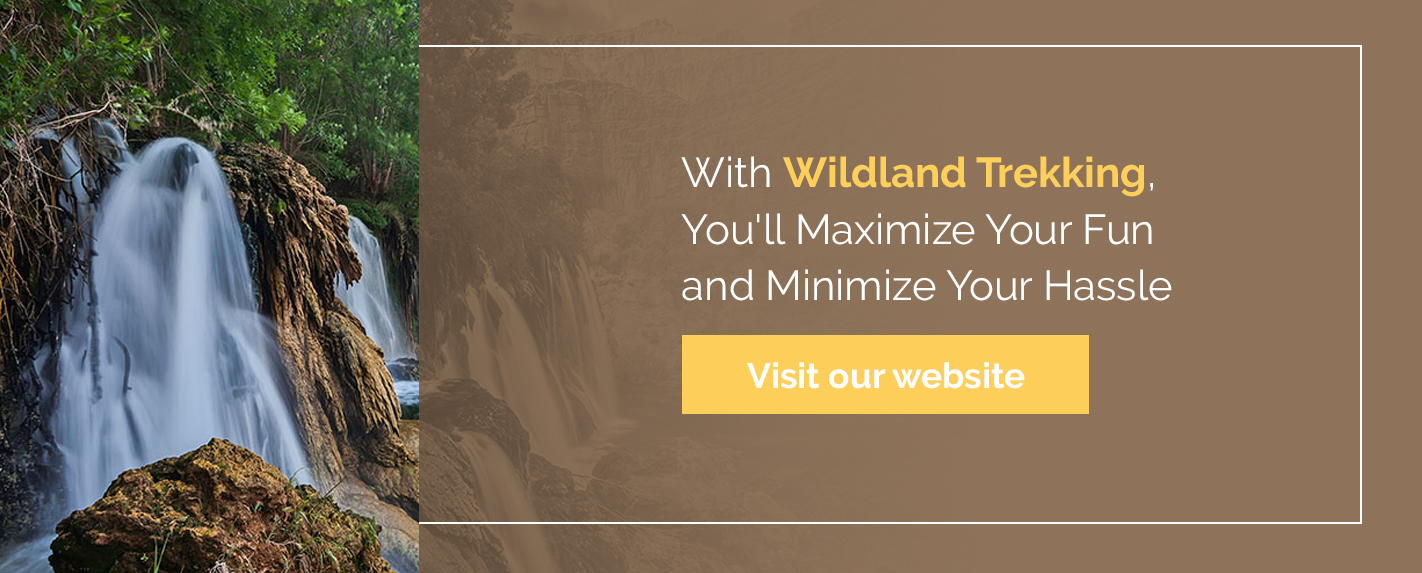 ithout adequate preparation, hiking in winter conditions can be dangerous. If you book a tour with Wildland Trekking, however, we'll take care of all the details — including transportation, gear and meals — so you can focus on just one thing: enjoying your trip.
Here are some reasons to choose Wildland Trekking when you visit the Great Smoky Mountains in winter or any other season.
Exceptional reviews: We take over 10,000 guests on tours every year, and we have a proven track record of providing, fun, high-quality trips that our guests rave about online. On Trip Advisor, we are the highest-rated company on five national park pages — including the Great Smoky Mountains.
High guide-to-guest ratio: Our group adventures are small, and usually have between five to 10 guests, meaning you'll receive a highly personalized experience.
Experienced, certified guides: We have committed to the goal of hiring and training the best tour guides in the industry. To achieve this, we look for guides that are career-minded and take them on as employees — not independent contractors. They must also have exceptional people skills and be able to create an inspiring, unforgettable experience for guests.
Exceptional meals: We always provide delicious, hearty meals and customize them depending on the preferences of the group. We accommodate a wide variety of diets.
Professional gear: The gear we provide is the best on the market and has a retail value of around $1,000 per guest.
Visit our website to learn more about the exciting tours we offer.