Top USA Camping Trips and Tours for 2022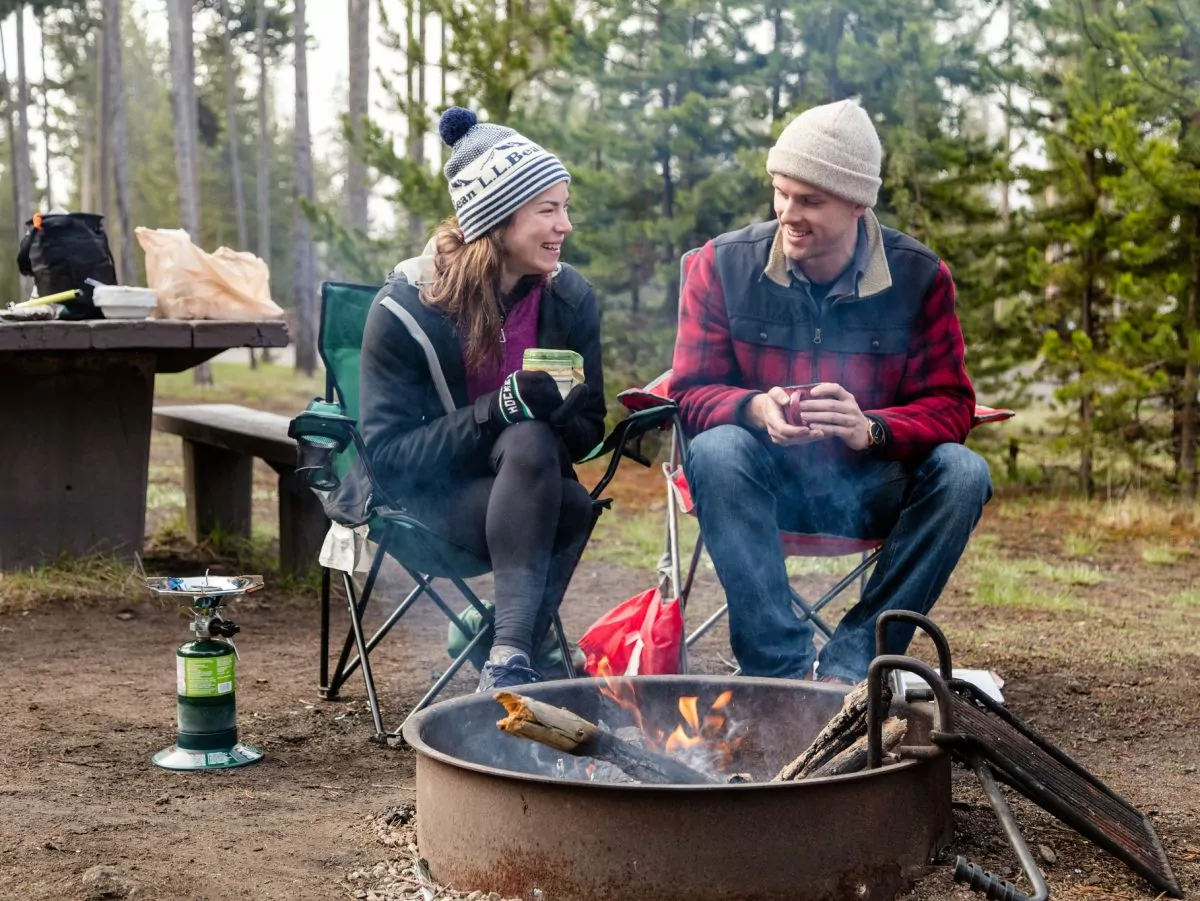 Looking for the best camping trips and tours? You've come to the right place.
Camping trips immerse us in nature in a way we don't get in our everyday lives. Imagine returning to camp after a long, satisfying day of hiking through a  National Park wilderness. You mosey around camp, thinking about that giant bison you saw along the trail, while smells from the grill swirl around you. Once you've had dinner, you relax by the crackling campfire with your marshmallow-topped stick hovering near the flames.
When it's time to crawl into your tent, you open your rainfly so you can look at the glimmering stars in the Milky Way as you drift off to sleep. In the morning, you rise to the smell of fresh coffee. Then, after breakfast, you lace up your boots for another fantastic day of hiking. What's on the agenda for today? With the help of your expert guide, you're off to summit a 10,000-foot peak with 360-degree views of the wide, open country in Yellowstone.
If you're looking for a fun, action-packed adventure that melds some of the comforts of inn-based hiking tours with a bit of the wildness of backpacking trips, our basecamp trips may be just what you're after. Sometimes, you'll want to hike remote trails while also seeing the iconic sites of our country's most beloved public lands. Well, we've got you covered. We've rounded up our top camping trips for 2022 so you can choose the perfect U.S.A. destination for your camping adventure.
what is a camping tour?
A camping tour (or basecamp trip) is a unique trip style that combines day hiking with traditional, vehicle-accessible camping. Wildland Trekking offers these tours for travelers who want a mix of adventure and comfort. You'll set out on fantastic day hikes with a knowledgeable guide and return to a developed campground every night. As you lounge in your tent or take a hot shower, your guide will be cooking up a hearty dinner (complete with dessert!) You'll get some small luxuries — camp chairs, cushy sleeping pads, pillows — while also working hard to accomplish some big hikes.
On your day hikes, you'll carry a light daypack instead of a heavy backpacking pack. Plus, you'll have access to hot showers, fresh meals, and (maybe) cell phone service.
Wildland Trekking plans all the logistics — from campsites, to meals, to transportation, to hiking itineraries. Plus, we provide you with comfy camping gear, a daypack, and trekking poles. All you'll need to do is show up ready to hike!
We offer camping tours in mountain and desert destinations all around the U.S.A. Mountain camping destinations include Yellowstone, Yosemite, Rocky Mountain National Park, and the Pacific Northwest (Olympic and Mount Rainier National Parks.) Canyon destinations include Grand Canyon, Utah's national parks and monuments (Zion, Bryce, and Grand Staircase-Escalante National Monument), Sedona's Red Rock Country, Death Valley, and Joshua Tree. Additionally, we offer international camping trips in Iceland.
The top five basecamp trips
Pacific Northwest Basecamp Tour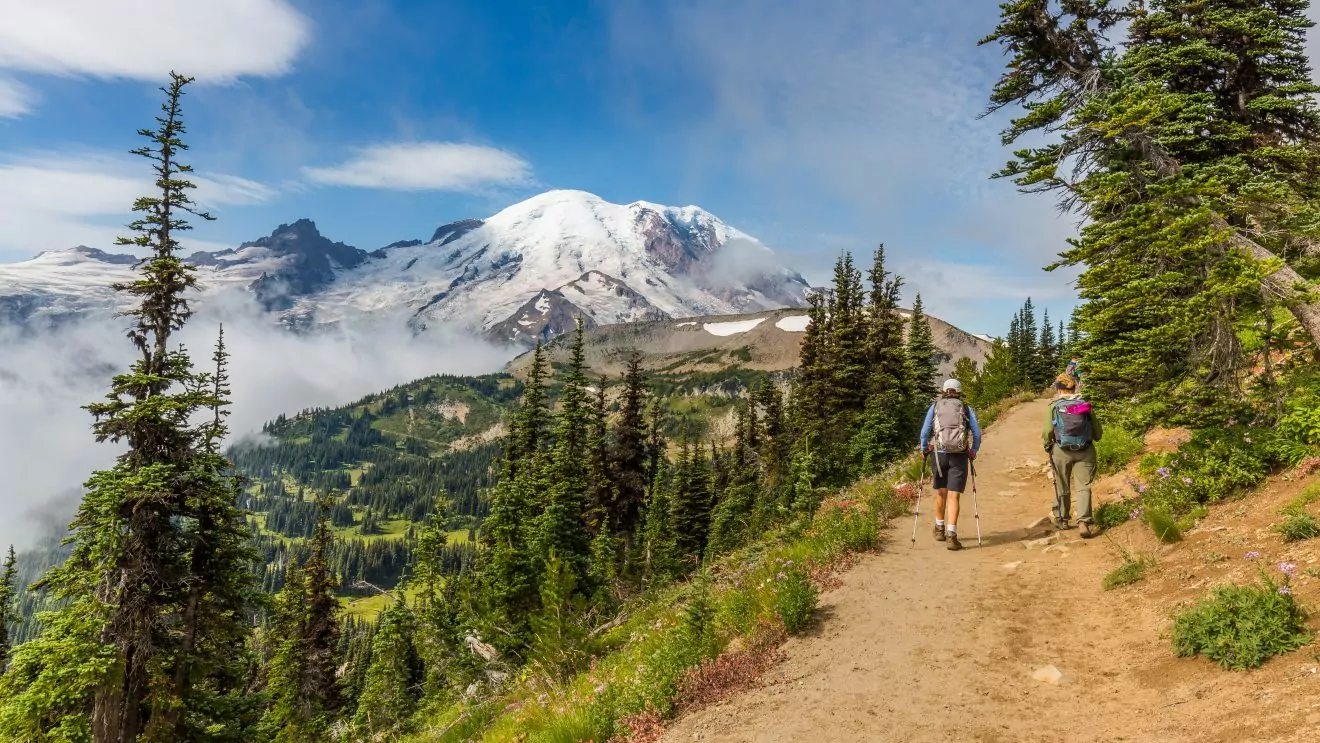 This six-day camping adventure takes you to two stunning Pacific Northwest destinations: Mount Rainier National Park and Olympic National Park. Although this itinerary is packed to the brim, you need all this time to take in the sights and sounds at these two parks. The rain that falls in Washington throughout the year creates vibrant green landscapes, raging waterfalls, and happy wildlife.
On the first three days, hike through lush rainforests (look out for banana slugs!), along rocky coastlines, and across an alpine ridgeline to experience the three unique ecosystems in Olympic. Then, head east to Mount Rainier National Park, where a 14,000-foot volcano looms high above wildflower-filled meadows and cascading rivers. Here, you'll stand in the shadow of an active volcano and even have the opportunity to catch one of the historic ranger talks at Longmire or Paradise.
Can't commit to six days? We've got a three-day option that lets you experience the best that the Olympic Peninsula has to offer!
Highlights: Old-growth rainforest, rugged coastline, and glaciated volcanoes all in one trip!
Potential wildlife sightings: Elk, whistling marmots, banana slugs, black bears, and river otter.
Trip Length & Total Mileage: 29+ miles over six days
Best Time for Travel: July through September
 Pacific Northwest Basecamp Tour
Yosemite Basecamp tour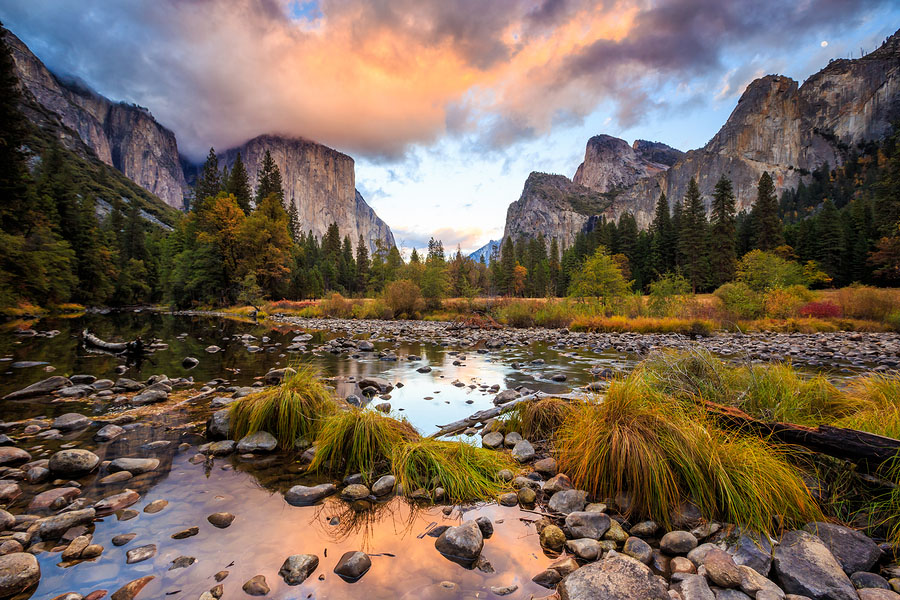 This camping trip is tailored towards adventure seekers who want to experience both the popular trails of Yosemite National Park and the alpine destinations around Tuolumne Meadows. Yosemite is full of big scenery, and every step you take will transport you deeper into the wilderness. As you travel from your campsite to the Valley each morning, you'll see evidence of how ancient glaciers carved this granite landscape. After four days in Yosemite, you'll know both the geologic and cultural history of this unique region.
On the first day, you'll hit one of the most iconic destinations — the Mist Trail to Vernal and Nevada Falls. While the crowds are high, this is not a trail you want to miss. Later in the trip, you'll attempt to summit not just one but two Yosemite peaks — North Dome and Mount Hoffmann. Then, you'll hike to the Cathedral Lakes where you can bask in the sun on the granite slabs by a glittering alpine lake. In the evenings, you'll return to camp on the quiet side of the park via Tioga Pass.
Highlights: The iconic Yosemite Valley views mixed with some low-traffic high country magic.
Potential wildlife sightings: Black bear, coyote, marmots, and overly-enthusiastic squirrels.
Trip Length & Total Mileage: 27 miles over four days
Best Time for Travel: July through September
women's death valley basecamp tour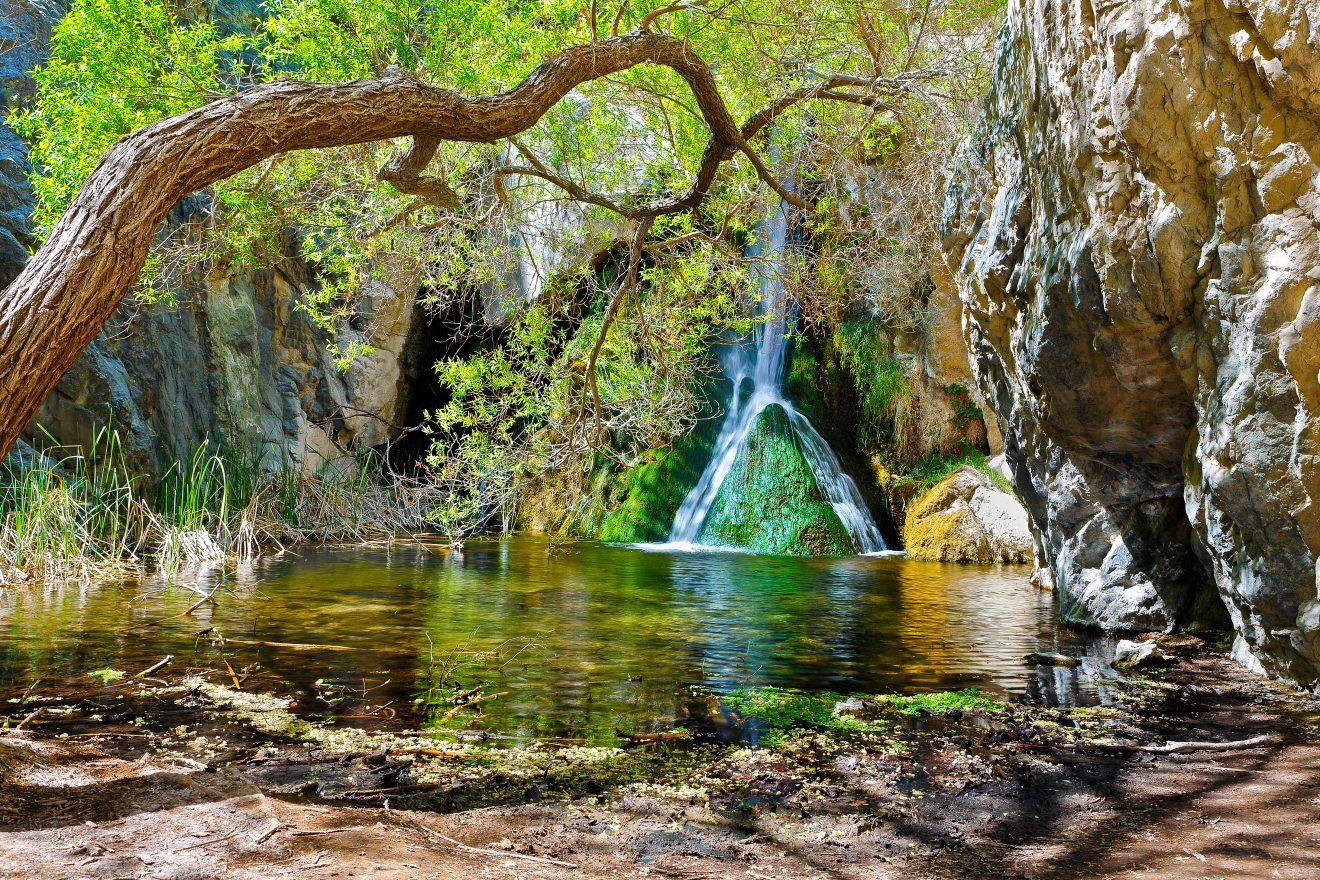 Explore the largest national park in the contiguous United States on this Women's Death Valley Basecamp Tour! (Don't worry, we have a general Death Valley basecamp trip for all our guests, too.) This all-female trip (run by a female guide) is perfect for solo travelers looking to join a like-minded hiking group to explore some incredibly unique desert sights. Death Valley is not the most popular hiking destination, but that is precisely what makes it so spectacular. In this unique ecosystem, a guide can come in handy to interpret what you're seeing. The desert is subtle but full of life, and your guide will happily teach you how to notice it.
On this trip, you'll cover diverse terrain — from a lush oasis, to striated sand dunes, to the pinyon and juniper-studded peaks in the Panamint Mountains. You'll trek through history as you pass colorful volcanic deposits, petroglyphs, and rusted remnants from the area's mining history. At night, you'll head back to camp to fall asleep to some of the most mesmerizing night skies you'll find in this country.
Highlights: The incredible diversity of each trail and the surprising life you find in the desert between the cracks.
Potential wildlife sightings: Desert tortoise, jackrabbit, and bighorn sheep.
Trip Length & Total Mileage: 17 – 24 miles over four days
Best Time for Travel: January through March and November/December
See Womens Death Valley Basecamp Tour
Yellowstone national park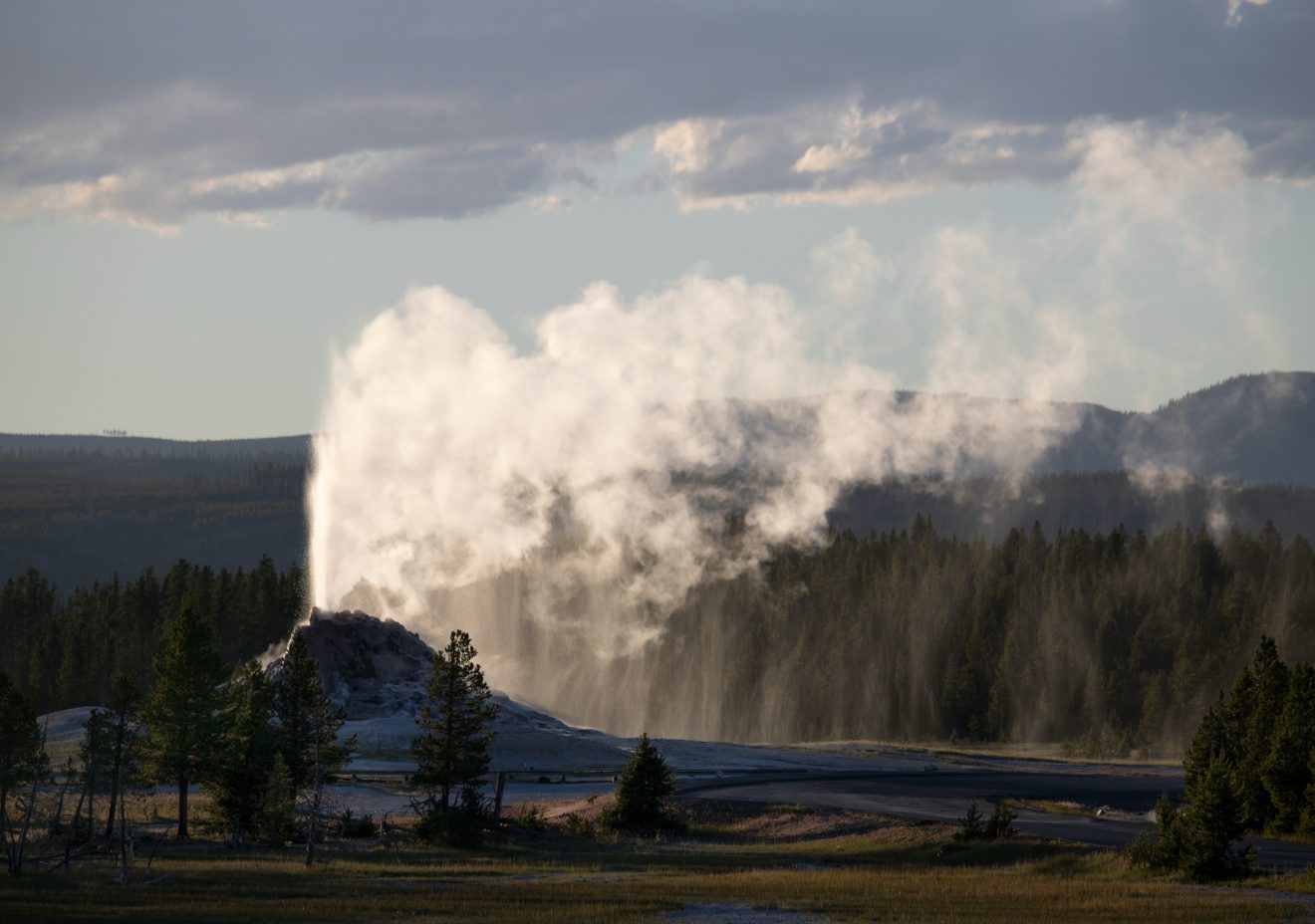 Yellowstone covers over two million acres and hosts over 900 miles of hiking trails, so it's hard to know what to prioritize when you're visiting this magnificent park. Lucky for you, we've developed a five-day hiking and camping itinerary that packs in both the classic, roadside destinations (you can't miss Old Faithful!) and quiet, backcountry trails. On this all-encompassing camping tour of Yellowstone, we'll shuttle you around to sights and trailheads, mixing hiking miles with boardwalks. You'll see the Mammoth Hot Springs on the same day that you hike the charming Beaver Pond Loop. Then, you'll pair the Upper Geyser Basin with a fantastic backcountry geyser that ricochets water into the air, painting a rainbow across the landscape. On the last day, you'll hike across meadows and through lodgepole pine forests to the 220-foot Fairy Falls before ending your trip at yet another classic: the swirling colors of Grand Prismatic Spring.
On the days in between, you'll summit peaks — Mount Washburn and the Elephant Back Mountain — and hike along lakeshores through Grizzly bear territory. The greatest thing about this tour? You'll leave feeling like you know Yellowstone like the back of your hand.
Highlights: Escaping the crowds to experience the true wilderness of Yellowstone. Oh, and the almost-guaranteed wildlife sightings.
Potential wildlife sightings: Bison, elk, grizzly bear, wolves, and more.
Trip Length & Total Mileage: 30 miles over five days
Best Time for Travel: June through September
the best of Utah (Bryce, Zion, & Escalante)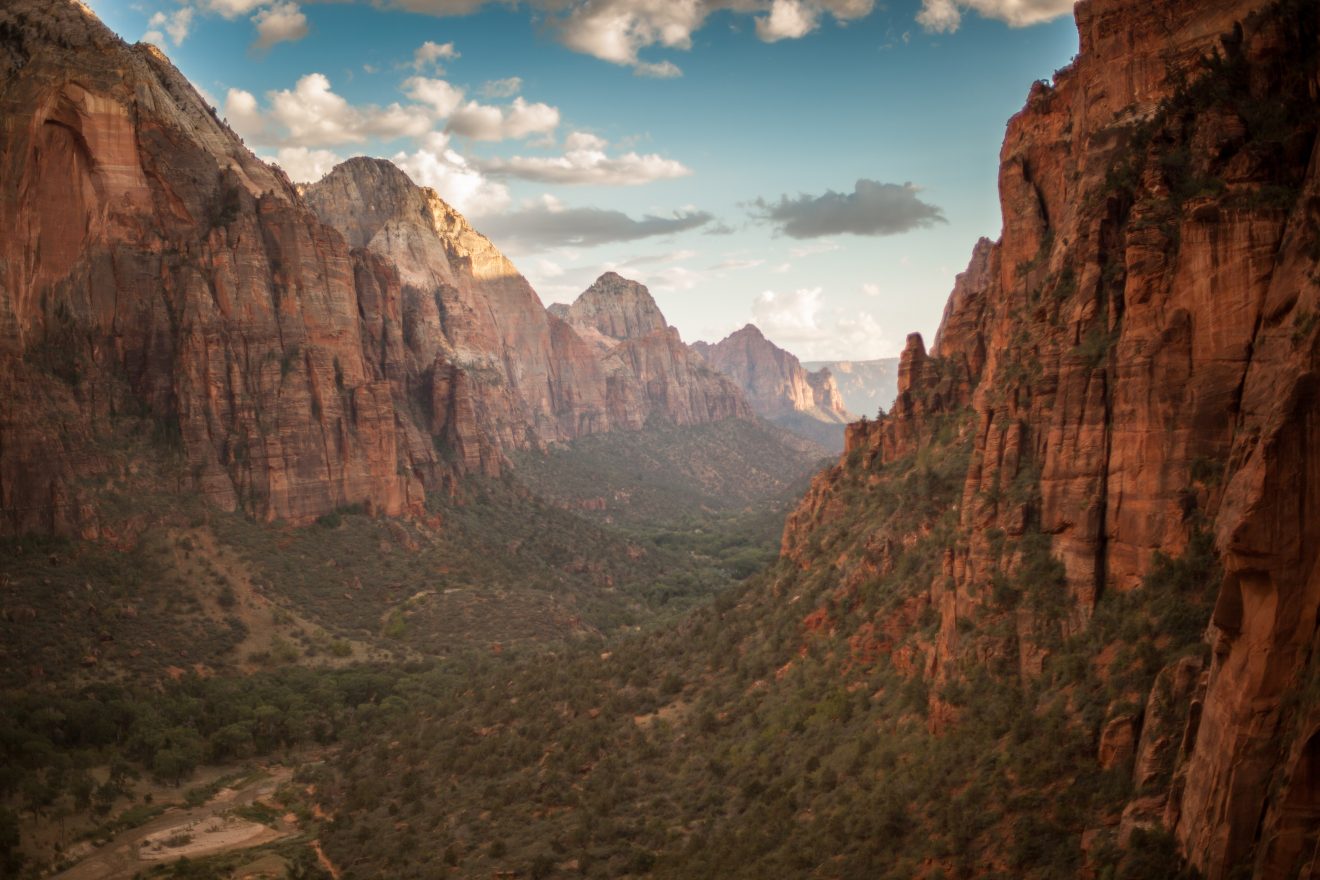 Southern Utah is home to five amazing National Parks and countless acres of National Monument and BLM land, so you'll never run out of sights to see. On this six-day hiking and camping tour of southwestern Utah, we take you through two of these National Parks — Zion and Bryce Canyon — and into Grand-Staircase Escalante National Monument. You'll squeeze through dark, narrow slot canyons in Escalante, weave your way through the sea of hoodoos in Bryce, and gain expansive views as you huff and puff up a mountainside above Zion Canyon. When you return to camp at night (in either Zion National Park or Escalante Petrified Forest State Park), you'll kick up your feet as a reward for your hard work during your day's adventures.
Want more time in Zion? We offer a three-day Zion-only trip. Or, cut down on driving and spend five days in Bryce and Escalante! On this off-the-beaten-path trip, you'll spend the majority of your hiking time on less-populated trails so you can experience the solitude of the red rock desert.
Highlights: Incredible geologic features, including narrow slot canyons, tall sandstone walls, and bright hoodoos.
Potential wildlife sightings: Bighorn sheep, mule deer, elk, and other desert critters.
Trip Length & Total Mileage: 30+ miles over six days
Best Time for Travel: March through June and September/October
See Best of Utah Basecamp Tour
Is a Camping trip right for you?
Many types of hikers would enjoy a guided camping adventure. If you love to camp and day hike, a camping trip this year might be right for you. Or, if you want to learn the skills to set out on adventures yourself, our guides can supply you with the knowledge you need. A basecamp tour might be up your alley if:
You enjoy hiking and camping with local, professional guides to increase the safety and enjoyment of your national park adventure.
You're new to camping and don't own the gear, joining a tour might make practical and financial sense.
You've been dreaming of a specific camping and hiking vacation (such as Yellowstone, Yosemite, or southern Utah). You'll want to ensure you make the very most of your big trip with a hand-crafted, expert itinerary.
You're interested in the educational aspect of learning about your hiking destination and its natural and cultural history. Joining a professionally guided tour provided by a reputable company will enrich your experience!
You want the ease and convenience of letting us handle the logistics. That way, you can focus entirely on enjoying the hiking and camping experience.
why wildland trekking?
We know the quality of your guiding company can make or break a trip. When you let a trekking operator plan your vacation — including the trails you hike and the meals you eat —you want it to be top-notch. Plus, you're spending entire days with your group and your guide, so you want to ensure that group dynamics run smoothly. If you've planned your dream hiking vacation, why would you settle for anything less than excellence? That's where Wildland Trekking comes in.
We offer premier hiking vacations across the U.S.A. and the globe. Many adventure companies focus on multiple sports, but not us – we're 100% focused on the trekking experience. With exceptional guides, fantastic meals, top-of-the-line gear, dialed-in logistics, incredible support staff, and award-winning itineraries, we are passionate about providing unforgettable trekking experiences for guests all over the world!
But don't take it from us, click any of these trip pages and read the trip reviews so that you can know with certainty that you'll be happy with your choice. Or, head to Tripadvisor to see how our trips fare in your desired destination. We want you to love every minute of your adventure, so contact us today to get started.