Choosing the Best Hiking & Trekking Tour Company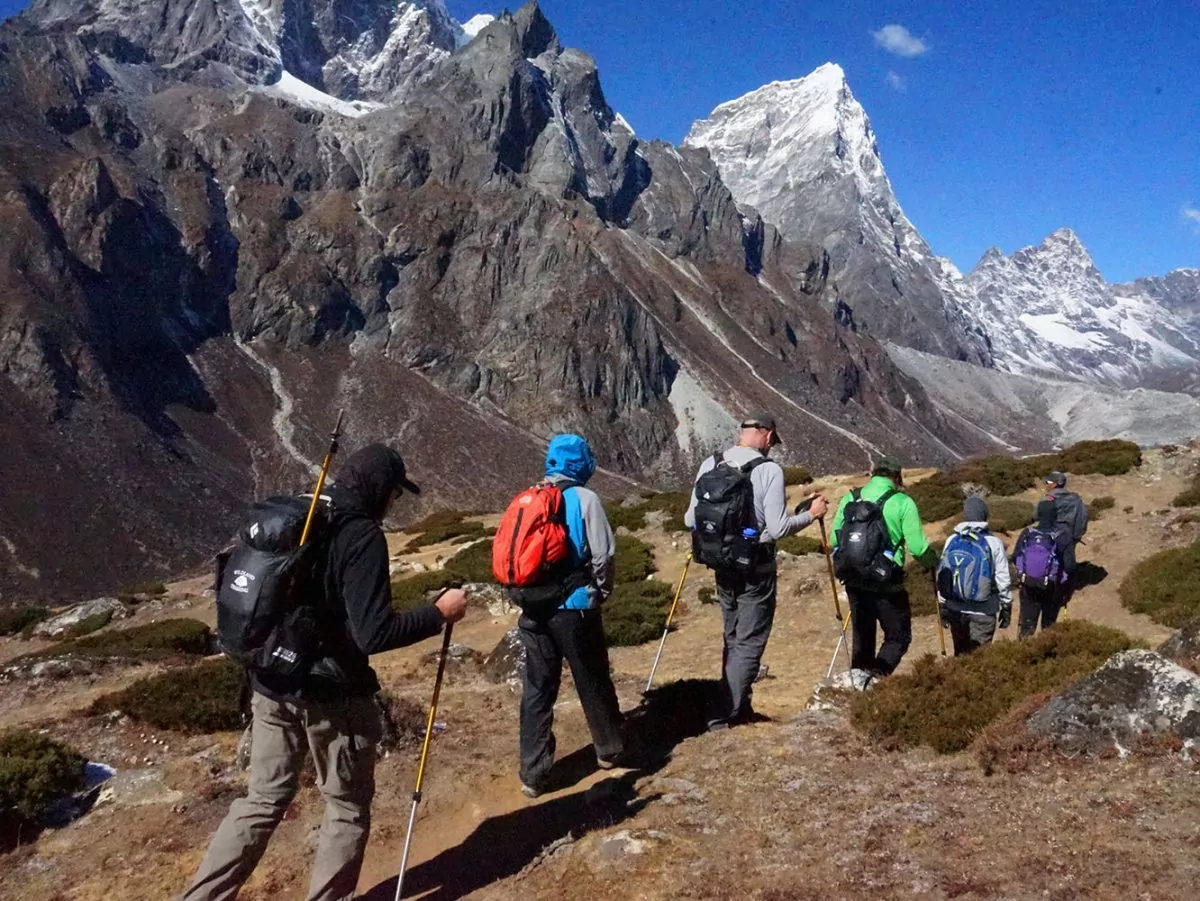 Over the last decade and a half Wildland Trekking has been providing premier guided hiking and backpacking tours across the USA and the globe. With number one spots on 5 national park Trip Advisor pages; memberships in multiple industry associations; and a selection of treks in 54 national parks, 11 states and 13 countries, we know the hiking and trekking world intimately.
We've learned a tremendous amount since we started, and we want to share with you what to look for (and what to be aware of) when searching for the right adventure tour company for your next trekking vacation. Below we've listed nine categories to pay close attention to when making your selection.
9 Criteria For Selecting Hiking and Trekking Companies
1. Online Reviews
In the twenty-first century, we are fortunate to have the help of fellow travelers in deciding which companies to travel with and which to avoid. Many customers have come before you, so take some time to hear what they have to say about the company you're researching.
Positive Reviews
The company you choose to hike with should have overwhelmingly positive reviews. In general though, people are more likely to post a review of a negative experience than a positive one. It's been said often that you can multiply the number of positive reviews by 10 for an approximate number of actual happy customers a company has produced. So for every 10 positive reviews, there are approximately 100 happy customers. If the company you're looking at has many positive reviews, it most likely points to an even stronger level of quality than the reviews say directly.
Negative or Mediocre Reviews
Expect high-quality companies to have some negative or mediocre reviews. A hiking company can provide a wonderful service and still receive less-than-stellar feedback. One of the biggest reasons for this discrepancy is that the company itself cannot dictate the guests' expectations. People bring a wide range of expectations with them on an adventure, and the experience may match up (or not) with those expectations depending on many factors. Some factors are simply uncontrollable — such as weather, bugs, wildlife (or lack thereof), the difficulty of hiking, other people, and more.
Reviews on Third Party Sites vs. The Company's Website
There are two general categories of reviews: a) those posted to third-party review sites like Yelp, Google, Trust Pilot, Trip Advisor, and the Better Business Bureau; and b) reviews posted directly to the hiking company's website, which are usually reviews of specific trips or tours.
We recommend using the third-party reviews to gauge the overall quality of a company, and a company's website reviews to gauge the quality or unique characteristics of the individual trips.
2. Length of Time in Business
A newer company can provide a great experience, but the bottom line is it's a much bigger gamble than going with a veteran, proven organization. Vacation time is precious and it's no small thing to trust a trekking company with your valuable time off. We recommend looking for a company with at least 10 years of experience.
The length of time a company has been in business illustrates five key qualities:
Safety: Over time, a company's ethics and systems around safety will have consequences. The longer they are in business, the more refined and high quality these entities will become. Safety should always be a company's #1 priority.
Integrity: An organization cannot go very far without integrity. The longer a company has been successful in business, the more likely it is that they operate with integrity. Do they strive to deliver what they promised? Do they treat their staff fairly? Do they take responsibility for their mistakes and seek to make it up to the affected parties?
Quality: In the "old days," a company could go years providing low or poor quality experiences. But today, in our world of ubiquitous online reviews, businesses without good reviews won't last long. Simply put, if a trekking company has been in business for a while, they will more likely provide quality trips.
Dedication: Entrepreneurs start companies all the time, only to close them a year or two down the road. The longer a company has been in business, the more dedicated the owners and staff are likely to be. A decade-plus of operating experience is a very good sign in terms of the quality and integrity of the people behind the company.
Resources: Some companies stagnate, but often, if they've been around for a while, they will have developed a greater amount of resources to provide their customers than a newer company. This is a very big deal when a hiking trip doesn't go as planned and additional resources are needed, a guest needs to be evacuated, or last-minute changes are called for.
Top Rated USA Hiking Vacations
3. Quality of Gear
Hiking and trekking companies should provide high-quality gear from name-brand companies. Gear is important for both safety and enjoyment. A leaky tent, flat sleeping pad, not-warm-enough sleeping bag, or ill-fitting backpack can — at best — have a negative impact on your enjoyment, and — at worst — have an impact on safety.
Ask the company what brands they use, how often they turn over their gear, and if it's cleaned after every trip. You can also look at the online reviews for mentions of the gear.
4. Quality of Meals
Meals, like gear, fulfill functions of both enjoyment and safety. Obviously, it's important to get enough calories, but the meals should be delicious too. After a long hike in the rain or a cold night at camp, there are few things that can improve a group's morale like a delicious, hot meal. Ask the hiking company if they use dehydrated meals or cook meals from real ingredients. If the trip includes restaurant meals, do they emphasize the quality of these restaurants in their promotional materials? What do prior guests say about the food in reviews?
5. Risk Management Policies
Risk Management PLan
A good company will have an organized, documented set of risk management policies and procedures. At Wildland Trekking, we have this information organized in a field handbook. Other companies might have a field manual, or they might include their risk management plan in a greater employee handbook. Regardless of its form, this resource shows important aspects of the company's approach to running their business:
They are likely to take safety seriously.
They are deliberately instructing their staff on how to manage risk.
They are organized and proactive with their approach to risk management.
They are likely organized and proactive in terms of maximizing professionalism in other areas.
Emergency Communication PLAN
Another important consideration of risk management is the company's emergency communication plan and resources. For example, at Wildland Trekking, we send every trip out with an emergency communication device. Some companies do not do this, and from our perspective, that's a red flag. Communication devices can include satellite phones or GPS texting devices like the Delorme InReach Explorer.  A cell phone is not a reliable tool due to lack of service in many areas – especially on hiking and backpacking trips.
Another aspect of the communication plan is that someone is available to handle calls or texts from the field. At Wildland Trekking, we have a 24/7 team that is (as the name implies) available 24 hours a day, 7 days a week to help resolve issues that arise on trips.
6. Do They Employ Their Guides?
Quality hiking companies hire their staff as employees. Some trekking companies hire their guides as independent contractors so they can avoid expenses related to payroll taxes and employee protections like workers compensation insurance. It transfers the payroll taxes to the staff members, reducing overhead for the company. This structure is a red flag because the employees are not protected in terms of injury and liability. If a guide is not an employee of the company, they can even be sued – this is a significant and unfair exposure to place on a company's vital team members.
Explore Your World with Award Winning Guides
7. Turnover of Staff
We recommend asking about a company's level of staff turnover. Turnover rates can say a lot about a company; most importantly, if the turnover is low, the hiking guides are likely to be more experienced. If the turnover is high, then you are more likely to get a newer guide, which can be absolutely fine (everyone has to start somewhere!), but a chronically high turnover rate of 15+% annually can negatively affect quality.
8. They Charge a Respectable Price
You get what you pay for, as the saying goes. This is, from our experience, very true in the adventure travel world. Providing a high-quality trip is one thing; providing tens, hundreds, or thousands of high-quality trips is something else. To accommodate a volume of guests that makes a business viable requires a depth of staff and resources that can't be sustained with bargain prices. If you want a great outdoor experience led by professionals with solid training and infrastructural support from a robust company, look for companies that charge a respectable cost per person. Avoid bargain companies and bargain booking sites.
9. Refund and Cancellation Policies
Refund and cancellation policies can vary dramatically. Joining a hiking tour often requires a deposit, and then, at some point, the final payment. Understand the terms and conditions of the company you are considering and make sure you are comfortable with them.
Top 5 Hiking, Trekking & Adventure Companies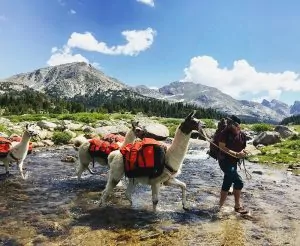 Based on almost every objective criteria, Wildland Trekking (WTC) is one of the top hiking and trekking companies in the world. Specializing specifically in hiking vacations and trips, WTC has earned #1 spots on 5 national park Trip Advisor pages (Grand Canyon, Yellowstone, Zion, Great Smoky Mountains and Rocky Mountain National Park) and the #2 spot in Yosemite. WTC also has 5-start status on Google, Yelp, Trust Pilot, Stride Travel, BBB and more. In total more than 4,000 guests have rated their experiences with WTC 5 stars. With over a decade and a half of experience, and far more than that in owner experience, WTC is a veteran, proven company. And staff turnover is very low, resulting in a mature team and a refined set of products. If you're interested in a guided hiking or backpacking tour at any of their 50+ world-class destinations, Wildland Trekking is a clear top choice.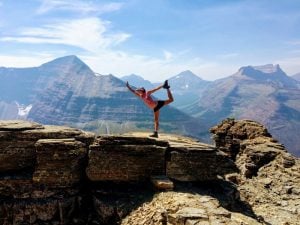 Glacier National Park is one of the world's most amazing mountain trekking destinations. And for guided trips in Glacier, this company is your ticket. With decades of experience, great online reviews, experienced staff, and a great safety record, they're a top adventure travel company in the USA.
They also offer rafting tours, fishing excursions, biking tours, and more. Bottom line is that Glacier is a must-visit national park, and as great as Glacier Guides are, it's their home that makes these trips so amazing. We very strongly recommend booking a trip with them and exploring this extraordinary region, whether it's on a backpacking trip, rafting tour, or cycling trip. Glacier National Park is on par with the other famous national parks in the USA like Yellowstone National Park, Grand Canyon National Park, Yosemite National Park, Great Smoky Mountains National Park, and Rocky Mountain National Park. Don't miss it! (Photo from Glacier Mountain Guides)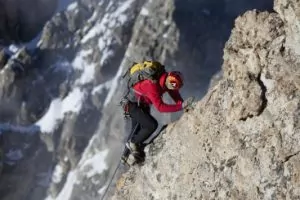 Exum Mountain Guides is one of the most legendary names in the outdoor adventure world. One of the only companies permitted to lead trekking and climbing trips in Grand Teton National Park, many a premier mountaineer has guided for Exum. They have been in business for more than 80 years (yep, you read that correctly – 80 years!)
Their staff is made up of dedicated, proud guides who love what they do and excel at it. Exum's online reviews are fantastic, and their reputation is almost unequaled. If you're interested in technical ascents in the Tetons and beyond (all of which require lots of hiking and trekking), Exum is a solid choice.
If your adventurous spirit is calling you to extend beyond hiking and trekking, and into the world of the vertical climbing, it's difficult to do better than Exum Guides. (Photo from Exum Guides)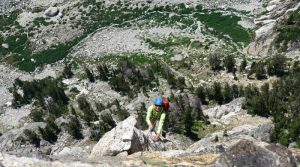 Like Exum, The Mountain Guides (previously Jackson Hole Mountain Guides) specializes in climbing adventures, all of which require hiking and trekking as part of their experiences. They lead desert, canyon, and mountain climbing adventures in the Western U.S. They also do canyoneering and some good old fashioned hiking and walking tours. You'll discover the vertical world with many of America's most veteran mountain and outdoor guides.
With this company, visitors of all ages who want outdoor adventure can find an appropriate trip for their aspirations. If you're interested in a "next level" adventure that takes you from the trails into the world of climbing, the Mountain Guides are a great choice. (Photo from The Mountain Guides)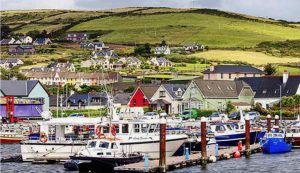 Inn Walking is a European company focusing on self-guided treks in Austria, Bulgaria, Italy, France, Switzerland, Portugal, Germany, Croatia, Spain, Slovenia, Romania, UK, Greece, Czech Republic, Slovakia, Albania, Poland, Montenegro, Ireland, and Turkey. If you're interested in a self-guided trip, where the company takes care of the logistics, lodging, and transportation, but you're not necessarily interested in a fully guided trekking experience, then this company is a top choice. (Photo from Inn Walking)