The Skinny on Slot Canyons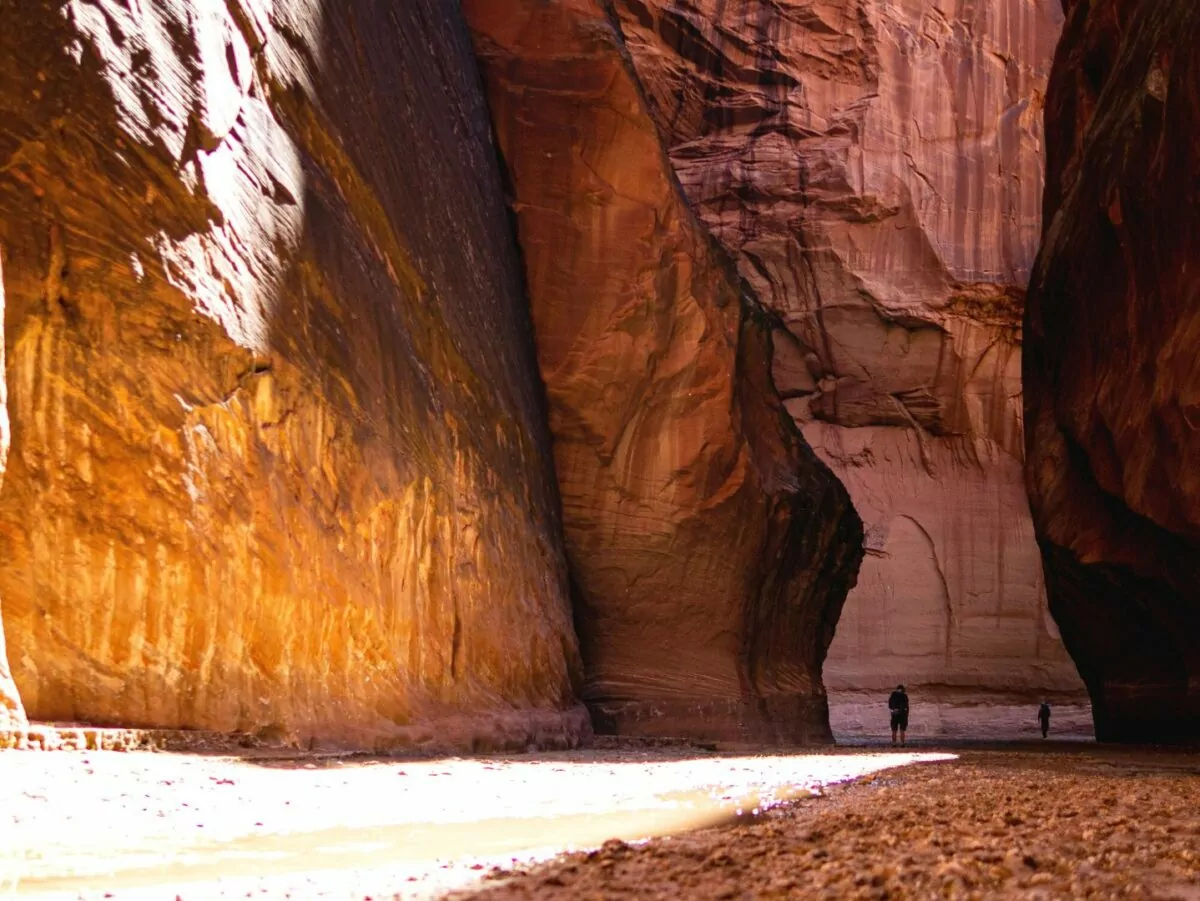 Slot canyons can be found around the world, but they are especially prevalent in the dry, arid conditions of the American Southwest. These winding, beautiful crevices in the red rock desert are well worth exploring, but there's a lot you need to know before getting started.
Slot canyon travel ranges from casual hiking to truly technical canyoneering that requires ropes, harnesses, and rappelling gear. If you're just getting started hiking in this environment, it is better to begin by exploring non-technical slot canyons on day hikes, as there's a lot to think about even before the technical preparation.
The sandstone deserts around Utah, Arizona, and their neighboring Southwestern states, are known among canyon enthusiasts for the plethora of canyons carved into the rock layers of the Colorado Plateau. 
Slot canyons are hard to spot when scanning the landscape. They hide in the rocky, barren-looking desert. But like much in the desert, there is great beauty to be discovered when you take the time to explore beyond what you can spot at first glance. Slot canyons are a secret hiding in plain sight, but they take effort to truly experience and explore safely. 
Interested in slot canyons? Read on to learn about slot canyon formation, recreation, and essential preparation.
What are slot canyons?
Slot canyons are narrow canyons carved into the rock — primarily sandstone and other soft rock. Slot canyons can be found around the world but in the US they're found primarily in the Southwest, where flash floods combined with dry, soft sandstone, create the perfect conditions for these deep gorges to form. 
The name "slot canyon" comes from how tight these canyons can get. Some canyons are barely wide enough for a body to fit through, while others require specific techniques to navigate walls pinching narrowly together. Slot canyons can be hundreds of feet deep and only measure a few feet or inches in width. 
Although slot canyons are formed by running water, they don't all have year-round rivers running through them. However, even if they don't always have running water, many have sections of standing water that require navigating while descending the canyon. Some canyons even involve swimming/hiking through water for entire sections. For this reason, it's good to be prepared to encounter water, especially during wet seasons, and to take time to think about waterproofing and insulating layers. Sun cannot always penetrate deep, narrow canyons, and there may be long sections of cool dark to endure before one can again get dry.
How are slot canyons formed?
The formation of slot canyons is a long and complex process that begins with the deposition of sedimentary rock. Over millions of years, these sedimentary rock layers are exposed to weathering and erosion, creating canyons of various shapes and sizes. 
Slot canyons are typically formed by water rushing through rock, over millions of years. The Colorado Plateau is one of the most common places for slot canyons to occur. The Colorado Plateau is made up of layers and layers of sedimentary rock. As a semi-arid region, it receives sporadic rainfall, but when it does storm it rains hard, causing flash floods. These torrents of water, often full of abrasive materials like wood and gravel, run through washes and carve deep, winding paths through the soft sedimentary rock – creating slot canyons. 
You can see the paths that the water takes reflected in the winding, swirling shape of sandstone slot canyons. Slot canyons made out of other types of rock look different, as the type of rock affects the shape of the canyon. 
Why experience slot canyons?
Slot canyons turn a desert hike into something truly magical. Venturing into one of these narrow, descending canyons can be like entering another world, one you didn't know existed until you rounded the corner.
If you love hiking but want to experience something that feels more off the beaten path than your average trail, slot canyons could be a great opportunity for you. If you're already familiar with technical pursuits like anchor building, rappelling, and gear retrieval, then you may already have some of the skills needed to tackle more technical canyons. If you don't, going on a guided trip can help you prepare to experience slot canyons on your own in the future.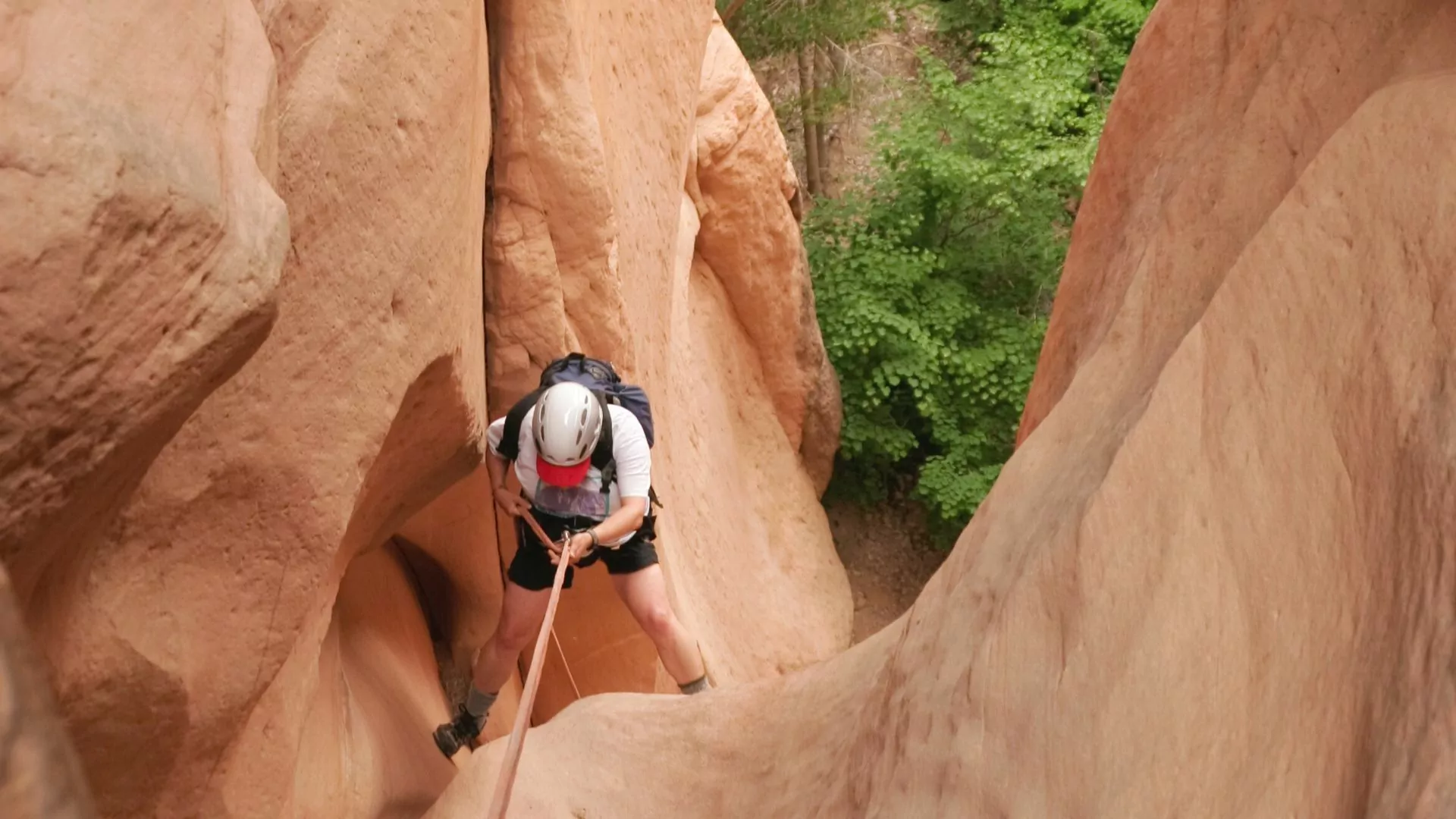 Where do you find slot canyons?
Slot Canyons can be found all over the American Southwest, as well as in many other places around the world (including Australia!). But for this blog post, we're focusing on the slot canyons of the American Southwest. 
Utah and Arizona slot canyons are some of the most famous in the world, including popular destinations like the Narrows in Zion, Antelope Canyon in Arizona, and Buckskin Gulch in Utah. Some of these can be incredibly busy during peak season, and many require permits purchased ahead of time.
But if you're looking for solitude, there are also plenty of slot canyons where you can find no one for miles. These often have barriers to entry, such as being miles and miles off of paved roads or requiring technical skills and gear to safely navigate. But if you're motivated, these canyons can be explored with the proper training, gear, and safety considerations.
Slot canyons are beautiful but their risks are also real. Flash flooding has deadly consequences in this part of the country. If planning a slot canyon adventure feels overwhelming due to a lack of knowledge and experience, a guided trip is a great option. Wildland Trekking offers backpacking and inn-based slot canyon adventures perfect for the explorer who wants to experience the beauty of the landscape without the responsibility of preparation and planning. There's even a trip that stays at the Slot Canyons Inn!
Utah Slot Canyons
Utah has a treasure trove of red rock desert to explore across the state. It's also one of the states with the most slot canyons, making it a great destination for anyone excited about getting into canyoneering.
Here are some of the most worthwhile slot canyons around Utah, especially for beginners. 
Escalante 
Escalante, Utah is a popular starting point for exploring some of the most stunning and challenging slot canyons in the Southwest. The area is home to the Grand Staircase-Escalante National Monument, which spans over 1.9 million acres and offers countless opportunities for outdoor adventure.
Some of the most famous slot canyons of the Escalante include Peek-a-Boo slot canyon and Spooky slot canyon. These canyons are located off of the sometimes rough Hole in the Rock road and offer a unique and unforgettable experience for adventurers. 
Peek-a-Boo Canyon is a relatively short but beautiful slot canyon. The entrance requires a bit of scrambling, and the twisting passages and arching walls are narrow with short scrambling sections, requiring some technical skill to navigate. 
Spooky Gulch, on the other hand, is even more narrow and claustrophobic, with sections only ten inches wide at times. If you feel uncomfortable in tight spaces, Spooky Gulch may not be for you. You can hike both Peek-a-Boo and Spooky Gulch in the same outing by connecting the two canyons with a short trail. The entire loop is about 3.5 miles and takes approximately 3-4 hours.
Another popular slot canyon in Escalante is the Zebra Slot Canyon. This canyon features unique, striped sandstone walls that give it its name. This slot canyon is relatively short, but it is an adventure to navigate through the twisting and narrow walls. Zebra Slot Canyon often has standing water in it, so bringing water shoes or wearing neoprene socks can be a good idea.
Zebra Slot Canyon is as narrow or even narrower than Spooky Gulch and has sections where the bottom of the canyon is too tight for feet to walk. In these places you may have to use the sides of the walls to "stem"  – a canyoneering and climbing technique that helps to navigate pinching sections of canyon – in order to get yourself up and around. 
The Grand Staircase-Escalante region is home to hundreds of canyons hidden in the sprawling landscape. If you're looking for a true desert adventure, this unique area of Utah is well worth a visit.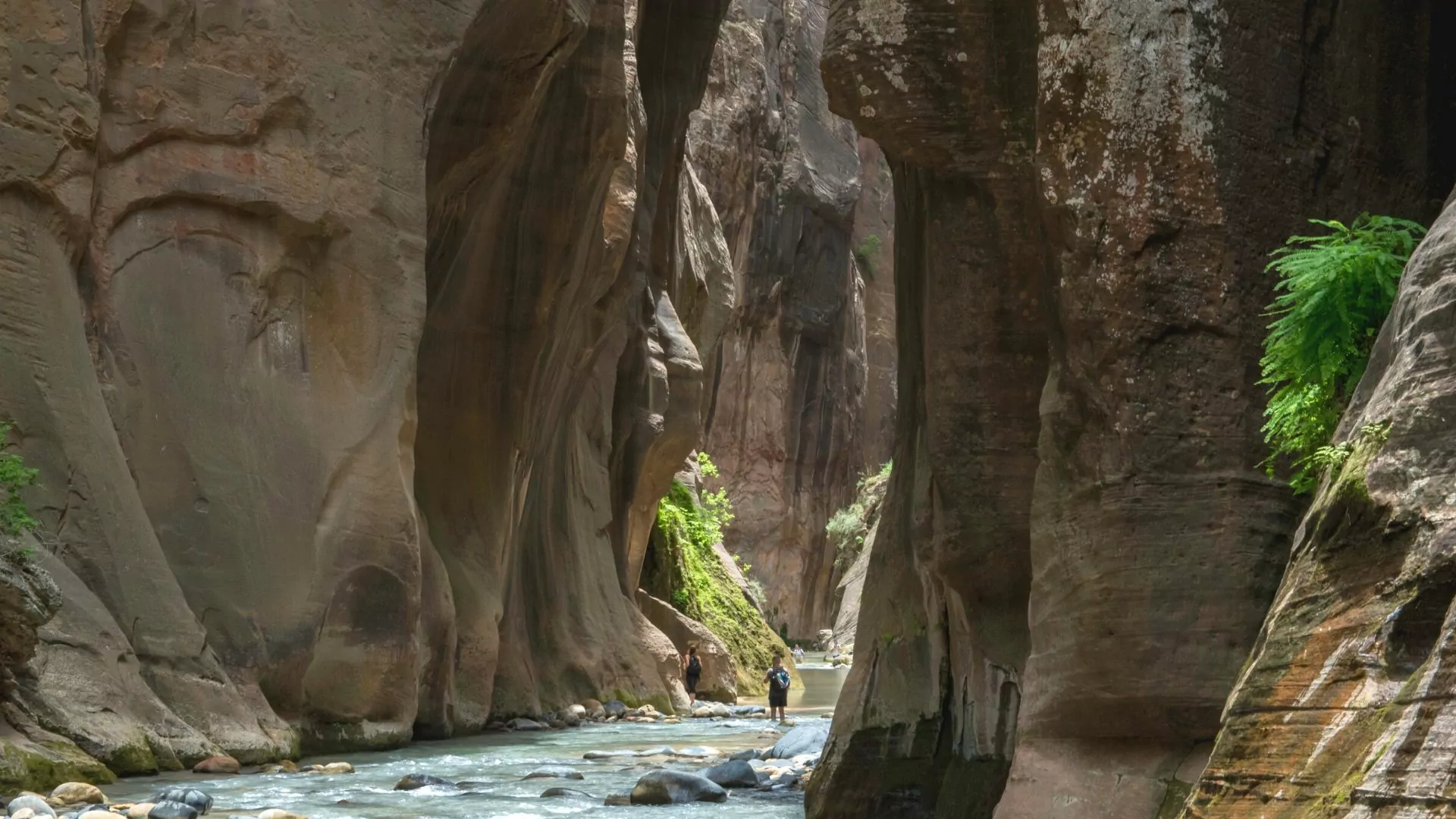 Zion
One of the most famous slot canyons in Zion is The Narrows. This slot canyon is formed by the north fork of the Virgin River, which has carved its way through the sandstone over millions of years. The canyon walls rise up to 1,000 feet, creating a twisting river passage that is both stunning and challenging to navigate. 
Hikers taking the non-technical bottom up approach must wade through the river, which can be knee to waist-deep or higher depending on the time of year. The Narrows is a popular destination, so it's important to plan around crowding and weather conditions. If going the other direction, the technical top-down route also requires advance permits in addition to special skill and equipment.
Another popular slot canyon in Zion is the Subway. This unique canyon features a series of tunnels and pools that have been carved out of the sandstone by the left fork of North Creek. The canyon gets its name from the shape of the tunnels, which resemble a subway tunnel. 
Hikers must navigate through the tunnels, climb up and down waterfalls, and swim through deep pools of water to reach the canyon's end. The Subway is a more technical slot canyon and depending on your direction of travel (bottom up or top down) may require technical skills, including rappelling and route-finding if descending.
Zion is also home to many other worthwhile slot canyons, including Hidden Canyon, Echo Canyon, Fat Man's Misery, and many others in and around the park. Make sure to do your research before attempting any of these canyon adventures though as many are dangerous and technically advanced. 
Moab
Moab, Utah is known for its stunning red rock formations, world-famous arches, and beautiful desert landscapes. And of course, within all that red rock, are hidden canyons. 
Moab does not have nearly as many classic slot canyons as in other areas around Utah, including Grand Staircase-Escalante, the San Rafael Swell, and Zion. But if you're in the area to explore the National Parks and want a slot canyon experience, you can still find some canyoneering adventures!
One option near Moab is Morning Glory Arch/Medieval Chamber, which involves hiking, multiple rappels (one over an arch carved from red sandstone), and a beautiful grotto to explore. It's not the same as many of the narrow slot canyons on this list, but it is a great canyoneering adventure.
If you're staying in Moab but want more of a slot canyon experience, a couple of hours away near Goblin Valley lies Little Wild Horse Canyon. Scramble over boulders and squeeze through tight spaces to make your way through the canyon. Hike as far as you want and turn around, or make an 8-mile loop out of the adventure by adding on Bell Canyon. 
Paria Canyon and Buckskin Gulch
Paria Canyon and Buckskin Gulch are a classic canyon backpacking trip in Vermilion Cliffs National Monument, near the border of Utah and Arizona. With up to 51 miles of canyon to explore in the Paria Canyon/Buckskin Gulch area, this adventure offers a truly unforgettable and otherworldly experience.
Buckskin Gulch is a 12-mile section of slot canyon that can be explored as part of a longer backpacking trip or as a day hike. You can start this hike from a variety of trailheads, depending on how far you will be traveling. The wavy carved walls reach 500 feet tall at the confluence of Buckskin Gulch and the Paria River.
Paria Canyon is equally stunning, with towering cliffs and tight sections that are incredible to explore. The canyon is formed by the Paria River, which has carved its way through the sandstone over millions of years.
Together, Buckskin Gulch and Paria Canyon offer a truly unique and unforgettable experience for adventurous travelers. The canyons are accessible by permit only and permits need to be reserved ahead of time as this is a popular area. With the canyons here covering such an extensive area however, the watershed here too is large. Please note that recent flash flooding fatalities have occurred here and only experienced travelers prepared for all conditions, or in the company of an experienced guide, should consider more than a short day hike.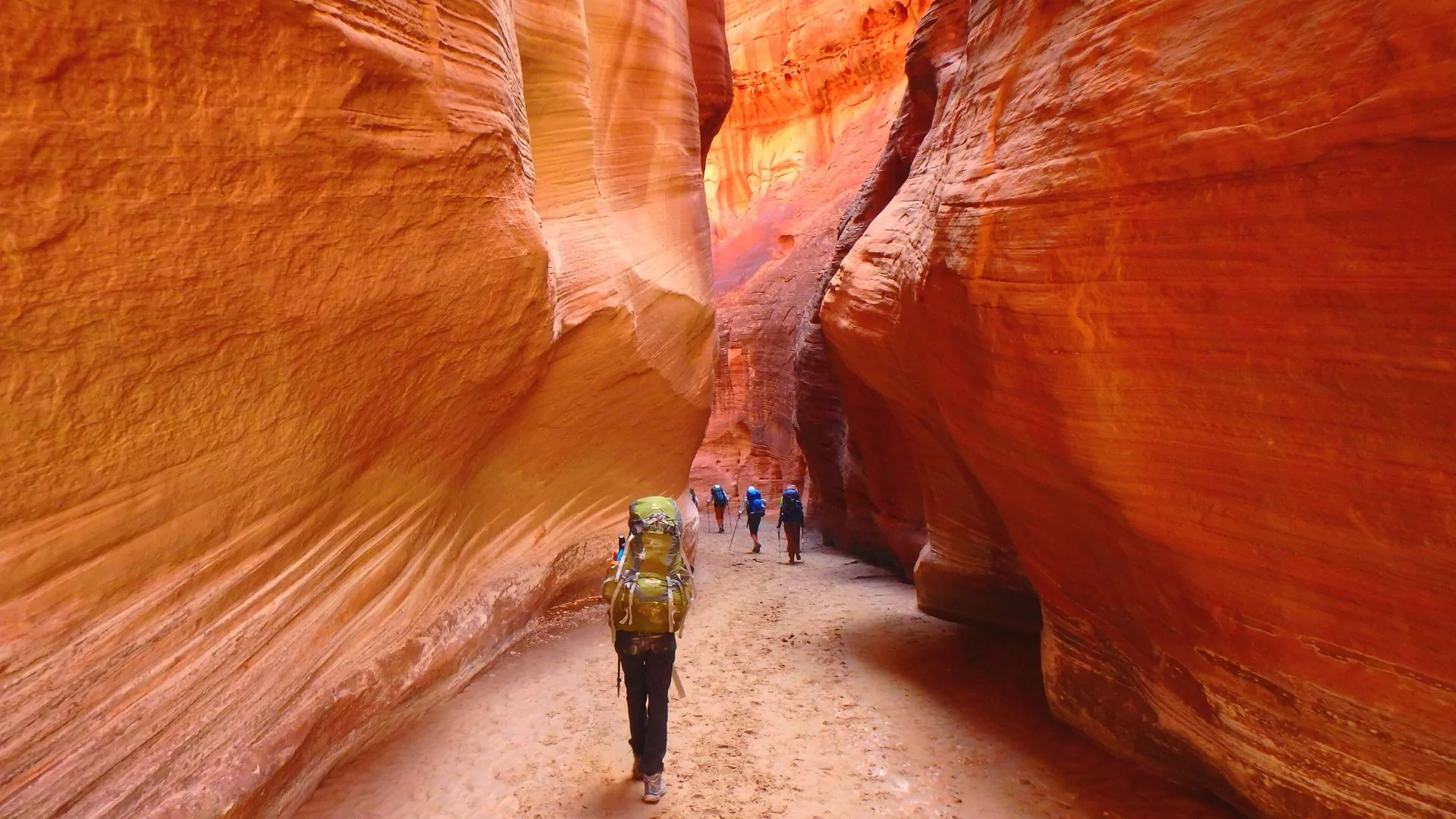 Arizona Slot Canyons
Antelope Canyon
Antelope Canyon is one of the most famous and iconic slot canyons in the world. Located near Page, Arizona, Antelope Canyon is a popular destination for tourists and photographers who come to witness its stunning beauty and unique natural formations.
Because it is one of the most famous slot canyons, it's also one of the busiest. Antelope Canyon is only accessible with a guide, so if you want to visit this iconic canyon, you will need to book a tour with a guiding company in the area. These tours are available year-round and there are lots of companies to choose from. But if you're looking for a more solitary experience, check out some of the other slot canyons on this list. 
Grand Canyon
While the Grand Canyon is certainly one of the best-known canyons in the country, it's not known for being a slot canyon. However, within the Grand Canyon and surrounding region are many different side canyons, some of which have great slot sections to explore. 
Jump Up Slot, located in Grand Canyon National Park's remote western region is one of the many stunning options in this area and also the destinations of our Kanab Creek backpacking trip. The canyon offers hanging gardens, river walking, sandstone cliffs and towers, and slickrock hiking.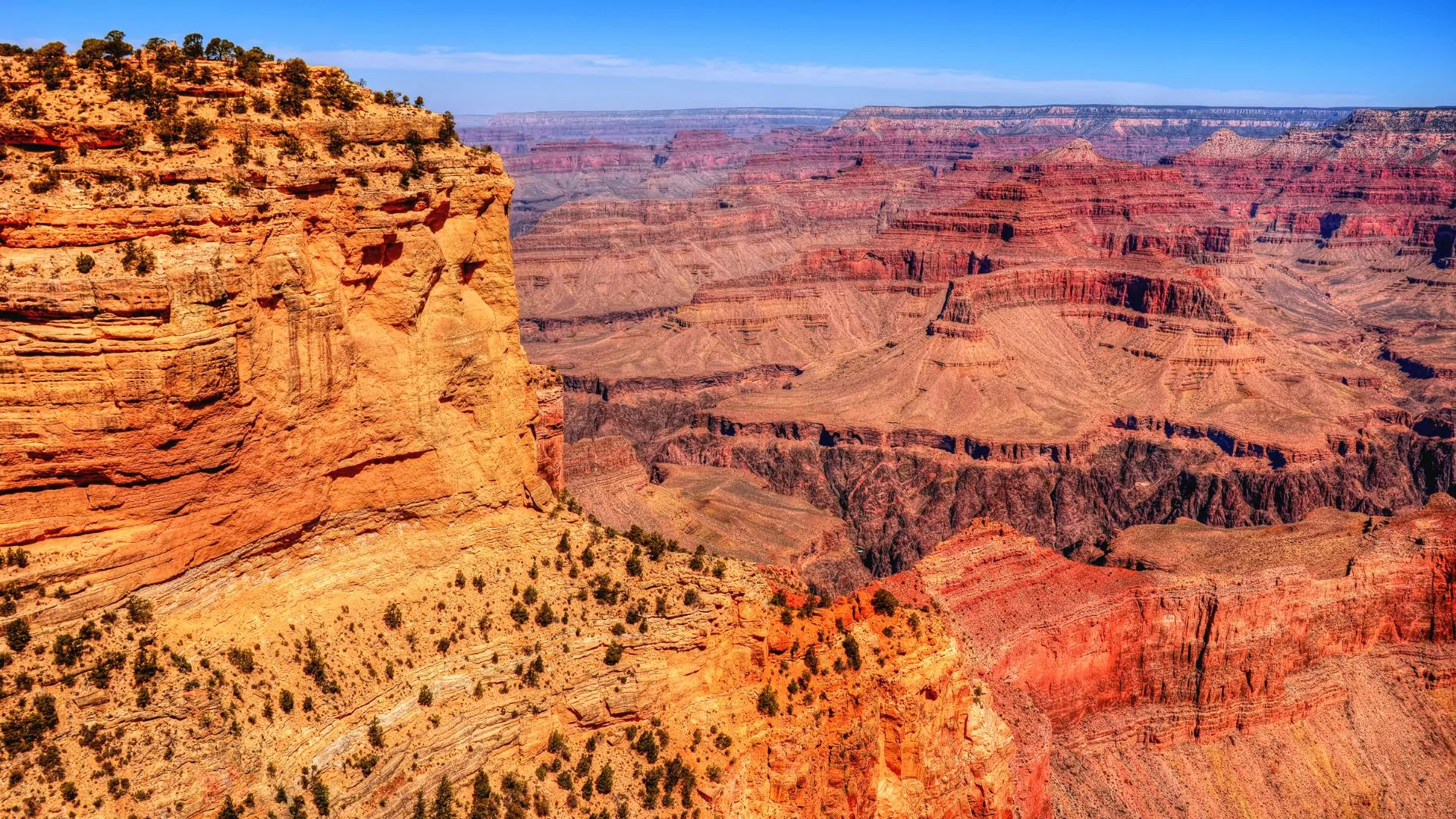 Know Before You Go:
While slot canyons can be an amazing adventure for all levels of experience, there are some things that everyone should know before heading into one.
What time of year should you go?
The best times of year to experience most of the Southwest are fall and spring. Summer can be swelteringly hot, and winter often brings snow and freezing temperatures. Certain summers also bring monsoon rains which can quickly cause flash flooding with deadly consequences.
Fall and spring generally bring warm days and cool nights, with temperatures anywhere between 50-80 degrees during the day. The nights can still reach freezing though so make sure to bring layers especially if you plan to camp.
Permits
Many more popular slot canyons need permits reserved ahead of time. Make sure to look into the canyon you plan to explore and see if you need to apply for permits. Some permits are lottery-based, and others you can pick up at any time.
Permits are important so that land managers know how much use an area is getting, and can restrict use if needed. Desert landscapes are fragile and easy to damage and it's important to protect these beautiful places if we want to explore them for years to come.
Leave No Trace
To that end, it's important to follow Leave No Trace principles while traveling in the delicate canyon ecosystem. Leave No Trace uses seven principles to protect the environment and the experience of being outdoors. 
Plan ahead and prepare – for slot canyons this can mean making sure you have permits, have told someone where you're going and when to expect you back, have a map and/or GPS coordinates downloaded, know the weather forecast of the surrounding area, and are packing appropriate gear.

Travel and camp on durable surfaces – in the desert it is especially vital to stay on durable surfaces including trails and slickrock. Even one step off the trail can damage living soil crusts, which are necessary to keep sand in place and allow plants to grow. Once damaged, these cryptobiotic crusts can take decades to regrow. 

Dispose of waste properly – this includes trash and human waste! In the desert, human and animal waste does not break down the same way it does in wetter climates. Make sure to use designated restrooms or bring "wag bags" to carry out all toilet paper and solid waste. 

Leave what you find – many slot canyons and desert landscapes have been home to humans for hundreds of years. This means you may come across pottery, arrowheads, or other artifacts. Do not deface or displace any of these items.

Minimize campfire impacts – only make campfires in designated campfire rings. 

Respect wildlife – give all animals a safe distance and DO NOT FEED.

Be considerate of others – trail etiquette is especially important in the close quarters of a slot canyon. Respect the integrity of other people's nature experience as much as your own.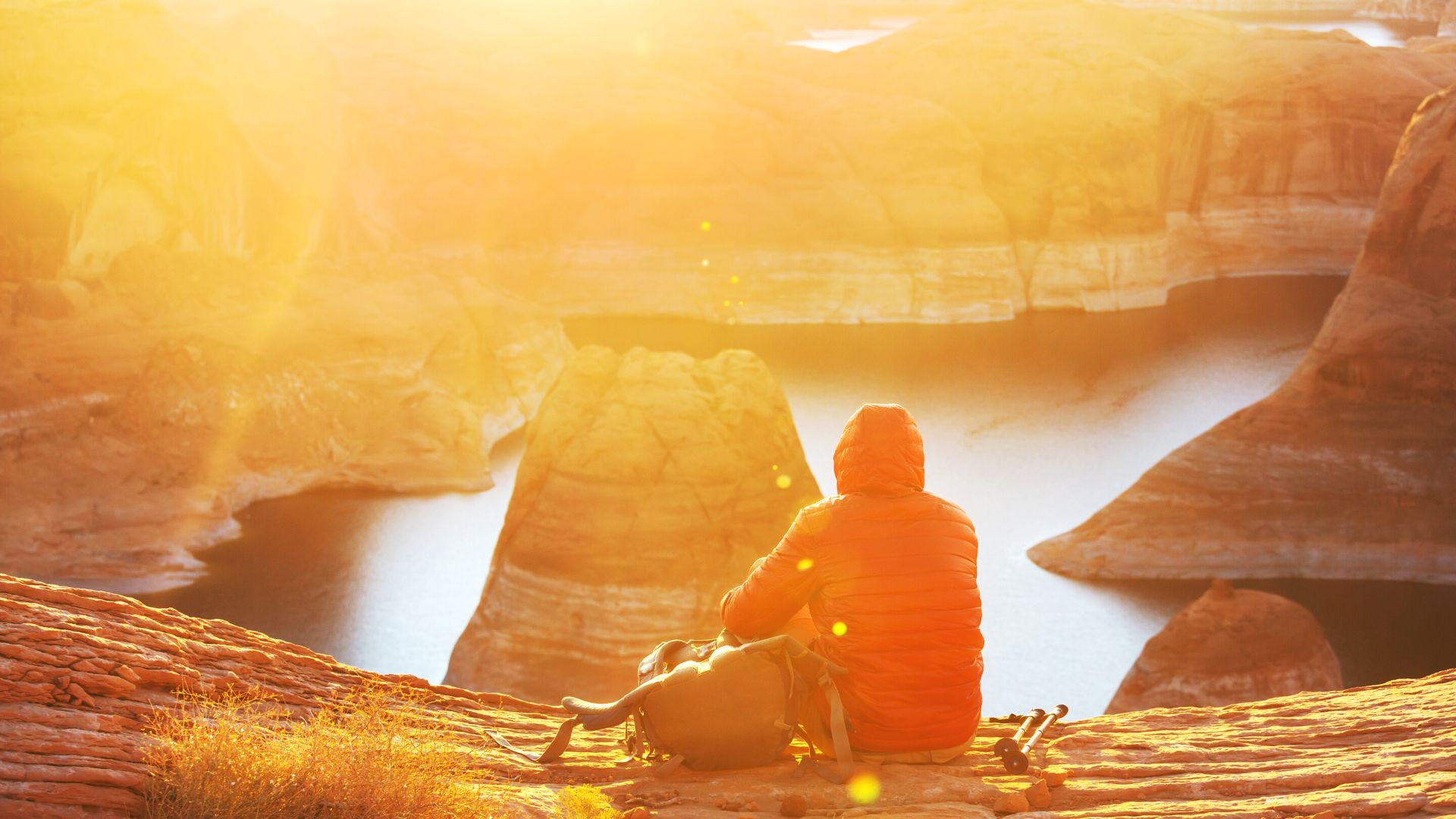 Flooding
In the desert, flash floods can occur without much warning, and they can be deadly if you are caught in a slot canyon. Make sure to check the weather in the surrounding area to see if any rain is expected. If there is, it's not a day to head into a canyon. Watersheds in these areas can be extensive and blue skies overhead may not ensure safety if it is raining somewhere else nearby.
If you are concerned or don't know the area well enough to make an informed decision, check in with local land managers. Whether you're on National Forest land, BLM land, or National Parks land, there should be a local field office that covers the area you are visiting. They will have a better idea of where flash flooding could occur or whether or not flooding conditions are forecasted.
DO NOT GO INTO A SLOT CANYON IF THERE IS ANY CHANCE OF RAIN OR FLOODING.
What do you need to take into the canyon?
It's important to have the proper gear and equipment before heading out to explore a slot canyon. 
One of the most important things for a non-technical canyon is proper footwear. You'll want something with good traction — tennis shoes are not always going to cut it. Hiking boots or running shoes with good soles can work. If you expect to encounter water, consider bringing close toed water shoes or wearing neoprene socks.
It's also important to stay hydrated. Hiking in the desert rarely provides much shade, so sun exhaustion can take over even during cooler temps. Bring plenty (more than you think) of drinking water, and snacks! Wearing light layers that cover your skin like a sun hoody can also help protect you from sun exposure. Sunscreen is also necessary year-round in the desert.
For more technical canyons, you'll need ropes, harnesses, helmets, anchor building supplies and belay devices. If you already know how to use this gear, go for it. If you don't, do not attempt a technical canyon on your own. Consider going with a guided group, choosing a less challenging route, or pursuing proper training first.
Let's Explore Slot Canyons!
Slot canyons can be an amazing adventure. They are an exciting and unique natural phenomenon that is hard to experience in many places other than the desert Southwest. Navigating through narrow passageways, finding hidden nooks and crannies, and experiencing the world from a different perspective are all things you could experience in a slot canyon. They are incredibly worthwhile and provide a unique adventure in one of nature's best playgrounds!