The Best Backcountry Huts in the U.S.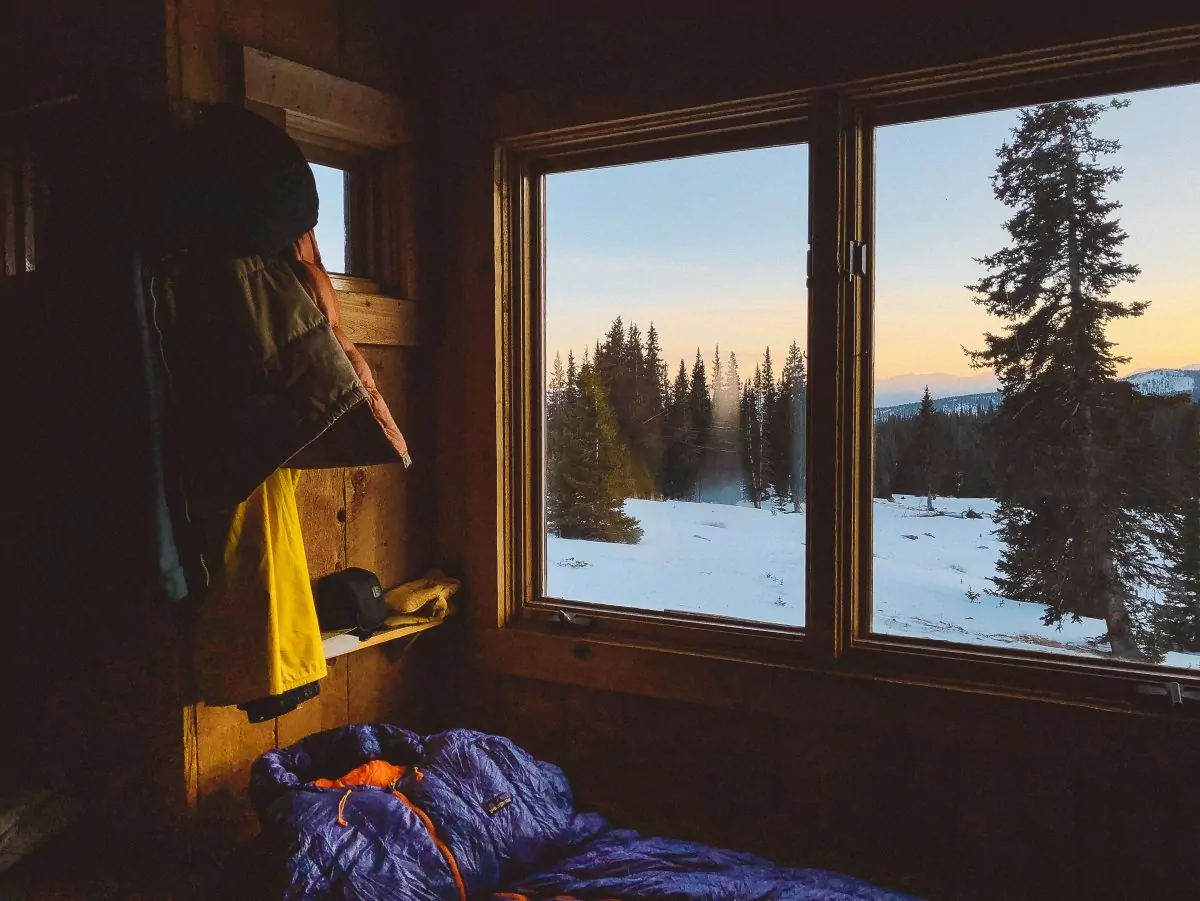 Photo by Holly Mandarich on Unsplash
Backcountry huts offer the very best access to mountainous terrain, whether you're chasing deep powder in the winter or hiking long distances in the summer. From tiny, alpine refuges to refined and catered lodges, backcountry accommodations are the best way to basecamp right in the alpine. You'll get to enjoy solitude, immense wilderness, and unparalleled experiences in the high country.
Backcountry huts are available in mountains across the U.S., from Vermont to Oregon, Colorado to Montana. They usually come with essential amenities, like kitchen gear and sleeping quarters (some more rustic than others.)
Whether you're looking for an adventurous getaway in the wild or a cozy trip with your friends, these backcountry huts are a great way to experience our public lands.
Glacier Point Hut, Yosemite National Park, California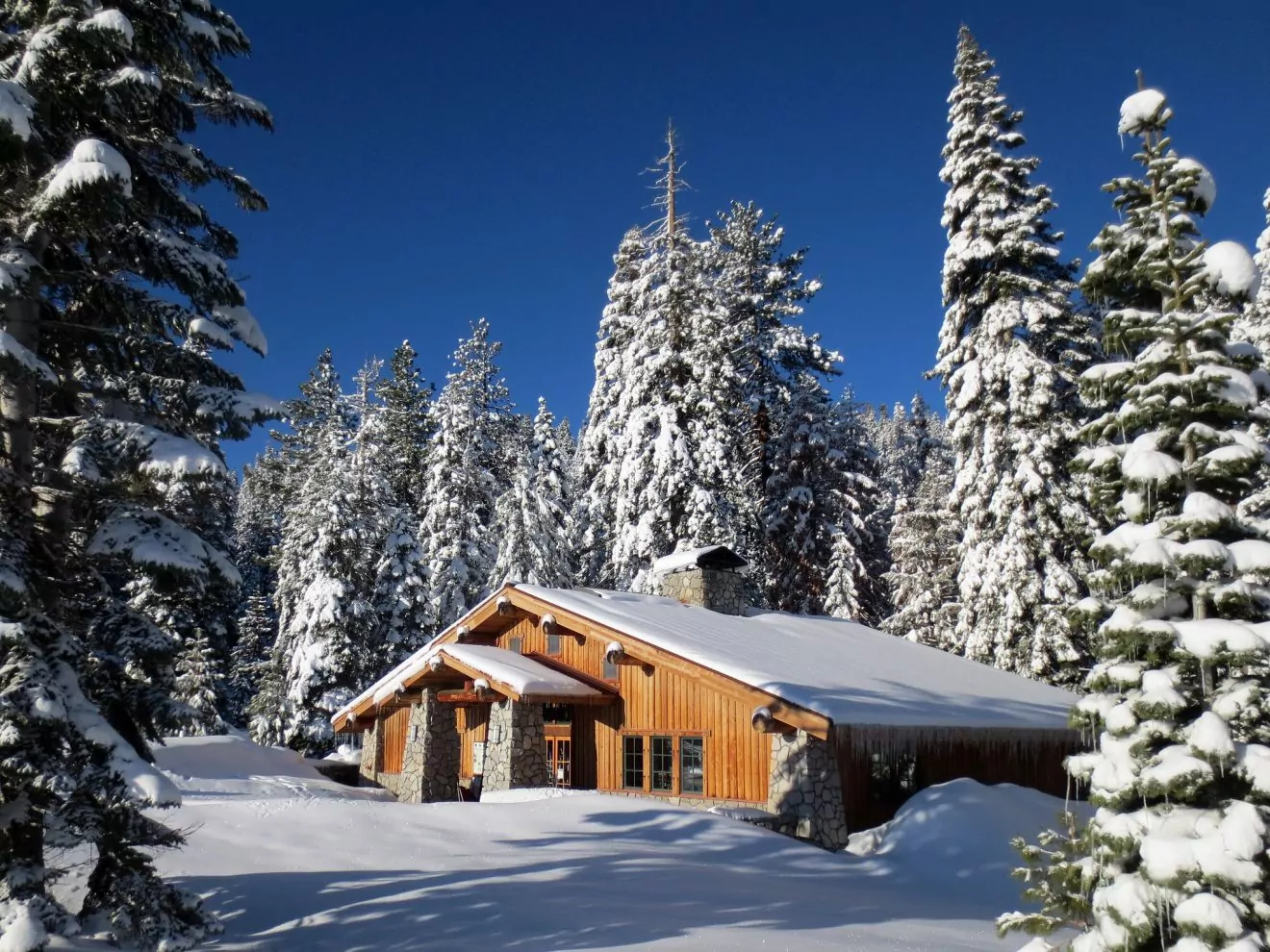 Photo Courtesy of Mitch Barrie (CC BY-SA 2.0)
In the summer, Glacier Point in Yosemite is bustling with tourists eager to take in the classic National Park view. But in the winter, this area transforms into a quiet winter wonderland that is home to the Glacier Point Ski Hut. To reach this hut, visitors ski or snowshoe over 10.5 miles of groomed terrain with phenomenal views of the Yosemite Valley, including El Capitan, Half Dome, and Yosemite Falls. Glacier Point Hut is made of stone and lumber and accommodates 20 people in one large room. With a fireplace, electricity, running water, and flush toilets, it's an ideal location to enjoy Yosemite National Park without the crowds.
Wildland Trekking offers a 3-day guided trip to this iconic hut, providing an expert guide, local transportation, all your meals, and high-quality gear as visitors hike to Sentinel Dome, enjoy 3,000-foot views of Yosemite Valley, and learn about the natural and cultural history of the park.
Please Note: The Glacier Point Hut is currently closed due to a lack of power resulting from road work being done on the Glacier Point Road. It is expected to re-open for the 2022-23 season.
Guided winter Yosemite Adventures
Point Breeze Hut, Leadville, Colorado
If you're looking for a great introduction to backcountry huts, you couldn't do much better than the privately-owned Point Breeze Hut. Just 0.8 miles from the Tennessee Pass Trailhead on the Colorado Trail, this hut is best known for its incredible access to 15+ miles of skiing and snowshoeing trails. It's also open in the summer, making it a great spot for hiking and enjoying Colorado's high country.
Point Breeze Hut sits at 10,500′ elevation and sleeps eight people. This roomy hut has two private bedrooms and a common area, a wood-burning stove, and an outdoor propane grill. The area is known as the alpine training grounds for the 10th Mountain Division, which played a critical part in WWII. Members of this historic group went on to found Colorado's modern ski industry. The area might even become the nation's very first National Historic Landscape if the Colorado Outdoor Recreation & Economy (CORE) Act passes Congress.
Opus Hut, San Juan Mountains, Colorado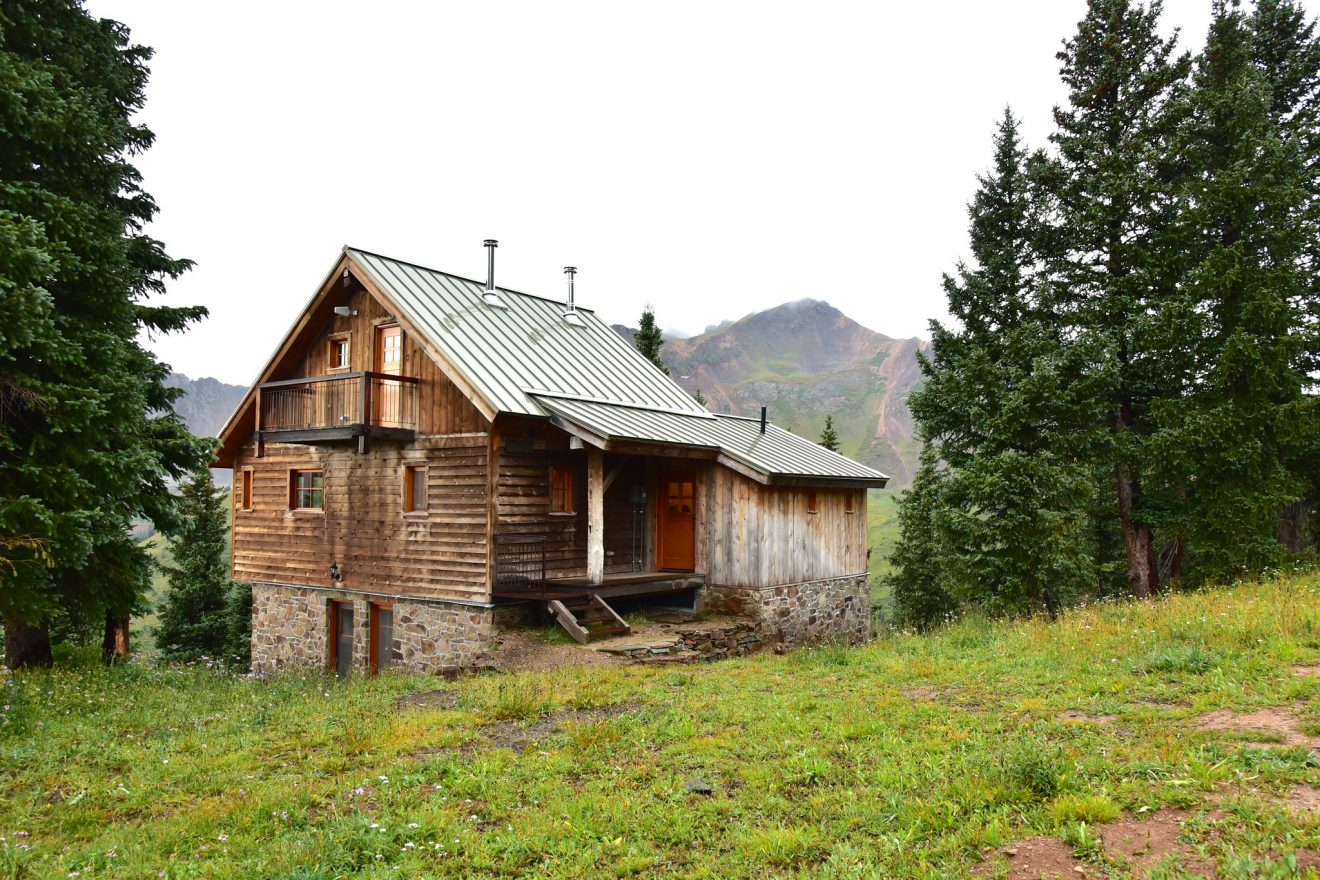 Photo Courtesy of Larry Lamsa (CC BY 2.0)
If you're looking for a luxurious stay with catered meals and hot showers, the Opus Hut should be your first choice. The Opus Hut, nestled in the world-class San Juan Mountains of Colorado, is open year-round so it's a prime area for both summer hiking and backcountry skiing. The hut itself is hand-built and eco-friendly — there's filtered drinking water, indoor composting toilets, hot and cold water, solar-powered electricity, catered hot meals, and even a bar with beer, wine, and spirits. The European-styled hut can sleep a total of 20 people in a variety of sleeping rooms, and meals are provided for all guests.
While you can drive within a quarter-mile of the hut in the summer and turn your visit into a wonderful Colorado hiking vacation, it's a 3.5-mile hike/skin in the winter. However, don't let that stop you from enjoying this decadent hut, — experiencing this level of comfort in some of the best mountains in southwestern Colorado is something you don't want to miss!
Tam Rim Alpine Yurts, Three Sisters Backcountry, Oregon
Three Sisters Wilderness is a 280,000+ acre wilderness area with over 260 miles of trail in Central Oregon's Cascade Mountains. Family-operated Three Sisters Backcountry provides two yurts handcrafted by skiers, for skiers. Each has a full kitchen and six bunks, so it's perfect for you and your crew. Plus, these yurts are right next to Tam McArthur Rim on the boundary of Three Sisters Wilderness on the south shore of Three Creeks Lake. You can choose to ski in, but the price includes a 6-mile snowmobile ride in from the Three Creeks Sno Park.
The skiing terrain here is unforgettable: you'll find tree glades, wide-open bowls, easy-peasy meadows, and chutes for advanced skiers. After a long day enjoying some of the best snow in the Cascades, you'll even be able to relax and warm up in the wood-fired sauna shared by the two huts. You can also book a private guide from Three Sisters Backcountry to lead you through the varied backcountry ski terrain of Tam McArthur Rim.
Stone Hut, Stowe, Vermont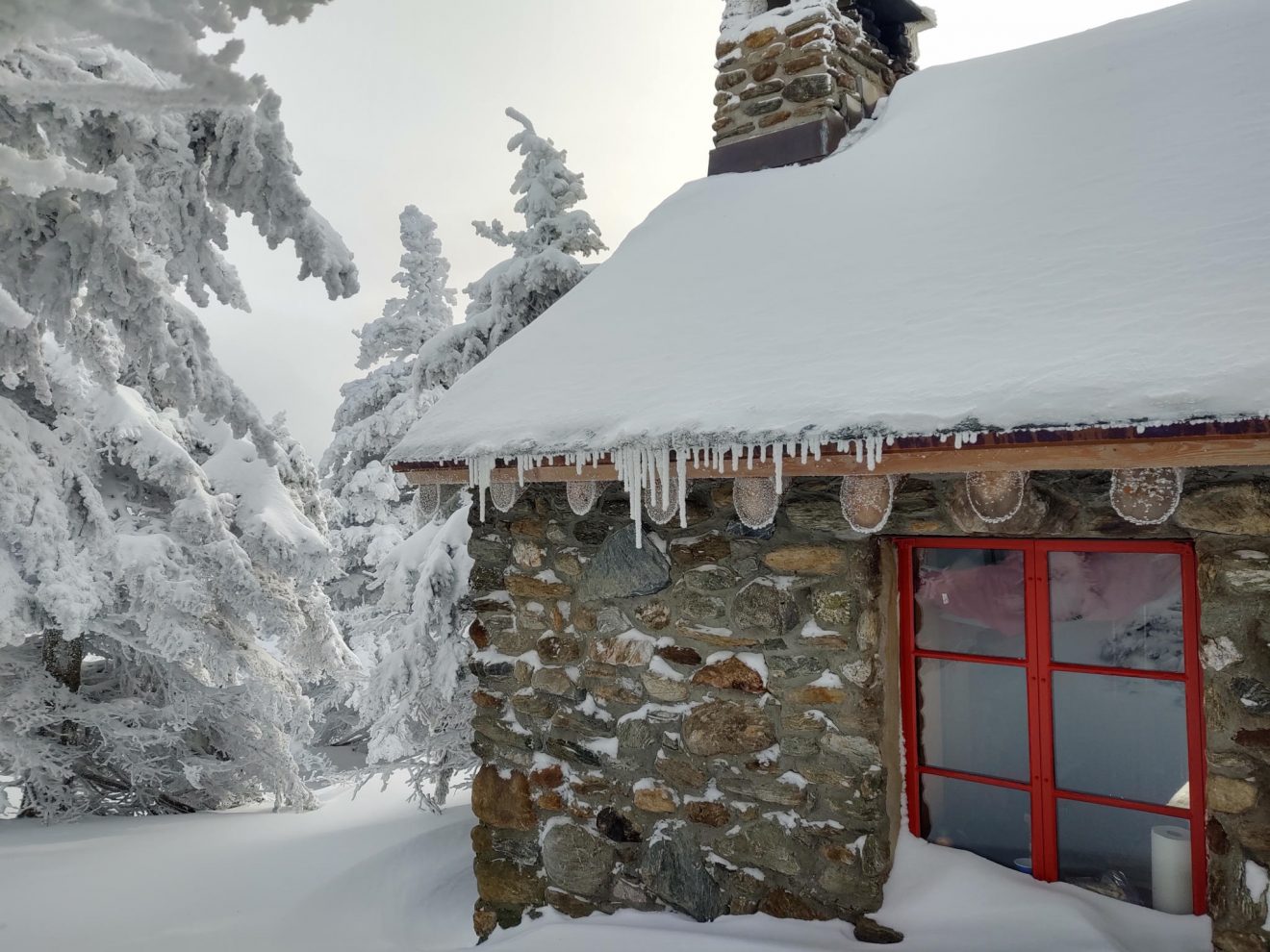 Photo Courtesy of Sean O'Neil and VT State Parks
Ok, this isn't exactly a backcountry hut, but no mountain hut article would be complete without it. Originally built as a warming hut by the Civilian Conservation Corps in 1935, the historic Stone Hut lies at the top of Stowe Mountain Resort on Mount Mansfield, and is part of the Vermont State Park system. Open from mid-November to mid-April, the round hut sleeps 12 people and is heated only by the woodstove. Guests will need to bring in all their cooking, lighting, and sleeping gear, but the experience is well worth it for the unforgettable ski access. Restrooms and water are available in the ski patrol hut nearby, and you can reach the hut via the Quad chairlift. If a Vermont hiking trip is on your list, staying here is worth a serious look.
Commissary Ridge Yurt, Teton Range, Wyoming
There are plenty of backcountry yurts that are relatively easy to get to, but not many of them have a great view of the iconic Grand, Middle, and South Tetons. Widely considered to be one of the best yurts in the country, Commissary Ridge Yurt provides access to truly wild places, abundant snowfall, and extraordinary wildlife opportunities.
The Commissary Ridge Yurts are technically in Wyoming but accessed through Idaho, and a guide will show you the way in and give you an introduction so you can make the most of your stay. The yurt sits at an even 8,000′ feet elevation and sleeps eight people. Snowmobiling is allowed in the area, but don't let that deter you: the Jedediah Smith Wilderness is just nearby, offering great access for human-powered only activities like hiking, snowshoeing, and skiing.
Winter in Yellowstone Vacations
Ninko Cabin, Flathead National Forest, Montana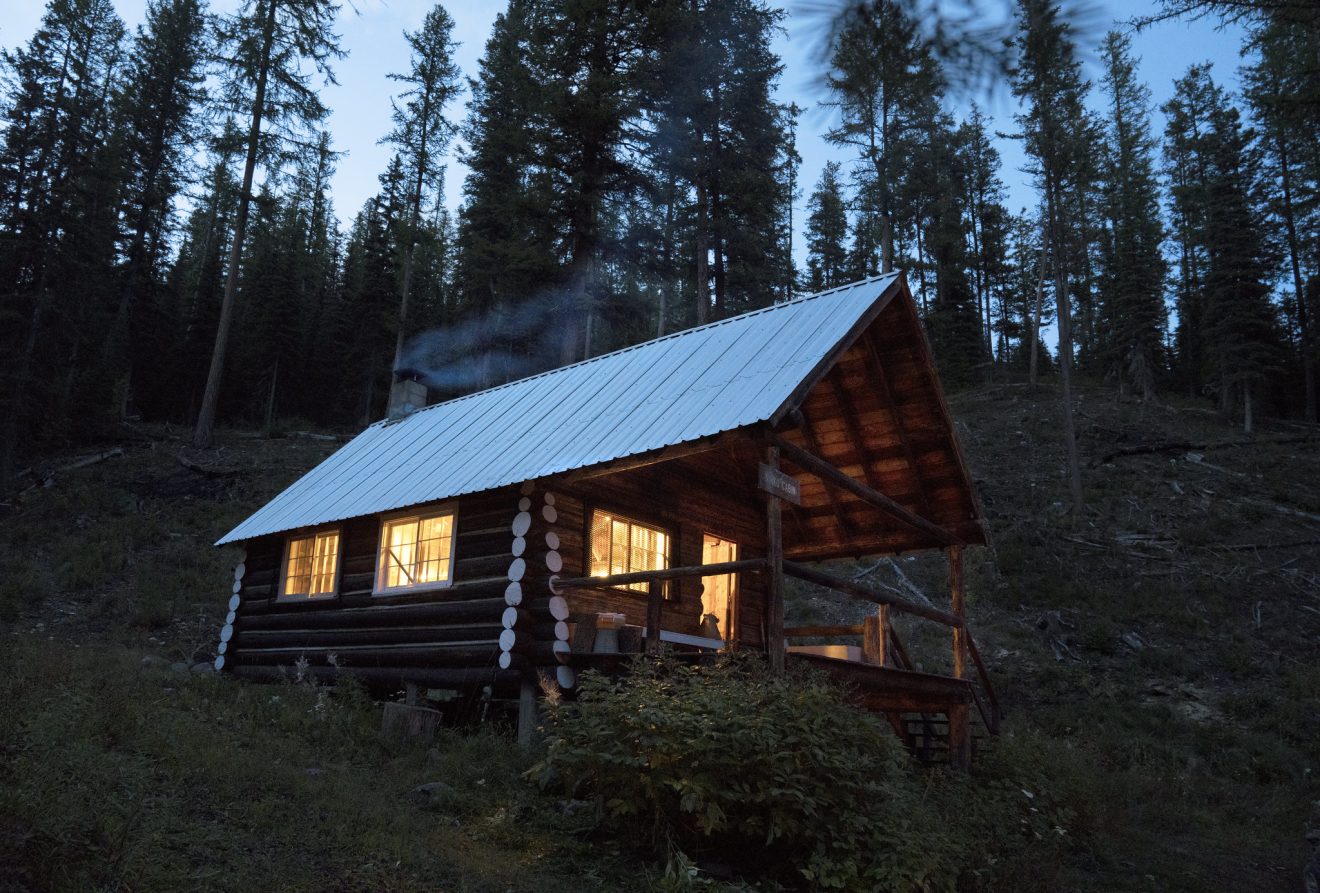 If a remote backcountry hut is your top priority, Ninko Cabin is the backcountry trip for you. 45 miles north of Columbia Falls, Montana, you'll have to hike, snowshoe, or ski 12 miles from North Fork Road to get to the cabin. And, you'll be lugging your bedding, drinking water, and other supplies with you.
The rustic cabin is tucked in a mountain valley near Whale Creek with a great view of Hornet Mountain and Mount Thompson-Seton. It can host 6 people and is open during the wintry months from December 1 to March 31. It is in Grizzly country in the Polebridge region near western Glacier National Park, so stay bear-aware, even in the winter.
Bull of the Woods Yurt, Taos, New Mexico
Just two miles from Taos Ski Valley, Bull of the Woods Yurt is a dream for backcountry skiers and snowboarders. The yurt itself is located at 10,800′ elevation at Bull of the Woods Meadow between Wheeler Peak (13,161′) and Gold Hill (12,700′). If skiing or snowboarding aren't your style, you're in luck: the yurt is open year-round and has great hiking and mountain biking opportunities. Summer is spectacular, as the meadows are filled with high-alpine wildlife and wildflowers.
Each yurt can accommodate 10 people and includes two bunk beds with a double bed on the bottom, plus 4 additional mattresses for sleeping on the floor. The Southwest Nordic Center owns and manages the yurt, and they provide pillows, a three-burner cooking stove, a wood stove, and various kitchen supplies. They provide bottled water in the spring, summer, and fall, but you'll need to melt snow for water in the winter. Year-round, you'll need to bring food, flashlights, and a sleeping bag.
Grace Camp, John Brooks Lodge, Keene Valley, New York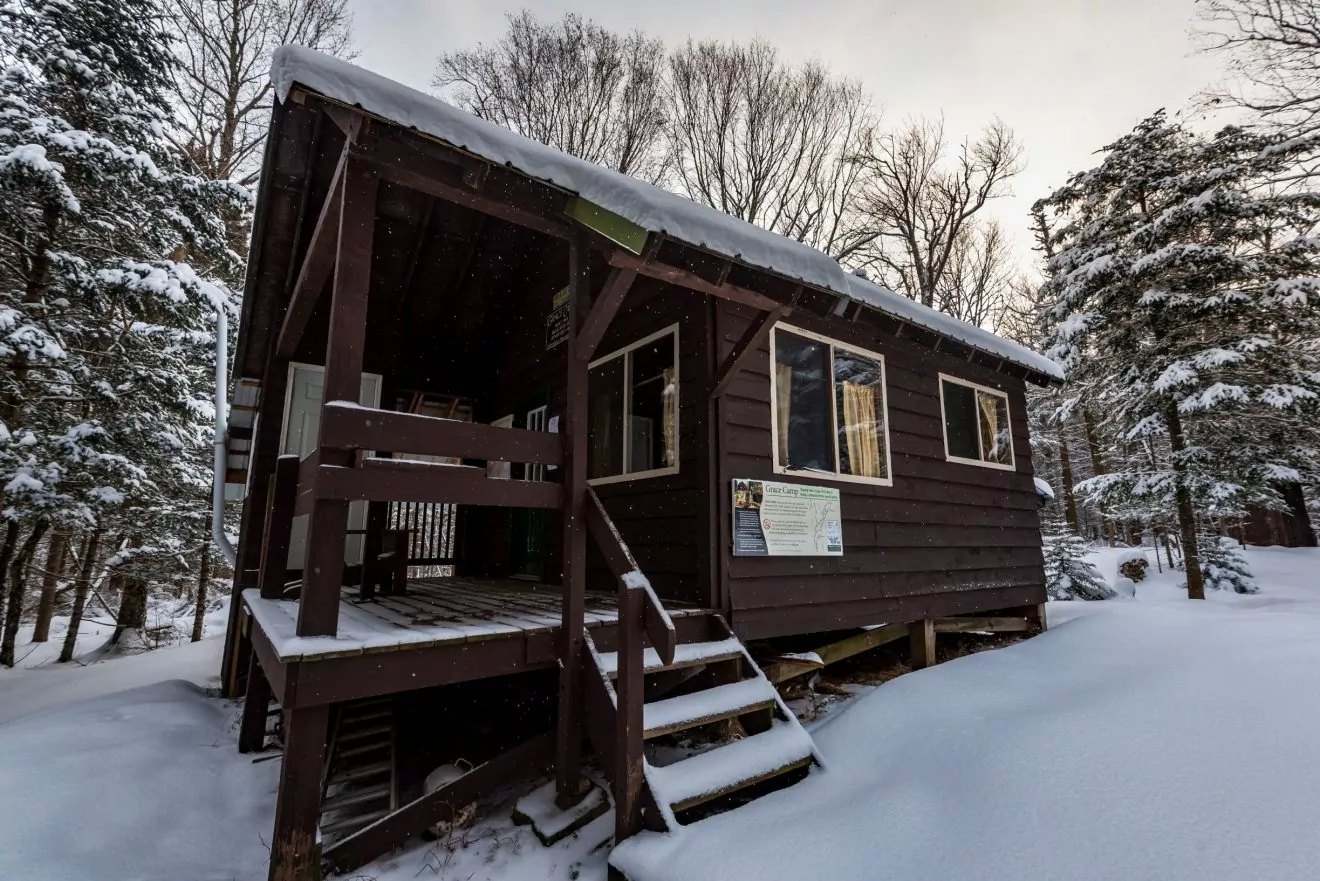 Photo Courtesy of Ben Brousseau and the Adirondack Mountain Club
Adirondack Mountain Club's backcountry cabins are in the heart of New York's High Peaks Wilderness. Located at the base of the Great Range, you'll hike 3.5 miles to the 6-person cabin surrounded by the high peaks of the Adirondacks. This is the perfect place to enjoy some of the best New York wilderness, whether you're in hiking boots or snowshoes.
Grace Camp provides mattresses, kitchenware, a propane stove, and a sink (though not running water), along with propane heaters in the winter. The club also offers the 12-person Camp Peggy O'Brien cabin, a 28-person co-ed Johns Brook Lodge, and 3 lean-tos.
Castle Peak Yurt, Uinta Mountains, Utah
The Uinta Mountains have some of the best mountainous terrain in Utah, and Castle Peak offers a great introduction to winter yurt camping. You can choose from services that include guided backcountry skiing, snowshoeing, and prepared meals. Whether you're looking for a high-alpine adventure in the quiet silence of the forest, the Castle Peak Yurt delivers a true backcountry experience.
The yurt is a six-mile, one-way trip along an old logging road 30 minutes east of Park City. Best of all, in the summer of 2021, it got a much-needed renovation. And if you want a stay with fewer frills, don't worry: there's an option for a self-guided yurt stay, too.
Guided Winter Vacations
If you want to gain more skills in winter weather, Wildland Trekking offers year-round, guided adventures across the country. We've got Hut to Hut Treks, Ski and Snowshoe Tours, and plenty of guided experiences to grow your experience and skills in the mountains. Browse our upcoming schedule to learn more about our guided trips and award-winning vacations.