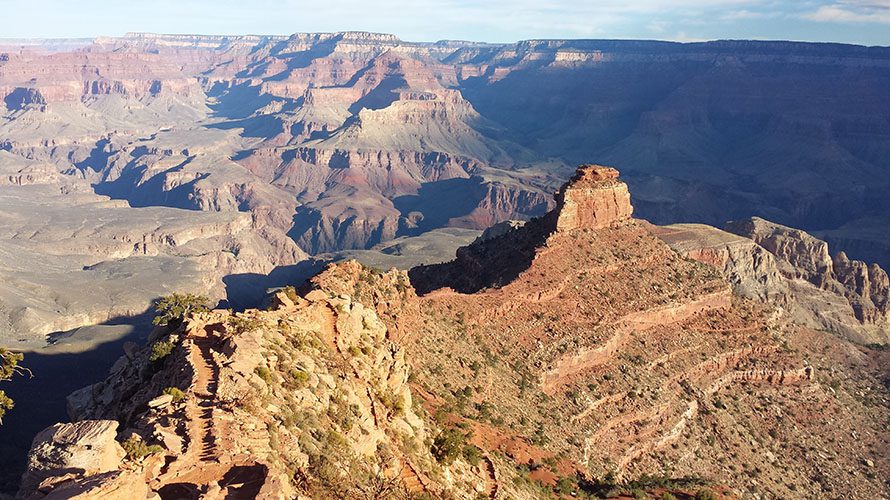 South Kaibab Trail
General Description
The South Kaibab Trail is a stunning Grand Canyon hiking trail that descends an exposed ridge all the way to the Colorado River. It's one of the best trails to hike for views, adventure, and to gain a tremendous appreciation for the size and grandeur of the Canyon.
Getting to the South Kaibab Trailhead
The South Kaibab Trailhead is located east of the South Rim Village and very near Yaki Point. There is no parking allowed at South Kaibab Trailhead unless you have backpacking permits. The best way to reach the trailhead is to park at the Backcountry Information Center and catch the Hikers Shuttle to the trailhead. Read more about the Hikers Shuttle.
History of the South Kaibab Trail
Up until the construction of the South Kaibab Trail, the primary pathway to gain access to the bottom of the Grand Canyon and the Colorado River was via the Bright Angel Trail, which was privately controlled by businessman, Ralph Cameron. Mr. Cameron charged a fee to everyone who wanted to hike on his trail, which he controlled through mining claims. The National Park Service wanted to a trail that was open to the public and that they could have complete control of.
There were only a handful of moderate descents into the Canyon, where natural faults had created breaks in the cliffs where trails could be built. The Bright Angel Fault line, where the Bright Angel Trail was built, was the most obvious of these. There was also the Hermit Trail, the Grandview Trail, the Tanner Trail, and the Boucher Trail, but those were much farther from Grand Canyon Village, and not as accessible. So the park service decided on the South Kaibab Trail and began construction (using lots of dynamite) in 1924. The trail was completed and dedicated on June 25, 1925.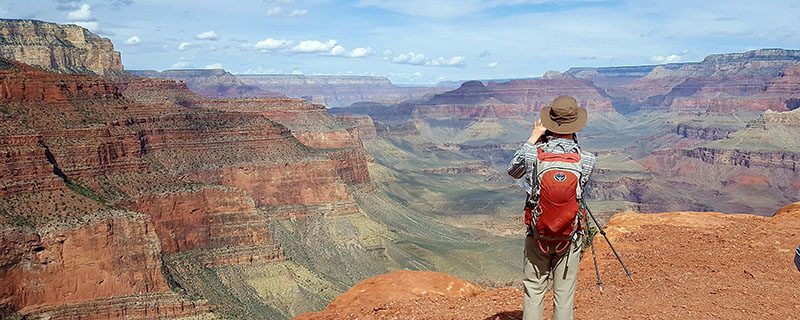 3 Best Day Hikes on the South Kaibab Trail
South Kaibab offers some amazing options for day hikes! It is one of the best trails for day hikes in the Grand Canyon because of its stunning, panoramic views. It's also a popular start or finish to the famous rim to rim hike that thousands of people undertake every year.
Below are the primary options for day hiking the South Kaibab Trail:
| | | | |
| --- | --- | --- | --- |
| | Destination | Miles | Elev |
| | Skeleton Point | 5.3 mi | 1978 ft |
| | Tonto Trail | 12.4 mi | 3395 ft |
| | North Rim | 19.3 mi | 6453 ft |
1. South Kaibab to Skeleton Point
This hike is an out and back day hike with moderate hiking (by Grand Canyon standards!) and exceptional views. Ooh Aah Point is a bit less than a mile down and offers jaw-dropping views for relatively little effort. Cedar Ridge is roughly 1.5 miles down and takes you across the most dramatic sections of the South Kaibab Trail by dizzying drop-offs and phenomenal panoramic views. Skeleton Point is roughly 6 miles round trip and  sits at the top of the Red Wall, where you can see the Colorado River and Phantom Ranch at the bottom of the Canyon. To get back, simply turn around and hike back out.
2. South Kaibab – Tonto Trail – Bright Angel Trail
This loop hike goes down South Kaibab, across the Tonto Trail and out Bright Angel Trail. It is considered strenuous and should only be undertaken by fit, experienced hikers not during summer months. The South Kaibab-Tonto Trail-Bright Angel Trail loop does not go to the Colorado River, but is a fantastic day hike that has a little bit of everything: huge views, views of Phantom Ranch and the Colorado River, solitude on the Tonto Trail, and shade and water at Havasupai Garden.
3. South Kaibab to the North Rim ("Rim to Rim")
This hike is of course the most famous hike in the Grand Canyon, and one that tens of thousands of people undertake every year. You can hike North to South, or South to North. Either way, you'll need to figure out what you're going to do once you get to the other side, stay in a hotel and hike back, get picked up or book a shuttle back to your starting point on Transcanyon Shuttle.
Maximize Your Visit to the Grand Canyon on a Hiking Tour
Guided day hike tours and multi-day hiking packages allow visitors the opportunity to make the most of their time in Grand Canyon National Park and to do it hassle-free. Guided tours include gear (backpack, trekking poles, crampons in winter), meals, accommodations on multi-day tours, local transportation, and a professional Grand Canyon hiking guide. Through their knowledge, stories, and personal passion, guides can bring a place to life in a way that's much more difficult to do on your own. Read more about Grand Canyon Hiking Tours.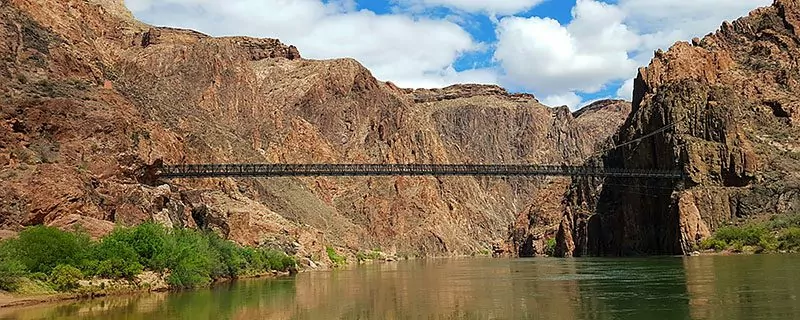 3 South Kaibab Backpacking Trips
As a central entry point into the Grand Canyon, you can essentially hike anywhere from the South Kaibab Trail. We have detailed 3 of the best and most worthwhile backpacking routes.
| | | | |
| --- | --- | --- | --- |
| | Route | Miles | Need Permit |
| | South Kaibab – Bright Angel Loop | 16 mi | Yes |
| | Rim to Rim | 21 mi | Yes |
| | Clear Creek | 36 mi | Yes |
1. South Kaibab – Bright Angel Loop Backpacking Trip (2-4 days)
This loop is exactly the same as the South Kaibab-Colorado River-Bright Angel day hike loop, except you can do it as a 2-day, 3-day, or even 4-day, overnight backpacking trip. It is, by Grand Canyon's standards, a moderate trip but by any other standards, it's moderate-strenuous. First stop is at Bright Angel Campground, then if you plan on a 3-day or 4-day trip, Havasupai Garden Campground is the second stop.
2. South Kaibab – North Rim "Rim to Rim" Backpacking Trip (3-4 days)
This thru-hike backpacking trip can be done South to North, or North to South. Stops are Bright Angel Campground and Cottonwood Campground. If you'd like to do a 4-day trip, you can do a layover day at either campground. Some people hike Bright Angel Trail as part of their Rim to Rim experience, which is a longer option but with a campground half-way (Havasupai Garden), plus more shade and water. The North Rim is closed early-mid November through May 14, so seasonality is also a factor with this trip.
3. South Kaibab – Bright Angel Creek – Clear Creek (4-5 days)
This out-and-back backpacking trip is a wonderful spring trip as it visits the tallest waterfall in the Canyon, Cheyava Falls, which is over 800 feet high! Descend South Kaibab to Bright Angel Campground, and spend the first night at Bright Angel. Then hike north on the North Kaibab Trail and after approximately 1/2 mile take the Clear Creek Trail heading west (right). It takes you up to the top of the Tapeats Sandstone layer and across the Tonto Plateau on the north side of the Colorado River. After 8 miles you'll reach Clear Creek. Spend two nights here, one day hiking up canyon to Cheyava Falls. Return to Bright Angel, and then out either South Kaibab or Bright Angel Trail.
Join a Guided Grand Canyon Backpacking Trip
Joining a Grand Canyon backpacking tour is a worry-free, adventurous way to experience the Canyon. With your gear, meals, local transportation, permits, and fees taken care of for you, you can travel light and focus 100% on enjoying the canyon, while the guide company takes care of everything else. Also, by going with local experts you'll enjoy a greater level of safety and gain a much better understanding of the incredible geology and history you're hiking through. Read more about a guided Grand Canyon backpacking trip.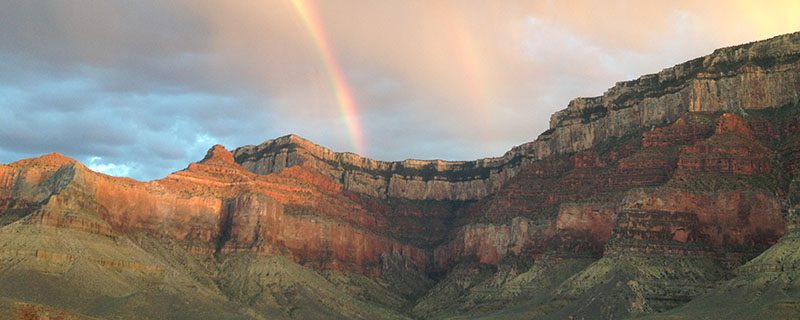 When to Hike and Seasonal Considerations
The South Kaibab Trail is fantastic year-round, but is best in the spring and fall. In the winter the trail can be icy and may require the use of hiking crampons (recommended brand). If in doubt, have them with you because you don't want to turn your hike around early when you hit unexpected ice. In the summer the temperatures can be extremely hot, so it's critical to get a very early start. We recommend being on the trail by 6 AM from June through mid September. Also, in the summer it's important carry extra water and snacks.
Necessary Permits
Day Hike Permits
There are no required permits to do any day hiking in Grand Canyon National Park.
Backpacking Permits
All overnight stays inside the Grand Canyon are required to have overnight camping permits. Grand Canyon's permit system is a lottery that begins 4 months before the month you'd like to hike on the first of the month. For example, on January 1 submissions are made for all May dates; on February 1 submissions are made for all June dates; on March 1 submissions are made for all July dates…etc. For more information on Grand Canyon's permit system, click here.
Suggested Packing List
Day Hike Packing List
3-6 liters of water (more in summer)
Salty, calorie-rich snacks
lunch
backpack
trekking poles
crampons (in winter)
wide-brimmed hat
sunscreen, sunglasses
cotton t-shirt (spring-fall)
non-cotton t-shirt (winter)
rain jacket
warm non-cotton layer
1st-aid kit
Backpacking Packing List
all items listed for day hikes PLUS
multi-day backpack
3-season tent
sleeping bag
sleeping pad
backpacking stove and fuel
backpacking meals
3 pairs wool socks
extra t-shirts
Please Respect Our National Parks – Leave No Trace
We strongly recommend abiding by all Leave No Trace ethics guidelines and practices so that our national parks and public lands are preserved for the enjoyment of future generations and for the people and animals who call these places home. Simple things like packing out your trash, obeying national park rules, and respecting the peace and quiet of our national park trails is a great start. If you're going on a backpacking trip, you can read about more about the 7 Leave No Trace Principles.