How to Safely Hike Alone: Getting Started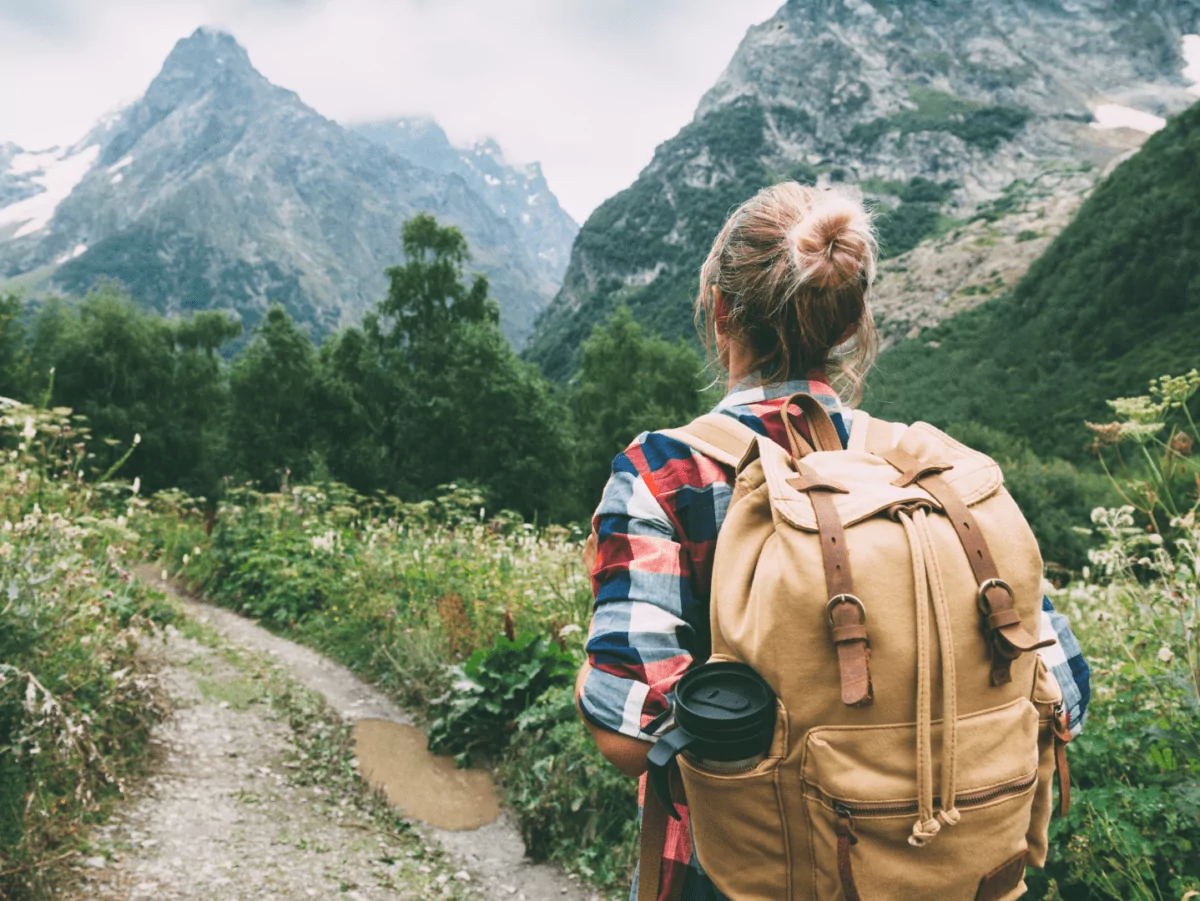 Hiking alone can be one of the greatest confidence boosters, not to mention a beautiful opportunity to recharge in nature. That being said it can be anxiety-producing navigating your first solo hike. We want you to know the empowerment of hitting the trail independently, so we put together a checklist to navigate as you prepare for your first solo jaunt down the trail.
Benefits of Solo Hiking
Going solo can flip the empowerment switch to on, giving you an I-can-do-anything mentality. You might find yourself inspired in other areas of life too: taking leaps of faith and risks that benefit your work, relationships, and other hobbies.
Along with building your confidence, solo hiking gives you the freedom to do whatever you want, it's literally only about you! No compromising on underwhelming hike choices or misaligned timing that typically comes with trying to coordinate hikes with others. Independent hiking allows you the freedom to go wherever you want, whenever you want. Would you like to take the extra two-mile loop to see the waterfall? Do it! Want to take a break during the uphill charge? You can do that too!
Slow down and get into the rhythm of nature. Hiking with friends and groups is often a social event with a lot of chatter. When you hit the trails alone you get the opportunity to sync up with the sounds of your surroundings. The birds, the bees, the wind, the waterfall. This silence also lends itself to self-reflection and discovery. It can be a wonderful time to practice walking meditation or work through some challenging thoughts. 

Overcoming Fears
Perhaps your fear of the boogeyman is behind you, but the fear of hiking alone persists and for valid reasons. Taking to the trail solo can bring up some uncomfortable notions (The Hills Have Eyes anyone?); fortunately these fears can be overcome with proper preparation.
Fear can be a funny thing. It can convince you that the very small chance of something happening will happen, and you will be the one it happens to. Part of this likely comes from societally-induced fear around solo hiking. Fear is a natural biological emotion for humans and acts as a safety mechanism. A healthy dose of "fear" keeps the brain alert, which is important to staying vigilant when alone.
With time and more solo endeavors under your belt, confidence will slowly build. Your first time hiking solo will likely feel equal parts empowering and anxiety-filled. This is a new thing for you. When you do feel anxiety or uneasiness showing up, take a moment to stop and breathe. You do not have to keep pushing on if you need time to assess how you are feeling, take in your surroundings, and navigate the coming emotions.
Join a women's only hiking trip 
Preparing For Your Solo Hike
More often than not anxiety stems from the unknown so when planning your first solo trip it behooves you to prepare in advance. If you need to schedule every last detail out, then do what serves you best. This is all about you, after all!
Start Small
Before hitting the trail and taking on a more challenging hike that has significant mileage, technical terrain, or big elevation profiles, there are two things you should do: train and start small. Your first few solitary hikes probably aren't the best time to take big risks. It's best not to try to do your longest day hike to date on your first solo adventure. 
Start off with a short hike, averaging 1-2 hours. This way you can get a sampler of what it's like; maybe you don't enjoy hiking alone after all? Starting with shorter hikes will help you gauge where you are at in your physical abilities, and with time, as you get stronger and spend more time on the trails, you can expand your pursuits by hiking longer and bigger landscapes.
Work on building up your confidence in hitting the trail independently and then start adding more mileage and challenging terrain to your solo hiking list. Save the risk-taking for when your friends are around or after you've established a healthy unaccompanied hiking resume.

Choose A Popular Trail
If you're feeling uneasy about being alone in the wilderness for whatever reasons choosing a popular trail can help quell the discomfort. Popular trails are typically more maintained than others and are frequently populated by other hikers. This equates to well-groomed trails, less interaction with larger wildlife that might scare you, and more options for assistance should you need it. Say you get lost and need directions? On a popular hike, you're more likely to run into multiple parties that can lend a hand.
Thoroughly Plan Out The Day
Seek to understand all aspects of your sought-after hike: the terrain, elevation gain, mileage, areas you could get lost, water, the weather and climate, time of year and season, and wildlife of the area among other potential hazards. While researching, read the comments on hiking apps and websites. Try to glean as much information as possible from hikers who have done the hike recently. Are there downed trees from a recent storm that makes the trail hazardous? Is there a river crossing? Make sure you feel safe and secure in your abilities to take on the adventure.
It's important to remember that the weather can change on a dime, especially depending on what area of the world you live in. Those who often spend time outdoors know how quickly the weather prediction can be proven incorrect. While hiking in the rain and inclement weather can be fun, it poses extra challenges and precautions. Aim to hike on a clear day for your first solo trip.
Tell Your Loved Ones
Communicate to a handful of your inner circle all the details of your trip: the exact trail name, where you are parking, and how long you'll be out. Choose a time to have someone call you if they have not heard that you are safely back. Consider dropping a pin of your parking location if possible. You can leave a note in the dashboard of your car communicating when you left and when you should be back as well. If there is a ranger station near you, stop in and let them know your plan too. It never hurts to over-communicate here. Safety first!
As you start to enjoy unencumbered adventures in the outdoors you can consider investing in a Garmin inReach which is a handheld satellite communication device with two-way texting and GPS and navigation services. 
Most satellite phones allow for dropping pins or "waypoints" of your location to a specific person as you move along the trail. They also often include GPS and navigation, have messaging features, and even an SOS button for emergencies. Having a device like this for solo hiking is responsible and provides safer adventurers. 
What to Pack
Hiking alone versus with a group means you have to bring all the supplies. Prepare for anything and everything. Yes, even spending the night in the woods. This might mean carrying a heavier pack on solo days than while hiking with friends.
We've put together a list of necessities when hiking by one's self:
Compass and a map

Learn how to use these prior to hitting the trail

Sun protection

insulation /extra clothing

Headlamp, flashlight and extra batteries

First aid supplies

Fire making supplies

Knife and repair tools

Snacks

Water 

Emergency shelter
You should always plan to carry the 10 Essentials, appropriate clothing and layers, plenty of water and food/calories, safety-specific items like bear spray (when applicable) or an emergency whistle, and whatever else you need to feel confident and well-prepared.
Another key piece of "gear" to always pack is some form of identification. This can be as simple as writing down your name, a contact phone number, address, and allergies on a piece of paper and putting it in your pack. 
Other forms of identification can be your license or something like Road iD. Road iDs are wearable identification products (usually around a watch band) that will allow first responders or a fellow hiker to identify your name, allergies, and an emergency contact person within seconds if something happens.
If your solo trip is more situational than intentional, consider joining a small hiking group or a hiking trip. Simply because your friends and family aren't able to join you does not mean you need to push your boundaries beyond your comfort zone. You can still discover the beauty of hiking communities and cultivate long-lasting friendships! Wildland Trekking offers a myriad of hiking and backpacking opportunities for just this.