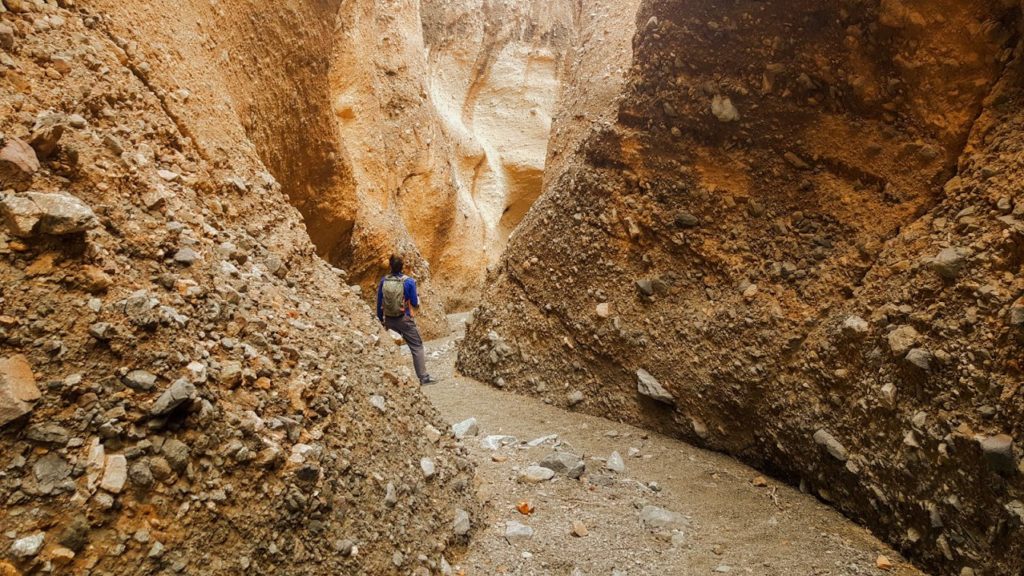 Sidewinder Canyon Trail
General Description
If you want to experience the slot canyons of Death Valley National Park, then look no further. The slots of Sidewinder Canyon are as twisting and tortuous as their namesake. A moderate hike up the inclined wash delivers hikers past mysterious and intriguing side slot canyons to the delicately carved narrows.  Beyond the narrows, smoothly polished chutes and dry falls of smoothly polished schist impede further upstream passage.  The real fun is exploring the narrow slot canyons that suddenly appear like hidden passageways on either side of the main canyon.  Snaking your way up these dark narrow halls feels, at times, like a spelunking expedition.  After some fun-filled scrambling, it is a gentle stroll back down the gravelly wash. The hike back is filled with the magnificent panorama of the Badwater salt pan backed by the majestic Panamint Mountains making Sidewinder Canyon an unbelievable Death Valley excursion.
Explore Death Valley with Expert Guides
Getting to the Sidewinder Canyon Trailhead
From the Inn at Death Valley, turn onto the Badwater Basin Road.  Drive 31.2 miles south (approximately 14.7 miles past Badwater Basin) to a small gravel road on the east (left) side of the road.  The parking lot is at a gravel pit a quarter mile from the main road.  Sidewinder is the large drainage due south of the parking area.  A worn trail marked with cairns leads to the mouth of the canyon.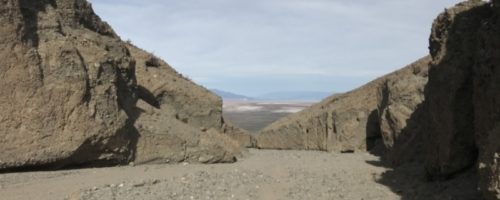 3 Best Points of Interest Near the Sidewinder Canyon Trail
Exploring the length of Sidewinder Canyon and its many side canyons can take a full day.  Check out these excellent nearby points of interest to make the most out of a visit to Death Valley National Park.
| | | | | | |
| --- | --- | --- | --- | --- | --- |
| | Destination | Miles | Elev | Difficulty | Style |
| | Badwater Basin | N/A | 0 ft | Easy | Out and Back |
| | Artist Drive | 0-1 mi | <100 ft | Easy | Out and Back |
| | 20 Mule Team Canyon | 0-2 mi | 0-200 ft | Easy | Out and Back |
The high point of any trip to Death Valley National Park just might be a visit to the lowest place in North America, Badwater Basin.  From 280 feet below sea level, park visitors can stroll out onto an endless pan of glowing white salt.  Telescope Peak looms 11,000 above Badwater Basin to the southwest and Dante's View, just over a vertical mile straight up to the east. There's more to appreciate than just the immensity of the landscape. Further out on the salt flats, away from trampling feet are salt crystal polygons as unique and numerous as snowflakes in a blizzard.  Badwater Basin has no defined trail, so explore to your heart's content.  Just be aware that the fragile salt pools are off-limits to everyone.  Be sure to carry plenty of water and enjoy this iconic wonder of Death Valley.
Artist Drive is without a doubt the most colorful and unique experience in Death Valley National Park.  This 9 mile drive gets park visitors up close and personal with some of Death Valley's vibrantly colored mineral deposits.  The main stop along Artist Drive is Artist's Palette.  Here, hikers can cross a shallow wash and meander through small canyons between crumbling piles of pink, purple, blue, green, red, and brown volcanic deposits. Colors mix and contrast so sharply, it's easy to imagine that you are walking on the palette of a grand artist. Explore as far or as short as you would like.  There is fun for everyone along Artist Drive.
Death Valley National Park is well known for its rich mining past. The 20 mule teams and wagons that once carried tons of borax through this unforgiving landscape are an enduring legacy. 20 Mule Team Canyon was heavily prospected for borax around the turn of the twentieth century leaving behind countless loading platforms, mine tailings, and tunnels.  The scenic drive through this incredible canyon offers tons of hiking potential in the richly colored badlands of the Black Mountains. Take your pick of any number of short hikes through networks of canyons and ridges along the drive.  There are no official trails, so choose your adventure wisely. The badland hills along this drive are teeming with discovery and just begging to be explored.  Take this hike in the early morning or late afternoon to see a dazzling display of light and shadow.
Maximize Your Visit to Death Valley National Park on a Hiking Tour
Guided multi-day packages allow visitors the opportunity to make the most of their time in Death Valley National Park and to do it hassle-free. Guided tours include gear (backpack, trekking poles, crampons in winter), meals, accommodations, local transportation, and a professional Death Valley hiking guide. Through their knowledge, stories, and personal passion, guides can bring a place to life in a way that's much more difficult to do on your own. Read more about Death Valley Hiking Tours.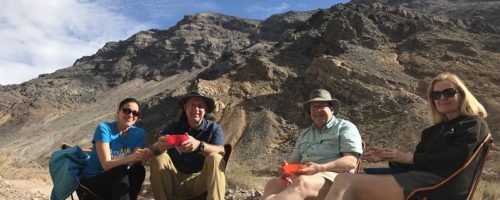 3 More Canyon Hikes
If Sidewinder Canyon whetted your appetite for Death Valley canyons, then check out these other amazing canyon treks.
| | | | | | |
| --- | --- | --- | --- | --- | --- |
| | Destination | Miles | Elev | Difficulty | Style |
| | Desolation Canyon | 3.5 mi | 750 ft | Easy-Moderate | Out and Back |
| | Mosaic Canyon | 3.5 mi | 1000 ft | Easy-Moderate | Out and Back |
| | Fall Canyon | 6 mi | 1500 ft | Moderate | Out and Back |
If you're looking for a top-notch entry level cross country trail, Desolation Canyon comes in at the top of the class.  Far less popular than nearby Golden Canyon and Gower Gulch, Desolation Canyon is a family-friendly, fun-filled, route finding hike. Trek cross country picking your entry into the shallow wash that will soon rise around you into a beautiful wineglass shaped canyon.  Not long after the walls close in, hikers are faced with a few short dry fall scrambles to rouse that intrepid spirit.  As a reward for your effort, the canyon puts on display stunning pinks, reds, purples, blues, and greens, reminiscent of the nearby Artist's Palette.  Take a little time to explore some of Desolation's many short side canyons.  The pinnacle of the hike is a ridgetop view of Artist Drive and sweeping Death Valley vistas.  Desolation Canyon is sure to charge up your sense of adventure.
Mosaic Canyon is an amazing hike for both first-time and long-time visitors of Death Valley National Park.  A two mile drive up the gravel road on the western edge of Stovepipe Wells delivers hikers to the Mosaic Canyon Trailhead. The walls of smoothly polished marble immediately come together forming a short, stunning, tortuous narrows.  Along the way, you may notice the mosaic-like breccia for which the canyon is named.  Beyond these narrows, the canyon opens to a large wash, but the fun doesn't have to end here.  Several primitive trails work their way up the canyon to even more narrows, dry falls, and other fun discoveries.  Mosaic Canyon is a perfect hike for families and seasoned desert hikers alike.
Easy access, gentle grade, and colorful canyon walls extending 2000 feet above make Fall Canyon an outstanding hike in Death Valley National Park. Dropping into the wide wash of Fall Canyon, you will immediately know that you are in for something big.  Along the hike, the canyon walls display vibrant reds, whites, blacks, and greys of geologic strata uplifted at varying angles.  Wind your way up canyon passing intriguing side canyons to the base of a 20 foot dry fall.  For most, the adventure stops here.  A short stroll back will reveal a short slope scramble to bypass the falls on the south side.  Adventurous souls will be treated to a beautiful section of narrows above the dry fall.  The stunning narrows of lower Titus Canyon are a great way to add on a few miles. Whatever you fancy, Fall Canyon is a sure bet for a great hike.
Join a Guided  Death Valley National Park Backpacking Trip
Joining a Death Valley backpacking tour is a worry-free, adventurous way to experience Death Valley National Park. With your gear, meals, local transportation, permits, and fees taken care of for you, you can travel light and focus 100% on enjoying the hiking experience, while the guide company takes care of everything else. Also, by going with local experts you'll enjoy a greater level of safety and gain a much better understanding of the history and ecology of this remarkable region. Read more about a guided Death Valley National Park backpacking trip.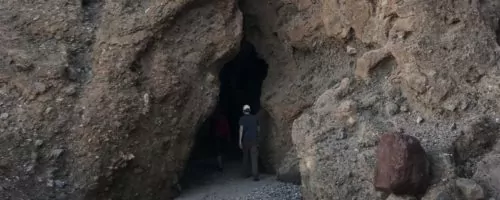 When to Hike and Seasonal Considerations
Hiking the Sidewinder Canyon Trail is best done from late fall through early spring.  Like many other hikes in Death Valley National Park, there is little to no shade during the day and daytime temperatures can easily soar into the triple digits between the months of March and September. Check the weather and road/trail conditions before you go and do not hike in Sidewinder Canyon if there is potential for rain.
Necessary Permits
Day Hikes
No permits are required for day hiking in Death Valley National Park.
Backpacking Permits
Backcountry camping permits are voluntary and may be obtained at the Visitor Center or any Ranger Station. Due to the extreme environment and remoteness, it is recommended that solo hikers and backpackers provide itinerary information and emergency contacts to park personnel.
Suggested Packing List
Day Hike Packing List
3-4 liters of water per person
Salty, calorie-rich snacks
lunch
backpack
trekking poles
wide-brimmed hat
sunscreen, sunglasses
cotton t-shirt (spring-fall)
non-cotton t-shirt (winter)
rain jacket
warm non-cotton layer
1st-aid kit
Backpacking Packing List
all items listed for day hikes PLUS
additional water AND water filter/purification method
multi-day backpack
3-season tent
sleeping bag
sleeping pad
backpacking stove and fuel
backpacking meals
2-3 pairs wool socks
extra t-shirts
Please Respect Our National Parks – Leave No Trace
We strongly recommend abiding by all Leave No Trace ethics guidelines and practices so that our national parks and public lands are preserved for the enjoyment of future generations and for the people and animals who call these places home. Simple things like packing out your trash, obeying national park rules, and respecting the peace and quiet of our national park trails is a great start. If you're going on a backpacking trip, you can read about more about the 7 Leave No Trace Principles.