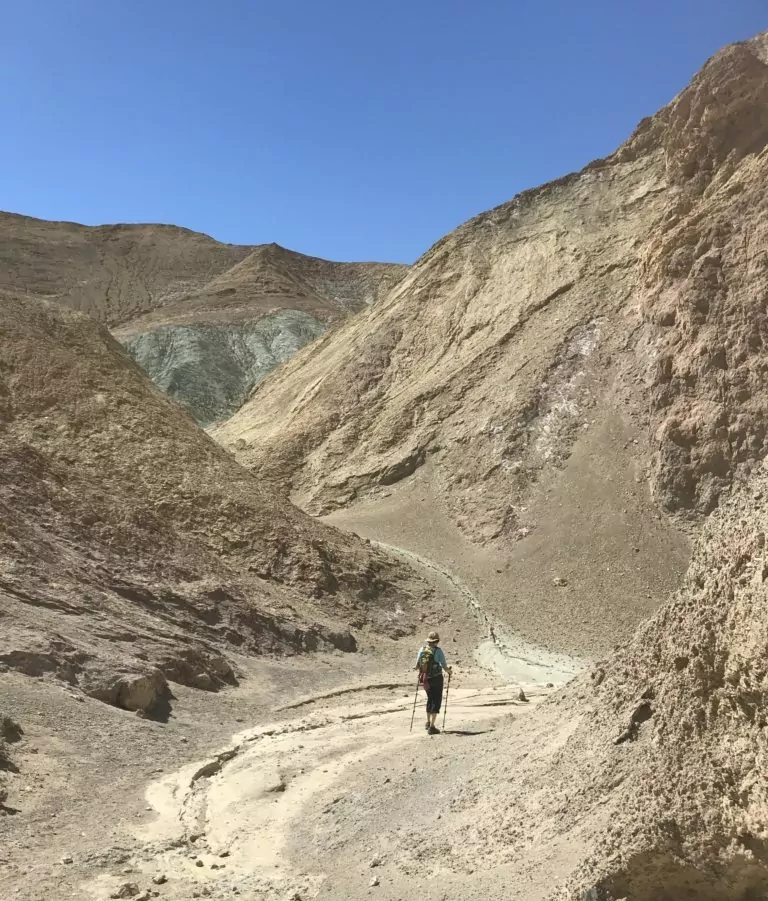 Desolation Canyon Trail
General Description
If you're looking for a top-notch entry level cross country trail, Desolation Canyon comes in at the top of the class.  Far less popular than nearby Golden Canyon and Gower Gulch, Desolation Canyon is a family-friendly, fun-filled, route finding hike. Trek cross country picking your entry into the shallow wash that will soon rise around you into a beautiful wineglass shaped canyon.  Not long after the walls close in, hikers are faced with a few short dry fall scrambles to rouse that intrepid spirit.  As a reward for your effort, the canyon puts on display stunning pinks, reds, purples, blues, and greens, reminiscent of the nearby Artist's Palette.  Take a little time to explore some of Desolation's many short side canyons.  The pinnacle of the hike is a ridgetop view of Artist Drive and sweeping Death Valley vistas.  Desolation Canyon is sure to charge up your sense of adventure.
Explore Death Valley with Expert Guides
Getting to the Desolation Canyon Trailhead
The Desolation Canyon Trail is tucked away from Badwater Basin road just south of Golden Canyon and Gower Gulch.  From Furnace Creek Visitor Center, drive 1.3 miles east on CA-190 E and turn right onto Badwater Basin Road.  Desolation Canyon Road will be on your left at 3.7 miles.  The parking area for the trailhead is 0.4 miles down the well maintained gravel road.  The trailhead is accessible to most vehicles.  The Desolation Canyon Trail is the wash located slightly to the left (northeast) of the parking area.
Bantha Canyon
Prior to its designation as a national park, Death Valley played host to a number of well known films, including the original Star Wars trilogy.  Desolation Canyon was the location for scenes from Star Wars Episode IV: A New Hope.  In the scene, a Tusken raider is seen riding a horned, furry creature called a Bantha. Underneath all of that fur and horns was Mardji, a female asian elephant.  Mardji was apparently unaccustomed to the Death Valley heat and continually removed her costume, much to the chagrin of director George Lucas.  Lucas elected to retain the original scenes featuring Mardji the Bantha in the 1997 re-release, rather than replacing her with CGI.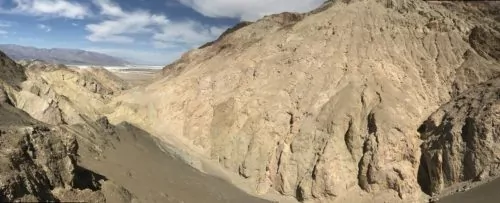 3 Best Day Hikes Near the Desolation Canyon Trail
The Desolation Canyon Trail is a great starter hike in Death Valley National Park.  Check out these other incredible nearby trails that are sure to make your visit to Death Valley one to remember.
| | | | | | |
| --- | --- | --- | --- | --- | --- |
| | Destination | Miles | Elev | Difficulty | Style |
| | Golden Canyon Trail | 2.5-4.5 mi | 700 ft | Easy-Moderate | Out and Back or Loop |
| | Artist's Drive | 0-1 mi | <100 ft | Easy | Out and Back |
| | 20 Mule Team Canyon | 0-2 mi | 200 ft | Easy-Moderate | Out and Back |
Golden Canyon is a must-do hike on any visit to Death Valley National Park.  This tangled system of canyons cuts through brilliant yellow-gold badlands where secrets and adventures lurk around every corner.  Other trails in the area to Red Cathedral, Zabriskie Point, and Gower Gulch make this a real choose your own adventure hike.  Take a short hike to the towering fluted red walls of Red Cathedral. Want to hike point to point? Why not take the downhill route from Zabriskie Point?  Have a bigger, off the beaten path adventure in mind? Take the spur trail to Gower Gulch and scramble the smoothly polished dry falls of its narrows.  Whatever size of adventure you'd like, Golden Canyon has something that will fit the bill.
Artist Drive is without a doubt the most colorful and unique experience in Death Valley National Park.  This 9 mile drive gets park visitors up close and personal with some of Death Valley's vibrantly colored mineral deposits.  The main stop along Artist Drive is Artist's Palette.  Here, hikers can cross a shallow wash and meander through small canyons between crumbling piles of pink, purple, blue, green, red, and brown volcanic deposits. Colors mix and contrast so sharply, it's easy to imagine that you are walking on the palette of a grand artist. Explore as far or as short as you would like.  There is fun for everyone along Artist Drive.
Death Valley National Park is well known for its rich mining past. The 20 mule teams and wagons that once carried tons of borax through this unforgiving landscape are an enduring legacy. 20 Mule Team Canyon was heavily prospected for borax around the turn of the twentieth century leaving behind countless loading platforms, mine tailings, and tunnels.  The scenic drive through this incredible canyon offers tons of hiking potential in the richly colored badlands of the Black Mountains. Take your pick of any number of short hikes through networks of canyons and ridges along the drive.  There are no official trails, so choose your adventure wisely. The badland hills along this drive are teeming with discovery and just begging to be explored.  Take this hike in the early morning or late afternoon to see a dazzling display of light and shadow.
Maximize Your Visit to Death Valley National Park on a Hiking Tour
Guided multi-day packages allow visitors the opportunity to make the most of their time in Death Valley National Park and to do it hassle-free. Guided tours include gear (backpack, trekking poles, crampons in winter), meals, accommodations, local transportation, and a professional Death Valley hiking guide. Through their knowledge, stories, and personal passion, guides can bring a place to life in a way that's much more difficult to do on your own. Read more about Death Valley Hiking Tours.
Award Winning USA Hiking Vacations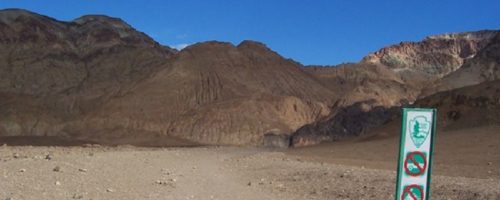 Join a Guided Death Valley National Park Backpacking Trip
Joining a Death Valley backpacking tour is a worry-free, adventurous way to experience Death Valley National Park. With your gear, meals, local transportation, permits, and fees taken care of for you, you can travel light and focus 100% on enjoying the hiking experience, while the guide company takes care of everything else. Also, by going with local experts you'll enjoy a greater level of safety and gain a much better understanding of the history and ecology of this remarkable region. Read more about a guided Death Valley National Park backpacking trip.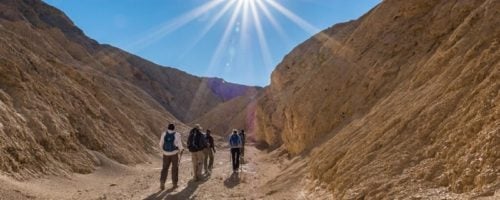 When to Hike and Seasonal Considerations
The Desolation Canyon Trail is a great hike to do from late fall to early spring.  The trail is fully exposed with little shade and it is not advised to do this hike during the summer months.  The late evening light can really make the colors of this beautiful canyon pop!  Keep an eye on the weather.  Rain in the immediate area can cause flash flooding in this canyon.
Necessary Permits
Day Hikes
No permits are required for day hiking in Death Valley National Park.
Backpacking Permits
Backcountry camping permits are voluntary and may be obtained at the Visitor Center or any Ranger Station. Due to the extreme environment and remoteness, it is recommended that solo hikers and backpackers provide itinerary information and emergency contacts to park personnel.
Suggested Packing List
Day Hike Packing List
3-4 liters of water per person
Salty, calorie-rich snacks
lunch
backpack
trekking poles
crampons (in winter)
wide-brimmed hat
sunscreen, sunglasses
cotton t-shirt (spring-fall)
non-cotton t-shirt (winter)
rain jacket
warm non-cotton layer
1st-aid kit
Backpacking Packing List
all items listed for day hikes PLUS
additional water AND water filter/purification method
multi-day backpack
3-season tent
sleeping bag
sleeping pad
backpacking stove and fuel
backpacking meals
2-3 pairs wool socks
extra t-shirts
Please Respect Our National Parks – Leave No Trace
We strongly recommend abiding by all Leave No Trace ethics guidelines and practices so that our national parks and public lands are preserved for the enjoyment of future generations and for the people and animals who call these places home. Simple things like packing out your trash, obeying national park rules, and respecting the peace and quiet of our national park trails is a great start. If you're going on a backpacking trip, you can read about more about the 7 Leave No Trace Principles.