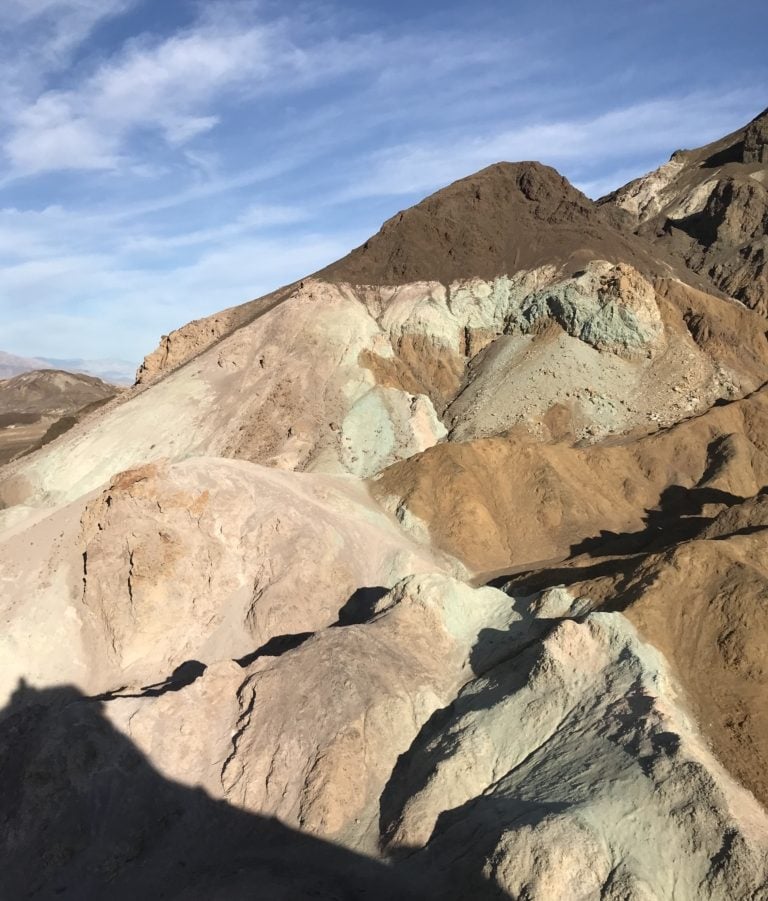 Artist's Drive
General Description
Artist's Drive is without a doubt the most colorful and unique experience in Death Valley National Park.  This 9 mile drive gets park visitors up close and personal with some of Death Valley's vibrantly colored mineral deposits.  The main stop along Artist's Drive is Artist's Palette.  Here, hikers can cross a shallow wash and meander through small canyons between crumbling piles of pink, purple, blue, green, red, and brown volcanic deposits. Colors mix and contrast so sharply, it's easy to imagine that you are walking on the palette of a grand artist. Explore as far or as short as you would like.  There is fun for everyone along Artist's Drive.
Explore Death Valley with Expert Guides
Getting to Artist's Drive
Artist's Drive is a one-way loop and the southernmost end is the entrance. From the Furnace Creek Visitor Center, drive one mile and turn right onto Badwater Basin Road. From the turnoff, drive 8.5 miles to the entrance of Artist's Drive on the left.  This road is paved and accessible to all vehicles under 25 feet.  There are multiple places to pull off on the side of the road for photo ops or to do a little hiking.  Please be sure to clear the road.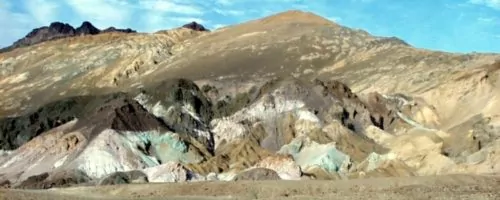 3 Best Day Hikes on Artist's Drive
Sure, it's fun to stop and pose for a few photos along Artist's Drive, but the real adventure starts when your boots hit the ground.  Check out these great short day hikes along Artist's Drive.  These hikes are in order along Artist's Drive from south to north.
| | | | | | |
| --- | --- | --- | --- | --- | --- |
| | Destination | Miles | Elev | Difficulty | Style |
| | First Dip Canyon | 1.4 mi | 1600 ft | Moderate-Strenuous | Out and Back |
| | Second Dip Canyon | 1 mi | 1300 ft | Moderate | Out and Back |
| | Artist's Palette | 0-1 mi | 0-800 ft | Easy | Out and Back |
1. First Dip Canyon
This unnamed canyon is chock-full of scrambling adventure with a number of dry falls and boulder jams to be traversed.  To get there, drive 3 miles on Artist's Drive to the first pronounced dip in the road.  There are small turn-outs located on either side of the dip.  Just be sure to park well out of the road and leave as much room for others as possible.  Head up the wash that crosses the road at this dip.  The colorful walls converge soon after entering the wash.  Less than 1/4 mile from the road, an 11 foot high vertical dry fall impedes the progress of most hikers.  Those feeling a little more adventure can traverse this, the first of many obstacles in this canyon.  If you're looking for a challenging canyon hike, then look no further.
2. Second Dip Canyon
Another little-known unnamed canyon along Artist's Drive, Second Dip Canyon is a little more accessible than First Dip Canyon and, arguably, a little more scenic.  To access this canyon, drive to the second pronounced dip in the road approximately 0.5 miles past the first dip.  There is a small parking area at the top of the rise on the north side of the dip.  Again, head up the wash and become instantly enveloped in cathedral-like walls forming this canyon's spectacular narrows.  While it may not be the scrambling excursion that First Dip Canyon offers, Second Dip Canyon has its fair share of obstacles.  As soon as you think it's over, this canyon keeps on going.  A tight, overhanging passage ending in a 20 foot dry fall marks the end for most hikers.
3. Artist's Palette
This iconic viewpoint is a popular one, and for good reason.  The rainbow of crumbling rock piles are most pronounced at this point along Artist's Drive.  If you want big adventure for the whole family, just drop down into the shallow wash below the viewpoint.  From here, you can explore the colorful volcanic piles through a maze of small passageways, or head up any number of washes for big canyon adventure.  The world is your oyster here.  If you ever have doubts on which way to return, just remember that all of these canyons were cut by water.  Just follow them downhill to the main wash.
Maximize Your Visit to Death Valley National Park on a Hiking Tour
Guided multi-day packages allow visitors the opportunity to make the most of their time in Death Valley National Park and to do it hassle-free. Guided tours include gear (backpack, trekking poles, crampons in winter), meals, accommodations, local transportation, and a professional Death Valley hiking guide. Through their knowledge, stories, and personal passion, guides can bring a place to life in a way that's much more difficult to do on your own. Read more about Death Valley Hiking Tours.
Award Winning USA Hiking Vacations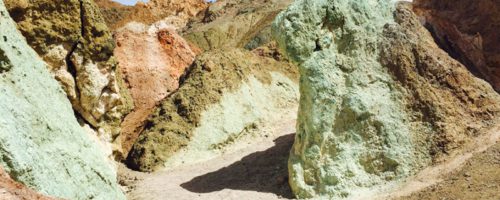 Join a Guided Death Valley National Park Backpacking Trip
Joining a Death Valley backpacking tour is a worry-free, adventurous way to experience Death Valley National Park. With your gear, meals, local transportation, permits, and fees taken care of for you, you can travel light and focus 100% on enjoying the hiking experience, while the guide company takes care of everything else. Also, by going with local experts you'll enjoy a greater level of safety and gain a much better understanding of the history and ecology of this remarkable region. Read more about a guided Death Valley National Park backpacking trip.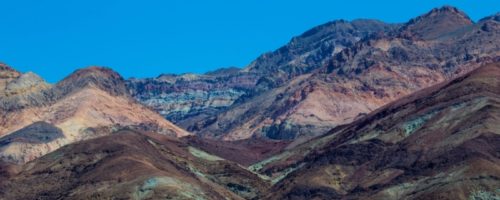 When to Hike and Seasonal Considerations
Artist's Drive is accessible year-round, but it is strongly advised to avoid hiking here during the summer months.  Early mornings and late evenings are the absolute best times to hike here.  The colors are especially vibrant at sunset.  Keep an eye on the weather as localized rain can cause flooding along the drive and in the canyons.
Necessary Permits
Day Hikes
No permits are required for day hiking in Death Valley National Park.
Backpacking Permits
Backcountry camping permits are voluntary and may be obtained at the Visitor Center or any Ranger Station. Due to the extreme environment and remoteness, it is recommended that solo hikers and backpackers provide itinerary information and emergency contacts to park personnel.
Suggested Packing List
Day Hike Packing List
3-4 liters of water per person
Salty, calorie-rich snacks
lunch
backpack
trekking poles
crampons (in winter)
wide-brimmed hat
sunscreen, sunglasses
cotton t-shirt (spring-fall)
non-cotton t-shirt (winter)
rain jacket
warm non-cotton layer
1st-aid kit
Backpacking Packing List
all items listed for day hikes PLUS
additional water AND water filter/purification method
multi-day backpack
3-season tent
sleeping bag
sleeping pad
backpacking stove and fuel
backpacking meals
2-3 pairs wool socks
extra t-shirts
Please Respect Our National Parks – Leave No Trace
We strongly recommend abiding by all Leave No Trace ethics guidelines and practices so that our national parks and public lands are preserved for the enjoyment of future generations and for the people and animals who call these places home. Simple things like packing out your trash, obeying national park rules, and respecting the peace and quiet of our national park trails is a great start. If you're going on a backpacking trip, you can read about more about the 7 Leave No Trace Principles.