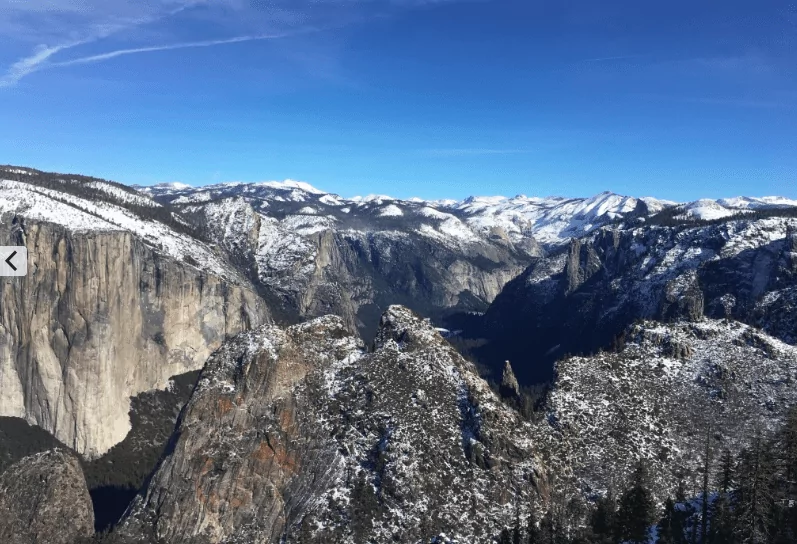 Hiking the Pohono Trail
The Pohono Trail is a 13-mile stretch of trail that traverses the Southern Rim of Yosemite Valley starting from Tunnel View and ending at Glacier Point.  There are many different viewpoints along the way including Dewey Point, Taft Point, Sentinel Dome, and Glacier Point.  You can access this hike and a few different trailheads.  You could choose to hike the entire length of trail over a few days or pick out a classic day hike, however, most people choose to start from Glacier Point. No matter which way you slice it, the Pohono Trail provides some of the best views in Yosemite and is accessible for everyone depending on the hike you choose.  Read on for more information about hiking the Pohono Trail.
For a NPS park map including the Pohono Trail click here.
Explore Yosemite with Expert Guides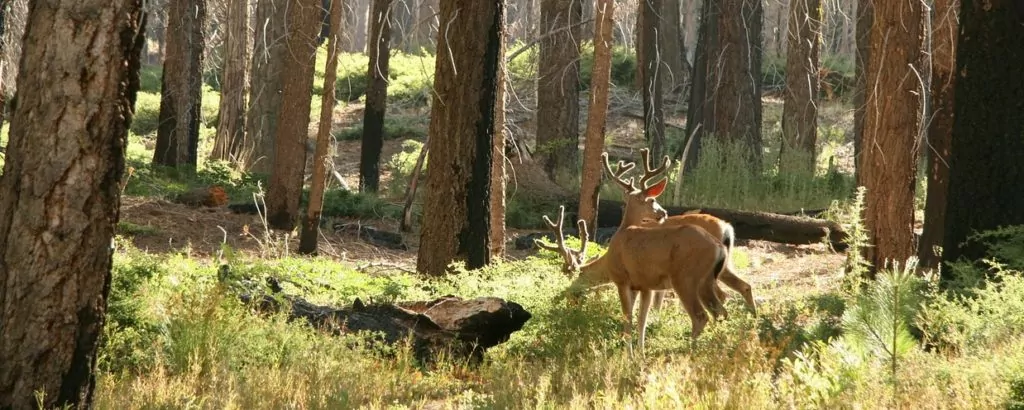 3 Best Day Hikes on the Pohono Trail
There are a few different options when considering a one day hike on the Pohono trail.  They are all great and provide expansive views from the southern rim of Yosemite Valley.  Iconic landmarks you will see include, Half Dome, El Capitan, Yosemite Falls, Mt. Starr King and the Clark Range.  Depending on the amount of time you have and your abilities here are a few great options for hiking the Pohono Trail in Yosemite from easiest to hardest.
Below are the primary options for day hiking the Pohono Trail:
| | | | | | |
| --- | --- | --- | --- | --- | --- |
| | Destination | Miles | Elev | Difficulty | Style |
| | Sentinel Dome | 2.2 | 400 ft | Easy | Out and Back |
| | Glacier Point to Sentinel Dome | 2.8 | 472 ft | Moderate | Out and Back |
| | Glacier Point to Taft Point | 6.1 | 572 ft | Moderate | Loop |
1. Sentinel Dome
A worthwhile, short day hike to the top of Sentinel Dome is a must see in Yosemite.  Start at the Sentinel Dome trailhead off of Glacier Point road and follow signs from the parking lot toward the dome.  It's pretty easy to follow the trail all the way to a junction that would take you to Glacier Point.  From here take a left up towards the dome.  Climb 400 ft for hands down one f the best 360 degree views the park.  Simply retrace you're steps to get back to your car.
2. Glacier Point to Sentinel Dome
Starting from the Glacier Point parking area make sure you take a few minutes to walk around and check out the views, especially at Glacier Point, a short walk from the parking lot.  Heading back from Glacier point go past the Lodge and toward the "stadium like" seating area.  You will find the trailhead sign to the right of the seating area if you are facing Half Dome.  Start up the trail and head toward sentinel dome.  A short 1 mile hike will take you to a trail junction, follow signs toward the dome, you can't miss it.  Climb up 400 ft for a spectacular view of the Clark Range and El Capitan, not to mention the entire valley below.  Simply retrace your steps to get back to Glacier Point.
3. Glacier Point to Taft Point
This hike starts the same as if you were going to Sentinel Dome.  Follow instructions above to reach Sentinel Dome.  After you have taken a minute to climb the dome come back down and head south at the trail junction towards the Sentinel Dome Parking area.  This involves a .9 mile hike.  You will reach the Sentinel Dome parking area and bathrooms if needed.  From here follow signs tat head west toward Taft Point, a short 1.2 mile hike will get you there.  Taft Point is a whole new perspective of the Yosemite Valley and highlights include El Capitan, the Three Brothers and Upper Yosemite Falls.  To continue on the loop back to Glacier point walk back .6 miles to a trail junction that heads north toward Roosevelt Point.  This is a scenic loop along the Pohono trail you haven't seen before, make sure to take in the view at Roosevelt Point.  It will take you back to the same junction you were at near Sentinel Dome.  Follow signs toward Glacier Point to the parking area.
Maximize Your Visit to Yosemite National Park on a Hiking Tour
Guided day hike tours and multi-day packages allow visitors the opportunity to make the most of their time in Rocky Mountain National Park and to do it hassle-free. Guided tours include gear (backpack, trekking poles, crampons in winter), meals, accommodations on multi-day tours, local transportation, and a professional Colorado hiking guide. Through their knowledge, stories, and personal passion, guides can bring a place to life in a way that's much more difficult to do on your own. Read more about  Yosemite Hiking Tours.
Award Winning USA Hiking Vacations
Backpacking the Pohono Trail

Backpacking the Pohono trail is an amazing way to see the entire Southern Rim of Yosemite Valley including views of Half Dome, El Capitan, Yosemite Falls, and the Clark Range.  It could be done in a crazy 1 day hike or you could take a few days and enjoy.  We recommend doing it in 3 days from Tunnel View to Glacier Point.  This does involve a hefty climb but also gives you the opportunity to hike to Glacier Point without your pack.  You will also save a bit of drive time if your coming from the Valley as you won't have to drive all the way to Glacier Point.
| | | | | |
| --- | --- | --- | --- | --- |
| | Route | Miles | Difficulty | Campgrounds |
| | Tunnel View to Glacier Point | 26 | Strenuous | Bridal Veil Creek |
1. Tunnel View to Glacier Point (3 days)
For simplicity we will start this trek at Tunnel View just outside of Yosemite Valley off of Highway 41.  This trek is 7.1 miles one-way from Tunnel View to your camp at Bridalveil Creek. From Tunnel View, the trail starts right away with a 2 mile, 2000 ft accent, toward Old Inspiration Point.  Take a stop at Dewey Point for a well deserved break.  Continuing on, follow the Pohono until you reach the junction at Bridalveil Creek.  We recommend setting up camp for the evening near the creek.  Enjoy the evening or take a walk through McGurk Meadow, tomorrow you will be hiking without your pack to Glacier Point, a moderate round trip hike of 9.6 miles.  From camp, you have about 2 miles until you hit Taft Point,  great stop for a snack and a break.  Hike 1/2 mile to the next junction at which you could take a right or left toward Sentinel Dome.  We recommend left, because it is quicker, 1.5 miles total to reach the junction of Sentinel Dome.  Definitely take a minute to hike up to the top of Sentinel Dome.  Continue on from the top of Sentinel Dome toward Glacier point, 1 mile away.  The junction is at the bottom of the Dome and is easy to find.  Follow the path toward Glacier Point.  Once you arrive, plan to spend some time, there are a lot of great view points to take in.  Once you get your fill, retrace your steps all the way back to your camp at Bridalveil Creek.  The last day involves packing up and depending back down the Pohono Trail toward Tunnel View your car, and a well deserved hot meal and a beverage in Yosemite Valley.
Join a Guided Yosemite National Park Backpacking Trip
Joining a Yosemite backpacking tour is a worry-free, adventurous way to experience [national park]. With your gear, meals, local transportation, permits, and fees taken care of for you, you can travel light and focus 100% on enjoying the hiking experience, while the guide company takes care of everything else. Also, by going with local experts you'll enjoy a greater level of safety and gain a much better understanding of the history and ecology of this remarkable region. Read more about a guided Yosemite backpacking trip.
All-inclusive Yosemite Backpacking Adventures
When to Hike and Seasonal Considerations
The best time to Hike on the Pohono trail is typically between the months of May-October.  The Pohono lies on the south side of the Valley and in the Wintertime can build up a lot of snow and ice without a lot of exposure to the sun.  We recommend hiking the trail in the late spring and summer to early fall.  Highway 41, the Tunnel View trailhead, is typically open year round but the Glacier Point road is not.  So if your planning on hiking from the Glacier Point area based on road closures you will only be able to access it when the road is open.  For current park conditions click here or call (209) 372-0200 (press 1 then 1)
Necessary Permits
Day Hike Permits
You do not need a permit to Day Hike in Yosemite National Park.
Backpacking Permits
You will need to secure a permit to backpack in Yosemite National Park.  Permits are reservable 6 months in advance to the date you wish to start hiking.  You can also try and secure a permit the day before your trek in person at any wilderness permit center before 11 am.  For more information on Yosemite's permit system, click here.
Getting to the Pohono Trailhead
From Yosemite Valley to Tunnel View:
Head east on Highway 41 from Yosemite Valley.  Tunnel View is only about a 1/2mile drive from the junction of Southside Drive and Highway 41.  Park in the lot on the left hand side and the trailhead is right next to the trash cans.
From Yosemite Valley to Glacier Point:
Head east on Highway 41 and continue on past tunnel view until you hit the junction of Glacier Point Rd.  Make a left hand turn on Glacier point rd and follow it 10 miles until you reach Glacier Point.  There is parking at the trailhead, again best to get there early as it fills up quick.
From Yosemite Valley To Sentinel Dome trailhead:
Follow Highway 41 from tunnel view to Glacier Point rd.  Take a left on Glacier point rd and drive about 8 miles until you see the Sentinel Dome trailhead on your left hand side just before you reach Glacier Point.
Suggested Packing List
Day Hike Packing List (edit)
3-6 liters of water (more in summer)
Salty, calorie-rich snacks
lunch
backpack
trekking poles
crampons (in winter)
wide-brimmed hat
sunscreen, sunglasses
cotton t-shirt (spring-fall)
non-cotton t-shirt (winter)
rain jacket
warm non-cotton layer
1st-aid kit
Backpacking Packing List (edit)
all items listed for day hikes PLUS
multi-day backpack
3-season tent
sleeping bag
sleeping pad
backpacking stove and fuel
backpacking meals
3 pairs wool socks
extra t-shirts
Please Respect Our National Parks – Leave No Trace
We strongly recommend abiding by all Leave No Trace ethics guidelines and practices so that our national parks and public lands are preserved for the enjoyment of future generations and for the people and animals who call these places home. Simple things like packing out your trash, obeying national park rules, and respecting the peace and quiet of our national park trails is a great start. If you're going on a backpacking trip, you can read about more about the 7 Leave No Trace Principles.