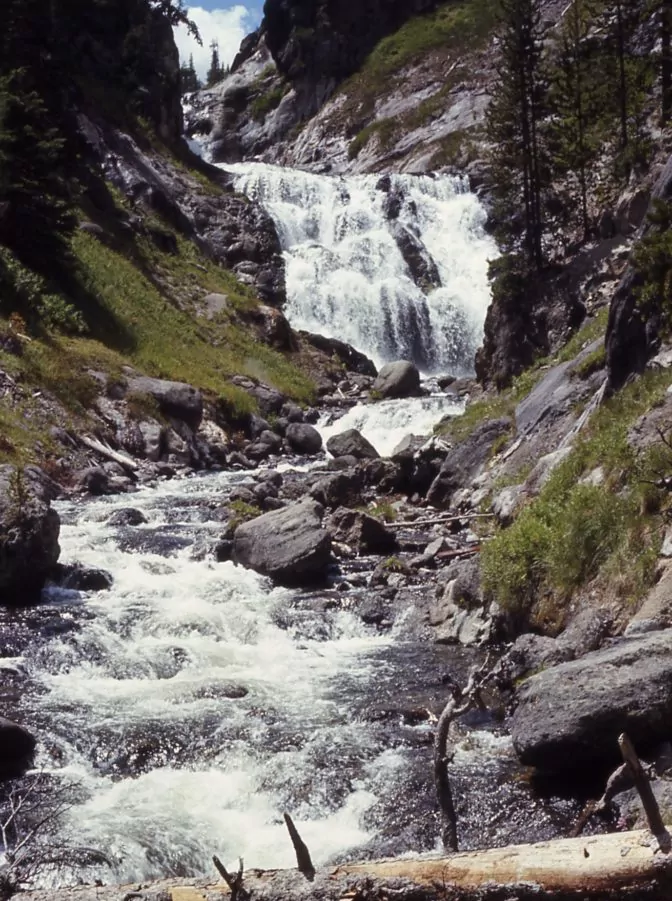 Mystic Falls Trail
General Description
The Mystic Falls trail leads you past the unique features of Biscuit Basin, through a peaceful forest path, and alongside the glimmering Little Firehole River. After just 1.5 miles you've reached the 70-foot cascade of Mystic Falls. The falls, river, and riparian foliage all create a picturesque scene. A heart pounding climb to the plateau above the falls gives you great views before looping back down to Biscuit Basin. This trail offers many dynamic rewards for such short mileage.
Explore Yellowstone with Expert Guides
Getting to the Mystic Falls Trailhead
The Mystic Falls Trailhead is located behind the west side of the Biscuit Basin boardwalks. Park at the Biscuit Basin parking area, cross the Firehole River, and walk the boardwalks through the basin to access the trail. There are no restrooms or water at the trailhead. The nearest potable water is located at the Old Faithful Visitor Center. Click here for directions to the parking area.
History of the Mystic Falls Trail
Though the short trail to the waterfall bears little historical significance, geologists and historians have been keeping their eye on its trailhead since the Hayden Expedition of 1871. Biscuit Basin has always been a significant branch of the Upper Geyser Basin. One of its crown jewels, Sapphire Pool, was originally encrusted with connected pearls of siliceous sinter. These dollops reminded visitors of little biscuits, earning the basin its name. In 1959, the Hebgen Lake Earthquake caused a shift in thermal plumbing throughout the Western side of the park. The biggest change to Biscuit Basin was the placid Sapphire Pool's transformation to a vivacious geyser. Every 2 hours, she would erupt to heights of 150 to 200 feet, sometimes lasting for 5 minutes. The violent bursts broke apart the iconic biscuits, sending most into the Firehole River never to be seen again. The pressure fueling Sapphire's rage eventually waned, appearing to cease entirely in 1968. Today, she is simply a deep blue hot spring with no siliceous adornments or powerful eruptions.
3 Best Day Hikes on the Mystic Falls Trail
A short day hike on the Mystic Falls trail is a great way to experience how easy it is to leave the crowds behind.
Below are the primary options for day hiking the Mystic Falls Trail:
| | | | | | |
| --- | --- | --- | --- | --- | --- |
| | Destination | Miles | Elev | Difficulty | Style |
| | Mystic Falls | 3.5 mi | +/-500 ft | Easy | Loop |
| | Old Faithful to Mystic Falls | 8 mi | +/-550 ft | Moderate | Loop |
| | Mystic + Precipitous Falls | 10 mi | +/-1400 ft | Strenuous | Out and Back |
1. Mystic Falls
This is a short but rewarding loop that combines a well-known attraction with a lesser known gem. From the Biscuit Basin parking lot, you immediately cross the bridge over the Firehole River. The first features on your right will be the impossibly blue Sapphire pool and Jewel geyser with her pearl shaped sinter formations. On the other side of the boardwalk, runoff from Shell Geyser has created spongey orange terraces known as bacterial mats. The closer you look, the more bizarre these thermophilic colonies appear. You will pass a few more features before reaching a fork in the boardwalk. Turn left and continue on the dirt path into the forest. From here on, you will likely pass no more than a few hiking groups.
After .3 miles through this mixed conifer forest, you will reach a junction and turn left. Shortly thereafter, you will receive another option to head South along the Summit Lake trail. Stay right to continue toward Mystic Falls. Soon the trail will open up on your left side as you head upstream along the Little Firehole river. After 1 mile you will reach the beautiful 70-foot cascade of Mystic falls. Find a spot to roost and enjoy the rushing falls, sparkling river, and varnished rock walls. The riverside is adorned with wildflowers in August and fall foliage in September.
When you're ready, continue along the trail as it makes steep switchbacks up the canyon wall. You will climb 500 feet in less than half a mile. At the top of the climb you will reach a junction with Fairy Creek trail. Turn right to head for the Biscuit Basin Overlook. This is an awesome viewpoint stretching to Old Faithful and beyond. From the overlook, you will descend a couple of switchbacks and then a straight gradual down climb to return to your first junction. Continue straight toward Biscuit Basin where we recommend completing the other side of the boardwalk loop. This hike will take most people 2-3 hours.
2. Old Faithful to Mystic Falls
This route combines 2 must-see geyser basins with the relief of a quiet hike to a water fall and aerial viewpoint in between. The loop will start and end at the Old Faithful Visitor's Center. We recommend checking eruption times before leaving so you can adjust your route to catch any upcoming displays. Turning left from the Visitor's Center, take the 1.3 mile bike path to Morning Glory Pool, stopping to admire whichever geysers excite you along the way. Use the compost toilet across from Morning Glory if you need it, as there are no restrooms at Biscuit Basin. Continue straight past Morning Glory, leaving the boardwalk and heading North along a forest trail. You will pass the lovely Artemisia, Gem, and Mirror pools with the Firehole River rushing in the background. After almost a mile, the trail will reach Grand Loop Road and you will see the parking lot of Biscuit Basin on the other side. Remember to look both ways before crossing, as drivers in Yellowstone are more focused on wildlife and scenery than watching out for pedestrians.
Upon reaching the Biscuit Basin parking lot, follow our description for the Mystic Falls hike. Once you complete the loop, return the way you came back to Morning Glory pool. Continue back along the main trail until you reach Grotto Geyser. Make a left at the wooden boardwalk here. It is about 1 mile from Grotto to the junction around Geyser Hill. You will pass a variety of otherworldly hot springs and geysers including Grand Geyser, a frequent performer. When you reach a fork along the boardwalk, turn right at the Lion geyser group. The other side of Geyser Hill will be closed temporarily due to unprecedented geyser activity in 2018 that has left the area unsafe for foot traffic. Closure signs are posted. When you reach the next fork in the boardwalk, turn right again to continue on safe terrain. Cross the Firehole River via bridge, head up the hill, and encircle Old Faithful to return to the Visitor's Center. This hike can take 3-5 hours or more, depending on how much time you spend gawking at geysers.
3. Mystic + Precipitous Falls
This day hike allows you to enjoy the popular features of Biscuit Basin and Mystic Falls, with an adventurous backcountry excursion to a secret waterfall. When we say secret, we mean there is no established trail to this cascade and it's not marked on any maps we've ever seen! Follow our Mystic Falls description until you've climbed up the canyon wall and reached the Fairy Creek Trail junction. Instead of heading right toward the Biscuit Basin Overlook, turn left to trudge into the backcountry. Until you return to this junction, you will probably have the trail all to yourself.
The path is flat and easy to follow. It is a thick new growth area with many wildflowers. Look out for the pink and yellow Pinedrops that grow at the base of the Lodgepole pines. After 3.3 miles you will climb down a few hundred feet to rejoin the Little Firehole River. You will have arrived at backcountry campsite OD3. You can't miss the lovely 10-foot waterfall rushing right next to the site. To continue to a more secluded one, walk along the bank of the Little Firehole River heading East. After about 100 yards you will reach the 30-foot Precipitous Falls. Sit and soak up your time in the backcountry with this waterfall that few people know exists. When you're ready, retrace your steps back to the junction with the Mystic Falls trail. We recommend continuing straight here so that you can enjoy the overlook before returning to Biscuit Basin. This exciting day will take most people 5-7 hours.
Maximize Your Visit to Yellowstone National Park on a Hiking Tour
Guided day hike tours and multi-day packages allow visitors the opportunity to make the most of their time in Yellowstone National Park and to do it hassle-free. Guided tours include gear (backpack, trekking poles, crampons in winter), meals, accommodations on multi-day tours, local transportation, and a professional Yellowstone hiking guide. Through their knowledge, stories, and personal passion, guides can bring a place to life in a way that's much more difficult to do on your own. Read more about Yellowstone Hiking Tours.
Award Winning USA Hiking Vacations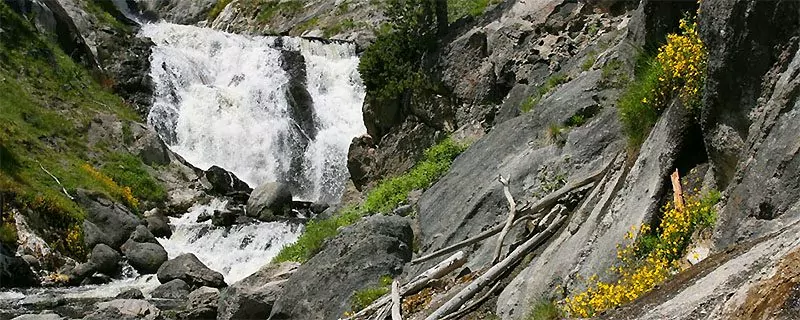 When to Hike and Seasonal Considerations
The Mystic Falls trail can be hiked mid-April through early November, with the best months being August and September. Depending on the amount of snowfall over the winter, snow can remain on the trail until June. Snowshoes might be helpful when hiking in the spring time. The months of June and July are mosquito season in Yellowstone. If you plan on hiking during these months remember to pack insect repellent!
The Mystic Falls trail is also great for cross-country skiing and snowshoeing in the winter time. If you are interested in hiking in the mountains during extreme winter conditions, make sure to educate yourself on how to travel in avalanche terrain. A good resource for this is "Know Before You Go". kbyg.org
For more information on guided Yellowstone winter tours click here.
Traveling Around Geyser Basins
Thermal features, though fascinating, can easily scald or kill people who underestimate them. Even what appears to be solid ground in a thermal basin can give way to scalding water below. Backcountry basins require visitors to be even more educated as there are no boardwalks and safety boundaries are not as clearly defined. Thermal environments and the precious microorganisms that inhabit them are also extremely sensitive. Both biology and geology can be irreparably damaged by human contact. Follow these guidelines around thermal basins of any kind.
Always stay on boardwalks and designated trails

Do not touch thermal features

Do not touch or step on thermal runoff

Swimming or soaking in hot springs is prohibited and likely fatal

Pets are not allowed in thermal areas

Do not throw objects in features

Toxic gases can build to great intensity in some areas. If you feel sick, leave immediately. 
Animal Safety 
Wildlife is one of the best reasons to visit Yellowstone. With the privilege of hiking through their habitat comes great responsibility to uphold respect and safety. Becoming accustomed to humans is not good for the well-being of any wild animal. Even our docile herbivores can maim or kill people. The key to these guidelines is to just let the animals be.
Never feed wildlife (Not even a squirrel)
Do not approach wildlife
Stay at least 100 yards away from bears and wolves
Stay at least 25 yards away from all other animals
Do not shout, whistle, or otherwise harass wildlife
If you want to view wildlife from the road, always stop in a designated pull out.
Bear Safety
Yellowstone is black and grizzly bear country. Special practices are necessary to improve the safety of yourself, other visitors, and the animals. Most of these tactics aim to avoid making a bear react defensively. A bear will feel threatened if we surprise it, approach its cubs, or encroach on its food source. We must also do everything in our power to prevent a bear from eating human food or smelling an attractant where we sleep.
While Hiking
All of the following practices are necessary whether you are hiking in bear country for 5 minutes or 5 days.
Don't hike alone (At least 3 people is best)
Always be alert
Make noise
Carry bear spray and know how to use it
Never feed a bear
Do not leave packs or any food unattended
Stay on maintained trails
Avoid carcasses
Avoid hiking at dawn, dusk, or night
Stay out of areas closed for bear management
While Camping
All of the following practices are necessary if you are sleeping outside in bear country.
Sleep away from where you cook and eat (100 yds in backcountry)
Do not sleep in clothing that smells like food
Keep all sleeping gear away from food odors
Strain your dishwater, putting particles in trash
Keep camp clean and free of trash

Store all attractants in a bear proof container or hang from food pole. (This includes: food, garbage, toiletries, stoves and fuel bottles, utensils, food containers, and anything scented)
Bear Encounters
As the park service says, safety cannot be guaranteed in these wild places. These are best practices to lower the risks of an aggressive bear encounter.
Do not run
Slowly back away (taking any food with you)
Speak calmly, do not shout
Group together, make yourselves look large
When necessary, use bear spray
Report conflicts to park rangers
Check out Yellowstone National Park's great reference on how and when to use bear spray.  
Necessary Permits
Day Hike Permits
There are no permits required to do any day hiking in Yellowstone National Park. However, some areas can be closed to due high bear activity. Before you head out, you can check to see which Bear Management Areas are closed by clicking here.
Suggested Packing List
Day Hike Packing List
bear spray
2-3 liters of water
salty, calorie-rich snacks
lunch
backpack
trekking poles
wide-brimmed hat
sunscreen, sunglasses
bug spray
non-cotton hiking shirt
rain jacket
warm non-cotton layer
1st-aid kit
Please Respect Our National Parks – Leave No Trace
We strongly recommend abiding by all Leave No Trace ethics guidelines and practices so that our national parks and public lands are preserved for the enjoyment of future generations and for the people and animals who call these places home. Simple things like packing out your trash, obeying national park rules, and respecting the peace and quiet of our national park trails is a great start. If you're going on a backpacking trip, you can read about more about the 7 Leave No Trace Principles.