Most Underrated National Parks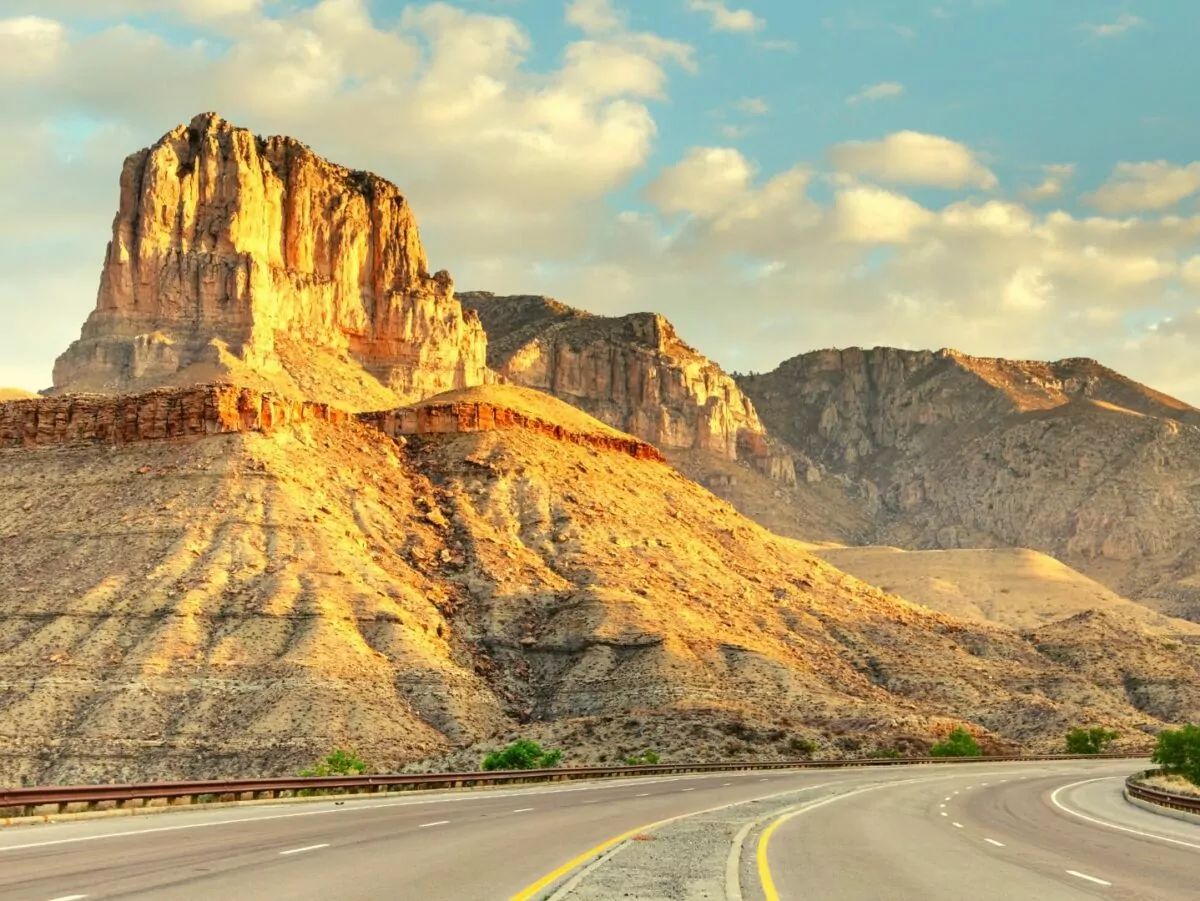 The United States is home to 63 incredibly diverse and exciting National Parks. When thinking of "America's Greatest Idea," you probably have a couple that spring to mind. The massive granite walls of Yosemite, rolling valleys and geysers of Yellowstone, or the hazy vistas of the Great Smoky Mountains. All of these landscapes are well known for good reason, they represent some of the most popular and beautiful landscapes in the country.
But if you're looking for somewhere with less people and more wildness, I've put together a list of some of my favorite hidden gems. Below you'll find some underrated parks you've maybe never heard of, and why they should be on your bucket list right beside the heavy hitters.
Carlsbad Caverns National Park, New Mexico
"Carlsbad Caverns is something that should not exist in relation to human beings. Something that is as remote as the galaxy, incomprehensible as a nightmare, and beautiful in spite of everything." – Ansel Adams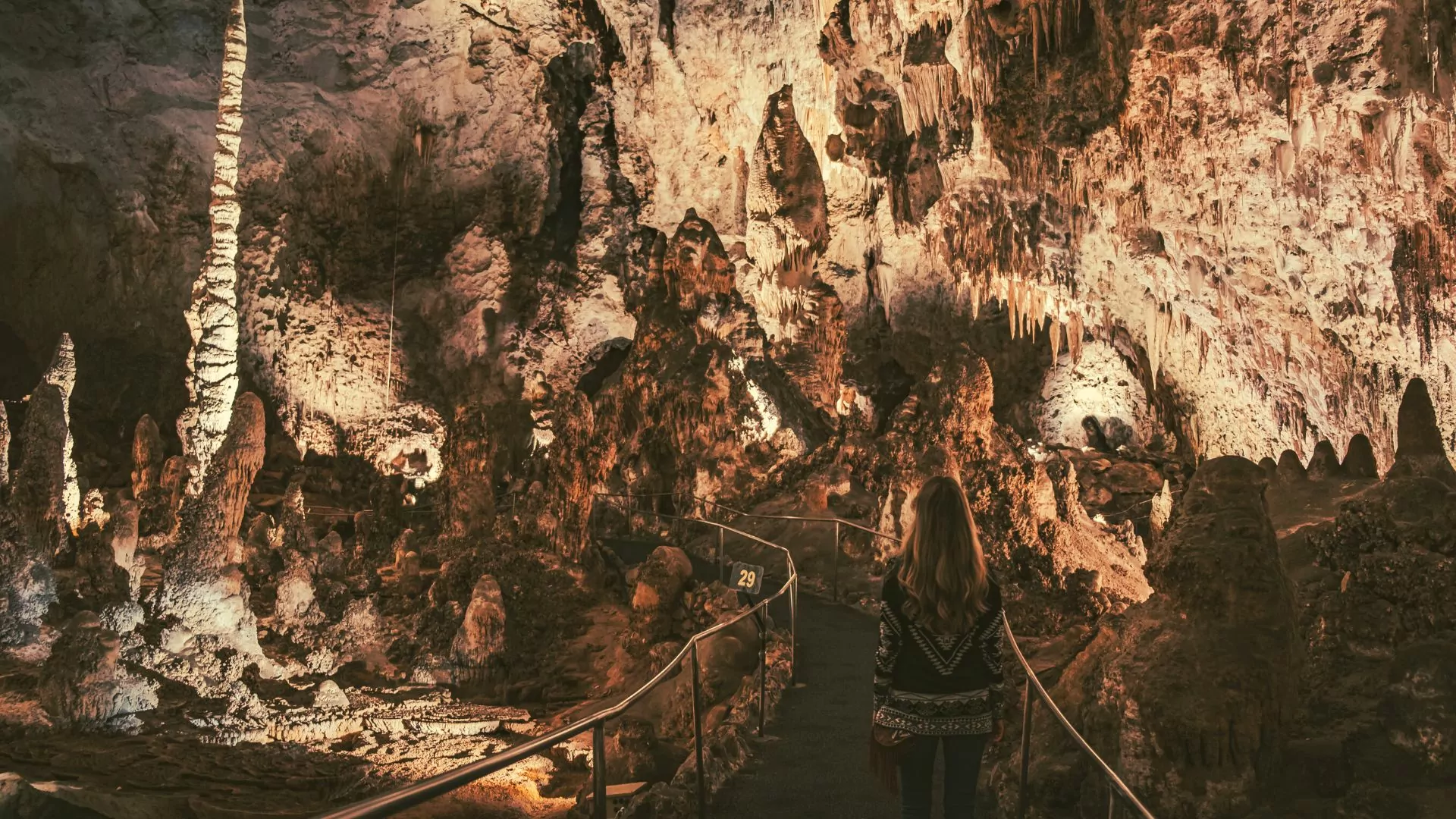 Take a journey through the heart of the Earth in New Mexico's least visited National Park. Carlsbad Caverns is a must-see if passing through the American Southwest, consisting of miles of underground caves full of gloomy, awe inspiring formations of stalactites and stalagmites (extra credit if you know the difference!), and a rich history of exploration. After exploring the Welcome Center's vast display of unique geologic and historic information, you will understand what makes this place such an anomaly. Then it is time to descend below. 
A short 2 mile hike takes visitors down the Natural Entrance Trail and deep into the cave system underfoot. If you're looking for a less steep or handicap friendly entrance to the caves, the Park also has a 754 foot elevator that can drop you deep into the bowels of the Earth instead. 
There are options to explore the caverns for an hour or two, or enough to spend a full day wandering the depths. The caves range from expansive amphitheaters of rock, to tiny crevices filled with shining crystals, staggering stalactites looking right on the edge of falling, and deep, dark caverns that have never been ventured into by a human explorer. 
Visitors exploring April through October can finish their day off by gathering at the Natural Entrance's amphitheater at sunset for a truly magical experience. Watch in awe as hundreds of thousands of Brazilian Free Tail Bats blot out the sky as they fly from the cave's entrance to begin their nightly patrol of the arid New Mexico desert. 
Pro Tip: After a day spent exploring New Mexico's underground wonders, take a short, scenic drive over to the Lonestar State and spend the night camping in one of the developed campgrounds at Guadalupe Mountains National Park. Another underrated National Park, you can spend the next day hiking the peaks of the Guadalupe's.
Lassen Volcanic National Park, California
"All Nature's wildness tells the same story: the shocks and outbursts of earthquakes, volcanoes, geysers, roaring, thundering waves and floods, the silent uprush of sap in plants, storms of every sort, each and all, are the orderly, beauty-making love-beats of Nature's heart." – John Muir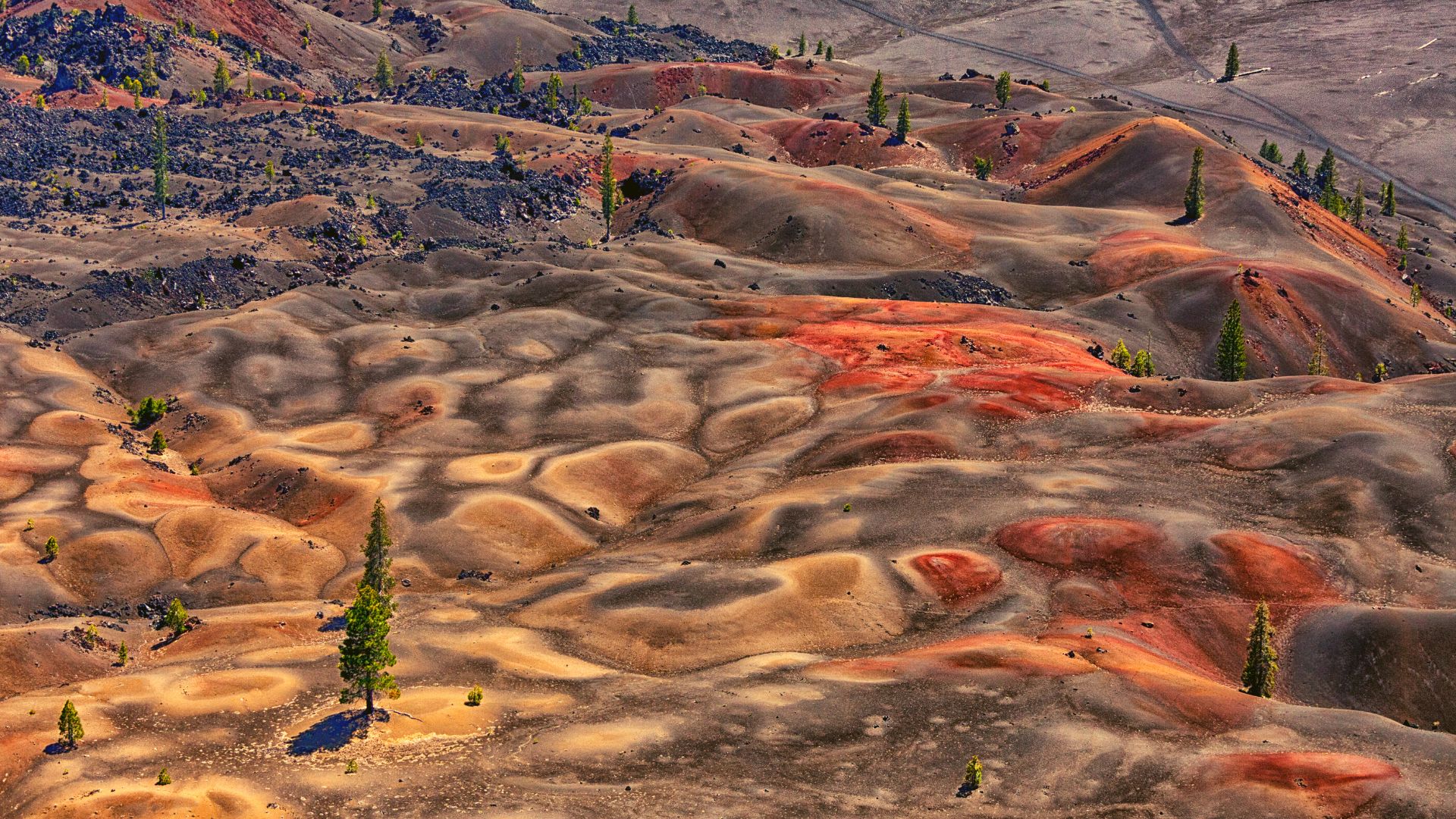 Lassen Volcanic National Park can be found just a few hours drive from Lake Tahoe or Sacramento, making it a worthwhile addition to any Northern California road trip. A geologic marvel, this park is home to each of the four distinct types of volcanoes known to geologists. This extreme concentration of volcanic activity has led to a compact package showcasing many geologic wonders, the most recent eruption happening just over 100 years ago! 
Visitors can play detective, piecing together evidence of the violent history of brimstone and hellfire hidden beneath the surface of the quiet, idyllic landscape. Wander through flower dappled meadows, climb the iconic Cinder Cone Volcano to get a view of the Lava Beds, or even summit 10,000+ ft Mount Lassen for unparalleled views of the surrounding landscape. Just be careful!  A crowd favorite, the boardwalks suspended above bubbling mud pots in the hissing Bumpass Hell, are named after an unfortunately-named explorer who fell into the pits and sustained injuries leading to the eventual loss of his legs.
If you're looking to visit this hidden gem of California, consider going with an experienced guide. Check out Wildland Trekking's Best of Lassen Volcanic Base Camp for a once in a lifetime experience of exploration, tasty food, and an itinerary showcasing all the best this location has to offer.
Capitol Reef National Park, Utah
"Strolling on, it seems to me that the strangeness and wonder of existence are emphasized here, in the desert, by the comparative sparsity of the flora and fauna: life not crowded upon life as in other places but scattered abroad in spareness and simplicity, with a generous gift of space for each herb and bush and tree, each stem of grass, so that the living organism stands out bold and brave and vivid against the lifeless sand and barren rock. The extreme clarity of the desert light is equaled by the extreme individuation of desert life-forms. Love flowers best in openness and freedom." – Edward Abbey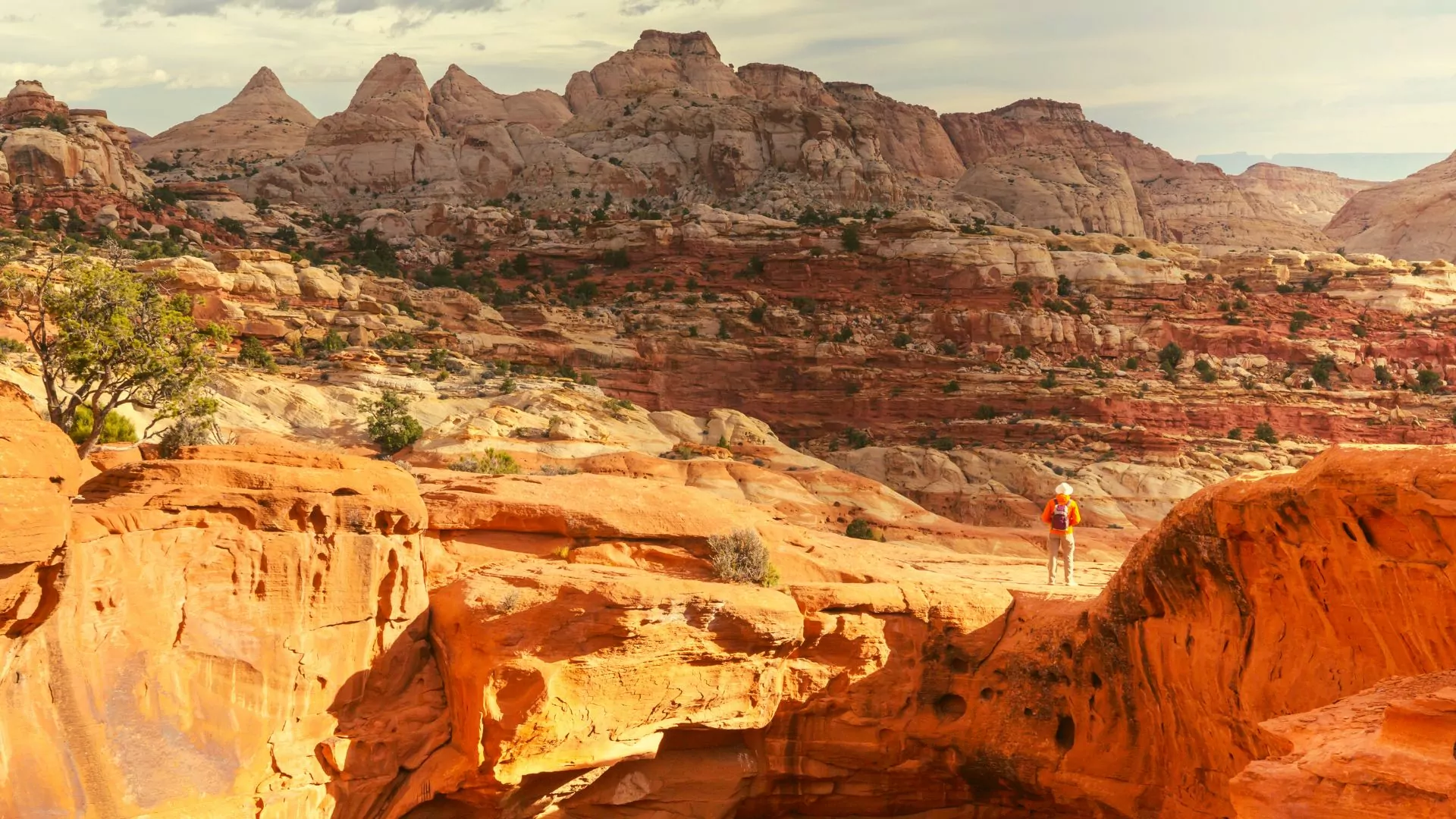 Deep in the heart of Utah's expansive desert, Capitol Reef National Park protects a wealth of beauty that stretches nearly 60 miles along the Waterpocket Fold formation of the Colorado Plateau. Visitors can explore the sinuous, boulder-filled canyon as they meld with monolithic sentinels of sandstone. Ranging from arid, seemingly lifeless stretches of rock to lush, cottonwood-filled oases with grass and flowers springing from blank walls. 
If you're looking for a restful day, Capitol Reef offers a unique historical significance showcasing the eras of humankind's existence in Utah. In the same afternoon visitors can visit a whole town constructed by early Mormon settlers and petroglyphs left behind by the ancestral Paiute and Fremont Native Americans who all inhabited this land at different times. 
If you're looking to go for a hike, Capitol Reef is a mecca for desert exploration. Boasting 20 natural sandstone arches, cooler summer temps, and slot canyons rivaling anything you'll find in Zion or Arches, it's ripe for sauntering. Despite being deep in the backcountry and a full day's trek, the Hall's Creek Narrows surpass the majesty of Zion's famous Narrows and can't be missed!
To know you're getting the best Capitol Reef experience possible, visit Wildland Trekking's Capitol Reef Hiking Tours.
North Cascades National Park, Washington
"Now I was beginning to see the Cascades on the northeast horizon, unbelievable jags and twisted rock and snow-covered immensities, enough to make you gulp." – Jack Kerouac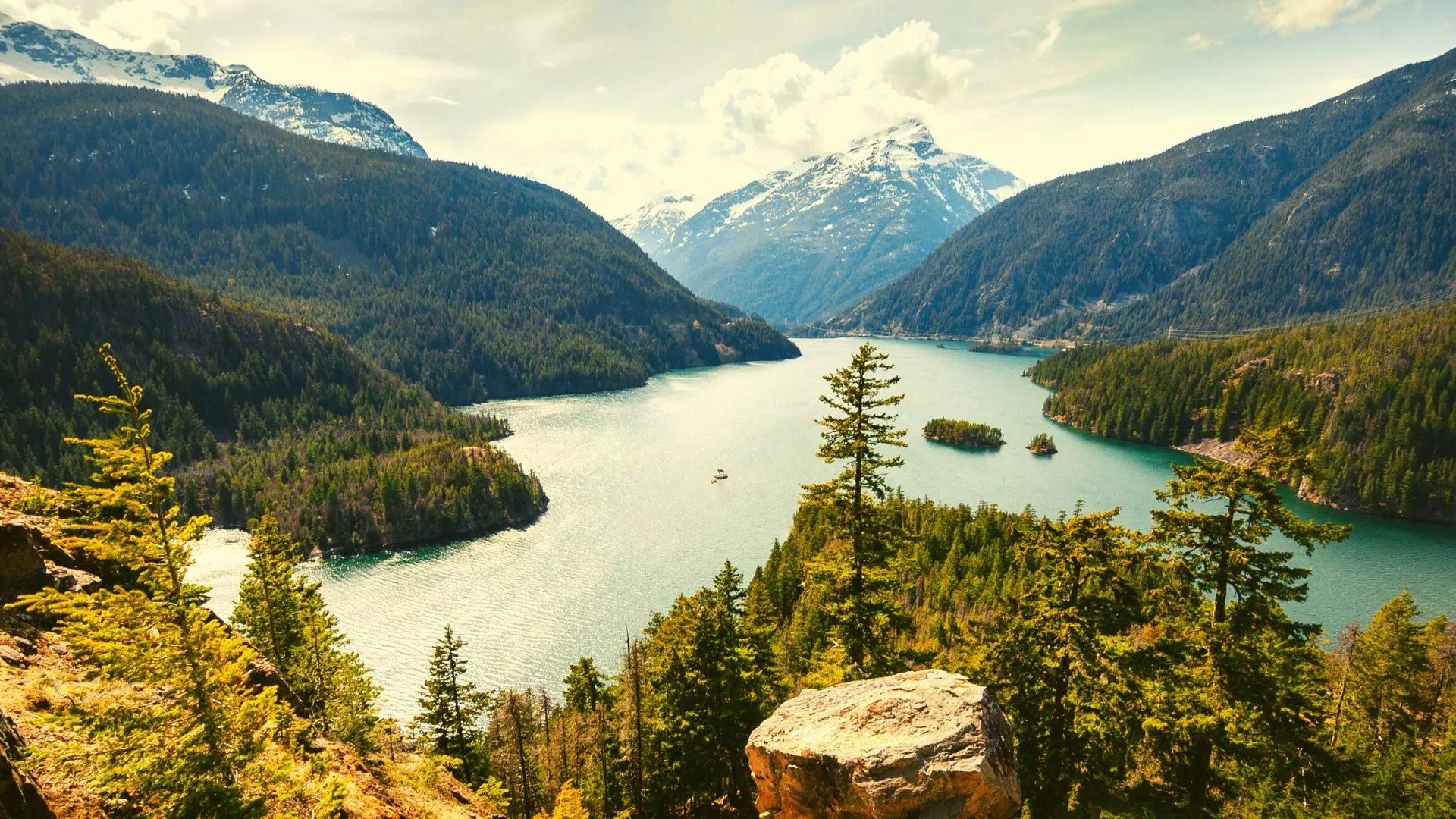 When visiting the Pacific Northwest, you can be sure people have heard of Olympic and Mt Rainier National Parks, but nestled in the peaks of central Washington lies lesser-known North Cascades National Park. A staggeringly beautiful series of jagged mountains, lush old growth valleys, and home to over 300 glaciers, this National Park is a well kept secret.
Driving along the North Cascades Highway allows one to see the stunning landscape from the comfort of their car, enjoying the scenic overlooks showcasing cascading waterfalls, alpine lakes, and sweeping vistas. Be sure to have lunch at Diablo Lake Overlook to get an unmatched view of a gorgeous, turquoise blue alpine lake. 
If you're looking for more adventure, North Cascades is one of the best National Parks for hiking in the country, no question. If planning a fall visit, Maple Pass is home to thousands of larch trees, a unique deciduous conifer which looks much like a pine, but its needles transform into a vibrant orange in the cool autumn months. Cascade Pass offers jaw dropping views of the craggy ridges which make up the surrounding mountains. You can even grab a boat from Ross Lake Resort over to the base of Desolation Mountain and day hike up to the fire tower made famous by Jack Kerouac in the American classic, Dharma Bums. 
North Cascades Guided Backpack Trip
No matter what you get up to in this land of adventure, make time to spend a night in the quaint town of Stehekin. Located right on the shores of Lake Chelan, this sleepy mountain town is only accessible by plane, boat, or hiking shoes. Take the ferry over and enjoy a night spent at one of the lodges or campgrounds in town and be sure to visit the world renowned Stehekin Pastry Company for some delectable baked goods.
Wildland Trekking offers numerous tours bringing people to the most gorgeous locales of this infrequently visited Park.