6 Best Hikes in the North Cascades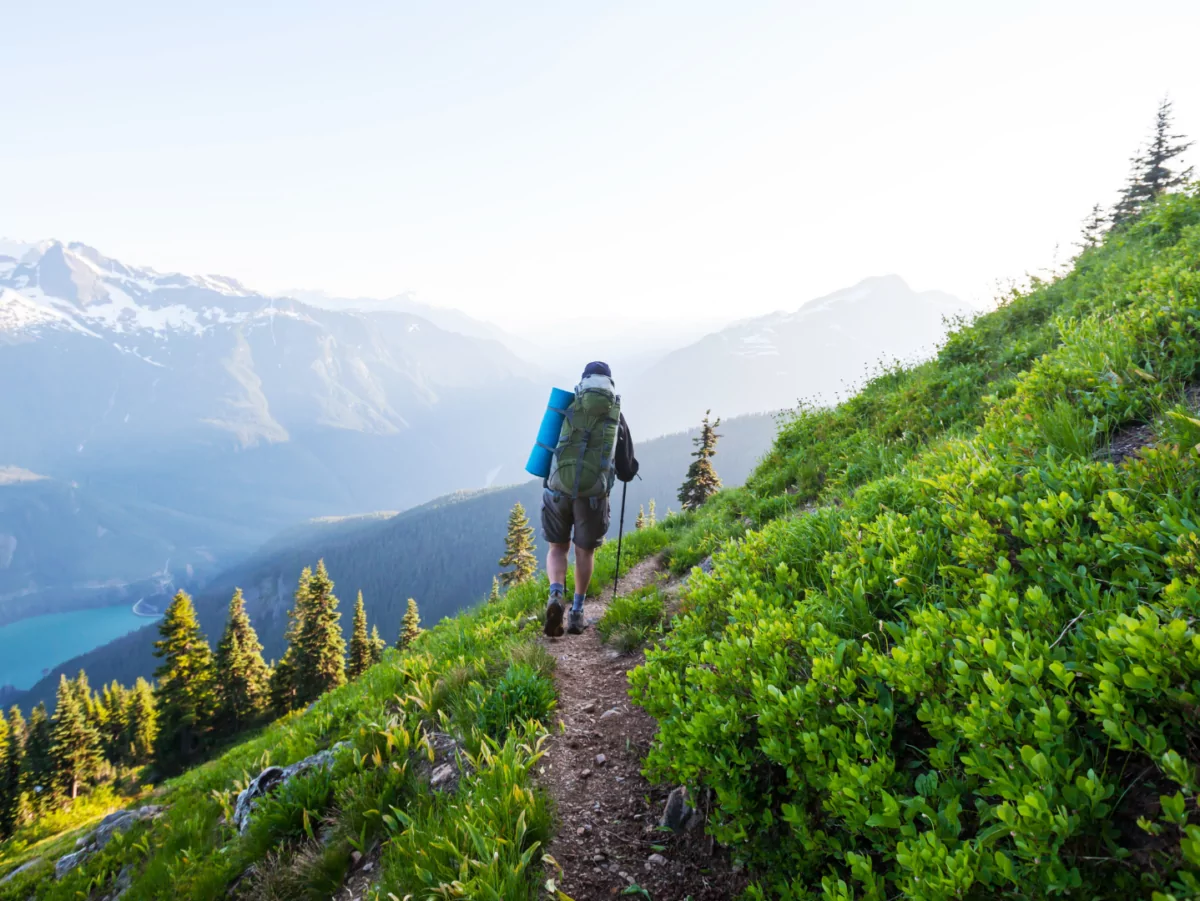 Tucked away in the corners of central Washington is one of the most stunning mountainous and forested areas in all of the lower 48 states: the North Cascades. Home to rugged mountains, glacier-fed lakes, and bountiful Pacific Northwest rainforests filled with ferns and old-growth trees, this magnificent wilderness area is just a short drive from the metropolitan sprawl of Seattle. With hundreds of miles of trails from beginner to advanced, the North Cascades are a popular destination for day hikers, weekend warriors, and seasoned backpackers alike.
Getting there
The easiest way to access the North Cascades is by car from the city of Seattle. Head North on I-5 to the town of Burlington, where the freeway is bisected by Highway 20. Turn East on Highway 20, driving through the lush farmland of the Skagit valley until they give way to dense coastal rainforests and the road climbs, winding steeply into the mountainous area of the North Cascades.
Accommodations
While there are plenty of day trip hikes using Seattle as the jumping off point, many visitors choose to stay closer to the trailheads in towns such as Marblemount or Mazama; car camp at one of the many campgrounds throughout the park; or spend as much time in the wilderness as possible by backpacking (backcountry permit required here).
Need to Know:
Permits and Regulations
The North Cascades refers to the park and wilderness areas in North Central Washington and includes North Cascades National Park, Okanogan-Wenatchee National Forest, and Lake Chelan-Sawtooth Wilderness. Because this area and the following hikes are located within National Parks, National Forests, and Wilderness areas it is essential to be mindful of the permitting regulations.
While it is free to enter North Cascades National Park, it is a good idea to purchase an Annual Pass which allows access to all National Parks in the U.S., many of which do require an entrance fee. Additionally, a Northwest Forest Pass is required for many areas and trailheads that are adjacent to the National Park boundary and can be purchased as a day pass for $5 or an annual pass for $30. Many travelers will stop in at the Marblemount Ranger Station where a Northwest Forest Pass and backcountry permits for camping can be obtained.
Best Times to Visit
The best time to visit the North Cascades is from June to October, with peak season being July and August. Be mindful that trails may still be covered in snow well into the summer months, as the high mountainous area often records over 500 inches of snowfall each winter. Additionally, the highway closes seasonally each year once the road becomes too hazardous to drive, usually closing in late October and re-opening again in May.
Weather
The weather in the North Cascades can be unpredictable and challenging, especially during the shoulder-season months. Snow can occur at higher elevations even in the summer months, and what may begin as a sunny, warm day can turn cold and stormy with little notice. That said, with adequate spare clothing, rain gear, and good planning, it is easy to avoid poor weather most of the time.
Wildlife
Because the North Cascades are so remote, they offer excellent wildlife viewing opportunities, from birds to small mammals, and even larger animals such as deer, elk, moose, bears, wolves, and cougars. Though the likelihood of seeing a large predator is rare, it is always a good idea to practice safe wildlife habits and leave no trace principles. This includes carrying bear spray with you on all hikes, packing out all of your trash, burying human waste properly, and not leaving any food or attractants unattended while camping overnight.
Guided or UnGuided
It is possible to hike in the North Cascades without a guide, and this is especially true for day hikers. For overnight hikes or backpacking trips, we recommend the use of a guide for a variety of reasons. Firstly – guides will arrange all the logistics necessary for your trip, including food, transportation, gear, and even accommodations near the trails or in a city or town nearby. In addition, using a guide means that all entrance fees, permits, and passes will be taken care of. Finally, local guides are able to provide natural history interpretation, teach skills, and impart experience and knowledge that are incredibly useful.
Best Day Hikes

Blue Lake
Where: Okanogan-Wenatchee National Forest
Distance: 5 miles
Time: 2-3 hours
Elevation Gain/Loss: 900ft
Located right off Highway 20, the Blue Lake Trail is a great, introductory hike for those new to the North Cascades. At just 5 miles and a modest 900 feet of elevation gain, the Blue Lake trail is a great option for day hikers and families looking for a relaxed outing to a beautiful location. Starting in the lush forests, it meanders its way gently into the sub-alpine, past meadows full of wildflowers, before arriving at a beautiful, azure blue lake surrounded by granitic peaks – Blue Lake. Be sure to keep a watchful eye for climbers on the sheer cliffs above, as this is also a common access route for rock climbers heading to the iconic formations of Liberty Bell and Early Winter Spires.
Cutthroat Lake and Cutthroat Pass
Where: Okanogan-Wenatchee National Forest
Distance: 4 miles / 11.4 miles
Time: 2-3 hours / 5-7
Elevation Gain/Loss: 400 ft / 2300 ft
The trail to Cutthroat Lake goes against all conventions of what mountain hiking should be – steep, rugged, and intimidating. In fact, it is perhaps one of the flattest, most approachable, and most gentle trails one can encounter in the mountains, climbing just 400 feet over its 2-mile length. The well-maintained trail is perfect for a short hike to stretch the legs before beginning longer hikes in the North Cascades, or for families and picnickers looking for a relaxed afternoon stroll. Despite its very approachable length and difficulty, the trail still delivers outstanding views, taking hikers through beautiful ponderosa forests before arriving at Cutthroat Lake – a shallow, deep-emerald-colored lake.
For a more challenging hike, the trail to Cutthroat Lake branches off to the North, climbing steadily toward Cutthroat Pass over 6 miles and 2300 feet of elevation gain. While it is significantly longer and more challenging, the trail is well-maintained, and the switchbacks are constructed in such a way that it never feels too steep or too strenuous. As the trail gains elevation, the forests of thick ponderosa trees gradually give way to larch forests, and views of the surrounding valley and Cutthroat Lake begin to open up below. 
Maple Loop Pass
Where: Okanogan-Wenatchee National Forest
Distance: 7 miles
Time: 4-5 hours
Elevation Gain/Loss: 2000 ft
Maple Loop Pass is one of the most spectacular hikes in the North Cascades and is a great day hike for seasoned hikers or weekend warriors looking for a strenuous but rewarding challenge. The loop is 7 miles in length, covering 2000 feet of elevation gain and loss. While the distance and elevation are not too strenuous, the terrain of Maple Loop Pass is slightly more difficult than other trails in the area, with steep ascents and descents that feel more difficult than the elevation gain might imply. The effort is more than worthwhile, however, and hikers will be rewarded with spectacular panoramic views atop the pass of the surrounding mountains and Lake Ann below. The Maple Loop Pass is also a fantastic location for watching the larches turn golden in the fall.
Best Overnight Hikes

Cascade Pass and Sahale Glacier
Where: North Cascades National Park
Distance: 17 miles
Duration: 2-3 days
Elevation Gain/Loss: 5100 feet
For weekend warriors or hikers pressed for time but still wanting to explore the North Cascades, the Cascade Pass area and Sahale Glacier should be on a must-do list. This area has the best attributes of the North Cascades, traveling through remote and quiet valleys, up steep climbs into the alpine and to the toe of the Sahale Glacier. Doable as an overnight, or ideally two-night trip, Cascade Pass is an excellent, shorter backpacking trip.
The hike starts by climbing steeply to Cascade Pass where hikers will be rewarded with views of the Sahale Glacier in the distance and Doubtful Lake nestled in the steep valley below. From here, most will hike down toward Pelton Basin Campground, or Basin Creek Campground, where they will then set up a basecamp and leave overnight gear behind. With only daypacks, the steep climb up to the Sahale Glacier is made easier the next day, and the alpine vistas hikers are greeted with are breathtaking. This area can be hard to book permits for, so going with a guide is a great way to have all logistics taken care of.
LEarn more: Cascade Pass and Sahale Glaciar with Wildland Trekking
Thunder Creek to Panther Creek via Fourth of July Pass
Where: North Cascades National Park
Distance: 11 miles
Duration: 1-2 days
Elevation Gain/Loss: 3000 feet
When there is still snow up higher, this is one of our favorite early-season hikes to do in the North Cascades. Though it doesn't take place in the alpine, the traverse from Thunder Creek to Panther Creek offers the quintessential North Cascades hiking experience, traveling through lush cedar forests, and alongside the green waters of Colonial Creek, offering up views of glacier-laden peaks far above.
While the hike can be completed as a long day trip, this is also a great option for an overnight or weekend backpacking trip. The trail can be traveled in either direction, starting from Colonial Creek or Panther Creek, and covers a very manageable 11 miles with 3000 feet of elevation gain. There are many great campsites along the way, perfect for those new to backpacking or for a spring or fall trip when snow is blanketing the high-alpine trails. Just be mindful that shuttling cars will be necessary at the trailhead if hiking the trail as a traverse.
Ross Lake to Desolation Peak
Where: North Cascades National Park
Distance: 32 miles (13 miles optional)
Duration: 5-6 days
Elevation Gain / Loss: 3300 feet (4400 feet optional)
It is impossible to drive through the North Cascades on Highway 20 without passing by the turquoise-blue waters of Ross Lake – a 23-mile lake that stretches from the heart of the mountains to the Canadian Border. While this is a frequent stop for sightseers and picture-takers, one of the preeminent backpacking trips in the area has to be hiking along the Eastern shores of Ross Lake for many days at a time.
Stretching northwards for over 30 miles, the East Bank Trail traverses alongside the lake with minimal elevation gain and over easily navigable and rolling trails. With ample campsite options, most groups will take a leisurely 4-5 days to finish the trail at the North end of the lake, where a boat shuttle is required to take hikers back to their vehicles. Highlights include walking through old-growth forests, alongside the lake, over creek beds full of meltwater from glaciers high above, and with ample opportunity to see wildlife or cool off by swimming in the lake. This is a fantastic early season hike as it remains at lower elevation, and the trail may be clear of snow earlier in the year.
An option exists to hike to Desolation Peak one day – a challenging, 13 mile round trip hike with over 4000 feet of elevation gain. To do this add-on, it is recommended to set up camp at Lightning Creek, and then ascend into the alpine with only day packs. Though the trail is challenging, hikers will be rewarded with outstanding panoramic views from the top, and the opportunity to see a historic fire lookout where Jack Kerouac is rumored to have written Dharma Bums.
LEarn more: Ross Lake and Desolation Peak with Wildland Trekking