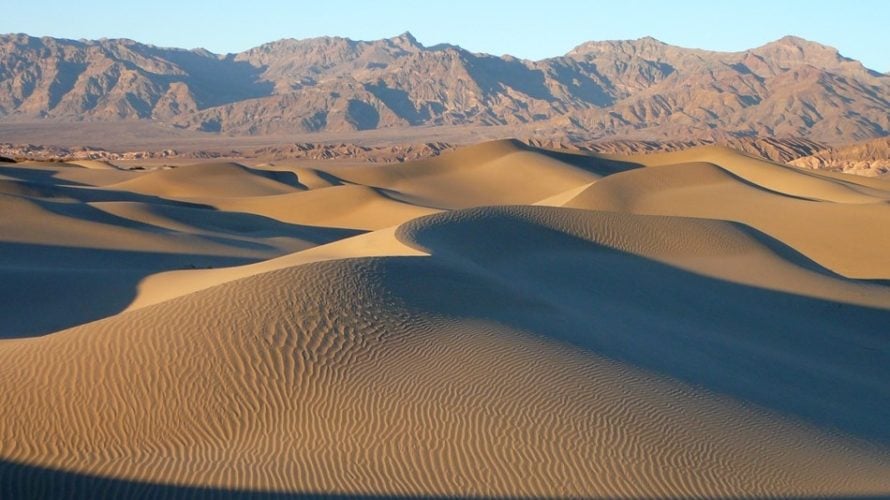 Mesquite Flat Sand Dunes Trail
General Description
The Mesquite Flats Sand Dunes are truly a sight of wonder and amazement, a trove of cinematic history, and a playground for kids and the young at heart.  Located just on the outskirts of the village of Stovepipe Wells, the dunes are a great place to romp, play, and explore.  Early risers witness the surrounding mountains set ablaze with the rising sun. A perch atop the tallest dune, at over 200 feet high, is a sublime place to watch the ember glow of daylight fade. Bring a sled or sandboard and shred the steeper dunes or hike by the light of the full moon.  There's almost no wrong way to experience the Mesquite Flats Sand Dunes in Death Valley National Park. There are no official trails in the dunes, so explore to your heart's content. Let your inner child run wild and have fun in nature's sand box.
Explore Death Valley with Expert Guides
Getting to the Mesquite Flat Sand Dunes
From Furnace Creek, take CA-190 W 23.1 miles to the Mesquite Flat Sand Dunes parking area. The single entrance will be on the right. From Stovepipe Wells, the parking area is 2 miles east on CA-190 on the left.  There are restrooms at the trailhead, but no trash receptacles, so you must pack out what you pack in.
Sand Dunes on the Silver Screen
The landscapes of Death Valley National Park often appear alien and otherworldly.  What better place to film a lonely convict on an asteroid 9 million miles from Earth? Death Valley's proximity to Hollywood, California made it a hot spot for filming throughout the 20th century.  The Mesquite Flat Sand Dunes were the perfect place to get relatively inexpensive shots of Sahara-like scenery.  Check out this list of films shot in Death Valley.
"You Can't Get Any Water Out of that Kind of Cactus!"
In 1947, on the porch of the Emigrant Ranger Station, Stan Jones ("The Singing Ranger") wrote one of the most recorded songs in history, "Ghost Riders in the Sky."  The next year, he was sent to supervise the filming of John Ford's movie "3 Godfathers" to ensure that no park rules were being violated.  In one scene, surrounded by the Mesquite Flat Sand Dunes, John Wayne's character attempts to squeeze water from the pulp of a barrel cactus.  An expert on Death Valley flora, Jones cheerfully informed Mr. Ford that "You can't get any water out of that kind of cactus!"  Furious at being corrected mid-scene, Mr. Ford demanded to know what made Jones such an authority on cactus.  "It's my job, sir." was the kindly ranger's reply. This would be the start of a fruitful business relationship for the two.
In a Galaxy…not so far away
Have you ever wanted to visit the planet of Tatooine?  Just take a trip to Death Valley and check out these filming locations for Star Wars Episode IV–A New Hope and Star Wars Episode VI–Return of the Jedi.  The Mesquite Flat Sand Dunes proved to be the perfect filming location for C3PO and R2D2's trek through the deserts of Tatooine.  Other filming locations include Artist Drive, Dante's View, Desolation Canyon, and Golden Canyon. Have fun finding the filming locations, and may the force be with you!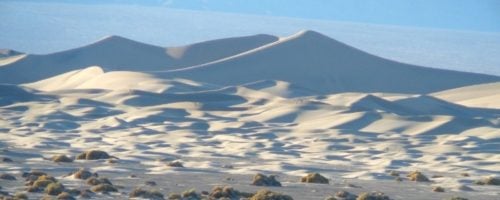 3 Best Day Hikes Near the Mesquite Flat Sand Dunes
After romping in the Mesquite Flat Sand Dunes, take a walk on some of these other great nearby trails.
| | | | | | |
| --- | --- | --- | --- | --- | --- |
| | Destination | Miles | Elev | Difficulty | Style |
| | Mosaic Canyon | 3.5 mi | 1000 ft | Easy-Moderate | Out and Back |
| | Darwin Falls | 2 mi | 200 ft | Easy | Out and Back |
| | Ubehebe Craters | 0.5-2 mi | 300 ft | Easy-Moderate | Loop |
Mosaic Canyon is an amazing hike for both first-time and long-time visitors of Death Valley National Park.  A two mile drive up the gravel road on the western edge of Stovepipe Wells delivers hikers to the Mosaic Canyon Trailhead. The walls of smoothly polished marble immediately come together forming a short, stunning, tortuous narrows.  Along the way, you may notice the mosaic-like breccia for which the canyon is named.  Beyond these narrows, the canyon opens to a large wash, but the fun doesn't have to end here.  Several primitive trails work their way up the canyon to even more narrows, dry falls, and other fun discoveries.  Mosaic Canyon is a perfect hike for families and seasoned desert hikers alike.
Darwin Falls is an unbelievably beautiful and welcome anomaly in Death Valley National Park.  The hike begins like many others, in a gravelly, barren wash typical of Death Valley's bone-dry landscape.  Suddenly, a lush canyon alive with willows, cottonwoods, and birdsong takes shape. Approximately one mile into the hike is Darwin Falls, cascading 25 feet down the lime green algae covered rock.  The edge of the pool at the base of the falls is a perfect place to sit and soak it all in.  Please avoid the temptation to take a soak yourself.  This spring-fed stream is the water source for the nearby hamlet of Panamint Springs. Exercise caution on the hike back.  Wet boots and sand can make the smoothly polished rock scrambles quite treacherous. Hikers of all ages will definitely welcome this easy hike to a stunning desert oasis.
Ubehebe Crater is a stunning testament to Death Valley's violent volcanic past.  At 600 feet deep and one half mile across, Ubehebe is the largest of a series of craters that pockmark the area.  Take a walk along the loop trail at the rim of the crater and explore several other smaller, more eroded craters. From the high point along the rim, observe the massive blanket of grey-black cinder; the result of Ubehebe's eruption. Another great way to experience the enormity of Ubehebe is to take the short but steep trail to the bottom of the crater.  Although the 600 feet of elevation gain to come back up doesn't sound like much, it can seem twice as far when hiking up the steep, loose cinder trail.  Hikers of all ages and abilities are sure to have a blast at Ubehebe Crater.
Maximize Your Visit to Death Valley National Park on a Hiking Tour
Guided multi-day packages allow visitors the opportunity to make the most of their time in Death Valley National Park and to do it hassle-free. Guided tours include gear (backpack, trekking poles, crampons in winter), meals, accommodations, local transportation, and a professional Death Valley hiking guide. Through their knowledge, stories, and personal passion, guides can bring a place to life in a way that's much more difficult to do on your own. Read more about Death Valley Hiking Tours.
Award Winning USA Hiking Vacations
Join a Guided Death Valley National Park Backpacking Trip
Joining a Death Valley backpacking tour is a worry-free, adventurous way to experience Death Valley National Park. With your gear, meals, local transportation, permits, and fees taken care of for you, you can travel light and focus 100% on enjoying the hiking experience, while the guide company takes care of everything else. Also, by going with local experts you'll enjoy a greater level of safety and gain a much better understanding of the history and ecology of this remarkable region. Read more about a guided Death Valley National Park backpacking trip.
When to Hike and Seasonal Considerations
Late fall through early spring is the best time to hike the Mequite Flat Sand Dunes.  The absolute best time to go is sunrise.  There are no crowds, and the dunes are covered in fresh tracks from the previous night's animal activity.  Sunsets can also be an awe-inspiring experience when viewed from the dunes.  Avoid hiking the dunes in the summer and during the middle of the day.  Please respect this special place by packing out all of your trash and steering clear of the vegetation.
Necessary Permits
Day Hikes
No permits are required for day hiking in Death Valley National Park.
Backpacking Permits
Backcountry camping permits are voluntary and may be obtained at the Visitor Center or any Ranger Station. Due to the extreme environment and remoteness, it is recommended that solo hikers and backpackers provide itinerary information and emergency contacts to park personnel.
Suggested Packing List
Day Hike Packing List for the Mesquite Flat Sand Dunes
2 liters of water per person
Salty, calorie-rich snacks
backpack
wide-brimmed hat
sunscreen, sunglasses
rain jacket
warm non-cotton layer
1st-aid kit
Please Respect Our National Parks – Leave No Trace
We strongly recommend abiding by all Leave No Trace ethics guidelines and practices so that our national parks and public lands are preserved for the enjoyment of future generations and for the people and animals who call these places home. Simple things like packing out your trash, obeying national park rules, and respecting the peace and quiet of our national park trails is a great start. If you're going on a backpacking trip, you can read about more about the 7 Leave No Trace Principles.