Darwin Falls Trail
General Description
Darwin Falls is an unbelievably beautiful and welcome anomaly in Death Valley National Park.  The hike begins like many others, in a gravelly, barren wash typical of Death Valley's bone-dry landscape.  Suddenly, a lush canyon alive with willows, cottonwoods, and birdsong takes shape. Approximately one mile into the hike is Darwin Falls, cascading 25 feet down the lime green algae covered rock.  The edge of the pool at the base of the falls is a perfect place to sit and soak it all in.  Please avoid the temptation to take a soak yourself.  This spring-fed stream is the water source for the nearby hamlet of Panamint Springs. Exercise caution on the hike back.  Wet boots and sand can make the smoothly polished rock scrambles quite treacherous. Hikers of all ages will definitely welcome this easy hike to a stunning desert oasis.
Explore Death Valley with Expert Guides
Getting to the Darwin Falls Trailhead
From the town of Panamint Springs, drive approximately 1 mile west on CA-190 W to the Old Toll Road on the left (west) side of the highway.  This rough gravel road should be passable by most vehicles.  The trailhead parking area is 2.5 miles from the turn off CA-190.  From the town of Lone Pine, CA, Take CA-136 E 17.5 miles to the intersection with CA-190.  Continue on CA-190 for 29.7 miles.  The turn onto Old Toll Road will be on the right.  There are limited parking areas, but the trailhead is rarely very busy.  Please park courteously to allow other hikers to park in the parking area.  This parking area and the Old Toll Road are not recommended for large RVs.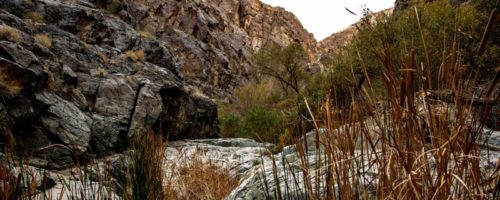 3 Best Day Hikes Near the Darwin Falls Trail
The Darwin Falls Trail is a stunning reward for a small hiking investment.  Check out these other fantastic nearby day hikes to keep the good times rolling.
| | | | | | |
| --- | --- | --- | --- | --- | --- |
| | Destination | Miles | Elev | Difficulty | Style |
| | Mesquite Flat Sand Dunes | N/A | <100 ft | Easy | Out and Back |
| | Mosaic Canyon Trail | 3.5 mi | 1000 ft | Easy-Moderate | Out and Back |
| | Wildrose Peak Trail | 8.4 mi | 2200 ft | Moderate | Out and Back |
The Mesquite Flat Sand Dunes are truly a sight of wonder and amazement, a trove of cinematic history, and a playground for kids and the young at heart.  Located just on the outskirts of the village of Stovepipe Wells, the dunes are a great place to romp, play, and explore.  Early risers witness the surrounding mountains set ablaze with the rising sun. A perch atop the tallest dune, at over 200 feet high, is a sublime place to watch the ember glow of daylight fade. Take a sled or sandboard and shred the steeper dunes by the light of the full moon.  There's almost no wrong way to experience the Mesquite Flat Sand Dunes in Death Valley National Park. There are no official trails in the dunes, so explore to your heart's content. Let your inner child run wild and have fun in nature's sand box.
Mosaic Canyon is an amazing hike for both first-time and long-time visitors of Death Valley National Park.  A two mile drive up the gravel road on the western edge of Stovepipe Wells delivers hikers to the Mosaic Canyon Trailhead. The walls of smoothly polished marble immediately come together forming a short, stunning, tortuous narrows.  Along the way, you may notice the mosaic-like breccia for which the canyon is named.  Beyond these narrows, the canyon opens to a large wash, but the fun doesn't have to end here.  Several primitive trails work their way up the canyon to even more narrows, dry falls, and other fun discoveries.  Mosaic Canyon is a perfect hike for families and seasoned desert hikers alike.
Wildrose Peak Trail is perfect for the weekend peak bagger or anyone seeking a challenging day hike. The trailhead starts at the beautifully preserved historic Charcoal Kilns.  From here, hikers follow the remnants of the old logging road to a saddle to stunning views of the Badwater Basin salt flats. Take a minute to catch that second wind before the steep ascent to the summit.  A series of tight switchbacks wind their way up the side of the mountain in full view of the valley floor over 8000 feet below. Enjoy a few moments of triumph at the summit just over 9000 feet above sea level.  A sweeping panorama reveals Death Valley stretching east and north, Telescope and Rogers peaks towering to the south, and the mighty Sierra Nevada to the west. Write a few inspiring words in the summit register, and enjoy the views.
Maximize Your Visit to Death Valley National Park on a Hiking Tour
Guided multi-day packages allow visitors the opportunity to make the most of their time in Death Valley National Park and to do it hassle-free. Guided tours include gear (backpack, trekking poles, crampons in winter), meals, accommodations, local transportation, and a professional Death Valley hiking guide. Through their knowledge, stories, and personal passion, guides can bring a place to life in a way that's much more difficult to do on your own. Read more about Death Valley Hiking Tours.
Award Winning USA Hiking Vacations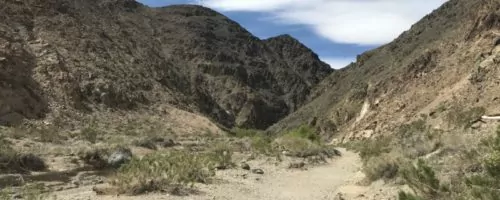 Join a Guided Death Valley National Park Backpacking Trip
Joining a Death Valley backpacking tour is a worry-free, adventurous way to experience Death Valley National Park. With your gear, meals, local transportation, permits, and fees taken care of for you, you can travel light and focus 100% on enjoying the hiking experience, while the guide company takes care of everything else. Also, by going with local experts you'll enjoy a greater level of safety and gain a much better understanding of the history and ecology of this remarkable region. Read more about a guided Death Valley National Park backpacking trip.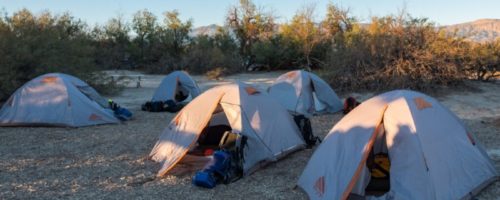 When to Hike and Seasonal Considerations
The Darwin Falls Trail is accessible year round.  Fall through spring is the best time to hike to the falls. From late spring to early fall it is highly recommended that your hike be confined to the early morning hours.  The first and last stretches of the trail are in an open gravel wash with no shade.  Please avoid the temptation to swim at the falls.  This is the source of drinking water for the town of Panamint Springs.
Necessary Permits
Day Hikes
No permits are required for day hiking in Death Valley National Park.
Backpacking Permits
Backcountry camping permits are voluntary and may be obtained at the Visitor Center or any Ranger Station. Due to the extreme environment and remoteness, it is recommended that solo hikers and backpackers provide itinerary information and emergency contacts to park personnel.
Suggested Packing List
Day Hike Packing List
3-4 liters of water per person
Salty, calorie-rich snacks
lunch
backpack
trekking poles
crampons (in winter)
wide-brimmed hat
sunscreen, sunglasses
cotton t-shirt (spring-fall)
non-cotton t-shirt (winter)
rain jacket
warm non-cotton layer
1st-aid kit
Backpacking Packing List
all items listed for day hikes PLUS
additional water AND water filter/purification method
multi-day backpack
3-season tent
sleeping bag
sleeping pad
backpacking stove and fuel
backpacking meals
2-3 pairs wool socks
extra t-shirts
Please Respect Our National Parks – Leave No Trace
We strongly recommend abiding by all Leave No Trace ethics guidelines and practices so that our national parks and public lands are preserved for the enjoyment of future generations and for the people and animals who call these places home. Simple things like packing out your trash, obeying national park rules, and respecting the peace and quiet of our national park trails is a great start. If you're going on a backpacking trip, you can read about more about the 7 Leave No Trace Principles.