Going on a Guided Hiking Trip? Trust the Guest Reviews

When you're going on a guided hiking trip, you should always check trip reviews from previous guests. We know how much a guiding company can impact your vacation, so we want to help you choose the absolute best before you book your adventure. We've even written a blog post about things to look for when you're selecting your tour operator. But one of the best indicators of quality? Guest reviews.
Want to see a positive review? Check out this example!
"I don't usually use a guide for my backpacking trips, but my hiking partner was more comfortable having a guide. Margaret "Margi" Erhart was our guide, and she did an OUTSTANDING job and really made the trip for me. Margi is very experienced, technically sound, mature, a "reader" of people who is able to communicate effectively with everyone. She is knowledgeable but not arrogant. She took the time to hike with each person in her group and get to know them better. She knows how to relate to hikers of all experience levels. I think the least experienced person had great confidence in Margi, as did I.
Her knowledge of the flora and fauna was extensive, and her knowledge of the geology of the region made this trip a wonderful learning experience. This was an unexpected delight, as Margi "taught" as we hiked. Sometimes we stopped to view an interesting plant, vista or bird, and it was often about the time the guys were ready for a break but nobody wanted to say it first. Margi obviously cares about keeping the area pristine for future generations, as she taught everyone key backpacking techniques that further that goal. Margi was observant of her group without being overbearing. On the last day of the trip on the way up she noticed one hiker having a little difficulty (but trying not to show it). Her training allowed her to realize that the hiker was dehydrated and had too much sun. Without making a big deal out of it, she got the hiker rehydrated, rested, and out of the sun. She split the pack contents amongst a few of us, and carried the pack herself the remainder of the way up the trail. While everyone was resting, she continued to point out interesting plants and geological features which, I think, took the attention off the hiker who was having trouble and decreased any embarrassment the hiker may have had.
I hope to return to the region in the next year or so, and would request Margi as my guide and I would recommend her to my friends. As I'm sure you know, how people think about your trekking company is 95% dependent on their experience with the guide. They are the face of your company. Margi represents you extraordinarily well, and she would be the primary reason for me to use your company a second time."
-G.H.
now get hiking!
We don't want to toot our own horn, but we can't help it. For more than a decade, we have been running guided hiking and backpacking tours across the USA and the globe. We currently offer fantastic treks in 54 national parks and wilderness areas, 11 states, and 13 countries. Check out our trip offerings and book your next vacation today!
Wildland Trekking Hiking Adventures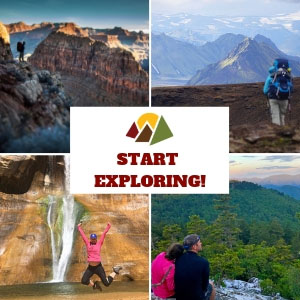 As the world's premier hiking and trekking company, Wildland brings destinations to life through top-notch service, excellence in guiding, interp and passion. Please visit our website or connect with one of our Adventure Consultants: 800-715-HIKE