Hiking the Grand Canyon: How To Get Permits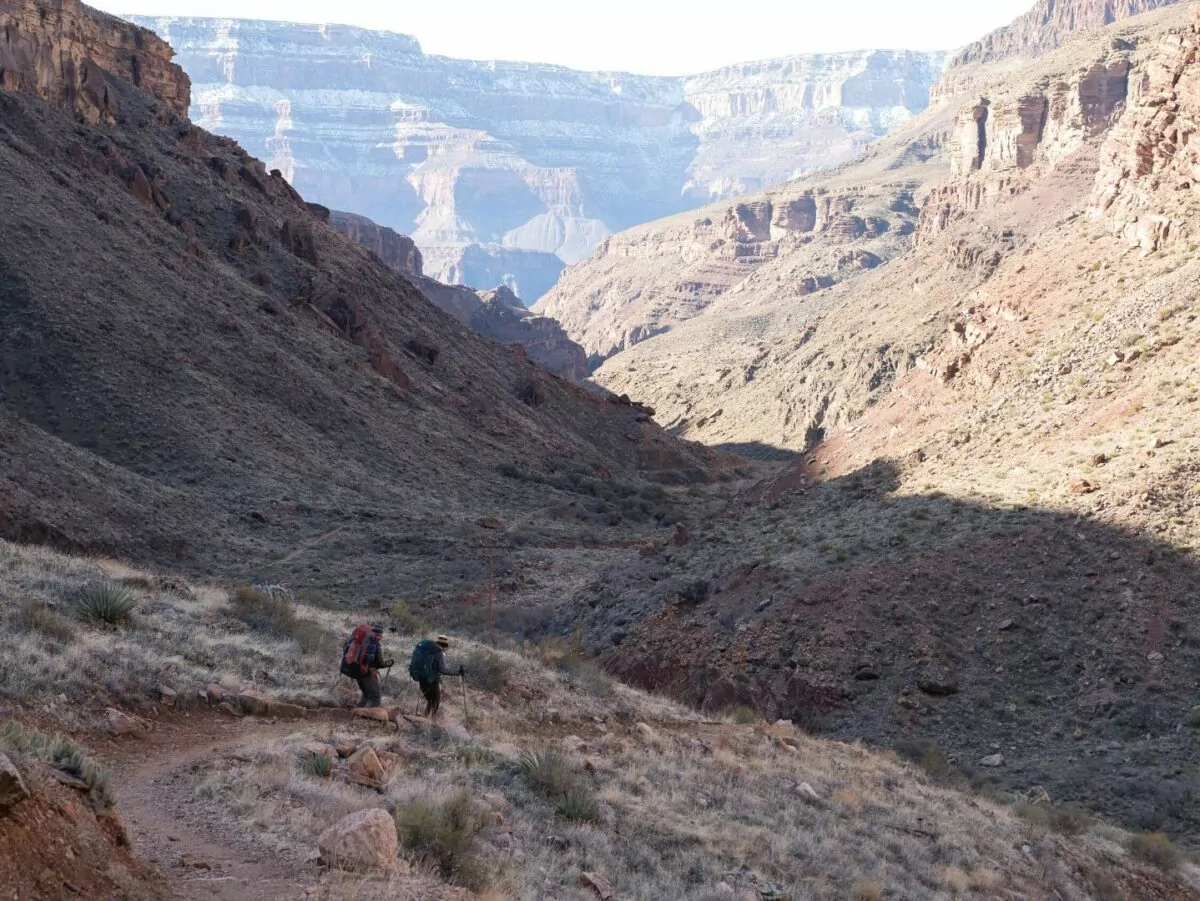 With our packs loaded with food, camping gear and supplies for five days in the backcountry, we started down the South Kaibab trail into the Grand Canyon. From the top of the South Rim, the mighty Colorado river looked like a shallow brown stream, barely moving nearly 5,000 feet down. 
Those first few miles, full of day hikers mostly going only as far as a lookout, were just a tease of the beauty and wild spaces we would find over our next few days at the bottom of the Grand Canyon. But as we descended through the ancient rock layers, we found fewer people, more solitude, and better and better views.

Getting to this moment of hiking into the Grand Canyon took literal years of planning. The first year we applied for permits to overnight in the Grand Canyon, we didn't get them. The Grand Canyon is an incredibly popular backpacking destination and while you can get off the beaten path, the more frequented trails can be very challenging to acquire permits for.
This year however, we secured the permits. We were all set to hike Rim to Rim to Rim, probably the most popular trail in the canyon. And although we were not able to completely fulfill the goal of making it to the North Rim (due to trail closures) the trip was magical and well worth the effort.
So how do you get backcountry permits for Grand Canyon National Park? The easiest answer is that it's challenging. You have to plan your trip and apply months ahead of your desired trip dates. But is it worth it? 100%. 
We're hoping to make this complicated process a little easier, so that when you're ready to plan your Grand Canyon backpacking trip, applying for permits doesn't feel like such a daunting task.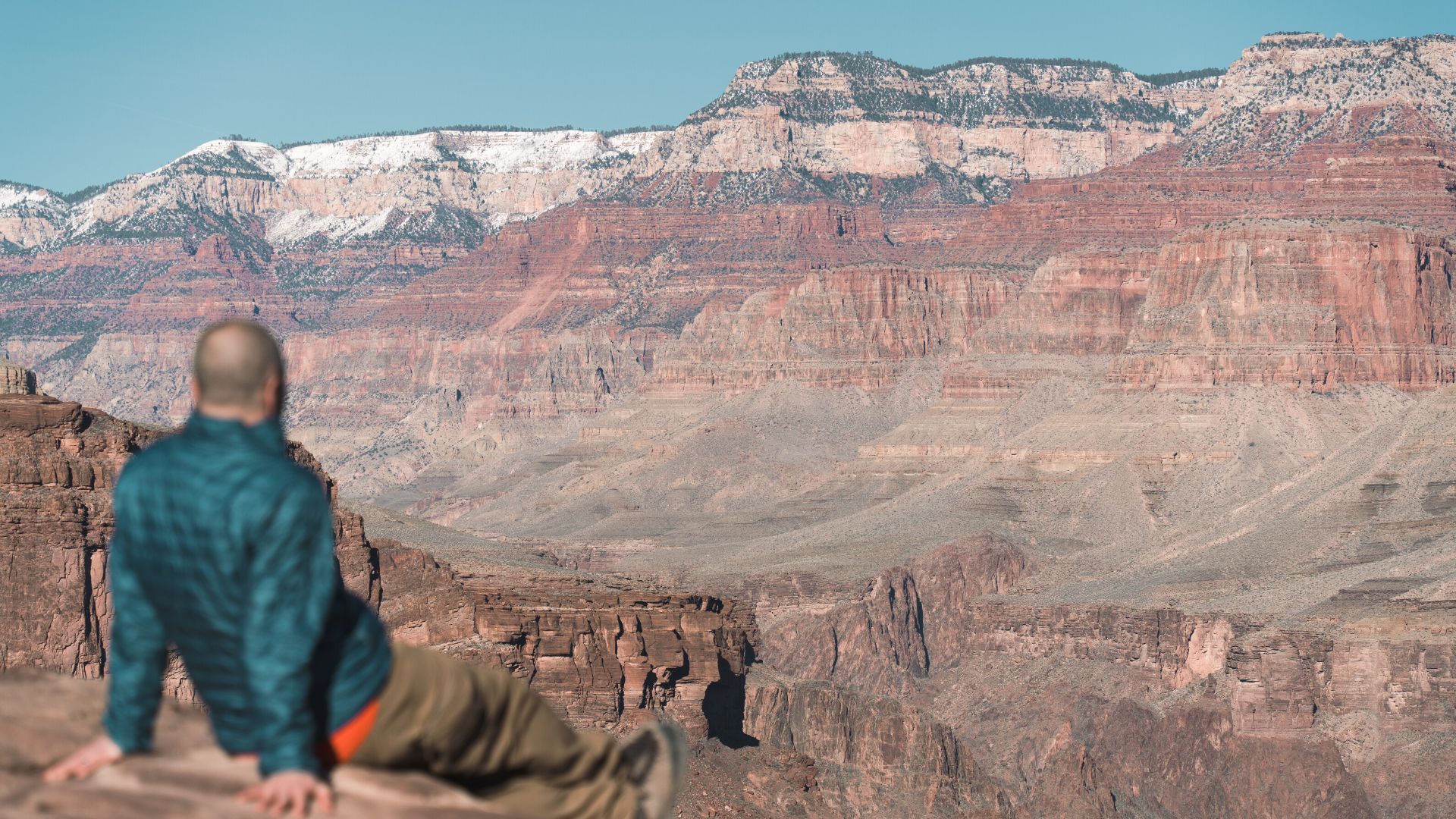 How to plan your Grand Canyon backpacking trip
Before you apply for permits, you'll need to know where you want to hike and camp, and how long you want to spend in the Grand Canyon. There are a few things to keep in mind when planning your trip. 
Where you want to go
First you'll want to decide where you want to hike. There are several zones in the Grand Canyon, and not all locations connect. Each area is accessed from different trailheads, some hours apart. You can choose where you want to go by considering what you want to see along the way, or where you want to begin/end.
The most popular areas in the Grand Canyon are referred to as the Corridor trails. The Corridor trails include South Kaibab trail from the South Rim down to Bright Angel Campground, North Kaibab trail which goes all the way past Cottonwood Campground to the North Rim, and Bright Angel Trail which leaves Bright Angel Campground, passes Havasupai Gardens (formerly Indian Gardens) and travels back to the South Rim. 
Each of these campgrounds are very popular. They are also the most accessible way to explore the Grand Canyon, since they typically have potable water for most of the season, and Bright Angel campground even has flushing toilets. Phantom Ranch, located just north of Bright Angel campground, also has cabins (reserve far in advance), a restaurant (reservations required), and a snack bar. 
When planning your trip, consider the zone you will be traveling and camping in. The Corridor zone is recommended for hikers who have never been into the Grand Canyon. This area has maintained trails, running water, bathrooms, and ranger stations. 
Threshold Zones are recommended for experienced Grand Canyon hikers. They have non maintained trails, scarce water sources, and pit toilets. 
Primitive and Wild Zones are recommended for only highly experienced Grand Canyon hikers with great route finding skills. They are unmaintained with scarce to non-existent water sources.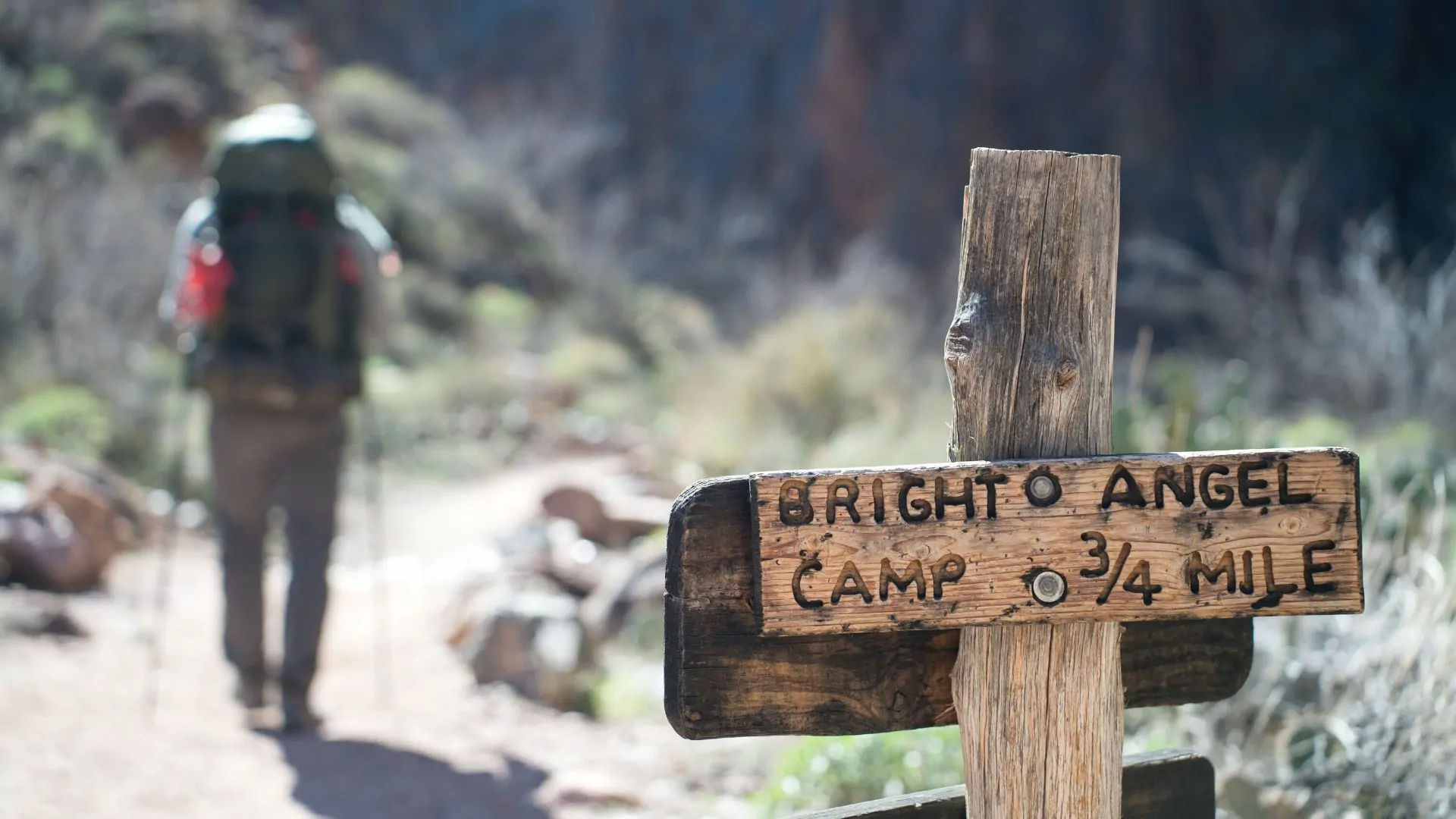 When to apply for Grand Canyon backcountry permits?
The best time to apply for Grand Canyon backcountry permits is during the Earliest Consideration period which is on or 10 days before the first day of the month, 4 months before your desired trip. This will give you the best chance for getting the dates and campsites that you desire.
| | |
| --- | --- |
| For dates through: | Apply on or within 10 days before: |
| March | November 1 |
| April | December 1 |
| May | January 1 |
| June | February 1 |
| July | March 1 |
| August | April 1 |
| September | May 1 |
| October | June 1 |
| November | July 1 |
| December | August 1 |
| January | September 1 |
| February | October 1 |
How to apply for Grand Canyon permits
Applying for a Grand Canyon permit is a somewhat convoluted process. It's not as simple as filling out an online form. To apply for backcountry permits, first download the PDF file for the application. You will have to print it out and fill it out by hand, although some of it can be filled out on a computer if you have a pdf reader that allows you to add text. 
Do not forget to include the following with your permit request:
Trip leader's name, address, and telephone number.

Credit card number, expiration date, signature, date signed, and largest amount you authorize the National Park Service to charge.

Number of people and/or stock in the group (group sizes can be up to 11 in a group site, or 6 and under in a regular site)

License plate numbers of any cars to be left at the trailhead.

Proposed night-by-night itinerary showing use area codes and dates for each night.

Organization name if applicable.

Alternative proposed itineraries.
Once the permit application form is completed and signed, you can do one of the following:
Fax application form to the Backcountry Information Center, 928-638-2125.

Mail application form to Grand Canyon National Park, Permits Office, 1824 S. Thompson St., Suite 201, Flagstaff AZ, 86001

Bring application form to the Backcountry Information Centers, located inside the park on both the South Rim and the North Rim. The South Rim Backcountry Information Center is open daily, year round, from 8 am to noon and 1-5 pm Mountain Standard Time. The North Rim Backcountry Information Center (located in the administrative building) is open daily mid-May to mid-October from 8 am to noon and 1-5 pm Mountain Standard Time.
Avoid the Hassle and go with a guide 
Permit Fees
A non refundable fee of $10 is charged for every permit application. If your application is approved, you will be charged $12 per person per night camped below the rim and $12 per group per night camped above the rim.
If your application is denied, you will not be charged. When you send in your permit application, you will need to provide credit card information that will be charged if the permit is approved.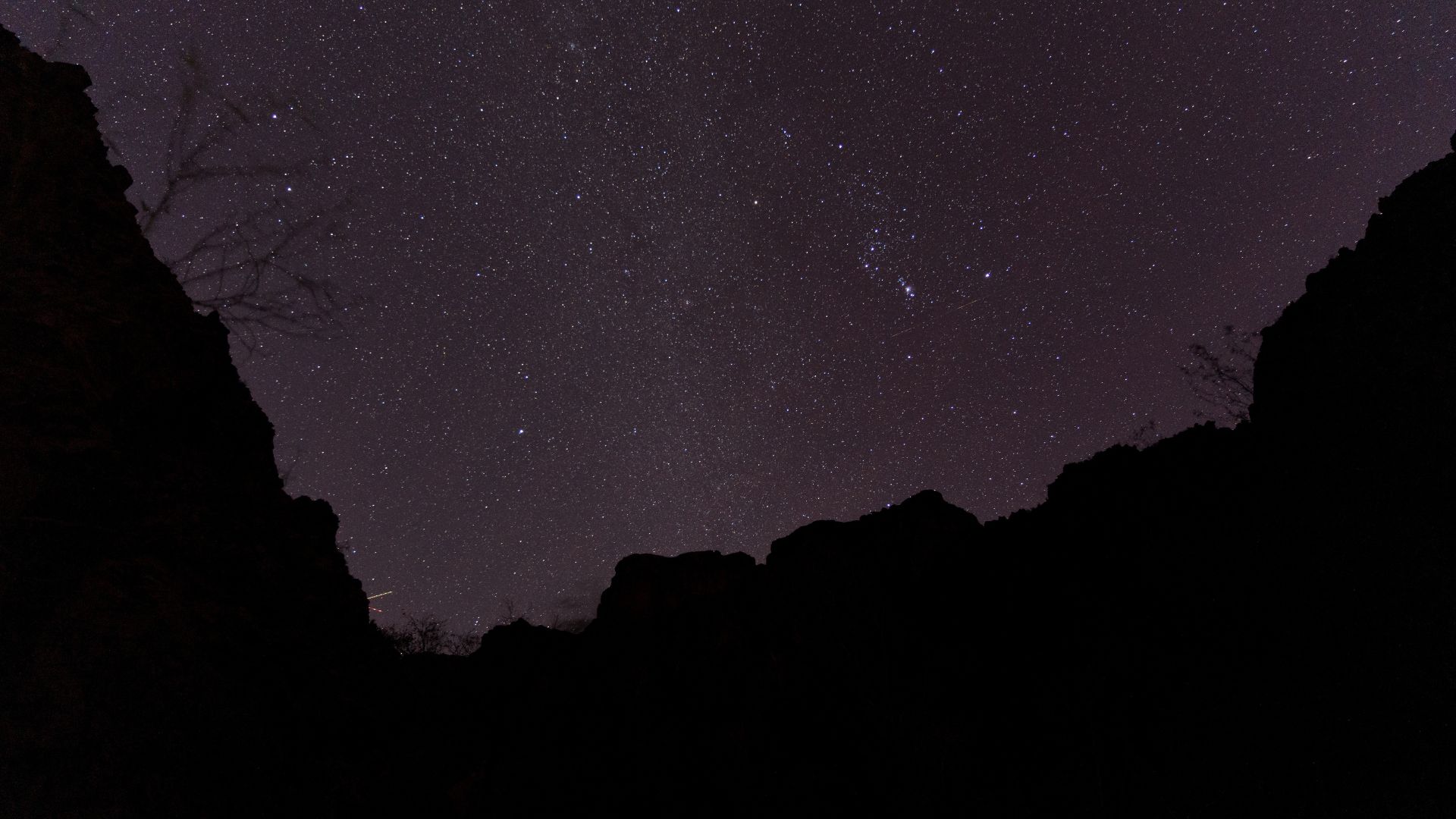 What to know once you have a permit
Once you have a permit, it's time to get ready for your Grand Canyon trip! This means making sure you have all the right equipment, and you're in good physical shape to complete your trip.
Prepare
for your trip
Check the weather: weather in the Grand Canyon can vary dramatically from freezing temperatures to 100 degrees even in the same week. Temperatures at the rim are often 10-20 degrees cooler than the bottom of the canyon, so make sure to come with layers for all the weather you might encounter. 
Bring the 10 essentials: The National Park Service recommends that everyone hiking in the Grand Canyon bring the 10 essentials which include:
Water: bring a sufficient amount and extra in case of emergency; always bring a water treatment method even if you expect running water

Salty snacks and high-calorie meal(s) 

First aid kit, prescriptions, blister care, duct tape, and pocket knife 

Map or trail guide

Flashlight or headlamp with spare batteries 

Sunscreen, wide-brimmed hat, and sunglasses 

Whistle, signal mirror, and cell phone 

Tent or some sort of shelter

Broken-in hiking shoes with good soles and hiking poles

 Layers of clothing for all weather you might encounter
Leave No Trace
It's important to respect the landscape, people, and animals of the Grand Canyon. Here are some Leave No Trace and trail courtesy guidelines to follow while in the Grand Canyon:
Travel with a friend and stick together.
Use toilets along the trails or bring a wag bag and pack out all waste.

Mules have the right of way.

Uphill hikers have the right of way.

To pass someone in front of you: slow down and let them know you want to pass.

Do not store or abandon gear along the trail; it attracts wildlife.

Pack out your trash.

Be quiet and respect those who seek serenity.

Stay on trails or durable surfaces such as rocks or sandy washes.
Enjoy the Grand Canyon!
The Grand Canyon is an incredible place to visit, and only a small fraction of visitors ever venture below the rim. Hiking in the Grand Canyon is an experience that very few people ever get to have, and spending multiple nights in the bottom is truly a life changing experience. Have fun, be safe, and enjoy the Grand Canyon!