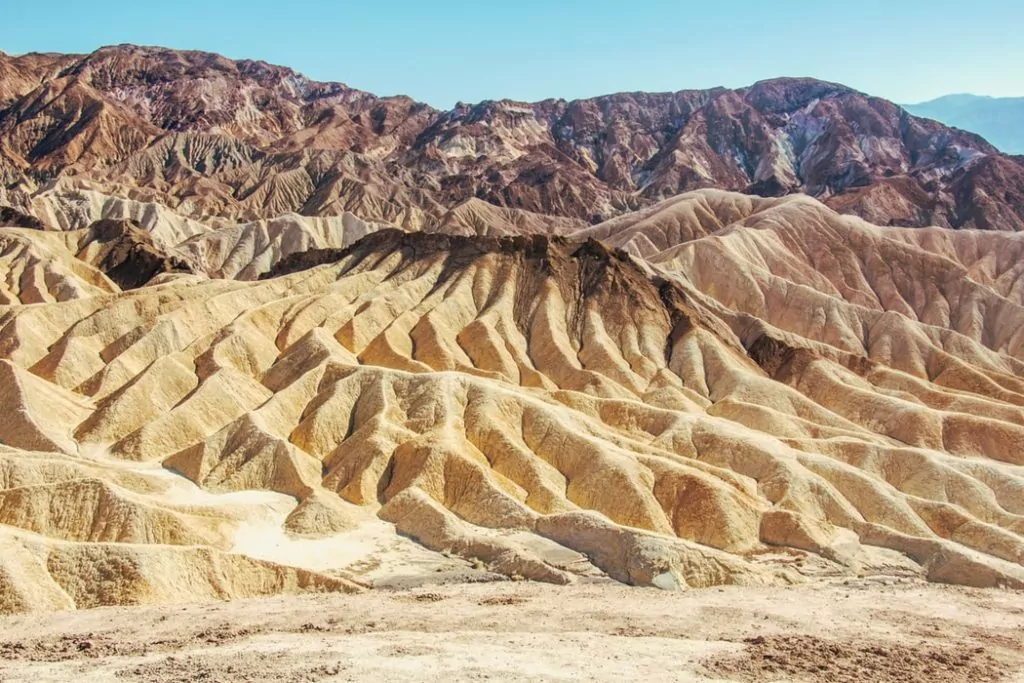 Golden Canyon Trail
General Description
Golden Canyon is a must-do hike on any visit to Death Valley National Park.  This tangled system of canyons cuts through brilliant yellow-gold badlands where secrets and adventures lurk around every corner.  Other trails in the area to Red Cathedral, Zabriskie Point, and Gower Gulch make this a real choose your own adventure hike.  Take a short hike to the towering fluted red walls of Red Cathedral. Want to hike point to point? Why not take the downhill route from Zabriskie Point?  Have a bigger, off the beaten path adventure in mind? Take the spur trail to Gower Gulch and scramble the smoothly polished dry falls of its narrows.  Whatever size adventure you'd like, Golden Canyon has something that will fit the bill.
Explore Death Valley with Expert Guides
Getting to the Golden Canyon Trailhead
From the Furnace Creek Visitor Center, drive 1 mile east on CA-190 E to a right turn onto Badwater Basin Road.  From there it is a short 2 mile drive to the paved parking area on the left (east) side of the road.  There are restrooms located at this trailhead.  Be aware that the close proximity to the Visitor Center and its relative ease make this a popular trail.  If the parking area is full, parking is available along Badwater Basin Road.  Please be sure to pull completely off the roadway and watch for oncoming traffic.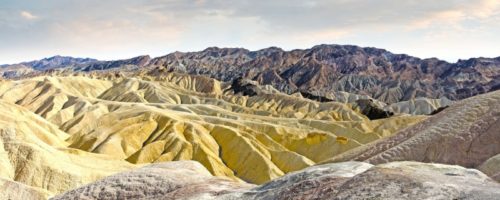 3 Best Ways to Hike the Golden Canyon Trail
There are many ways to hike the network of trails that are interconnected with the Golden Canyon Trail.  Below are 3 of the best options for experiencing this maze of spectacular badlands and canyons.
| | | | | | |
| --- | --- | --- | --- | --- | --- |
| | Destination | Miles | Elev | Difficulty | Style |
| | To Red Cathedral | 2.8 mi |  500 ft | Easy | Out and Back |
| | Zarbiskie Point to Golden Canyon | 1.7 mi (One Way) | 650 ft | Easy | Thru-hike |
| | Gower Gulch Loop | 4.5 mi |  850 ft | Moderate | Loop |
1. Golden Canyon to Red Cathedral
The hike to Red Cathedral is the pinnacle of a hike on the Golden Canyon Trail. The first 1/4 mile of stunning narrows delivers hikers into an alien landscape of gold-colored badland hills.  These bare hills are almost totally devoid of vegetation and give the place an otherworldly feel.  Several side canyons beckon for exploration along the way.  After a mile of hiking, the trail forks near the base of Manly Beacon.  The left fork is the trail to Red Cathedral.  A few small scrambles around and under some massive chockstones will land you right at the base of the 400 foot fluted walls of Red Cathedral. For a fantastic view back down Golden Canyon, make the short, steep scramble up the eroding hillside to an awesome viewpoint.  Return back the way you came, or continue on to Zabriskie Point or Gower Gulch.
2. Zabriskie Point to Golden Canyon
Looking for a short, easy thru-hike?  Well, this is it!  From the most popular viewpoint in the park, Zabriskie Point looks out over the wrinkled wonderland of badlands and canyons that make up Golden Canyon and Gower Gulch.  Then, drop on down the trail to explore it up close and personal.  This hike is best started from Zabriskie Point, as it is all downhill.  Just keep in mind that you will need to arrange a shuttle.  Another alternative is to hike to Zabriskie Point and back to Golden Canyon making it a 3.5 mile round trip trek.
3. Golden Canyon/Gower Gulch Loop
This is an absolutely perfect loop hike.  Clocking in at 4.5 miles round trip, it is the perfect intermediate distance for a half-day hike.  Start out in the narrows of Golden Canyon and wander through its golden badlands.  Climb to the base of towering Manly Beacon and revel in the views of this unbelievable landscape.  Then, wander down the open wash of Gower Gulch past abandoned borax mines and splashes of color from oxidized volcanic sediments.  The grand finale is a series of polished dryfall chutes through the narrows of lower Gower Gulch that deliver you back into the broad expanse of Death Valley.  If you have got half a day to spend in Death Valley, this is a hike that is not to be missed.
Maximize Your Visit to Death Valley National Park on a Hiking Tour
Guided multi-day packages allow visitors the opportunity to make the most of their time in Death Valley National Park and to do it hassle-free. Guided tours include gear (backpack, trekking poles, crampons in winter), meals, accommodations, local transportation, and a professional Death Valley hiking guide. Through their knowledge, stories, and personal passion, guides can bring a place to life in a way that's much more difficult to do on your own. Read more about Death Valley Hiking Tours.
Award Winning USA Hiking Vacations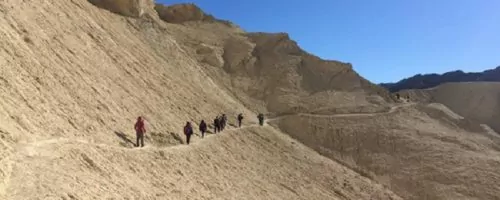 3 Best Day Hikes Near the Golden Canyon Trail
The Golden Canyon Trail is a great way to spend a half day in Death Valley National Park.  For those thirsting for a little more, check out these other nearby trails.
| | | | | | |
| --- | --- | --- | --- | --- | --- |
| | Destination | Miles | Elev | Difficulty | Style |
| | 20 Mule Team Canyon | 0-2 mi | 0-200 ft | Easy-Moderate | Out and Back |
| | Desolation Canyon | 3.5 mi | 750 ft | Moderate | Out and Back |
| | Sidewinder Canyon | 4-6 mi | 1000 ft | Moderate | Out and Back |
Death Valley National Park is well known for its rich mining past. The 20 mule teams and wagons that once carried tons of borax through this unforgiving landscape are an enduring legacy. 20 Mule Team Canyon was heavily prospected for borax around the turn of the twentieth century leaving behind countless loading platforms, mine tailings, and tunnels.  The scenic drive through this incredible canyon offers tons of hiking potential in the richly colored badlands of the Black Mountains. Take your pick of any number of short hikes through networks of canyons and ridges along the drive.  There are no official trails, so choose your adventure wisely. The badland hills along this drive are teeming with discovery and just begging to be explored.  Take this hike in the early morning or late afternoon to see a dazzling display of light and shadow.
If you're looking for a top-notch entry level cross country trail, Desolation Canyon comes in at the top of the class.  Far less popular than nearby Golden Canyon and Gower Gulch, Desolation Canyon is a family-friendly, fun-filled, route finding hike. Trek cross country picking your entry into the shallow wash that will soon rise around you into a beautiful wineglass shaped canyon.  Not long after the walls close in, hikers are faced with a few short dry fall scrambles to rouse that intrepid spirit.  As a reward for your effort, the canyon puts on display stunning pinks, reds, purples, blues, and greens, reminiscent of the nearby Artist's Palette.  Take a little time to explore some of Desolation's many short side canyons.  The pinnacle of the hike is a ridgetop view of Artist Drive and sweeping Death Valley vistas.  Desolation Canyon is sure to charge up your sense of adventure.
If you want to experience the slot canyons of Death Valley National Park, then look no further. The slots of Sidewinder Canyon are as twisting and tortuous as their namesake. A moderate hike up the inclined wash delivers hikers past mysterious and intriguing side slot canyons to the delicately carved narrows.  Beyond the narrows, smoothly polished chutes and dry falls of smoothly polished schist impede further upstream passage.  The real fun is exploring any of the 6 narrow slots that suddenly appear like hidden passageways on either side of the canyon.  Snaking your way up these dark narrow halls feels, at times, like a spelunking expedition.  After some fun-filled scrambling, it is a gentle stroll back down the gravelly wash. The hike back is filled with the magnificent panorama of the Badwater salt pan backed by the majestic Panamint Mountains making Sidewinder Canyon an unbelievable Death Valley excursion.
Join a Guided Death Valley National Park Backpacking Trip
Joining a Death Valley backpacking tour is a worry-free, adventurous way to experience Death Valley National Park. With your gear, meals, local transportation, permits, and fees taken care of for you, you can travel light and focus 100% on enjoying the hiking experience, while the guide company takes care of everything else. Also, by going with local experts you'll enjoy a greater level of safety and gain a much better understanding of the history and ecology of this remarkable region. Read more about a guided Death Valley National Park backpacking trip.
Epic Death Valley Backpacking Adventure
When to Hike and Seasonal Considerations
Golden Canyon is best hiked from late fall to early spring. Temperatures can easily soar into the triple digits between the months of May and September, making this a dangerous hike during the summer months.  Late afternoon and early morning light can really bring out the rich colors and shadows of this spectacular canyon.  This can be a very popular hike. The farther you get from the trailhead, the fewer people you will see.  If there is no available parking in the parking area, there is additional parking along Badwater Basin Road.  Be sure to pull completely out of the road and be aware of oncoming traffic.  Restrooms are available at the trailhead.
Necessary Permits
Day Hikes
No permits are required for day hiking in Death Valley National Park.
Backpacking Permits
Backcountry camping permits are voluntary and may be obtained at the Visitor Center or any Ranger Station. Due to the extreme environment and remoteness, it is recommended that solo hikers and backpackers provide itinerary information and emergency contacts to park personnel.
Suggested Packing List
Day Hike Packing List
3-4 liters of water per person
Salty, calorie-rich snacks
lunch
backpack
trekking poles
crampons (in winter)
wide-brimmed hat
sunscreen, sunglasses
cotton t-shirt (spring-fall)
non-cotton t-shirt (winter)
rain jacket
warm non-cotton layer
1st-aid kit
Backpacking Packing List
all items listed for day hikes PLUS
additional water AND water filter/purification method
multi-day backpack
3-season tent
sleeping bag
sleeping pad
backpacking stove and fuel
backpacking meals
2-3 pairs wool socks
extra t-shirts
Please Respect Our National Parks – Leave No Trace
We strongly recommend abiding by all Leave No Trace ethics guidelines and practices so that our national parks and public lands are preserved for the enjoyment of future generations and for the people and animals who call these places home. Simple things like packing out your trash, obeying national park rules, and respecting the peace and quiet of our national park trails is a great start. If you're going on a backpacking trip, you can read about more about the 7 Leave No Trace Principles.