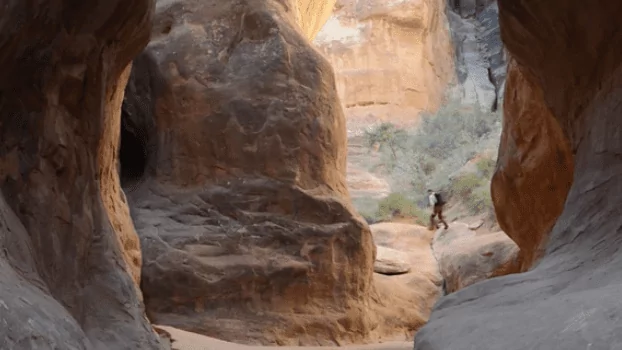 Fiery Furnace
General Description
Fiery Furnace is a natural and complex maze that winds through towering sandstone walls of Arches National Park.  The only way visitors can enter Fiery Furnace is on a ranger-led hike, or by obtaining a day-use permit from the visitor center.  There are trail markers for a counter-clockwise route through Fiery Furnace, but there are many other unmarked trails one can take, so getting lost or disoriented is a real possibility.  Sure footing and agility are needed, as there is scrambling over boulders, squeezing through narrow canyons and crouching through low hanging ceilings. If you are planning on obtaining a permit and going on your own, it is recommended to go with a group, and route finding skills are essential.
Explore Arches National Park with Expert Guides
Getting to the Fiery Furnace Trailhead
Fiery Furnace trailhead is 14 miles from the entrance of the park.  It is located between Devil's Garden and Delicate Arch, and there are many signs that point to the trailhead parking lot.
History of Fiery Furnace
Despite it's name, Fiery Furnace is not named for it's temperature.  Because of the towering sandstone walls and shaded canyons, it actually maintains a lowered temperature.  It was given the "Fiery Furnace" name because of the red glow that the walls become at sunset, resembling the glowing embers of a furnace.

2 Best Day Hikes in Fiery Furnace
There are many routes in Fiery Furnace, but there is a real possibility of getting disoriented for more novice hikers.  If you are with a family or are unexperienced with route finding navigation, it is recommended going on a ranger-led hike.  If you are more adventurous and  have experience route finding, it is recommended to use the NPS marked trail.
Below are the primary options for day hiking the Fiery Furnace:
| | | | | | |
| --- | --- | --- | --- | --- | --- |
| | Destination | Miles | Elev | Difficulty | Style |
| | Ranger-led Hike | 2 mi | 45 ft | Moderate- Strenuous | Out and Back or Loop |
| | Counter-clockwise Loop | 2 mi | 45 ft | Strenuous | Loop |
1. Ranger-led Hike
Reservations are required for ranger-led hikes through Fiery Furnace.  Tickets must be purchased for ten dollars at the Visitor Center, and the National Park Service recommends buying them in advance, as spots fill quickly.  Once purchased, you will meet the ranger and other participants at the trailhead.  The knowledgable ranger will lead the group through the twisting turns of Fiery Furnace while giving geologic information about the area and Arches National Park.  Along the route, you will encounter boulders that must be scrambled over, cracks that must be straddled, narrow canyons that must be squeezed through, and arches that must be ducked under.  The best thing about going on a ranger-led hike is that you don't have to worry about where you are going and potentially getting lost, you can focus on having fun and enjoying your hike!
2. Counter-clockwise Loop
There is one route in Fiery Furnace that is marked by small markers, this route starts from the trailhead in a counter-clockwise loop.  National Park Service discourages hikers from following cairns or other hiker-made trail navigation, and to follow the NPS markers– although they are intentionally designed to blend in with the rock.  Since they blend in, make sure you are constantly aware of your surroundings.  Fiery Furnace is difficult to navigate, so going in a group with people that have route finding skills is extremely important.  Make sure you talk to the rangers who issue you the day-use permit about best practices and important information.
Maximize Your Visit to Arches National Park on Hiking Tour
Guided multi-day packages allow visitors the opportunity to make the most of their time in Arches National Park and to do it hassle-free. Guided tours include gear (backpack, trekking poles, crampons in winter), meals, accommodations on multi-day tours, local transportation, and a professional Utah hiking guide. Through their knowledge, stories, and personal passion, guides can bring a place to life in a way that's much more difficult to do on your own. Read more about Arches and Canyonlands Hiking Tours.

When to Hike and Seasonal Considerations
Permits are issued for use between sunrise and sunset on a specific day.  They frequently sell out during the busy season, so it is best to check in-person at the Visitor Center for availability.  Remember, before setting out on any hike, bring plenty of water and salty snacks, especially in the hot summer months.  For weather in Arches National Park, click here.
Necessary Permits
Day Hike Permits
Day hike permits are required for Fiery Furnace, unless you go on a Ranger-led hike.  The permits must be purchased in-person at the Arches National Park Visitor Center.  To learn more about the Fiery Furnace permit system, click here.
Backpacking Permits
Backpacking is only allowed in few, select areas in the park, and permits are required.  For more information on Arches' permit system, click here.

Suggested Packing List
Day Hike Packing List
3-6 liters of water (more in summer)
Salty, calorie-rich snacks
lunch
backpack
crampons (in winter)
wide-brimmed hat
sunscreen, sunglasses
non-cotton t-shirt
rain jacket
warm non-cotton layer
1st-aid kit
Please Respect Our National Parks – Leave No Trace
We strongly recommend abiding by all Leave No Trace ethics guidelines and practices so that our national parks and public lands are preserved for the enjoyment of future generations and for the people and animals who call these places home. Simple things like packing out your trash, obeying national park rules, and respecting the peace and quiet of our national park trails is a great start. If you're going on a backpacking trip, you can read about more about the 7 Leave No Trace Principles.