Explore Nepal With Wildland Trekking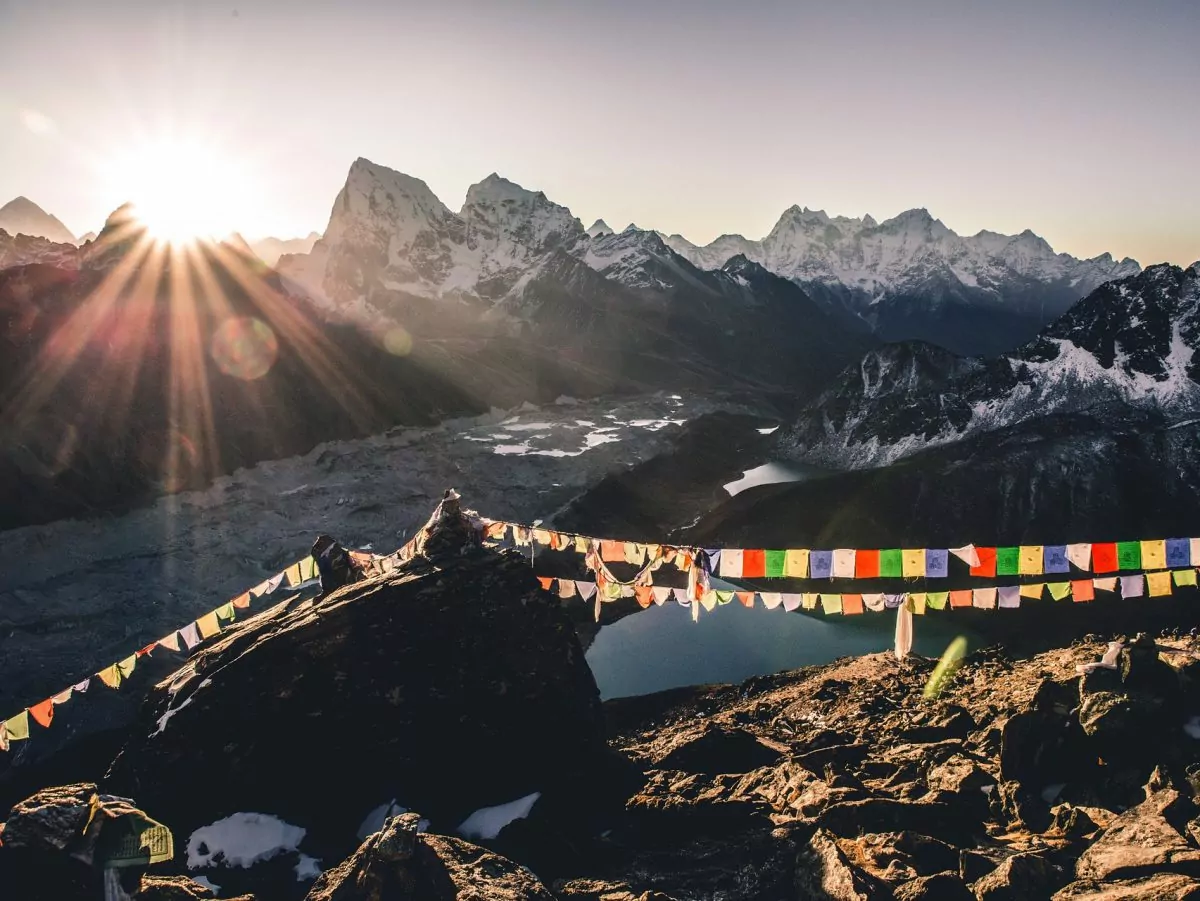 Nepal is one of the most mesmerizing, beautiful, and inspiring places you can visit. It's a land filled with snow-capped peaks and welcoming locals inviting travelers from around the world into their homes to show them the serenity of the nation's landscape and friendliness.
Hiking through the Himalayas is an experience of a lifetime, whether it's your first time or curiosity bringing you back for more! It's a place where once you step onto the land, you feel the connection and spirit of something bigger.
Nepal is the cherry on top when it comes to trekking — it pairs gorgeous land, a friendly culture, and affordability. It's no surprise both travelers and trekkers alike have been swarming to this place for decades.
With that said, authenticity is still present despite the number of growing visitors Nepal hosts. The Nepalese take their land and tourism industry very seriously; having a great time and genuinely understanding the land is why people love to visit their homeland.
When to Go
The best time to visit Nepal will depend on the area you plan to visit. Generally, late autumn, mid-summer, and early spring will be the busiest and best times to visit, but it isn't that simple. Because of the mountainous landscape and climate, there are multiple seasons that make for an unforgettable and enjoyable Nepal experience.
High Season – The Annapurnas
Autumn (September, October, November) is the peak season for trekking near the Annapurna Basecamp. The trails in the Annapurnas area have the maximum number of trekkers this time of year. This is to be expected though, because of the clear weather and favorable temperatures.
Spring (March, April, and May) is the second-best season to trek in Nepal. The weather is quite similar to that of the autumn season. It's seasonal flowers reward you with rhododendrons around every corner and monkeys swinging from the treetops.
High Season – Everest Region
There are two main seasons to trek to Everest Basecamp and Nar-Phu, in Autumn (October-November) and Spring (April-May). Anything outside of these months, you risk Avalanches and Monsoons, and honestly, the mountains are often not open outside of these designated times.
Shoulder Season
Depending on the hike you choose, shoulder season generally lies at the beginning or tail end of high-season times – usually early September and May. Here you will find cooler temperatures, more precipitation, but most importantly – fewer people!
If you are happy braving the more challenging climates, then the shoulder season might be perfect for you!
Low Season
December- early February is winter and, subsequently, low season in Nepal. Heavy snow covers most of the region, and rivers will likely be frozen over. Winter offers a different kind of silence and attraction, but the weather can often be extreme. Temperatures range from 20 to 40°F during the day and usually drop to 15 – 0°F at night.
From late June – early September it's Nepal's "summer" but it's also low season as it's monsoon season. Heavy rains cause flash floods in the valleys with a mix of mudslides and slippery conditions. These harsh storms do keep the regions beautifully green and lush for other seasons to come, though.
Multi-day treks in the low season require careful planning and extensive backcountry experience. In summer months, travel is not advisable and trails may not be "passable." Many regional guesthouses (including Everest and Annapurna) will even be closed.
Deeper Dive: More About When to Visit

Trip Dates

We've found November and March to be the ideal times to travel in Nepal. However, we still offer tours throughout the rest of the season.

November and March are when you'll have the best chance to hike clear trails, pleasant weather during the day (Wildland only cancels plans if the weather becomes dangerous), and lighter packs because we can forgo bulky winter gear.

You'll also have a good chance of seeing beautiful mountain views, the grandeur of sweeping valley's, wildlife sightings, and perfect night skies for star-gazing.

To view our scheduled trips, please visit the Trip Dates page and select the month you're interested in. If you don't see a Nepal trek listed, it means we don't have a trip scheduled for that particular month.

Climate

Different regions offer different extremes, especially with 17,000+ foot high mountain peaks spread throughout the landscape. Choosing which month you travel in will be key. Before you go, ask yourself:

Do you want to brave the most highly anticipated trekking times? Or do you go during a less popular season with more climate swings?

Everyone's answers will vary a little, but understanding the risks and rewards will help you make your travel decisions.

If you decide to go at shoulder season times, having backpacking and outdoor experience will be beneficial. While still going guided is excellent, understanding your breaking points is even better.

Nepal is split into two climates (wet and dry) but still boasts four distinct seasons. Once you pick your climate, you can decide what you value more, quiet trails and cooler temperatures or busy paths, and clearer warmer weather. As always, keep a close eye on the weather leading up to your trip.
Trip Styles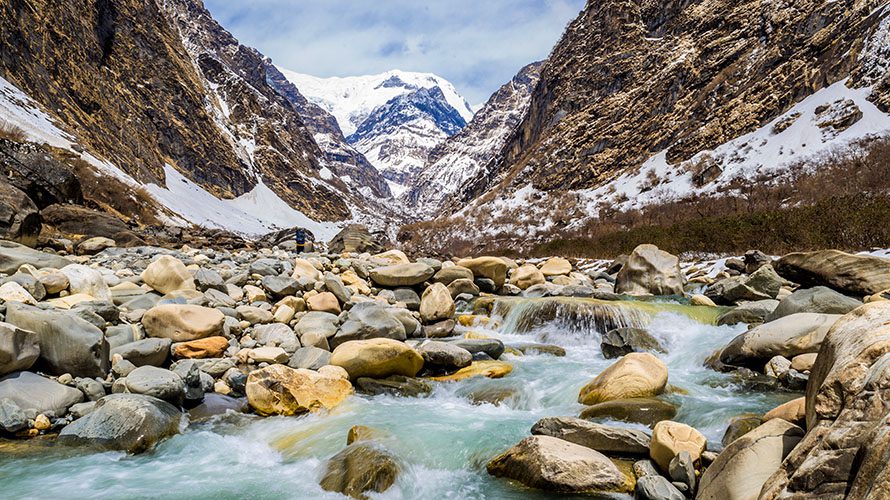 Nepal is full of teahouses in the high mountains and it's national parks, and visitors from all over the world come to visit these wonders in the sky. Many people even consider hiking to and spending the night in one of these simply-appointed backcountry' mountain huts' as a highlight of their trip. While arriving at the teahouses in the high mountains, don't expect the Ritz-Carlton, but do expect a welcoming Nepalese housewarming. From most of the teahouse front decks, you have a view of stunning vistas of the park's famous peaks. Each evening, you'll have a warm meal in the communal dining room, compare hiking tips with your new comrades, and a bed waiting for you in the teahouses.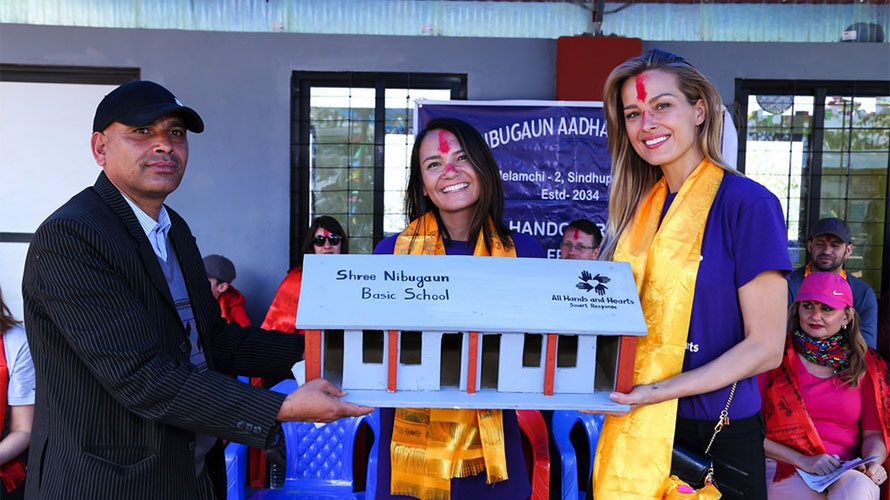 Ever thought to join the Peace Corps, do a work exchange, or volunteer for the Red Cross but couldn't find the time? Well, here's your chance! Wildland Trekking went above and beyond when designing this exclusive trek with Backpacker Magazine. After the 2015 earthquake that devastated Nepal, it's since been in rehabilitation. Join us as we help rebuild part of Nepal's famous trails and villages in conjunction with a heart-pumping trek in the Annapurna Region.
Deeper Dive: Our Top Trip

Everest Basecamp: Our #1 Recommended Nepal Trip

Everest Base Camp Trek is a world-class trek amidst the Mighty Himalayas of Nepal. Hiking through the stunning foothills just below the soaring Everest brings jaw-dropping views of the larger than life peaks that can only be found in the Everest Region of Nepal.

This historic trail is a physical, emotional, and mental thrill for hikers who wish to explore the paths where legends once walked. Everest Base Camp Trek is a 14-day climb at high altitude. In reality, the trek is not as challenging as many people conceive in their minds. However, altitude sickness and changing weather is a real danger.

The trek is "mostly" achievable for hikers with a high level of fitness, prior trekking experience, and high altitude exposure. Plan to hike 5-10 miles per day (5-7 hours on average). Eventually, little by little, reaching up to the maximum elevation of 17,591 feet.

The best approach to Everest is being prepared both physically and mentally before you go. Some find this trek moderate, while others find it to be a considerable undertaking! Focus on building your strength, especially your leg muscles before you go– you are climbing a mountain after all.

Everest is undoubtedly one of the most popular Wildland Trekking offers. Still, the views, terrain changes, and history of this region often overshadow the number of hikers you see on the trail.

Trip Highlights:

One of the World's most famous treks
Temples, monasteries, and villages
Heli to Lukla for max reliability
Himalayas' massive mountains
Giant rivers, waterfalls & valleys
Views of the highest peaks in the world
Elevation of 17,000+ feet
Fantastic, local cuisine

Learn more and book your Everest Basecamp adventure today!
Need to Know
Primary Starting City
All our Nepal adventures will start at Kathmandu airport when we pick you up after your flight. It's as easy as that! We'll have an orientation meeting that evening, and start our adventure the very next day. Please note that you should book a flight that will arrive in Kathmandu no later than 5 PM, this will allow plenty of time for you to be on time for the orientation meeting.
Planning to stay in town one day after the tour ends is a great idea as well. Doing so will help you avoid rushing to catch a bus or flight and give you some time to let your muscles take a breather!
International Flights
Based on the research we've done with airlines and international travel, we recommend beginning your search 2-3 months in advance. There's one main airport that all International flights fly into – Kathmandu. Unless you are coming overland from India, Kathmandu will be your portal into Nepal.
Regardless of where you're coming from, it's a long haul to Nepal, usually requiring one or two connections with a big-time difference. We recommend giving yourself a day or two to relax before starting your trek!
Transportation and Lodging
Your accommodations before and after the trip and your transportation to our starting city are not included in your tour cost.
Kathmandu offers a wide variety of lodging options to every type of traveler and their budgets. If you are looking to relax in luxury after your trek, you can. Or if you're a budget backpacker looking for basic but comfortable hostels and homestays, there are plenty of options.
If you are traveling during peak season, it's best to start making your reservations as soon as you book and have received confirmation for your Wildland Trekking Tour!
Passports and Visas
Nepal is one of our international trips, so a valid US Passport is required for the adventure. If you do not have one, or your current passport will expire within six months of your trip, apply for a new one up to three-six months in advance.
Citizens of the United States will need a visa to enter Nepal. For American nationals, the visa can be obtained in advance at an embassy or on arrival at specific entry ports into Nepal from neighboring countries.
The main requirement for obtaining a visa is to have a valid passport for at least six months after the expected date of travel. Passports with less than six months' validity remaining will not be accepted for visa applications, even if you are applying on your arrival at the border or airport. Visas with short validity will mean refusal of entry, and you will have to exit the country or return across the border at your own expense.
You will need to have a completed application form and two passport-sized photos for both embassy applications and Visa-on-Arrival services. The visa fee for all paid visas to Nepal for American nationals is:
25 USD for a 15-day visa
40 USD for a 30-day visa
100 USD for a 90-day visa.
Payment for the visa can be in US Dollars. Credit cards are not accepted as payment at embassies, consular offices, and for the Visa on Arrival services.
Deeper Dive: More Need to Know Info

Currency and Banking

The currency in Nepal is Rupees. We recommend bringing a modest amount of USD with you. Before leaving the USA, you can exchange USD or credit for Rupees at the airport or your local bank so that you will have enough with you on arrival.

While in Kathmandu and Pokhara, find currency exchanges to avoid bank fees. If you feel more comfortable, you can always retrieve the money at local banks in Nepal. We recommend going with a friend to cash points and not at night.

Local guides can be tipped in USD or Rupees.

Make sure you bring some cash while trekking. We recommend $10 USD a day in Rupees (for extra snacks & beverages). You probably won't need this much, but it's better to be safe than sorry. There won't be any ATMs until the finish line of Pokhara and Kathmandu at the end of our treks. A money belt is beneficial and convenient.

Vaccinations and Medications

We recommend that you speak to your doctor at least one month before your trip to ensure you have the correct vaccinations and medications. Certain medications can be difficult to find once you arrive in Nepal. Please bring with you any prescriptions you may need and some optional over-the-counter medications, such as Ibuprofen, Benadryl, and Pepto.

The CDC recommends that you stay up to date on all routine vaccinations – such as Tetanus and MMR – before any international trip. For Nepal, they also recommend vaccinating against Hepatitis A and Typhoid, which are spread by contaminated food and water.

We recommend reading up on Dengue fever, as it has no preventative methods and can harm your health and trip if contracted.

Language

Nepali is the primary language spoken in all of Nepal. But, you'll be happy to see that many signs, hotels, and tours offer an English translation. Additionally, many hotel staff and airport workers speak English. All of the Wildland Trekking multi-day treks and camping tours are provided in English and led by local Nepali guides.

It's still fun to learn a few new words in Nepali before your trip. And our guides would be happy to practice with you when you arrive!

Trip Insurance

Travel insurance is recommended for all our trips for those traveling internationally, and basic evacuation and repatriation insurance is required for Nepal. We also strongly recommend all travelers have a policy that covers personal liability, cancellation, curtailment, and loss of luggage or personal effects.

Things happen, and while Wildland Trekking Guides are trained in backcountry first aid and other skills, we simply cannot guarantee that you won't experience personal property damage or loss, injury, or lost luggage. We want you to be protected and prepared.

To view our insurance plans and policies, please visit our Trip Insurance Page.

Packing Tips

As you will be hiking at altitude for days on end, Good gear is gold! Mountainous climates and extreme elevation changes will have you packing for four seasons – but you won't need as much as you think.

There's a difference between water-resistant and waterproof. Look for Gortex and Gortex-Pro branded gear for a rain jacket and rain pants.

Pro-tip: having an excellent hiking poncho is super useful. We recommend the Sea-to Summit Nano Tarp and Therma-a-Rest Honcho Poncho for extra warmth and protection.

Once you book a tour with us, we'll send you a comprehensive guide and a packing list. As part of our all-included exclusive treks and backpacking trips, you can use our top-of-the-line backpacks, sleeping bags, tents, sleeping pads, and trekking poles.

The team at Wildland Trekking has tested and trusted the same outdoor brands in high altitude hiking for years. We're confident we've found the best gear to offer you a comfortable and memorable experience.

While hiking, we always do our best to prepare for each day's weather forecast. We'll advise you when a windy pass is up ahead, show you how to use your cold-weather gear, and find the most sheltered areas to set up for an afternoon pit stop and tent camping at night (if you are on a philanthropy trek).

Conditioning & Altitude Considerations

Treks in the Himalayas present a substantial physical challenge, and the more physically fit you are before you start, the more you will enjoy your trek.

However, the most important thing you can do is to cultivate mental fortitude. Most of the people who trek in the Himalaya aren't professional athletes or mountaineers. They are ordinary people with an unusual degree of determination.

You will be walking for five to seven hours each day, every day of your trek. The best way to prepare is to hike, trek, or climb mountains or hills where you live, and get used to putting the hours in. With the right attitude, nearly anyone can undertake a trek in the Himalaya.

A mixed daily combination of 45 minutes to 1-hour workouts of cardio, stamina, yoga, and strength training will help you on your journey to the top!

Hiking at Altitude

Acute mountain sickness (AMS) is a condition sometimes encountered at 6,000 feet above sea level and higher. Low oxygen levels cause this condition and your body's ability, or lack thereof, to adjust to them.

Symptoms set in fast — you'll experience them within the first 48 hours in most cases. It often starts with a headache, and the rest of the symptoms feel like a bad hangover. Fatigue, weakness, dizziness, vomiting, and loss of appetite are a few. Since you are climbing every day- take it super slow!

Be aware of what your body is telling you, and drink a lot of water and no alcohol!

If you feel these symptoms set in and gain momentum at a quick pace – let your guides know ASAP. If you experience symptoms before the trip, start to take Ibuprofen for the headaches. Drink more water and eat foods high in potassium, like bananas. These minor changes will usually take care of mild cases.

If the symptoms are severe, you must descend to a lower altitude before High Altitude Pulmonary Edema sets in (HAPE). Once you drop 1,000 feet, you'll start to feel better, but should still seek medical attention.

Luckily, Wildland Trekking Guides are well trained in this arena, but looking out for your own body and symptoms is half the battle.

Food and Water

When you leave town, purchase the snacks you can't live without- but remember you are carrying them the whole way (until eaten). Each tea house has options for cold sodas and snacks, so you don't have to carry them. Your meals will be provided at the tea houses, which are included in your trek.
Gallery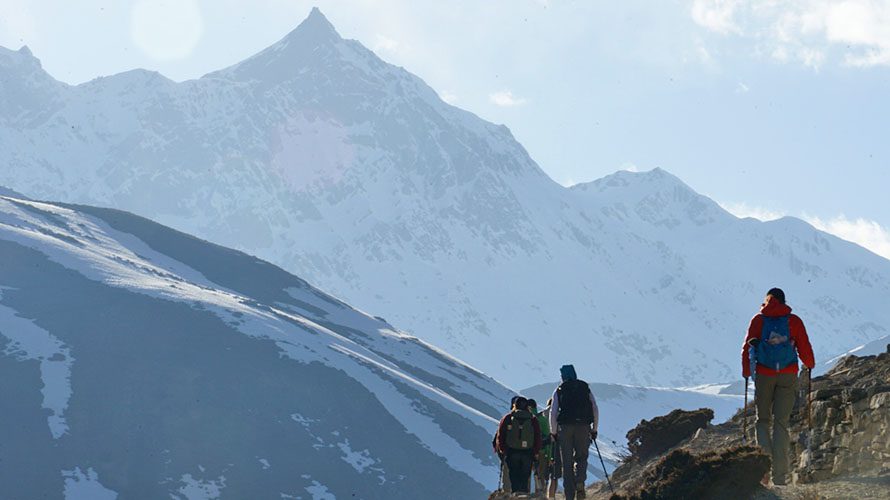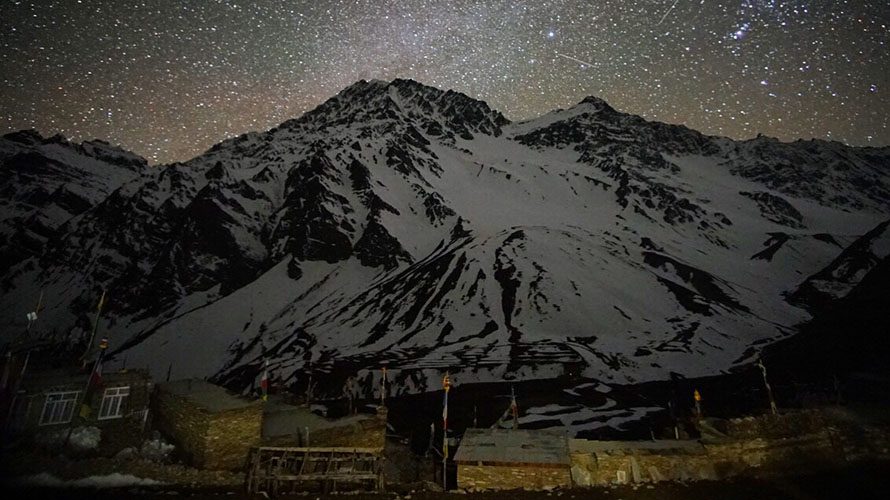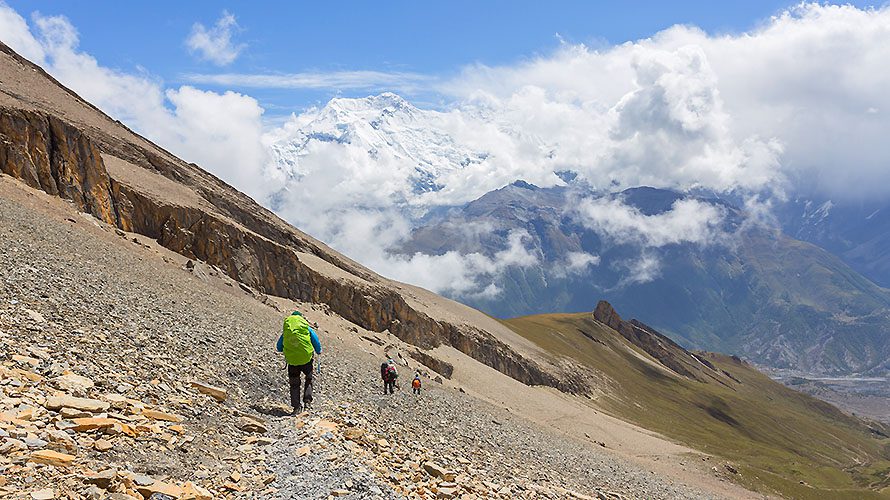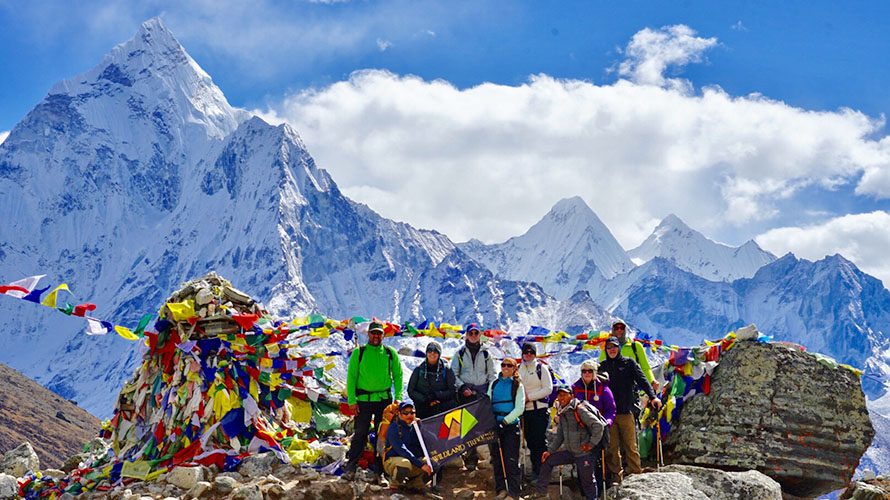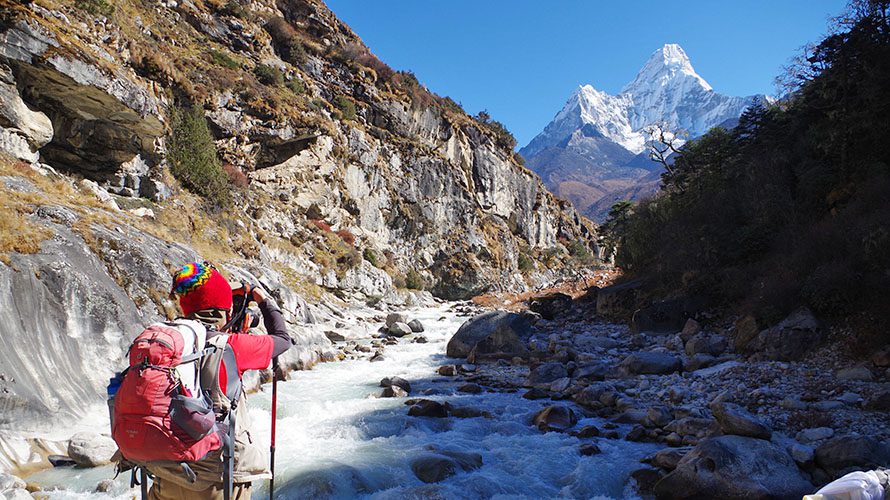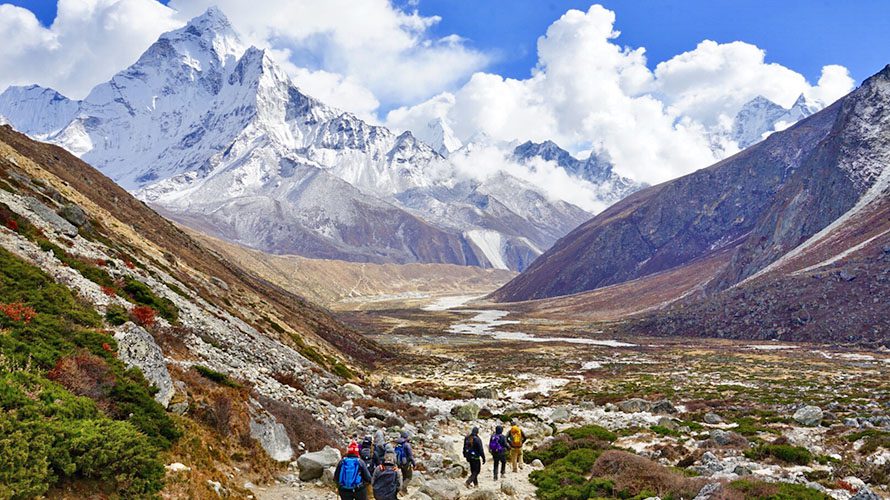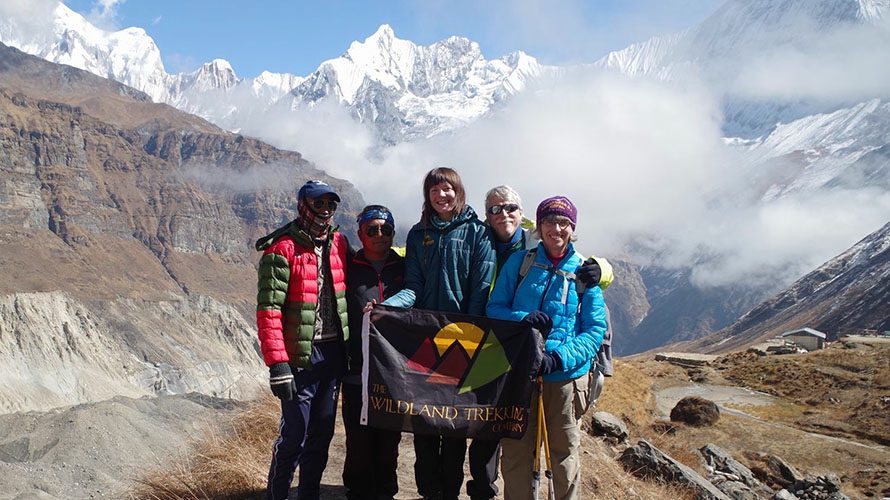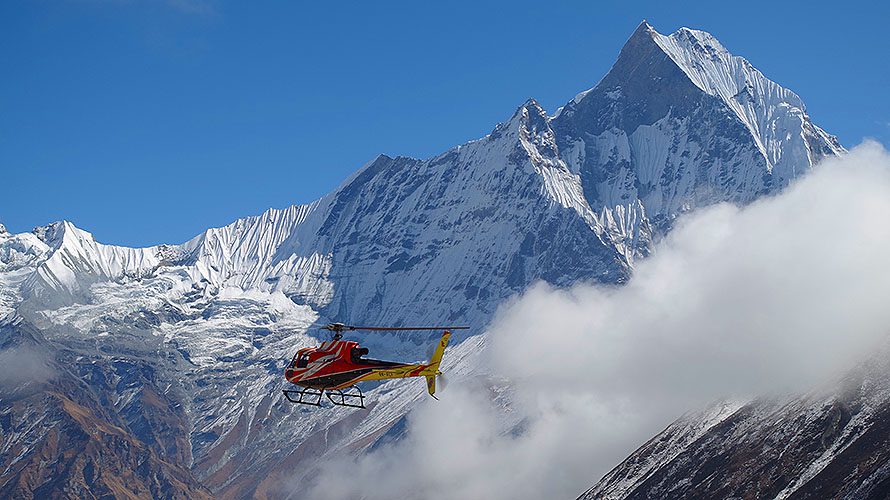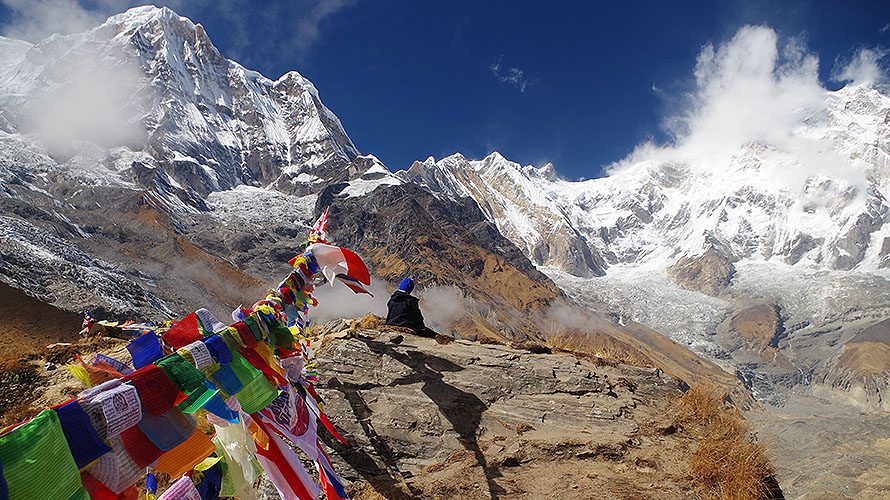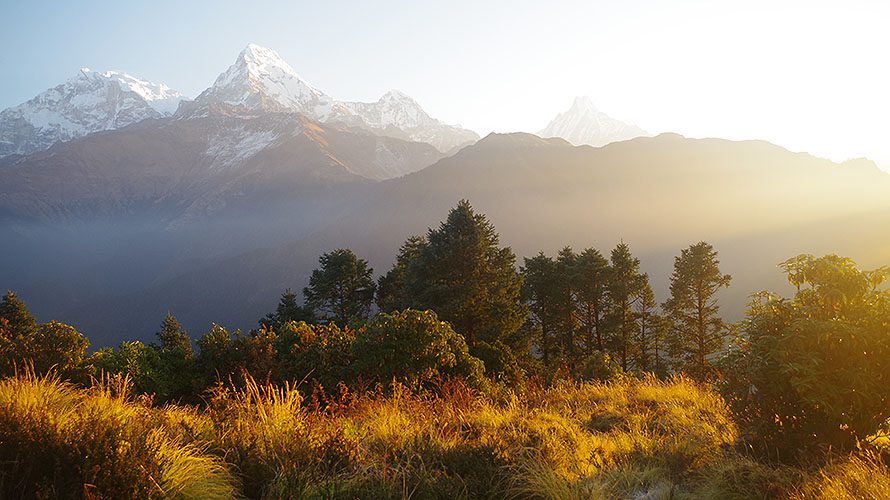 Have Questions?
Have more questions? Send us an email or call us at 800-715-HIKE (4453). We're here 7 days a week from 9:00 to 4:30 Mountain Time to make sure your trip planning goes as smoothly as possible.
Trip Information
For more information about all your options, check out our Nepal page on the website with the button below! Individual trip pages have detailed itineraries, trip specifics, travel information, and more.