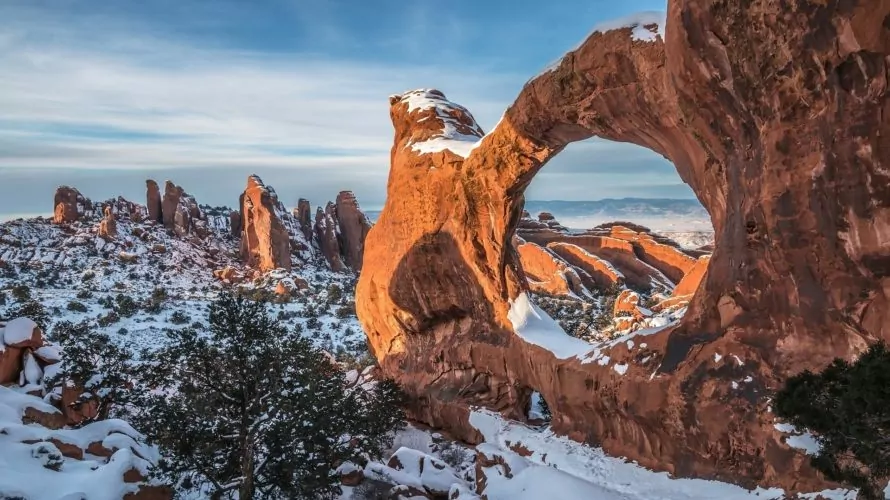 Devil's Garden Trail
General Description
Devil's Garden is one of the most spectacular areas in the Arches National Park.  It offers views of arches, spires, and fins–narrow rock walls, that you get up close and personal with on this trail.  The trail starts off easy, with a well-packed gravel path, and gains difficulty along the way, with route finding and rock scrambling on the Primitive Trail.  This is a great trail for all levels of ability and experience to see the best aspects of the park.  As always, it is recommended to bring plenty of water and snacks.
Explore Arches with Expert Guides
Getting to the Devil's Garden Trailhead
Devil's Garden Trailhead is at the very end of the park road, 18 miles from the Visitor Center.  There is a parking lot here, but it often fills in the busy season.  You can check out what the parking trends are currently like, here.
History of the Devil's Garden Trail
Devil's Garden is home to many arches and fins.  Fins are narrow rock walls, that over thousands of years are eroded away at their weak points, creating arches.  Landscape Arch is one of the most famous arches in the park, and it is one of the longest stone spans in the world.  It is 306 feet across, and at it's very narrow middle, is only 11 feet.  In 1991, a 60 foot slab fell from the underside of the arch's narrow section.  Although it may not look like it from day to day, time is taking a toll on all of the arches in the park, and eventually they may break or erode and create a completely new rock formation that captures our attention.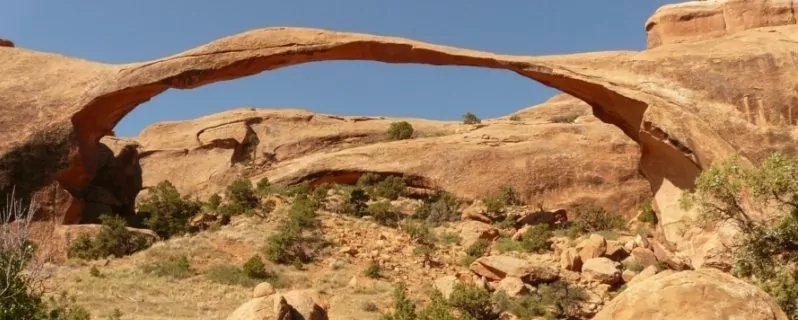 3 Best Day Hikes on the Devil's Garden Trail
This is some of the best hiking in Arches National Park.  With the trail starting relatively easy, and gaining difficulty along the way, it is perfect for all levels of ability and interest.
Below are the primary options for day hiking the Devil's Garden Trail:
| | | | | | |
| --- | --- | --- | --- | --- | --- |
| | Destination | Miles (roundtrip) | Elev | Difficulty | Style |
| | Landscape Arch | 1.9 mi | 330 ft | Easy | Out and Back |
| | Double O Arch | 4.2 mi | 470 ft | Moderate | Out and Back |
| | Primitive Trail | 6.0 mi | 470 ft | Strenuous | Out and Back |
1. Landscape Arch
This first section of Devil's Garden is on a relatively flat, well-packed, gravel path, and winds through the marvelous fins of Devil's Garden.  Landscape Arch is the one of the world's longest arches, stretching 306 feet, and is only 11 feet thick at it's narrow middle.  Between the trailhead and Landscape Arch is a side trail to Pine Tree Arch, and another to Tunnel Arch.  If you decide to go on these side trails, it will only add 0.5 miles to your overall trip, and is well worth it to add two more arches to your count.  The trail becomes difficult after Landscape Arch, so this is a great place to turn around.  After marveling at Landscape Arch, simply walk back through the fins of Devil's Garden to the parking lot at the trailhead.
2. Double O Arch
The trail continues past Landscape Arch on toward Double O Arch.  It becomes difficult, as it climbs steeply up the fins, made of sandstone.  These fins can become very slick and slippery in wet weather, so take caution and always be aware of the weather.  The trail is narrow and requires sure footing since there are drop offs, and some sections require hand and foot scrambling.  Between Landscape Arch and Double O Arch, there is a side trail to Navajo Arch, and another to Partition Arch.  Taking these side trails will add 0.8 miles to your trip.  Once at Double O Arch, you will be rewarded with spectacular views of one of the most unique arches in the park.  There is a option to continue straight on the trail past Double O Arch and hike to Dark Angel, a dark spire seen in the distance. When ready to return to the trailhead, simply turn around and go out the same way you came in.
3. Primitive Trail
There is a junction at Double O Arch that will take you on the Primitive Trail.  This trail is the most difficult section.  Obstacles include route finding, rock scrambling, steep slopes and narrow drop-offs.  It is recommended to be prepared with extra water, and topographical map.  Along the trail is a spur that leads to Private Arch.  The Primitive Trail is a loop trail and will end back on the main trail.  Once on the main Devil's Garden Trail, continue to the trailhead on the same trail you hiked in on.
Maximize Your Visit to Arches on Hiking Tour
Guided tours and multi-day packages allow visitors the opportunity to make the most of their time in Arches National Park and to do it hassle-free. Guided tours include gear (backpack, trekking poles, crampons in winter), meals, accommodations on multi-day tours, local transportation, and a professional Utah hiking guide. Through their knowledge, stories, and personal passion, guides can bring a place to life in a way that's much more difficult to do on your own. Read more about Arches and Canyonlands Hiking Tours.
Award Winning USA Hiking Vacations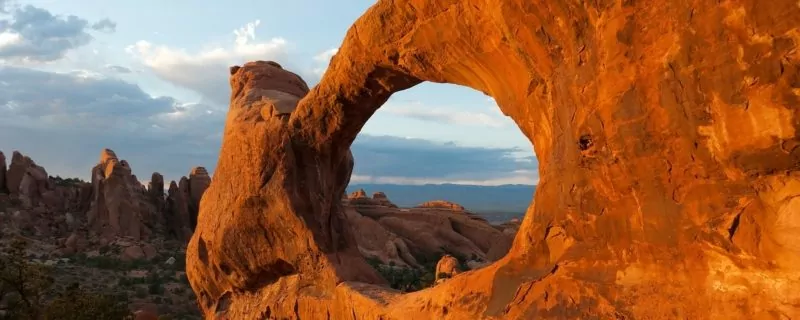 When to Hike and Seasonal Considerations
It gets very hot in the summer, remember to always bring lots of water and salty snacks.  You can read the weather here, and check out NPS' alerts and conditions here.
Necessary Permits
Day Hike Permits
Day hike permits are not required for Devil's Garden.  They are only required in the Fiery Furnace area of the park.  You can read more about the permit process for Fiery Furnace here.
Backpacking Permits
There are only select locations backpackers can go into the backcountry in Arches.  For more information on Arches' permit system, click here.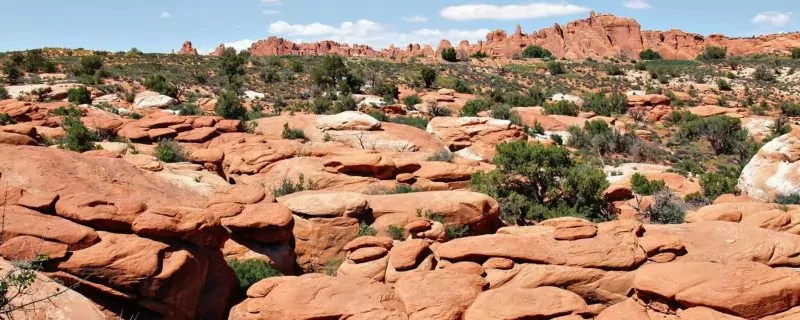 Suggested Packing List
Day Hike Packing List-
3-6 liters of water (more in summer)
Salty, calorie-rich snacks
lunch
crampons (in winter)
wide-brimmed hat
sunscreen, sunglasses
non-cotton t-shirt
rain jacket
1st-aid kit
Please Respect Our National Parks – Leave No Trace
We strongly recommend abiding by all Leave No Trace ethics guidelines and practices so that our national parks and public lands are preserved for the enjoyment of future generations and for the people and animals who call these places home. Simple things like packing out your trash, obeying national park rules, and respecting the peace and quiet of our national park trails is a great start. If you're going on a backpacking trip, you can read about more about the 7 Leave No Trace Principles.