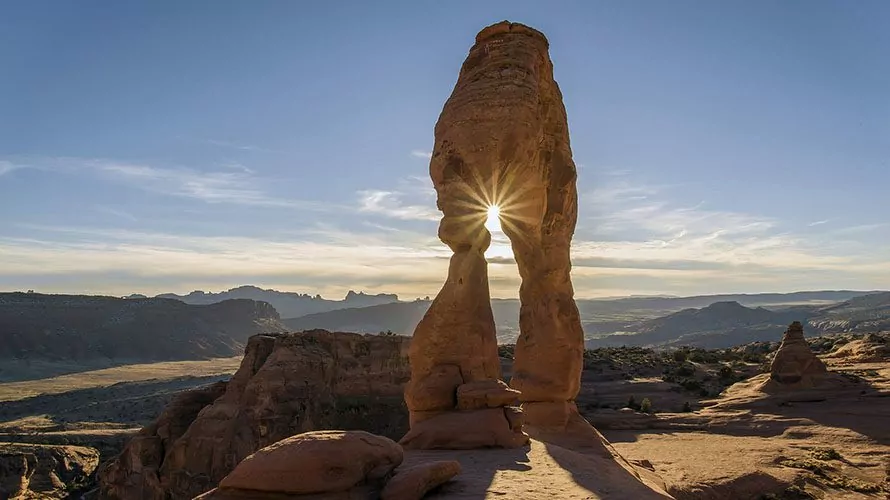 Delicate Arch Trail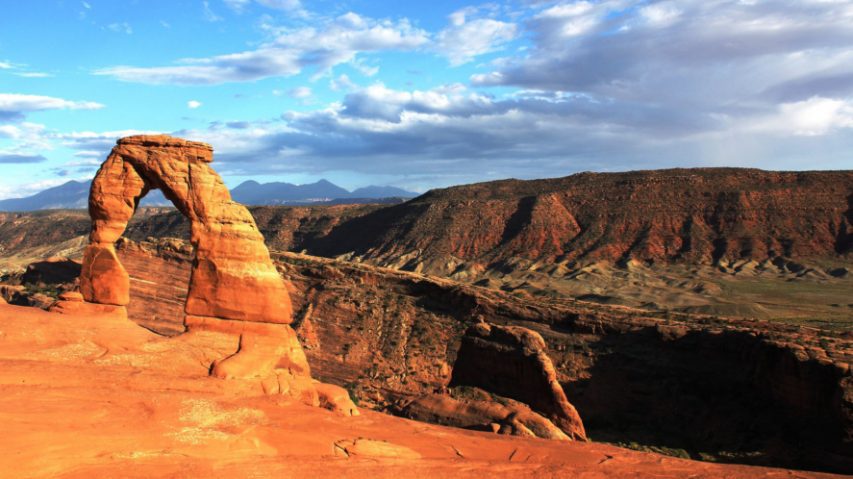 General Description
Delicate Arch is the most iconic arch in the park.  It is on the Utah state quarter, and on the Utah license plate.  The opening beneath the arch is 46 feet tall and 32 feet wide, making it the largest free-standing arch in the park.  The trail to the arch is 3 miles one-way and climbs 480 feet in elevation.  You are walking along slick rock for most of the trail, the route is marked by numerous cairns, and a couple of well-placed signs.  This trail is very popular, don't expect to be alone, but if you want to visit one of the most iconic views in America, this is a must-do for National Park lovers.  Hikers will be rewarded with great views of the La Sal Mountains in the distance, 360 degree panoramic views, and great opportunities for sunrise and sunset photography.
All-inclusive Arches & Canyonlands Hiking Adventures
Getting to the Delicate Arch Trailhead
The trailhead for Delicate Arch is located at Wolfe Ranch parking lot.  Restrooms are available at the trailhead, but there is no place to fill your water bottles.  This parking lot gets filled quickly in the busy season.  There is additional parking at the Delicate Arch Viewpoint parking lot up the road, once parked,  you can walk one mile along the road back to the trailhead at Wolfe Ranch.
History of the Delicate Arch Trail
Over time it has had many different names, including "Cowboy's Chaps" and "Old Maids' Bloomers".  The word "Delicate" was first mentioned in 1934 in an article which described it as "the most delicately chiseled arch in the entire area".  In 2002, when the Olympic Games were held in Salt Lake City, the Olympic torch passed under Delicate Arch as it was being run to the host city.  To read the entire story of the Olympic torch, click here.  No one knows the future of Delicate Arch and how it will stand the test of time, so make sure when you visit, you are respectful and follow the Leave No Trace principles.

2 Best Day Hikes on the Delicate Arch Trail
This is a busy trail to one of the most iconic landscapes in all of North America.  It is best avoided in the heat of summer, as there is no shade or water.
Below are the primary options for day hiking the Delicate Arch Trail:
| | | | | | |
| --- | --- | --- | --- | --- | --- |
| | Destination | Miles | Elev | Difficulty | Style |
| | Upper/ Lower Delicate Arch Viewpoints | 0.5 mi | 0 ft | Easy | Out and Back |
| | Delicate Arch Trail | 3 mi | 480 ft | Moderate | Out and Back |
| | | | | | |
1. Upper and Lower Delicate Arch Viewpoints
These viewpoints offer a unique view of Delicate Arch.  They won't get you up close and personal, but they are short trails that still allow great vantage points of the arch in the distance.  Lower Delicate Arch Viewpoint is a flat, 100 yard walk to the lookout point.  Upper Delicate Arch Viewpoint is a 0.5 mile one-way walk, with stairs, to a slightly better vantage point than the lower viewpoint.
2. Delicate Arch Trail
The trail starts on a packed gravel path, and goes by the historic Wolfe Ranch cabin, built in 1888.  After passing the cabin, there is a fork in the trail that leads to a wall of Ute petroglyphs.  This side trail is short, and will add about ten minutes to your trip, but is well worth it.  Delicate Arch Trail continues with a steady uphill climb over slick rock.  The route is marked by cairns and is easy to follow.  Once you reach the top of the hill, you will traverse a well-maintained ledge, with some spots of exposure.  If hiking in the winter or early spring, beware of ice build-up along the trail, and use crampons if necessary.  In about a quarter of  a mile, you will reach Delicate Arch.  There are plenty of places to take a break, or to take a photo.  Spread out and enjoy the view.  When ready, return the same way you came.
Special note: this trail has exploded with popularity over the years, with tourists lacking appropriate gear and water, and also underestimating the difficulty and length of the trail.  This leads to multiple search and rescues from the Park Service every year.  Make sure that when doing this hike, you have proper footwear, plenty of water, snacks, sun protection and if hiking at sunset, bring a headlamp.  Let's keep our parks safe, and decrease the ever-increasing strain on these beautiful places.
Maximize Your Visit to Arches National Park on a Hiking Tour
Guided multi-day hiking packages allow visitors the opportunity to make the most of their time in Arches and Canyonlands National Parks and to do it hassle-free. Guided tours include gear (backpack, trekking poles, crampons in winter), meals, accommodations on multi-day tours, local transportation, and a professional Utah hiking guide. Through their knowledge, stories, and personal passion, guides can bring a place to life in a way that's much more difficult to do on your own. Read more about Arches National Park Hiking Tours.
Award Winning USA Hiking Vacations

When to Hike and Seasonal Considerations
Delicate Arch is open year-round, it gets very hot in the summer, and can be snow-covered in the winter.  Anytime of year, make sure that you bring plenty of water, proper foot wear, snacks, and proper clothing to protect you from the elements.  Check the weather for Arches National Park before hitting the trail.
Necessary Permits
Day Hike Permits
Permits are not required for day hiking in Arches National Park.
Backpacking Permits
Permits are required for all overnight stays (i.e. backpacking trips) in the backcountry. For more information on Arches' permit system, click here.
Suggested Packing List
Day Hike Packing List
3-6 liters of water (more in summer)
Salty, calorie-rich snacks
lunch
backpack
trekking poles
crampons (in winter)
wide-brimmed hat
sunscreen, sunglasses
non-cotton t-shirt
rain jacket
warm non-cotton layer
1st-aid kit

Please Respect Our National Parks – Leave No Trace
We strongly recommend abiding by all Leave No Trace ethics guidelines and practices so that our national parks and public lands are preserved for the enjoyment of future generations and for the people and animals who call these places home. Simple things like packing out your trash, obeying national park rules, and respecting the peace and quiet of our national park trails is a great start. If you're going on a backpacking trip, you can read about more about the 7 Leave No Trace Principles.